Hey, I'm Adam Bensman, The Roof Strategist. Today, I'm going to share the 11 must-have apps for roofing sales.
Now, I get asked about this a lot by people who are new to roofing sales and those who want to work faster. So, I'm going to recommend some useful apps that you can use to:
Stay organized
Work faster
Be as efficient as possible
If you've seen my content before, you know that one factor limiting your income is speed. Speed will dictate your earning potential because, at the end of the day, that's what it's all about. And time is your enemy.
So, I'm going to go over the 11 apps that can help you make the most of your time. I'm going to share:
Specific recommendations with exact app names
General themes, explaining the type of app to use when there are multiple options
These are going to help you work more efficiently, stay organized, and earn more money.
By the way, one thing to share upfront — I am NOT an affiliate. I'm not endorsed or paid by anybody at all outside of my customers that I serve. The apps that I'm recommending here are those that I believe in. I've vetted them, so I'm only sharing the ones that I think will really help you.
Now, let's jump in.
Roofing Sales App #1: Pitch Gauge
Why an app? You can use a standard Pitch Gauge. Some of us have them, and some of us don't want to buy them. But the app is free. Pitch Gauge is available via Google Play and the App Store.
Now, I know some of you may be using HOVER or EagleView. But when you're up doing inspections, it's helpful to know where the steep territory is. That's where Pitch Gauge can help.
Roofing Sales App #2: OneClick Code
OneClick Code lets you type in any property address and get a list of code items for that property. I've actually helped the app founder, Garrett Kurt, with some consulting. We worked together from ideation to bring this to life.
Here's how it works.
Let's say you type in a property that's in this city or that county. OneClick Code is going to show you what building codes are enforced and if they enforce the manufacturer's recommendation. Then, it gives you an instant report, so you're ready to address all those things when you meet with the adjuster.
With OneClick Code, you'll be ready to tell adjusters:
Hey, this municipality requires ice and water shield.
This municipality requires drip edge (or it doesn't).
This says you need to follow the manufacturer's installer recommendations.
This roofing sales app, which is also available on desktop, has a free 14-day trial, with affordable paid plans (for single states and all 50 states).
FREE "Pitch" Like a Pro Roofing Sales Training
240+ Video Library for Storm and Retail
For Roofing Sales Reps & Owners With New Hires: All the training you need to be a "million dollar" closer!
Get Instant Access FREE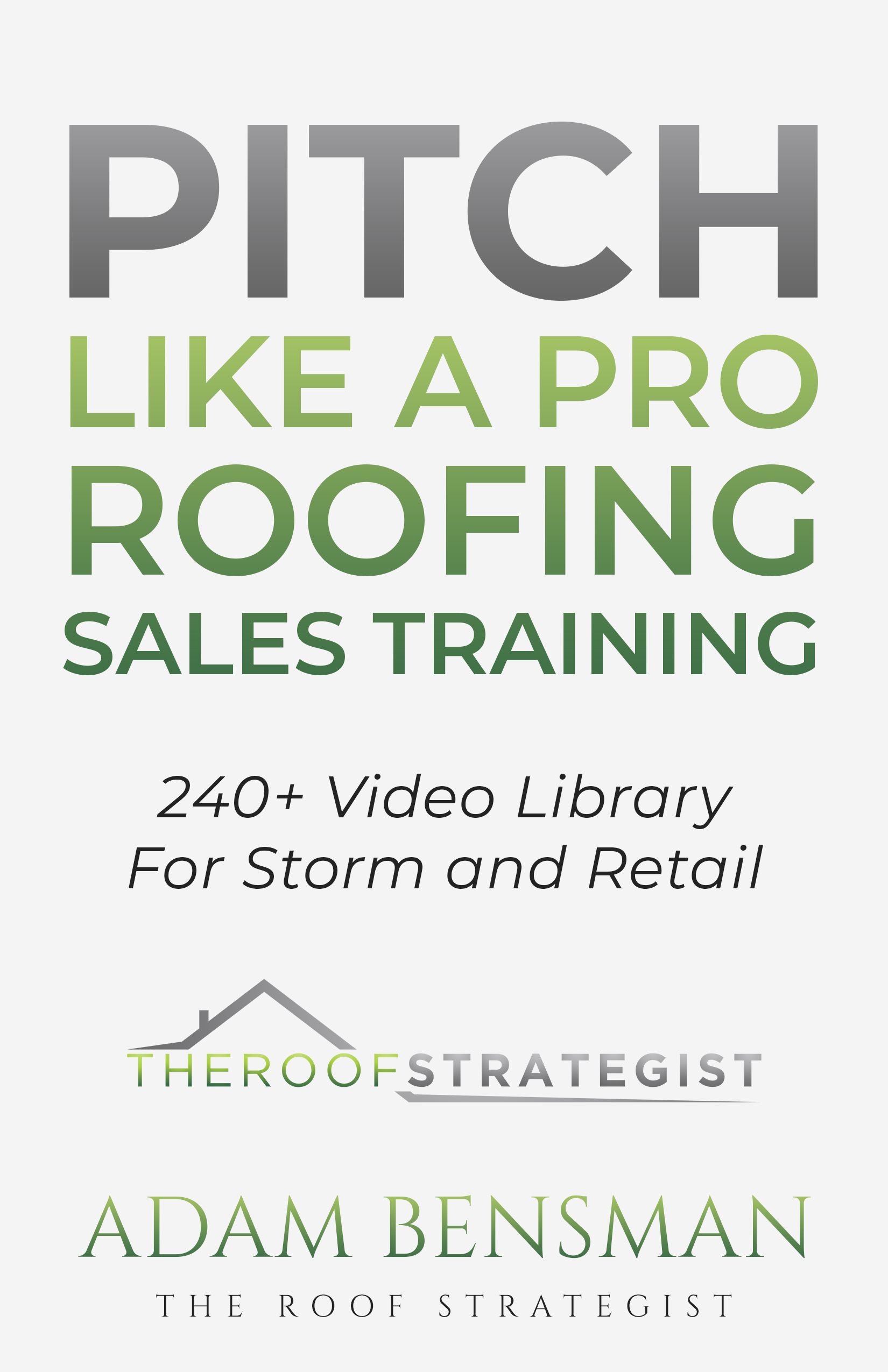 Roofing Sales App #3: An Aerial Measurement App
Now, everyone has their own preference for taking aerial measurements. You can use EagleView or HOVER. I like HOVER because it's quicker and you can easily use it on the fly to get the overhang measurement. So, if you are using ice and water and any leak barrier, you can use your aerial measurement app with the adjuster.
Roofing Sales App #4: A Construction Calculator
A construction calculator is another must-have app, especially if you're doing any measuring by hand. There are a bunch of options out there (I have the Factory Android calculator). Whatever you choose, make sure to go with one that calculates feet and inches.
You also just search "construction calculator app," and you'll find tons of similar apps out there, like from DeWalt and others. Whatever app you choose, a construction calculator can eliminate those math errors that could mess something up for you later.
Roofing Sales App #5: A CRM App
If you're not using customer relationship management software (CRM), you're really limiting yourself. Because when you have a CRM app on your phone, you can work on the fly. And you're going to get a lot more done.
So, for CRMs, you can use:
Or any other CRM you're familiar with
Fun fact: when I was running a team and everything was in job folders and files, I helped bring in a new CRM, so I could easily pull up customer information, no matter how far away I was from the office. Access to all that data and being able to store my photos are huge. So, this is a must have app. In fact, there's no reason not to have a CRM app on your phone.
Roofing Sales App #6: A Calendar
I used to use an old-school, paper calendar, which can be helpful. But I need a calendar reminder, or I'm useless. I also need to see a snapshot of the days or weeks ahead if I'm booking or rescheduling appointments.
Now, if I'm handwriting something on my paper calendar and it changes, I've got to scratch it off or erase it if I want to be able to move it.
That's why I prefer a calendar app, with reminders. And I keep the widget on my screen, so I can click on any day and know exactly where I need to be, at what time, with reminders. This is a HUGE help, especially when things get busy.
With a calendar app, you can just put your schedule on autopilot and stay on track no matter what.
Roofing Sales App #7: Notes
You can use whatever you want for this. I know iPhones and Samsung phones have a Notes app. I use this app on the fly, jotting down Notes when someone says or requests something totally out of the blue. With Notes, I can easily keep track of those ideas, tasks, and requests.
Roofing Sales App #8: Hail Maps
In terms of hail mapping software, there are at least a couple of options out there, including (but not limited to):
I use Hail Recon, but any hail mapping software can be incredibly powerful when you're scouting in the field. It's all about finding what's going to be a right fit for you.
When you do, that hail mapping software can help you find the right neighborhoods, keep track of where you've been, and do a whole lot more. You just need to know where your little blue dot is on the app and where you are in relationship to that map, so you can use it.
Also, keep in mind that hail map apps can be useful in direct mail campaigns and overcoming rejection at the door. For example, you can print out a hail map to show customers when they object with statements like, "I don't remember any hail" or "It wasn't that bad."
Roofing Sales App #9: Google Photos
If you're using a CRM or you're taking aerial measurements, your pictures are probably going to be stored in the report you're working on. When you send that report off, you could have a hard time finding those photos again. That's why I always keep backups and use a photo app (I use Google Photos; of course, iPhone has its own version too).
So, I'll take a photo using my photo app and then organize my pictures in folders by address, category, or last name. That way, I'm not sorting through dozens or hundreds of pictures to find the one what I need. Because, at some point, most roof pictures will start looking the same.
Roofing Sales App #10: GPS Trip Tracker
There are a few of these apps out there, including GPS Trip Tracker and Geo Tracker. You want this app to help you find the right neighborhoods and keep track of where you've been.
In my video on Multi-Touch Marketing, you'll see that one of the biggest mistakes you can make in roofing sales — whether you're a new salesperson or you're running a sales team — is taking the one-and-done approach to neighborhoods.
That's when you hit a neighborhood once, and then you're out. That's how I did it when I started because I thought I had to hit the most doors. But ultimately, you need repetition to open up a neighborhood. That can mean:
Leaving the door hanger when no one's home
Writing down what times you're there and who's home, so you know the best time of the day to work those neighborhoods where retirees, 9-to-5ers, or others live
Also, I've always ran a GPS tracker while scouting a storm. That way, I knew what streets I drove, and I could put together a scouting report to distribute to my team, showing them areas with:
High three-tab
High aluminum
Smaller hail
Less competition
Then, I could match different salespeople to the neighborhoods they'd do best in.
Plus, with a GPS tracking app, I always know where I'm at. Because when you look at a hail swath with 20, 30, 40 or even 50,000 homes that have been hit, you need to know where you've been. And this app will give you a crystal-clear idea of that, so you and your team can kind of stake your territory so to speak, as you open up your honey hole.
Roofing Sales App #11: A "To Do" List App
The last app I recommend is one that lets you keep a simple "To Do" list.
In the Battle Pack, I have a daily schedule that I use. I handwrite everything, but if you're not that person, keep your To Do list on an app.
Personally, I use this list to keep track of several things, like stuff that comes up during the day or on the fly — anything I don't want to forget. And I check things off as I'm done with them.
Plus, the To Do list is a great way to update my daily schedule, so I know exactly what I need to get done each day. That helps me stay organized and figure out what's most important, so I can prioritize everything because some things are more time sensitive than others.
Recap: 11 Must-Have Roofing Sales Apps
Here's a quick recap of the 11 must-have apps that can help you save time, stay organized, and make more roofing sales:
Pitch Gauge for inspections
OneClick Code to get building code information for different areas
An aerial measurement app, like HOVER or EagleView
A construction calculator to calculate feet and inches
A CRM, like AccuLynx, Nimbus, Spotio, or SalesRabbit
A calendar with reminders — This is so important. The worst thing in the world is to forget an appointment and get a call from a customer who's waiting on you to show up.
Notes
Hail map software
Google Photos or another photo organization app
A GPS tracker to keep track of where you are out in the field
A To-Do list
That's it!
Now, you have 11 of the best apps to use in roofing sales. Set these up on your phone and start using them. Honestly, even if you just save 10 minutes a day with these apps, that adds up to about an hour a week. That's one more hour knocking on doors and selling, and it all adds up.
Want More Roofing Sales Strategies, Tips & Videos?
Subscribe for the latest roofing sales training videos and get a copy of my Pitch Like a Pro roofing sales training video library. It includes every video I've ever done, organized by category, along with a bunch of tips, tricks, and more. It's updated all the time to help you and your team smash your income goals and give every customer an amazing experience.
Also, check out my Marketing Battle Pack for instant access to 70+ pieces of my proven, turnkey roofing sales and marketing materials. It's an entire suite, specially designed for sales teams, managers, and owners, providing:
Scripts
Scheduling
Direct Mail Letters
Door Hangers
Goal Projection Planners
A LOT more!
It's affordably priced and comes with a 100% money-back guarantee. There's also a playlist of instructional videos in there, explaining every single thing. So, you can watch the videos, and you'll know exactly what to do.
Thanks for joining me, and I look forward to sharing more with you in the next blog.