I'm going to teach you the two MOST powerful strategies to overcome objections.
The truth is that at the end of the day if you're not following a plan in your head, you end up winging it. Believe me, I've done that. I've talked my way through things — and it works for a while. Then:
You get in a sales slump, and customers knock you off course.
You move on to bigger sales, like commercial sales or multi-family projects, with multiple decision-makers.
That's when winging it (because you're a smooth talker) suddenly starts to crumble and may not be that effective.
And the real thing that separates a PHENOMENAL salesperson from a mediocre one is INTENTION.
It's the intention of following a PROVEN process that works with how we think as humans. After all, we all think very similarly, and we make decisions very similarly.
So, when you have a framework or formula to follow, it's much easier.
And that's what I teach — formulas and systems that can help you succeed and get to that next level in roofing sales.
By the way, all of that is in our Sales System. It includes proven objection-handling strategies you can use and make second nature.
So, I'm going to shake some of that out here, teaching you:
The two most POWERFUL ways to overcome objections in roofing sales
How to choose which path to take when
With that knowledge, you're going to:
Have a really clear vision of how to confidently handle different objections
Become a robot in a GOOD way, meaning you're able to fire on autopilot without skipping a beat because you are literally programmed to handle objections
Remember, this is not robotic, like I am reading a script word-for-word. It's robotic as in you can't fool me or can't catch me on my heels because I am a MACHINE.
So, let's turn you into an OBJECTION-HANDLING MACHINE.
First, I want to say a quick welcome or welcome back. My name is Adam Bensman, The Roof Strategist. Everything I do here is designed to help you and your team smash your income goals and give every customer an amazing experience.
So, if you like this and want more, you're going to love our brand-new FREE training center. You can get access right now by:
Texting FREE to (303) 222-7133
Now, let's dive into the two most powerful objection-handling strategies. We're going to turn you into an objection-handling machine.
FREE "Pitch" Like a Pro Roofing Sales Training
240+ Video Library for Storm and Retail
For Roofing Sales Reps & Owners With New Hires: All the training you need to be a "million dollar" closer!
Get Instant Access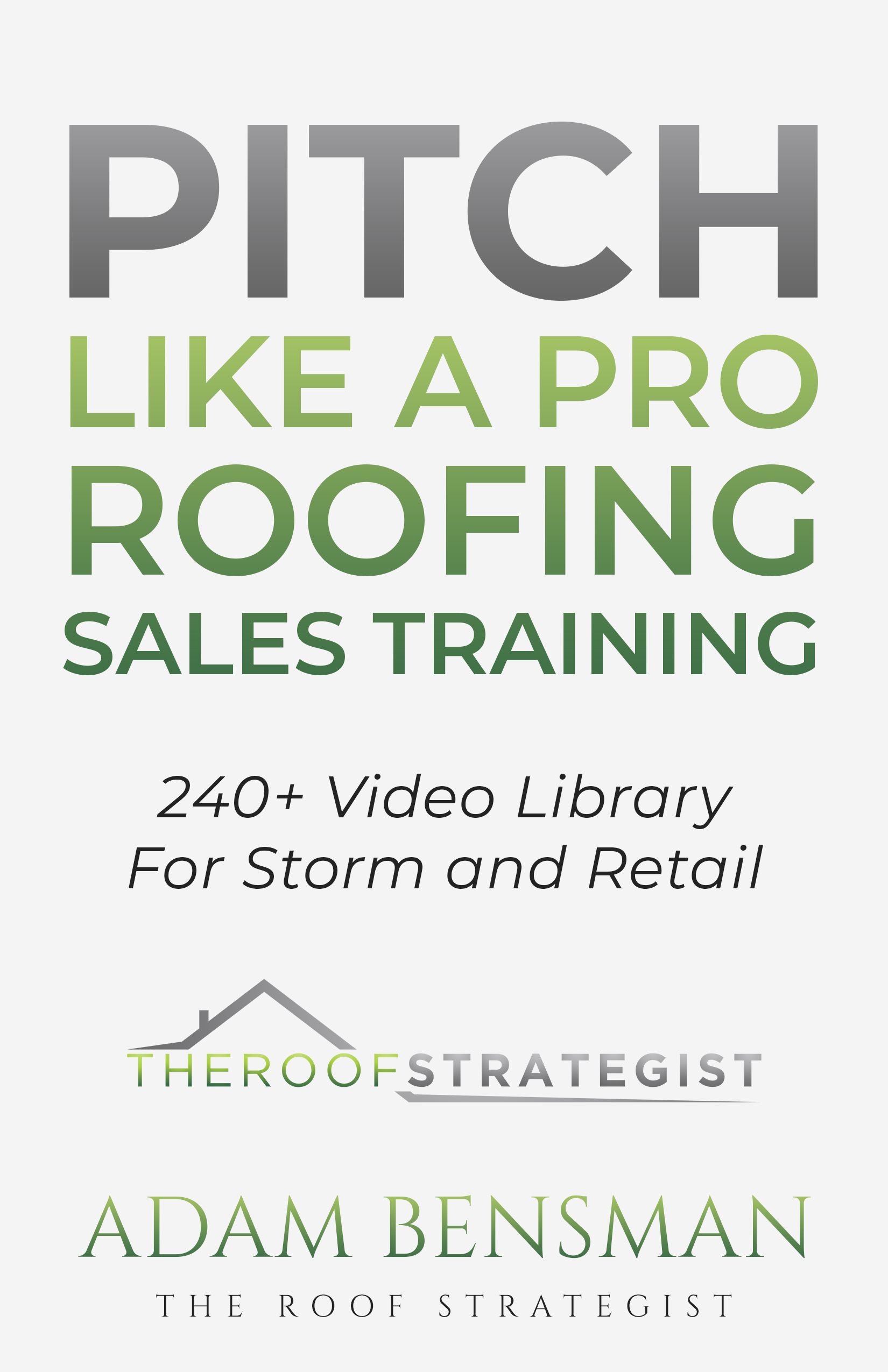 Background: The Goal of Overcoming Objections in Roofing Sales
The core purpose of overcoming an objection in roofing sales is to keep the conversation going. That's our sole mission.
It's not about throwing the perfect right hook or rebuttal to tackle the objection and beat it. And it's NOT about:
Beating the homeowner down
Showing them you're smarter
Outwitting them
It's ALL about furthering the conversation. So, once we've laid down that groundwork, the number one goal is to keep the conversation going.
And we can do that using one of these two paths.
Objection-Handling Path #1 in Roofing Sales: Explain It Away
Explaining it away tends to be everyone's knee-jerk reaction. They want to explain it away because the homeowner objects with statements like:
I want to wait and see what my insurance company says.
Can you eat my deductible?
I want more estimates from other contractors.
The impulse is to try to explain why they're a better value, why they have a better product, why their service or warranty is better, or whatever.
So, they'll say something like:
Hey, hold off on meeting with your insurance company.
You want me to be there because I'm going to provide you with all this value and support.
And don't worry about the deductible. No one can eat the deductible. It's illegal.
This is a knee-jerk reaction, to explain it away, with the reasoning that educating enough can break through to a win.
Well, that's a shortsighted way of thinking.
Why?
Because:
We're supposed to be keeping the conversation going when we are overcoming objections.
There's a time and a place to explain things and showcase our knowledge, our expertise, and our mastery of roofing or the restoration process and how we can serve homeowners.
Now, what if I told you that this is NOT always the best way?
There IS a better way than this, and that involves asking open-ended questions.
Objection-Handling Path #2 in Roofing Sales: Ask Open-Ended Questions
Two questions can be extremely effective in objection handling, and they are:
How questions
What questions
Now, this list IS missing "why" questions for a good reason. We usually don't want to ask "why" questions because they can seem invasive. For instance, consider these:
Why do you drive a Ford truck?
Why are you wearing that?
When we ask "why?," it send a subtle signal to your homeowner that you disagree with them. That can imply that you're questioning they're thinking — and that you may even think they're stupid.
And that can put homeownes on the defense. We do NOT want any of that.
Instead, we want to:
Keep the conversation going.
Use those "how" and "what" questions to move the conversation forward.
How to Get Comfortable with Open-Ended Questions in Roofing Sales: Roleplay
Let's check out an example of how to use open-ended questions to handle objections.
Now, it's going to take some roleplay to get really comfortable with this and make it second nature. Before that, it may feel kind of uncomfortable and clumsy.
With roleplay and practice, however:
Things become hardwired.
We actually create new neural pathways in our brains.
I've been doing a lot of personal studying and learning, so I can be a better teacher. I want to help you learn things fast while keeping it all as simple as possible.
In fact, I try to figure out how can I learn and teach stuff most efficiently — and that's why I believe our system is so successful.
I have walked a million miles in your shoes, and I know that in roofing sales:
Speed is of the essence.
Simplicity is key.
Strategies need to be easy to replicate, without a lot of thought.
Getting there takes some effort, and learning is, in fact, repetition. On my journey, I recently read a book called Ultra Learning by Scott Young. This is a great book in which Young discusses how recall and repetition literally create new neural pathways — new connections — in our brains.
So, we have to practice asking these "how" and "what" questions. If we don't:
We can default to explaining it away.
We can get caught on our heels.
We can fumble, lose our place, or end up sounding like we're BS-ing (because we may be).
With that shift in mindset — moving from trying to respond and explain and, instead, trying to ask MORE questions — whoever's asking the questions is truly in control of the conversation.
How to Use Open-Ended Questions in Roofing Sales: An Example
Now, let's check out an example of how to leverage open-ended questions to handle objections in roofing sales like a pro.
Let's say that:
Someone has told you that another contractor can do it for cheaper or that you're too expensive.
You've already done what I teach in my Sales System on how to overcome that before we even present.
The key questions to ask homeowners will highlight the pains they're completely unaware of. And we want to use questions here, not tell them what they need to hear.
By asking questions, they can come to their own conclusions.
That's the REAL power of these questions — they get homeowners to reach their own conclusions.
Now, I'll give you an example of what many people do when they hear "Hey, the other contractor can do it cheaper." Many roofing sales reps try to explain it away. I hear it in roleplay ALL of the time, including when I'm working with reps in retail markets, storm markets, and hybrid markets across the U.S
Their knee-jerk response is to immediately try to explain it away by saying something like:
Hey, Mr. Homeowner, I understand they can do it cheaper, but we are a higher-quality company.
We use a way better shingle.
And as I showed you before, we're doing a lot more line items.
We're going to be held accountable, and we provide better service, a better product, and a better warranty.
We're just not willing to cut corners to earn your business.
That's explaining it away. Does that go very far? No, it does not.
And unfortunately, you could end up saying this same thing for EVERY roof you sell.
BUT what if we changed gears and did something different? What if we asked something like the following instead?
Hey, what about the other estimate made you more comfortable than our estimate?
Hey, how did the other contractor provide more value than what I provided you?
Suddenly, now, the homeowner starts talking themselves into a circle, and they CAN see the light.
In fact, as they're trying to explain how another contractor provides more value, they're going to find themselves stumped because they can't explain it.
That's how we get them to see things from our perspective. We:
Exercise patience.
Walk homeowners through it.
Keep in mind that it can be easy to get looped back into the explanation mode — like if someone says, "Hey, the other contractor said he could eat my deductible." Instead of explaining that away, ask:
Did they explain to you HOW they could eat your deductible?
Again, the homeowner's going to realize NO, they don't know that. And THAT is when we shift into explaining it away.
By the way, I recently did a video on the One Word to Defeat the Deductible Objection in Roofing Sales. That covered the power of "how" questions. Check it out for more.
The point is that those "how" and "what" questions are critical, and they're the best place to start because they will keep the conversation going.
And as we both know, objections are often a smoke screen. They're BS. They are NOT the truth. Instead, they're a stall tactic.
So, remember, when it comes to the two paths to handle objections in roofing sales:
Your kneejerk reaction is going to be to explain it away.
Your exercise and mission are to practice using "how" and "what" questions to further the conversation and guide the homeowner to their own conclusion.
Recap: 2 Effective Ways to Become an Objection-Handling Machine in Roofing Sales
To quickly summarize everything, here are the two paths to becoming an objection-handling machine:
Explain it away.
Ask those open-ended "how" or "what" questions.
Also, I highly recommend roleplay as practice.
One of the fastest ways to do this is to:
Grab a camera to record yourself and/or your team.
Set up the, "I need to talk to my wife," objection.
Try to overcome it by going through the ARO Formula. Acknowledge, reassure, and overcome the objection using the right questions.
Get in that quick repetition, practicing 5, 10, or even 15 times a day.
All of this can get you running on autopilot, as an objection-handling machine, in no time.
Get More Roofing Sales Strategies, Scripts, Tips & Videos
If you want more on any door-to-door roofing sales topic, you'll find it in my all-in-one sales training, sales strategy, and sales system, the Roofing Sales Success Formula & Complete Sales Strategy.
This exclusive program covers everything from knock to close, with packages for individual roofing sales reps and entire teams. Many roofing sales companies LOVE this program because it's a consistent process to train everybody on a relatable sales system that WORKS and that's a lightning-fast way to get results.
If you have questions, just call or text (303) 222-7133 for more info or a private demo.
You can also subscribe for the latest roofing sales training videos and/or get a copy of my Pitch Like a Pro roofing sales training video library. It includes every roofing sales video I've ever done, organized by category, along with a bunch of tips, tricks, and more. It's great for new people and seasoned veterans, and it's updated all the time to help you and your team smash your income goals and give every customer an amazing experience.
And don't forget to check out my Marketing Battle Pack for instant access to 70+ pieces of my proven, turnkey roofing sales and marketing materials. It's an entire suite, specially designed for sales teams, managers, and owners, providing:
Scripts
Scheduling
Direct Mail Letters
Door Hangers
Goal Projection Planners
A LOT more!
It's affordably priced and comes with a 100% money-back guarantee. There's also a playlist of instructional videos in there, explaining every single thing. So, you can watch the videos, and you'll know exactly what to do.
Thanks for joining me, and I look forward to sharing more with you in the next blog.