I'm going to teach you the two ways for you to DOUBLE your sales.
That's a pretty BIG promise, isn't it?
How can I make that promise?
Well, I CAN help you double your sales.
In fact, here's how I helped a company very recently go from $1.2 million/month to $2.5 million/month and GROWING in just 90 days.
I'll teach you the principles behind that wild growth right here.
And I promise you WILL leave this with a tactical plan to think clearly about how to DOUBLE your sales whether you're:
An owner or a manager needing to dial in your strategy and get your roofing sales team focused
An individual sales rep selling on your own and you're calling all the shots.
After all, at the end of the day, when you double your sales, there's no doubt that you will SMASH your income goal and give every customer an amazing experience. And that's what I'm all about.
So, welcome or welcome back. My name is Adam Bensman, The Roof Strategist, and I'm really excited to have you here today.
Before we get into it, I have a freebie for you. If you haven't already done it, get your FREE copy of my Pitch Like a Pro roofing sales training video library, sent right to your inbox. It has more than 300 videos, organized by category, for easy binging. You can get instant access now (by clicking on that link).
Now, let's get to the two ways to double your sales (and there are truly only two ways).
FREE "Pitch" Like a Pro Roofing Sales Training
240+ Video Library for Storm and Retail
For Roofing Sales Reps & Owners With New Hires: All the training you need to be a "million dollar" closer!
Get Instant Access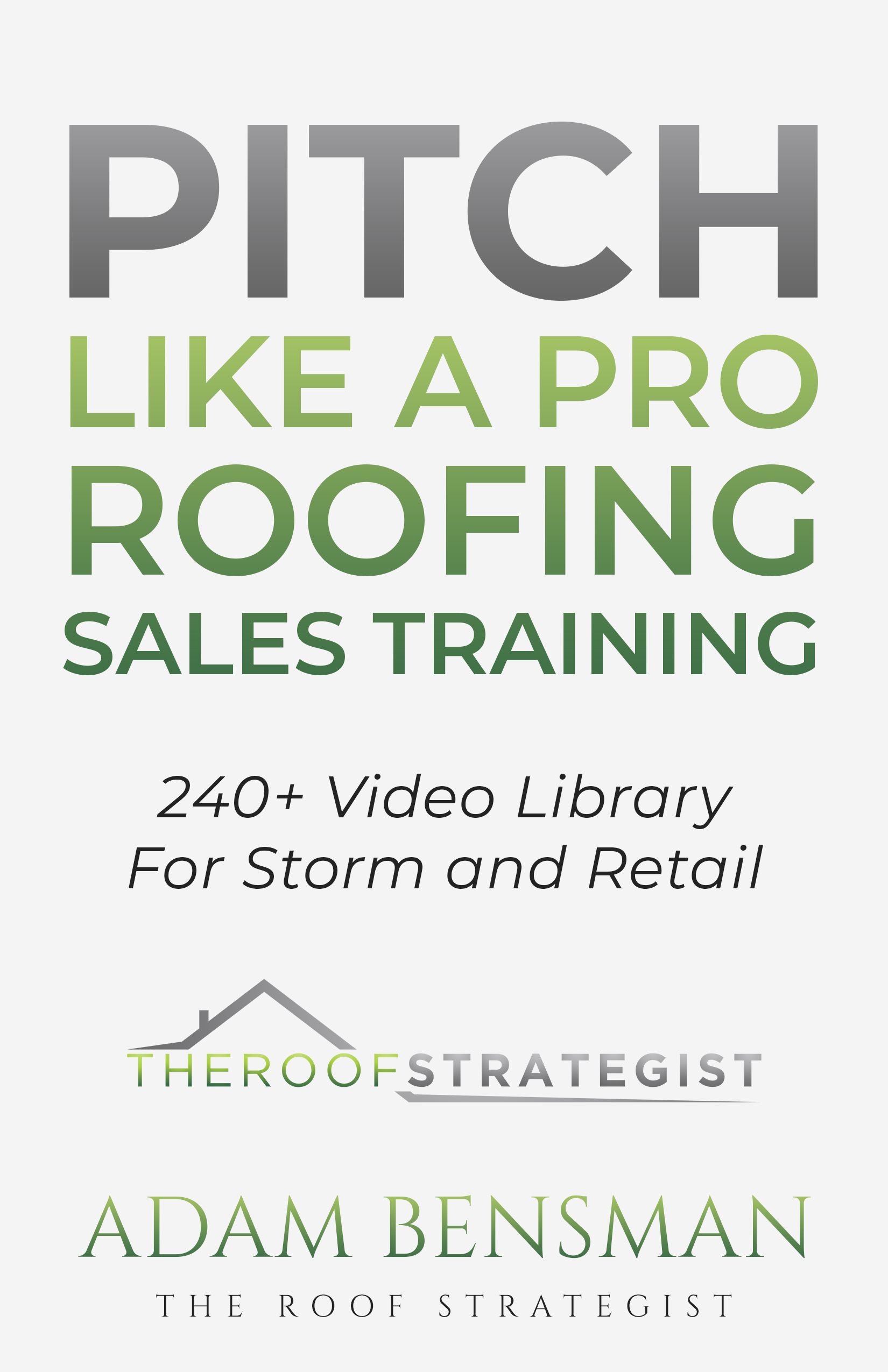 Roofing Sales Income Doubling Strategy #1: Sell More Roofs
The first way we can double earnings in roofing sales is, quite simply, to sell more roofs. In other words, to earn more, you need to get more customers.
Now, I know that strategy may frustrate some people, but we have to lay out the groundwork (and we're starting with the easiest one first; don't worry the second strategy will be more exciting).
When we think about doubling our business, there are only two ways to do it, and the first one is just to:
Get more customers.
Sell more roofs.
The easiest way to do this is with a referral program.
By the way, there's a gentleman in the Pitch Pro Movement, who has a goal of getting one referral a day. Earlier this year, he ended up closing 23 referrals in one month. Not bad, huh?
He fell a little short of his goal, but still — 23 referrals and over $300,000 in residential sales as a sales rep (he's also the sales manager).
Still, the point is to build a sound referral system and make sure everybody is asked ALL the time for referrals. If you need help, personally or for your team, asking for referrals, I walk you through all that in my Roofing Sales Success Formula & Complete Sales Strategy. I'm talking about asking for referrals when you:
Assign the new customer
Send emails
Go out to the job on install day
Finish the job
Building in the right referral program — and the right incentive structure — can be a true game-changer (for more on this, you can also check out my Referral Madness playlist, teaching my incentive structure, because a lot of folks do the referral thing in a kind of a backward way, psychologically).
So, it's all about:
Using the right incentive
Getting comfortable asking when it's lined up the right way
When that happens, it becomes really easy and really natural.
And just like with anything new, we have to develop a sales habit.
Another stellar example of this referral success is Mitch Deskis, who I interviewed on my YouTube channel. Mitch got almost 50% of his business from referrals, and he earned about $300,000 a year.
So, referrals are an absolute, no-brainer.
Beyond getting referrals, we have our referral relationships. So, that's another way we can do it.
We can also get out and go knock on more doors or pour money into more leads. But again, these are cold whereas the referrals are warm.
So, we CAN sell more roofs.
Roofing Sales Income Doubling Strategy #2: Earn More Per Customer
This really is the magic bullet in my opinion. Here's why.
If we sell more roofs, which is very smart to do, it means more work. We have to:
Manage more projects
Manage more customers
Increase our liability
It's just not the easiest way to grow.
So, I recommend you look inward and focus on earning more per customer.
Now, I'm going to:
Break down some very tactical plans that can help you do that.
Share how I helped this company double their monthly earnings because it may inspire you with some new ideas.
Tactical Plan #1 to Earn More Per Customer: Target Better Neighborhoods
What do I mean by better neighborhoods?
Let's say you're in one neighborhood in which the average roof size is 30 square, but the next neighborhood with the same sales opportunity has an average of 35 square roofs.
That's just 5 square, on average. Still, over dozens of homes, it can make a BIG difference.
In fact, I've interviewed salespeople like:
William and Marshall, who have camped out in neighborhoods.
Dominator Bill Sansom, who sold $2.2 million in one neighborhood — He sold 63 out of 73 homes in a single
So, using Bill's example of selling those 63 homes, if he ended up in a neighborhood that had just 5 more square per roof, on average. That's over 300 square difference for the same exact amount of work.
It's working smarter, so we can target bigger or better neighborhoods.
Now, this simply involves being really smart about where you're going to invest your efforts.
Actually, I was having dinner with a company I trained, and one of the sales reps earning about $550,000/year in roofing sales literally REFUSES leads in the office. He says, "I don't want them."
Why?
It's because he:
Is targeting the right homes
Doesn't want to get distracted or pulled out of that neighborhood
Wants to stay put and remain focused
Tactical Plan #2 to Earn More Per Customer: Upsell
Beyond targeting more profitable areas or neighborhoods, we can also earn more per customer with upgrades or upsells.
Now, for some reason, upgrades or upsells can be pretty controversial. I know some people who always include one thing or give something else away. By the way, I am all for delivering TONS of value.
I also believe, though, that it's okay for you to offer things to people because you don't want to sell out of your own pocket.
In fact, we were talking about this in today's Pitch Pro Movement session, on our sales support Q and A. On Zoom with the Pitch Pro Movement, many folks were asking questions about financing. Some offer it, and others don't.
And while we can't sell out of our own pockets, we have to provide to others with options, whether or not they decide to take it.
So, how many times are you going to get a "Yes"?
ZERO if you never ask someone to:
Upgrade
Consider a premium shingle or a class four shingle
Add gutter guards or whatever other products or services you provide
This reminds me of that Wayne Gretzky quote:
You'll miss 100% of the shots you don't take.
So, even just asking can go a really long way.
On a related note, we also have premium products. These can be add-ons, like roofing companies that offer a variety of services. They can also cross-sell or upsell:
Siding
Windows
Gutters
Insulation
Entry doors
Energy-saving audits
The point is that driving up the average cart value is going to mean higher incomes in roofing sales.
Tactical Plan #3 to Earn More Per Customer: Offer Solar
Now, it's time to share with you what we did with the last company, a solar company. In fact, I've been working behind the scenes, developing, testing, and rolling out a new solar sales system.
It's specifically for roofing companies to add solar to the roofs they sell because, oftentimes, people approach solar trying to run a whole separate division of the company, and there's confusion.
Again, we talked about it on today's Pitch Pro Movement call. There's no necessity. People are interested, but there's not as much of a need.
A separate solar division is usually a separate solar company, which means a separate company, separate marketing, separate leads, separate training, separate sales, separate operations, AND confusion about who sells what.
When we just look at adding solar to the roofs that we sell for both storm and retail, we can DOUBLE our business.
That was one of the main vessels I used to help roll out this new solar plan with this company, taking them from $1.2 million to $2.5 million in just 90 days. They simply added solar. And, instead of trying to do solar in their own right, we first looked at how to do solar together with roofing.
Why?
Because there's an art and science to the sale, and the average solar system is $20,000 to $40,000. That can double or even triple your average your sale.
So, a $20,000 roof with a $40,000 solar system means a $60,000 sale, instead of just a $20,000 sale.
Plus, we're providing a tremendous amount of value to that homeowner by pairing the two and offering the roof-solar combo, which is the ideal way to do it.
Again, we can:
Add solar to the roof just by asking at the kitchen table
Double our sales without having to acquire more customers AND without having to acquire a whole new lead channel
So, think about how you can apply this to your business, whether you're in solar now or not (If you're interested in more on this, my new solar program will be coming out very soon. So, stay tuned for that).
Still, whether you decide to do solar or not, you now have two really simple ways to DOUBLE your business.
Recap: 2 Ways to DOUBLE Your Income in Roofing Sales
Summarizing everything here, if you want to double your income in roofing sales, your choice now is to:
Sell more roofs: Figure out the fastest and easiest way to do that by tapping into your network and getting warm leads.
Earn more per customer: Focus on selling bigger roofs, upgrades, premium products, add-ons, cross-sells, and upsells. And consider adding solar to your business.
Now, I hope that you can take this and run with it.
And stay tuned for my solar sales training coming soon (it includes a roofing sales presentation for adding solar to every roof).
Get More Roofing Sales Strategies, Scripts, Tips & Videos
If you want more on any topic in roofing sales, you'll find it in my all-in-one sales training, sales strategy, and sales system, the Roofing Sales Success Formula & Complete Sales Strategy.
This exclusive program covers everything from knock to close, with packages for individual roofing sales reps and entire teams. Many roofing sales companies LOVE this program because it's a consistent process to train everybody on a relatable sales system that WORKS and that's a lightning-fast way to get results.
If you have questions, just call or text (303) 222-7133 for more info or a private demo.
You can also subscribe for the latest roofing sales training videos and/or get a copy of my Pitch Like a Pro roofing sales training video library. It includes every roofing sales video I've ever done, organized by category, along with a bunch of tips, tricks, and more. It's great for new people and seasoned veterans, and it's updated all the time to help you and your team smash your income goals and give every customer an amazing experience.
And don't forget to check out my Marketing Battle Pack for instant access to 70+ pieces of my proven, turnkey roofing sales and marketing materials. It's an entire suite, specially designed for sales teams, managers, and owners, providing:
Scripts
Scheduling
Direct Mail Letters
Door Hangers
Goal Projection Planners
A LOT more!
It's affordably priced and comes with a 100% money-back guarantee. There's also a playlist of instructional videos in there, explaining every single thing. So, you can watch the videos, and you'll know exactly what to do.
Thanks for joining me, and I look forward to sharing more with you in the next blog.