This may change how you approach sales for the rest of your life.
YES, that is a massive claim.
So, how can I sit here and say I'm going to change how you sell for life?
I'm going to do it by teaching you about these 3 dominoes in roofing sales.
Think of this roofing sales strategy like the dominoes you used to play with as a kid — you'd line them up, and you'd have to knock one down first. Then, that first domino would knock over the next one, which would then knock down the third domino, and so on.
Now, these dominoes MUST fall in the right sequence before you even have a chance of closing the sale.
Let's say you've spent all this time going through your roofing sales presentation only to hear the homeowner say something like:
Hey, thanks for coming out. We'll call you if we're interested.
Hey, thanks. I just want to talk to my husband or my wife first. Then, we'll call you back.
Hey, thanks for coming out. We just want to wait and see what other contractors or the insurance company has to say first.
If you've ever heard any of those objections, it's likely because these 3 dominoes were not knocked down in the right order.
So, first, I'll lay out the foundation for this. Then, we're going to get into the meat and potatoes of it all, the 3 dominoes to closing more in roofing sales.
The Foundation: How to Approach & Think About Roofing Sales
To understand how the 3 dominoes strategy works — and to really make it work for us — we have to have the right mindset as our foundation. We get that by thinking about roofing sales like climbing a large staircase. We take steps to get from the bottom to the top. We don't scale the entire flight of stairs in a single leap.
It also helps to think of roofing sales like dating. You can't just walk into a home and expect the beautiful woman to fall into your arms. It just does NOT work that way. You have to build a bond, start a relationship, and get to that point where you can ask for a first date. Then, you go on the date, you talk, and you go out again if things go well, right?
So, we have to go through all these steps in order — whether we're climbing stairs, dating, or trying to close in roofing sales.
And one of the biggest mistakes people make is they skip steps.
They get really eager and excited to get to the end, and they skip steps, trip up, and end up blowing the sale. That's why we need to exercise restraint. We need to go through the process in the right order, by knocking down these three dominoes.
Welcome or welcome back, by the way. My name is Adam Bensman, The Roof Strategist. I'm here (and on my YouTube channel and my podcast, on Apple and Spotify) to help you and your team smash your income goals and give every customer an amazing experience.
Now, on to the 3 dominoes — once you knock these down in order to close, you'll have what we call a "lay-down deal."
Before Diving In: An Upfront Roofing Sales Training Offer
If you're using my all-in-one sales training, sales strategy, and sales system called the Roofing Sales Success Formula, everything I'm about to go over may sound familiar. And, actually, it's the opposite (and more on that in a second).
The other thing that I want to touch on before get jump in is the fact that these dominoes are strategically baked into my Car Park Closing Formula that provides a step-by-step process for knocking each of these dominoes down in order.
So, if you're already following and doing this — and maybe you're even doing this without knowing it — that's excellent. Now, you'll know the philosophy behind this roofing sales strategy, and you can supercharge your efforts.
First, though, we're going to take a bit of a backwards route into this topic. We're going to dive in by talking about the opposite side of the dominoes to closing in roofing sales. We're going to talk about objections.
FREE "Pitch" Like a Pro Roofing Sales Training
240+ Video Library for Storm and Retail
For Roofing Sales Reps & Owners With New Hires: All the training you need to be a "million dollar" closer!
Get Instant Access FREE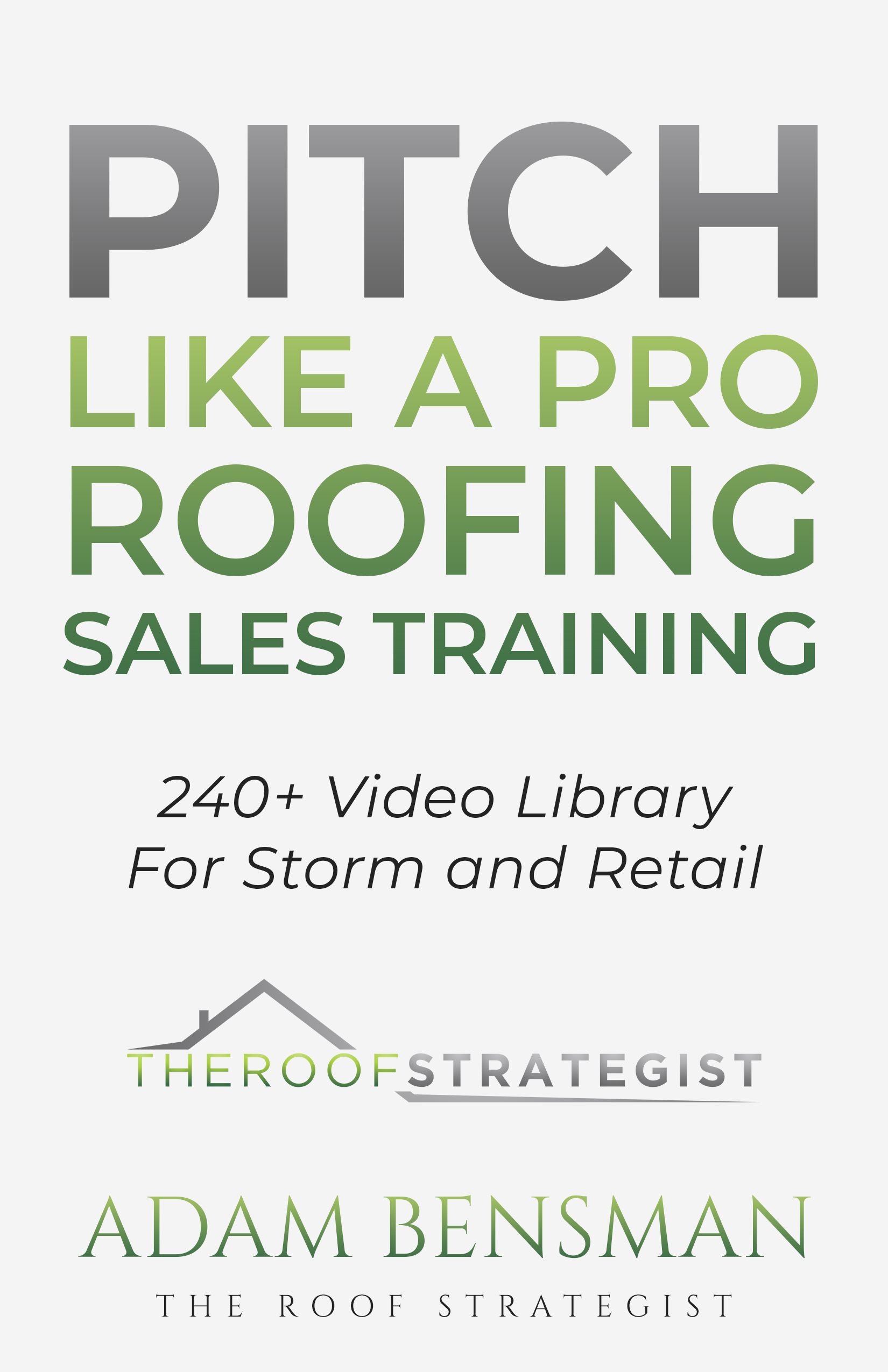 The 3 Categories of Objections in Roofing Sales
Pop quiz — what are the 3 categories of objections in roofing sales?
All objections you hear in this industry will funnel into one of these categories, and those categories are:
Trust: If the homeowner doesn't trust you yet, they're not going to buy into your roofing sales pitch. Instead, they're going to throw out some objection.
Need: Need-based objections can get in your way when the homeowner doesn't believe they have roof damage or they don't really understand that they need your services.
Money: If the roofing estimate seems "too high" or a homeowner simply doesn't want to pay their deductible, money is going to be the reason for their objections.
Ultimately, when we look beyond the words said in the objections we hear in roofing sales, they all funnel into one of these categories. By understanding that, we can 'decode' what the homeowner really means when they give you a common objection, like those in the table below.
The reason I'm sharing all of this upfront is that this ALL ties directly into the 3 dominoes you need to line up and knock down in order to close more.
Because when we learn to actually recognize what's being said, the intentions or feelings behind the literal words, we can then speak to the deeper meaning and start to overcome those objections.
3 Dominoes to Overcome Any Roofing Sales Objection & Close More
Now, this is where it gets fun.
Pop quiz #2 — what are the 3 dominoes to close more in roofing sales?
Trust
Need
Money
Notice something?
Nothing changed from those 3 objection categories I shared above.
And it just so happens that these 3 dominoes must be tackled in order to overcome those objections and close more sales.
Roofing Sales Closing 'Domino' #1: Trust
Let's get into some sales psychology because everything we do in roofing sales is either building trust with a homeowner or it's killing that trust.
And what often happens in the sale is that we'll start to build some trust and then we kill it. So, this is the first domino we have to knock over.
Now, let me just ask you something — who do people buy from? They buy from people they like and people they trust.
So, can you ask for the sale if someone doesn't trust you? Absolutely not.
If you do, you're NOT going to get it. After all:
Can you show someone that they need a roof if they don't trust you? Will they give you the time of day? Absolutely not.
Can you sell someone a roof they don't need? No, not if they don't think they need it. They'll never buy it.
What if they think the roof costs too much money and that it's just too expensive? Are they going to buy it? Again, no, they will not.
So, we have to go through this in order to develop trust as a foundation.
This is the first part of the Car Park Formula — connect and assess — and that leads us to addressing the "need," which also involves assessing and reporting. We ONLY focus on the money and the presentation in the end. And it's funny because people think closing is just about presenting. But in the Car Park Formula, I teach you to go through these dominoes in order.
Now, here's the number one takeaway for approaching a sale. When you're at the door, ask yourself this question:
Do they trust me?
Remember, your main mission is to:
Develop trust
Communicate in a way that removes fear, doubt, worry, and concern
Get up on that roof once
And, by the way, would they let you get on the roof if they don't trust you? NO.
So, again, TRUST is the foundation for all sales.
Roofing Sales Closing 'Domino' #2: Need
Once they trust you and you're on the roof, what are you focused on doing now?
You're documenting the evidence that they NEED a roof.
You're getting indisputable proof to show them they NEED a roof.
By the way, my Car Park Formula & Complete Closing Strategy, teaches you exactly how to get and present this evidence of roof damage to homeowners in a way that's going to continue to build trust.
So, we go from developing that initial trust as a foundation to:
Getting on the roof
Creating the need
Getting in the house
Continually building and reinforcing that trust
Strengthening the need
Getting the homeowner engaged in the process
At this point, it's time to confront and knock down the money domino.
Roofing Sales Closing 'Domino' #3: Money
If you've read any my blogs (or watched my videos, listened to my Podcast, or gone through my training), you know that I teach this opening for roofing sales pitches:
Hey, Mr. or Ms. Homeowner, I just want you to know you can choose anyone you like and trust for this process. Of course, I hope it's me.
I open with that before I talk about myself or the roofing sales company. Then, I qualify that, explain WHY, and use this as an opportunity to:
Tackle the money issue
Explain why my estimate may be higher
Point out that their rate is essentially fixed with the insurance process
That is how I overcome this whole money concern, which is usually the biggest objection, straight out of the gate — and before I even move into the presentation.
So, at this point I have:
Built unshakable trust
Established the undeniable need
Tackled the whole money concern upfront
Now, we have put all of their worries at ease, we have them as a captive audience for a presentation, and we can ask for the business.
Recap: 3 Dominoes to Close More in Roofing Sales
Your mission is to focus on the three dominoes:
Trust
Need
Money
Burn that into your brain — trust, need, and money. Not only are these the 3 objection categories, but they can also be your roadmap to identifying what's really behind the objection and how to overcome it using the ARO Objection Formula.
Because you know that those objections coincide with the 3 dominoes that you need to knock down in order to close the sale.
If you want more roofing sales closing strategies — or if you want to get your team trained up — check out the Roofing Sales Success Formula, my all-in-one sales training system that's the best way to get your hands on my entire start-to-finish, knock-to-close, sales system. I go through it in a lightning-fast 9.5 hours. I've also got new stuff coming to that program, based on customer feedback, and all of our existing customers will get that for free.
So, thank you again for joining me, and if you're interested in any of my programs, just contact my team by calling or texting (303) 222-7133.
Get More Roofing Sales Strategies, Tips & Videos
Subscribe for the latest roofing sales training videos and/or get a copy of my Pitch Like a Pro roofing sales training video library. It includes a ton of videos on overcoming objections and closing in roofing sales, as well as every video I've ever done, organized by category, along with a bunch of tips, tricks, and more. It's great for new people and seasoned veterans, and it's updated all the time to help you and your team smash your income goals and give every customer an amazing experience.
Also, check out my Marketing Battle Pack for instant access to 70+ pieces of my proven, turnkey roofing sales and marketing materials. It's an entire suite, specially designed for sales teams, managers, and owners, providing:
Scripts
Scheduling
Direct Mail Letters
Door Hangers
Goal Projection Planners
A LOT more!
It's affordably priced and comes with a 100% money-back guarantee. There's also a playlist of instructional videos in there, explaining every single thing. So, you can watch the videos, and you'll know exactly what to do.
Thanks for joining me, and I look forward to sharing more with you in the next blog.