Hey, Adam, here at The Roof Strategist. Today, we're going to talk about the four stages of the hail damage claims process.
Now, most roofing sales training will tell you to do a generic pitch at the door. But, believe it or not, there are four stages of the claims process:
No claim has been filed.
There has been partial payment for a sloper, a wall, or siding.
The claim has been denied because the insurance company comes out says there's no damage.
Compensation has been paid. The homeowner has the check in hand because the adjuster has already been out.
Why Do I Need to Know the Hail Damage Claims Process?
Our prospect's needs and desires are determined by the stage of the hail damage claims process that they are in. We want to speak to them in a manner that will make them want to make a buying decision.
So, what if I say this to a prospect?
Hey, my name is Adam. I'm in the Roof Strategist. I work directly with your insurance company, on your behalf, to make sure we get all the funds settled. We're going to do your roof.
If the guy's got his check, does he care?
No. He doesn't.
I have to put together the right value proposition for him. I can do that when I know the four stages of the hail damage claims process. I can speak to a prospect's immediate needs and give them a unique solution, a call to action explaining exactly why they want to work with me. Here's how.
Hail Damage Claims Stage 1: No Claim Filed
If a homeowner doesn't have a claim filed, they're in Stage One of the hail damage claims process. This is where our greatest value lies. It's working with the insurance company from start to finish to secure all the proper funds.
At this stage, we're making sure their cost doesn't exceed their deductible. We are going to let them know that we're here to help save them time and money.
FREE "Pitch" Like a Pro Roofing Sales Training
240+ Video Library for Storm and Retail
For Roofing Sales Reps & Owners With New Hires: All the training you need to be a "million dollar" closer!
Get Instant Access FREE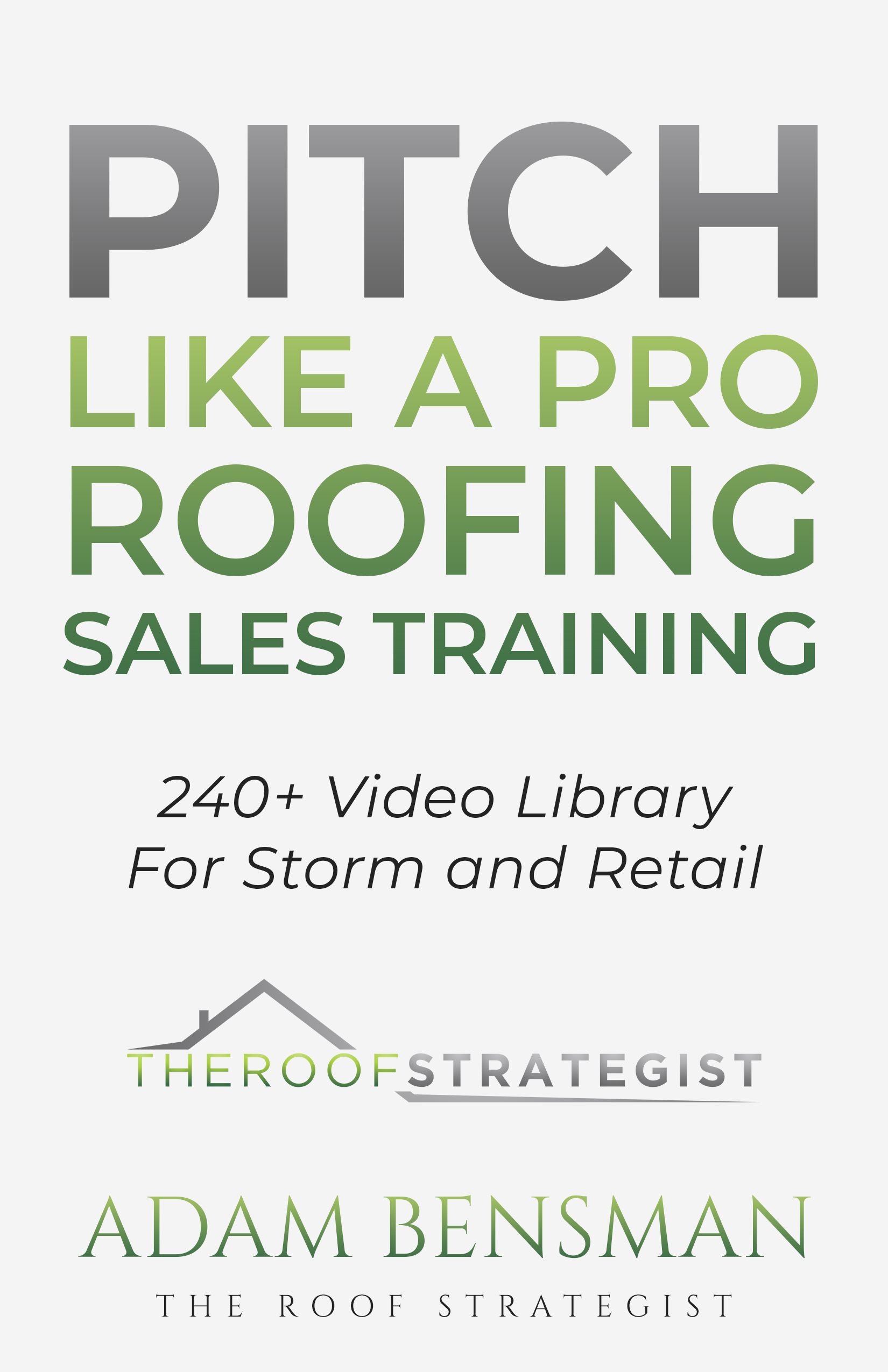 Hail Damage Claims Stage 2: Partial Payment
Now, let's say they got a partial payment, and we're doing a slope. In this stage, the homeowner needs an insurance restoration contractor to represent them to the insurance company and make sure the assessment is complete.
Knowing the claims process and insurance language, we can share our knowledge of roofing with the homeowner. We let them know that, if the insurance company is going to commit to point C, which might be the partial payment, we have to hit points A and B first.
I'll explain to the homeowner that I've seen full roofs replaced simply from an adjuster committing to paying for the gutter helmet. I call that a "working commitment." So, if the insurance adjuster is going to agree that there's damage that needs to be fixed, now, I have a platform to get the whole thing covered.
I want to use that working commitment — along with my insurance expertise, my policy language, my knowledge of the Xactimate estimating platform, and my roofing knowledge — to get that roof covered in full.
Hail Damage Claims Stage 3: Denial
This is going to be a very similar value proposition to Stage Two. Here, homeowners have one last chance on that reinspection to get professional restoration contractors to represent them when dealing with the insurance company.
This is where we make sure the assessment is done in full. We're going to be there before, during, and after, to make sure we catch anything and everything possible.
Hail Damage Claims Stage 4: Check in Hand
Most guys start to struggle here. They get worried because the homeowner has the check and wants an estimate. So, we have to flip the script. We tell them about our "price lock guarantee." We can say something like:
I'm going to do your project for what the insurance company assessment states. All you owe is your deductible — no more, no less.
But here's the good news. Before I do the project, I'm going to walk through and make sure that they got everything covered. Because, believe it or not, about 90 to 95% of the jobs that cross our table end up getting supplemented.
That's not because of neglect or ill will from the insurance company. They're there once. I'm there before the project, during the project, and after the project. And I'll make sure everything's documented.
Why Do They Need You?
Now, let's bring this into why they need me to do the work and why they don't need to get three estimates. I'll say something like this to the homeowner:
I'm going to make sure that, if there is an in-progress supplement — or any issues arise — you don't get any surprise bills. No one likes surprises.
By working with me, I'm going to do the project for your deductible, no more, no less.
And, if any supplements arise during the project, we're going to get them documented and submitted to the insurance company on your behalf.
I'll usually share an anecdote here too. I'll tell homeowners that I once turned a gutter helmet replacement job into a full roof replacement because the shingles did not pass a repairability test. I ended up saving the homeowner $7,000 out of pocket by working with an insurance company for him.
So, we want to flip the script with a price contrast. We say, "you work with me, and I'll make sure that price stays locked in where it is. No surprises." Bam.
If you remember those four stages of the claims process each time you show up to a house — and if you ask the homeowner some questions so you can find out what stage they're in — you'll be able to deliver the right value proposition every time.
Want More Roofing Sales Strategies, Tips & Videos?
Subscribe for the latest roofing sales training videos and get your copy of my Pitch Like a Pro roofing sales training video library. It includes every video I've ever done, organized by category, along with a bunch of tips, tricks, and more.
Also, don't forget to check out my Marketing Battle Pack for instant access to proven roofing sales and marketing materials. It's affordably priced for new salespeople, owners, and managers growing teams. It comes with a 100% money-back guarantee and more than 70 pieces of my proven marketing materials. There's also a playlist of instructional videos in there, explaining every single thing. So, you can watch the videos, and you'll know exactly what to do.
Thanks for joining me, and I look forward to sharing more with you in the next blog.