Customers are absolutely CRAZY.
And when they're inside their own homes, they can do even CRAZIER things.
As roofing sales professionals, we experience the inner crazy of every customer who would never ever reveal that side of themselves in public. But these experiences fall on our plates.
They make for good stories — or the absolute worst and hardest dates. They're the customers who call, and the minute you see them on caller ID, your heart sinks. And you have to just put the smile on and get through the act. But at the end of the day, they can really beat you down.
So, we're going to take a little break from our normal programming of roofing sales strategies and sales tactics.
Instead, we're going to break down the five crazy things that customers do, pairing each type of customer persona and a brief story.
This is going to be fun and entertaining! Beyond that, though, the real takeaway is that you're going to learn:
How to cope with these weird scenarios
How to maintain incredibly high-quality service, even when you're faced with these curveballs
How to create an amazing experience, transforming those bad experiences into great experiences
After all, at the end of the day, we are truly in the service business. And whether or not you get referrals is up to you. It all comes down to how you treat your customers and the experiences they have with you.
That's going to make or break the deal in door-to-door roofing sales.
Before we get to it, I first want to say welcome or welcome back. My name is Adam Bensman, The Roof Strategist. Everything I do here — and on my YouTube channel, Instagram, my podcast (on Apple and Spotify), and in my all-in-one sales training, sales strategy, and sales system — is designed to help you and your team smash your income goals and give every customer an amazing experience.
Now, let's dive in.
FREE "Pitch" Like a Pro Roofing Sales Training
240+ Video Library for Storm and Retail
For Roofing Sales Reps & Owners With New Hires: All the training you need to be a "million dollar" closer!
Get Instant Access FREE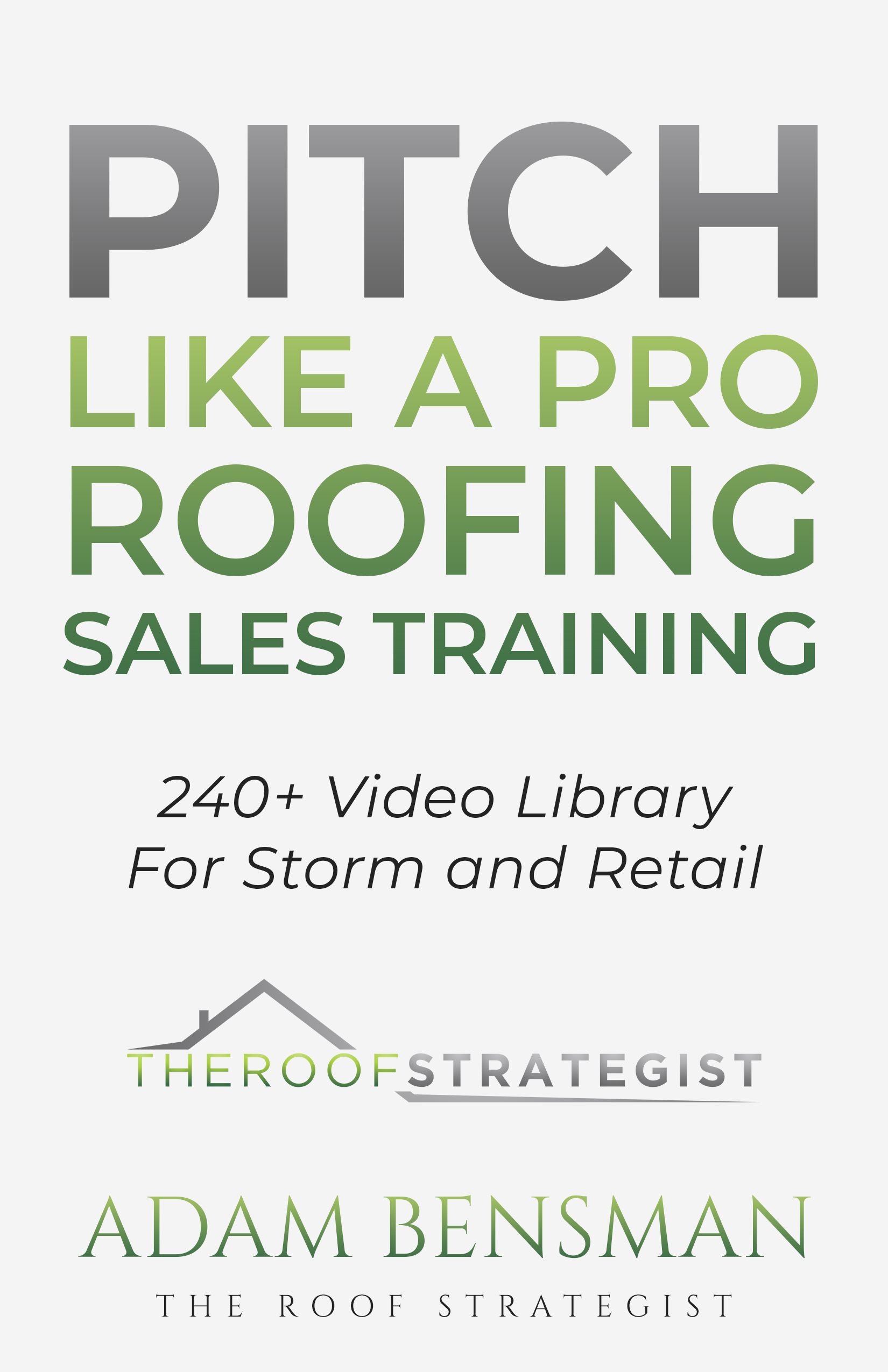 D2D Roofing Sales Persona #1: Lawn Chair Larry
I first met Lawn Chair Larry around my 3rd year in roofing sales. I had a call, an inbound lead, come into the office after a tree fell on this guy's house in a mobile home park.
So, I drove two hours only to find a really tiny project. I didn't even know if we could take it, and I was bummed.
That's when we worked our magic. We ended up turning this tree claim into a full roof replacement, and I thought this customer was going to LOVE us.
BUT Lawn Chair Larry showed up on install day. As the owner of the house and a construction expert, he had decided that it was his responsibility to:
Set up his lawn chair on the front lawn
Park his butt in it
Become the foreman, managing and observing his own project
Have you had a customer like this? If so, you may know that, at the end of the day, someone like Lawn Chair Larry just really wants to:
Feel special and important
Let you know that he knows what he knows so that you do a good job
The best way to deal with Lawn Chair Larry is to simply:
Reinforce his desire to get a quality project done.
Let him know that you'll give him a buzz if ANYTHING comes up.
Put Lawn Chair Larry at ease.
If you can do those things, believe me, it'll make your whole job easier — even if he doesn't leave the lawn chair.
D2D Roofing Sales Persona #2: Nervous Nellie
Nervous Nellie is one of my least favorite customers. I first met a Nervous Nellie on a project I didn't even want. She called in for a reinspection of her roof that got denied, and I even told the adjuster there's nothing there.
Well, guess what? The adjuster needed to get this roof approved, and he paid for it. So, I got stuck working with Nervous Nellie.
Now, Nervous Nellie called me about every one to two hours on the day of install.
In the first call, Nervous Nellie says, "Hey Adam, the crew is loading the roof with material as they're tearing it off. Don't they need it all torn off first?"
So, I say, "Nervous Nellie, no need to worry. The crew knows what they're doing. We're bringing material up as we're tearing it off, so we can do parts of your house in order, in case any severe weather comes. We want to work through those sections one at a time. Leave this with us. We do it every day."
Then, Nervous Nellie calls back because debris is falling into a certain area.
And she KEEPS calling back.
Every time she did and I heard my phone ring, I'd think:
It's Nervous Nellie again! What am I going to do?!?
And as Bill Sansom says, you have to check up from the neck up (Bill is the gentleman I interviewed who did $2.2 million in one neighborhood in his very first year in roofing sales using my sales system).
And I would always do that. Plus, you can ease any tension in the whole situation if you just kill Nervous Nellie with kindness.
D2D Roofing Sales Persona #3: Delusional Dan
Have you ever worked with a Delusional Dan? I met a Delusional Dan in court after he accused us of damaging his gutter.
What Delusional Dan didn't realize is that we had a before picture of his property, with a description of the gutter damage. In fact, he had even autographed it to verify its condition. Afterward, however, Delusional Dan and his sleazeball attorney tried to say those pictures were doctored.
So, the Delusional Dan you've dealt with — or that you may soon run into — is the person who notices something that "wasn't there" before. It's the classic you-touched-it-last syndrome.
Delusional Dan finds something, thinks you touched it last, and assumes you broke it. You know the type. It usually goes something like:
My roof duck didn't sway like that until you put those new shingles on.
That crack wasn't there in my driveway until your cruise trailer was parked there.
Now, there's really not an easy way to deal with these folks when they believe you've messed up their home.
So, my best advice for you is to document the condition of the house before the project. This means doing things like (but not limited to):
Taking pictures of the driveway, especially wherever there are cracks or oil stains
Taking pictures of every elevation
Doing the "U-Haul inspection"
The U-Haul inspection means you walk the property with the homeowner and point out the existing damage on the home. As you do this, you can frame it in a positive light for the homeowner by saying something like, "Hey, we're doing this so that, if we mess anything up, we can take responsibility and get it fixed for you."
D2D Roofing Sales Persona #4: Pissed Peggy
Pissed Peggy is downright ANGRY. She's not calling with questions or concerns. She's calling because she's pissed off! She could also be called the Negative Nancy because, no matter what you do, something's ALWAYS going to be wrong with it.
My most memorable experience with a Pissed Peggy was with a woman whose roof had very marginal damage. We were still able to get it approved because she desperately needed a new roof.
And once we got into it, we realized it required re-deck. So, we invoiced the insurance carrier, got everything covered. We got her a brand-new roof. We went to bat for her to flip this retail opportunity into an insurance deal and save her THOUSANDS and thousands and thousands of dollars.
Then, one day out of the blue, Pissed Peggy calls me and says this:
Adam, I am looking at the insurance paperwork. And on the estimate, it says half-inch CDX.
But what I see in my driveway is three-eighths OSB.
And I called Lowe's, and the price difference is $X.
She had literally calculated the dollar-for-dollar difference between OSB and a half-inch CDX, and she wanted me to write her a check because of the difference. Can you believe that?!?
Now, I wanted to laugh at all this, but here's what I said:
Listen, I'm happy to cut the difference.
I can return this if you would like to go to Home Depot and pick up the 60 sheets that we're going to need.
By the way, does Home Depot deliver? No, they don't. So, I explained the facts to Pissed Peggy, telling her that:
Our supplier carries OSB.
Our supplier delivers directly to her property.
The reality is that Home Depot is NOT delivering those sheets.
That's just how it works in the roofing business.
You and I both know we don't pay less when we're getting items from our supplier.
So, Pissed Peggy is that the person who's going to be upset no matter how good of a job you do.
They're upset about something. And with these folks, I've found that one of the best approaches can be to:
Use logic and help them understand the situation, as it is.
Take the emotional component of your connection and simply express your desire to make it right, saying something like, Hey, we really want to make this right for you. How can we do that?
D2D Roofing Sales Persona #5: Talkative Terry
Talkative Terry is the customer who won't do business with you until you've had a beer with him.
I had a gentleman like this, and when I tried to peel away from that conversation, I heard about what his cousin was doing that day, where his daughter went to school, and what his hobby was in high school. I learned about the car in his garage and the bad experience he had in the return center at Walmart.
Talkative Terry won't let you go.
So, here's what you want to do when you run into those Talkative Terrys. Find that one moment in the conversation where you can jump in. Then, say something like:
Man, that sounds like a total nightmare. I'm glad you got that taken care of.
Hey, I don't want to keep you all day. I have an appointment coming up, and I have to scoot.
In other words, a great way to deal with a Talkative Terry is to:
Interject as soon as you have the chance.
Acknowledge what's been said or going on, referring to something specific.
Give it a wrap, mentioning that you don't want to keep them.
Here's another nice, easy way to wrap it up with a Talkative Terry:
Hey, I'm sure I could chat with you all day.
I don't want to keep you, and I've got this appointment coming up.
Again, you offload. Instead of saying, "I want to get OUT of this conversation. You're burning my time," we make it all about them.
Recap: 5 Crazy Personas in D2D Roofing Sales & How to Handle Each of Them
So, now you have a really clear idea of the five crazy things you may see customers do in door-to-door roofing sales. Those five crazy personas are:
Lawn Chair Larry
Nervous Nellie
Delusional Dan
Pissed Peggy
Talkative Terry
Whenever you come across one of these personas, you now know:
What to do
How to deal with these situations
How to still give that customer an amazing experience
Get More Roofing Sales Strategies, Scripts, Tips & Videos
If you want more on any topic in roofing sales, you'll find it in my all-in-one sales training, sales strategy, and sales system, the Roofing Sales Success Formula & Complete Sales Strategy.
This exclusive program covers everything from knock to close, with packages for individual roofing sales reps and entire teams. Many roofing sales companies LOVE this program because it's a consistent process to train everybody on a relatable sales system that WORKS and that's a lightning-fast way to get results.
If you have questions, just call or text (303) 222-7133 for more info or a private demo.
You can also subscribe for the latest roofing sales training videos and/or get a copy of my Pitch Like a Pro roofing sales training video library. It includes every roofing sales video I've ever done, organized by category, along with a bunch of tips, tricks, and more. It's great for new people and seasoned veterans, and it's updated all the time to help you and your team smash your income goals and give every customer an amazing experience.
And don't forget to check out my Marketing Battle Pack for instant access to 70+ pieces of my proven, turnkey roofing sales and marketing materials. It's an entire suite, specially designed for sales teams, managers, and owners, providing:
Scripts
Scheduling
Direct Mail Letters
Door Hangers
Goal Projection Planners
A LOT more!
It's affordably priced and comes with a 100% money-back guarantee. There's also a playlist of instructional videos in there, explaining every single thing. So, you can watch the videos, and you'll know exactly what to do.
Thanks for joining me, and I look forward to sharing more with you in the next blog.