Burnout can near KILL you. It's real, and it's prevalent in the roofing space.
It can ruin marriages, cause divorce, and push folks into unhealthy behaviors to disconnect (alcohol and drugs). And if you're not careful:
It will sneak up slowly.
One day, you'll reach a breaking point that you cannot ignore.
At that point, it's too late, and your two choices are to quit or bear down and find a way through it.
And, unfortunately, burnout tends to pop up at the HARDEST times of your life. That's what happened to me both times that I experienced burnout.
So, this is for you if you're someone who is:
Near burnout
Racing through the day, wishing you had more time
Feels like your motivation is melting away and being replaced by pure dread and drudgery
Whether you're experiencing this personally or you're an owner or manager seeing this in your team:
You could be watching that drive and passion just kind of fall apart.
You need a path to tap back into that passion.
So, if you're in those camps or you know someone who is, please dive in and share this because it can help ALL of us:
Survive burnout.
Enjoy our lives in roofing sales.
Smash our income goals.
Give every customer an amazing experience!
Welcome or welcome back, by the way. Adam Bensman, here, The Roof Strategist. Thanks for joining me today.
Now, the reason that I do what I do is because I estimate that:
About 66% or so of first-year roofing sales reps quit or get fired.
Burnout often drives folks away from roofing sales.
Some people burn out really early. And for those that do survive, many of them burn out later. When that happens, again, it typically ends up in divorce, alcoholism, destroyed relationships, health problems, and more.
So, I want to share:
A couple of quick stories about how I burned out: This happened most recently about a month ago. Since then, I've made some big life adjustments, and I'm sharing this so that you know that I've been there and that I'm not a hypocrite, telling you how not to burn out.
Some tips to help you avoid burning out: I'm going to share 7 tips you can start using to avoid burnout in roofing sales.
FREE "Pitch" Like a Pro Roofing Sales Training
240+ Video Library for Storm and Retail
For Roofing Sales Reps & Owners With New Hires: All the training you need to be a "million dollar" closer!
Get Instant Access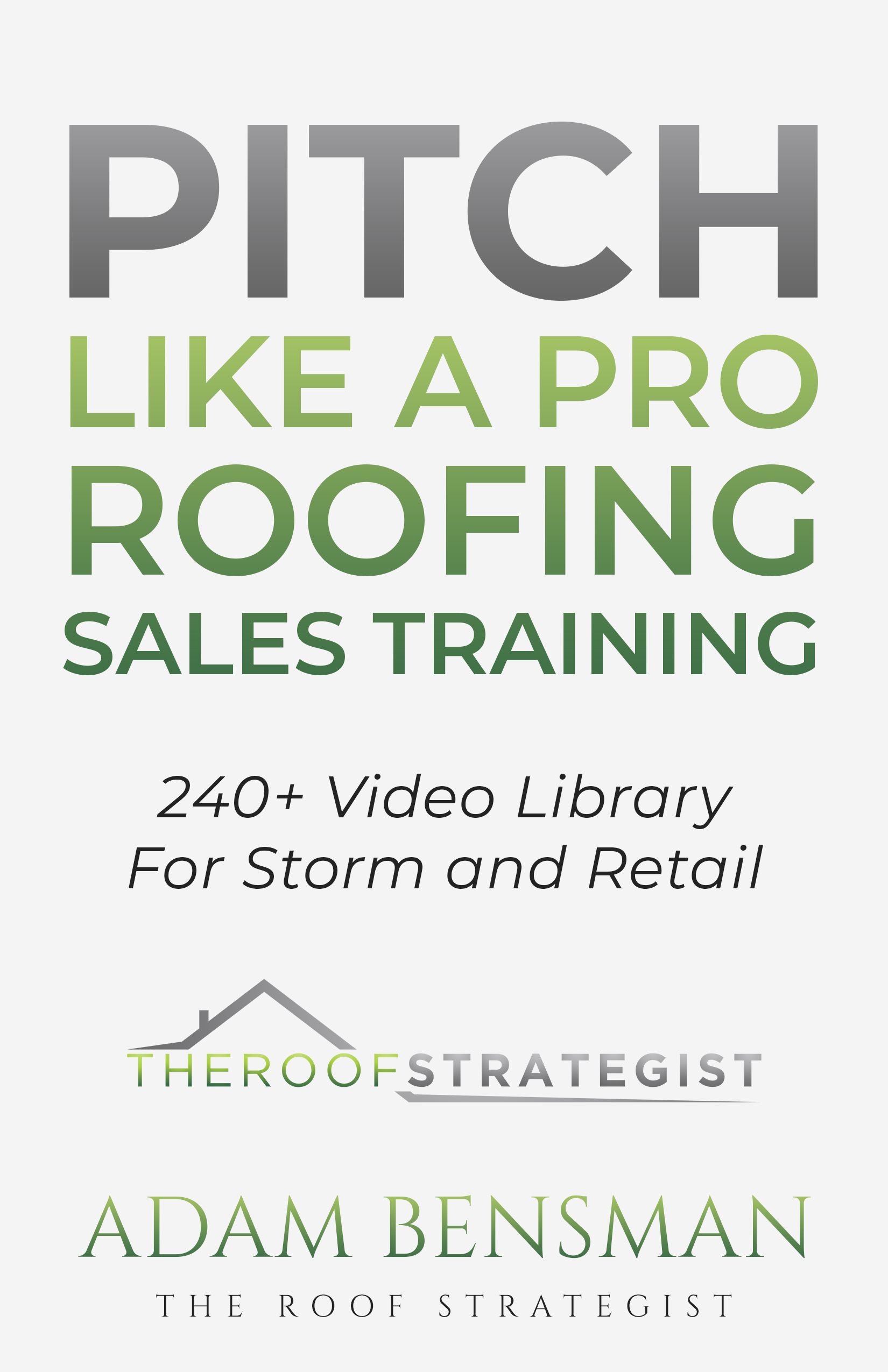 How I Burned Out in Roofing Sales: Story #1
In my past life in roofing sales, I became hyper-focused on financial gain and growth. And I got really messed up in my head, tying my net worth to my personal worth.
In fact,  I remember being on a treadmill — by the way, I stopped using the treadmill because I found that 12-ounce curls were much more relaxing — I remember being on a treadmill, running, visualizing my next financial goal, and hitting it.
Shortly after, I ended up thinking:
Hey, that's too hard to work out.
Let's just jump to the old 12-ounce curl. That's easier.
After that, I ended up gaining 30 pounds, and:
My health declined.
My personal relationships declined.
I chased money, and I ended up in the ICU, thinking I was having a heart attack before I was even 30 years old.
I ended up with a chest infection affecting the sac surrounding my heart.
Now, that's heavily linked to stress — and most of us know that stress is NOT good for us.
That was the first time I burned out.
The 2nd Time I Burned Out in Roofing Sales
The second time I burned out, which was about a month ago, and I was coming out of the highest stress time in my life, speaking at 50 different events in 26 weeks.
So, in 6 months, I spoke at 50 events, literally bouncing from coast to coast. I had Christmas and New Year's off, BUT:
This was a HIGH-STRESS
There was HIGH PRESSURE to perform.
I was getting little sleep, especially with time zone changes.
My diet was the poorest it's been in a while.
I didn't really have much time for fitness.
I had NO personal life because I was only home a few days a week, at which point I was trying to get caught up with my business and my personal life before getting back on the road again.
During that time, I also started to experience extremely high levels of anxiety, which then led to anxiety attacks. And I had never had anxiety attacks as an adult before. I had them as a child but not as an adult. It was HORRIBLE. '
It was also a wake-up call.
So, I'm not here to preach or pretend that I've got it all figured out. I'm simply sharing practical advice that's helped me, and I hope it can help you too.
Now, let's jump right into my tips for avoiding burnout, starting with tip number one.
Tip #1 to Avoid Burnout in Roofing Sales: Get your phone out of your bedroom.
This is probably the MOST important change you can make, and it's a little thing.
Get your phone out of your bedroom.
Often, we put our phones on end tables and use them as alarm clocks. They buzz, we wake up, and:
We instantly see text messages, team chats, and new emails.
We get right into everything, reacting INSTANTLY.
From that first second of the day, we literally wake up to work, and:
We're in reaction mode.
We think about everything we have to do.
We're frantic and anxious.
So, Sheena (my wife) and I have a rule — there's no contraband (cellphones) allowed in our bedroom. Instead of pulling our phones in by our beds:
We keep our phones in the laundry room, which is a totally separate room from our bedroom.
We have alarm clocks in the bedroom.
Now, I get up and start my morning routine first. I don't even go in my laundry room to get my phone until I'm done and ready to actually start my work day.
So, tip number one is twofold:
Get your phone out of your bedroom.
Buy a digital alarm clock (they're super cheap on places like Amazon).
Tip #2 to Avoid Burnout in Roofing Sales: Establish boundaries.
I used to respond to calls ALL OF THE TIME — days, nights, weekends, holidays, and anytime. I'd see text messages and emails coming in all the time, trying to respond to everything.
Then, someone once said to me:
Adam, you teach people and train them how to communicate with you.
If you respond on a Sunday at 6:30 p.m., they expect you to respond at 7 p.m. when they email back.
So, set your boundaries. You can do that in your:
Email signature: For instance, you could include some language saying something like, "I check email Monday through Friday, 9:00 a.m. to 5:00 p.m. That's it. I'll get back to you then."
Voicemail: For example, in your outgoing message, you could say something like, "Hey, thank you so much for calling Adam, The Roof Strategist. I check my voicemails Monday through Friday, 8:00 a.m. to 6:00 p.m. If this is an emergency, please shoot me a text, and I'll get you taken care of right away. Thanks again for calling. I can't wait to serve you."
The point is to communicate the fact that there's a timeframe in which you're available to serve and respond to messages.
And if there's an emergency, someone's going to call twice — or they'll text me. At that point, I can quickly respond to leaks or whatever else it is.
So, setting those boundaries is important, and it's your second tip for avoiding burnout in roofing sales.
Tip #3 to Avoid Burnout in Roofing Sales: Sleep.
A while back, I started to drink the Kool-Aid and think that:
Sleep was for the weak.
"Real" people get up and start their day at 3 a.m.
So, I started inching up my wake-up time. I went from waking up at 5 to 5:30 a.m. naturally to getting up at about 4:45 a.m. When I did that, I found that:
I'd go to sleep a little bit later.
I was just dragging ALL the time.
My brain wasn't working properly.
Recently, I saw David Goggin speak at the Owens Corning Platinum Conference, and he said he was surviving on like 2 hours of sleep a night. For many years, his adrenals went haywire. It's called adrenal fatigue, and it turns out it's a REAL thing.
And that was happening to me. So:
I need 8 or 9 hours of sleep a night. That's non-negotiable.
I have a bedtime, and I'm in bed between 8:30 p.m. and 9 p.m. every
I sleep until 6:00 a.m., and I meditate while I'm lying in bed. Instead of zipping up when I wake up, I calm myself down.
And that leads me to the next tip.
Tip #4 to Avoid Burnout in Roofing Sales: Start your day with exercise.
After I get my 8 to 9 hours of sleep and I'm awake, I meditate first, instead of, again, waking up, grabbing my phone, and zipping right into phone/work mode. In fact, I:
Meditate to calm down.
Zen out.
And David Goggins inspired me with this tip as well because he says to do something that sucks EVERY SINGLE DAY. For me, that's running.
So, I began to:
Run every single morning.
Get my workout in first thing every day.
It doesn't matter how cold or crummy it is outside. I'm out there. In fact, I had a flight the other day at 7:00 a.m., and I went to bed extra early, got up at about 5:00 a.m., and went for my 3-mile run because it's part of my self-care routine.
So, exercise first thing. If you don't and you wait until after work, you're going to be tired and hungry, wanting to eat dinner, instead of working out. After you eat, you'll be too full.
That's why I just exercise first thing in the morning.
And if you're not a runner, who cares? You could:
Go lift weights.
Sit on a rower.
Go for a walk.
I actually started doing this, by the way, by simply going for a walk to ease into it. It later turned into running.
Tip #5 to Avoid Burnout in Roofing Sales: Disconnect from work at the end of the day.
This next tip is one that I've picked up more recently, and it's reading something non-work related to disconnect from the day.
I get lost in fantasy books, and I love it because:
I get lost in this new world.
I feel weird like a dorky bizarre teenager.
I get sucked into the stories.
I disconnect and end up just falling asleep.
That's been AMAZING — and I wish I had done it earlier.
So, read something that's NOT related to business each and every night, so you can disconnect — and so that your mind's NOT focused on work matters all night long.
Tip #6 to Avoid Burnout in Roofing Sales: Organize every single day.
The next way to avoid burnout is to plan and organize every single day. In fact, today will not end until tomorrow is planned.
So, when I'm done with my planned work for today, I'm going to:
Look at what I'm doing tomorrow, including my meetings and all the tasks I need to complete.
Organize my day, deciding what gets done and prioritizing my tasks so that I know EXACTLY what I'm doing tomorrow when the day gets going.
Actually, I already have most of my week pre-planned from last week, as I'm going through everything now. So, for you, this means setting aside some time to:
Plan your day the night before: Every day, ideally at the end of the day, you plan the next day.
Batch your time in your mornings: You want to do your non-income-producing activities in the morning when you can't be selling. That's usually between about 7:00 a.m. and 10:00 a.m. This is when we can be doing administrative work, follow-up emails, follow-up calls, supplements, paperwork, CRM updates — really any and all of those activities that can bog you down. Get those out of the way at the right time.
When you do get busy, your days can FILL UP with real income-producing activity, like your:
Sales appointments
Generating leads
Knocking on doors
Meeting with insurance adjusters
Again, it doesn't matter whether you're in storm or retail roofing sales — planning your day and organizing your activities and time is crucial.
It's like when we try to sprinkle in our personal life around work. As we get busier and busier, those sprinkle times dwindle. Then, in 2, 5, or 10 years, we look back and realize that we haven't had a vacation.
That's happened to me, by the way. Up until this year, it had been about 3 years since I had a vacation.
So, these days, Sheena and I plan out our entire year of vacations. In fact, we just got back from an amazing 4-wheeling trip in Moab, and we're going to Cabo next to see my family for a family reunion.
All of these things are pre-planned, so we can just work around them.
So, if you feel like work just kind of overwhelms you:
Pre-plan your vacations, your personal life, and the fun stuff.
Work your stuff around it.
I know this can feel scary, but I promise it'll work. And that leads me to the final tip, which is my absolute favorite one.
Tip #7 to Avoid Burnout in Roofing Sales: Have FUN!
This comes up A LOT in studies on anxiety, health, and wellness, and that's having fun.
Go do something FUN. After all, you need to fuel yourself.
People would tell me this, and I'd think, That's boring! Just work. Get it done. Now, I've found a rich way to refuel and live life.
And speaking of fun, that's why we went to Moab. I just got back last night. Sheena and I hooked up our 4-wheeler and met her mom and stepdad out in the desert. There were gorgeous views, and we had a super fun time 4-wheeling.
And we built that time in. So, remember:
Do what fuels you.
Go on that hunting trip, fishing trip, or whatever bucket-list trip.
Go have some FUN!
Recap: 7 Tips to Avoid Burnout in Roofing Sales
Summing this all up, here are the 7 tips you can use to avoid burnout in roofing sales:
Get your phone out of your bedroom: Get an alarm clock.
Set boundaries: You can explain these boundaries, telling folks when you're available, in your outgoing voicemail message and your email signature.
Sleep: Don't shortchange yourself eight to nine hours a night.
Start your day with exercise: Move around before you start your day in roofing sales.
Disconnect from business at the end of the day: first thing in the morning. Number five, when you go to bed at night, read something that allows you to get lost in a world and disconnect, and don't read business books at night.
Plan and organize your days: Plan the night before, so you know what you're going to do and to avoid taking on too much.
Have FUN: Schedule vacations and build everything around those. You have to get out and have fun, so go do it!
Want More Roofing Sales? Or Training For Your Team?
We've helped thousands of sales reps overcome the same sales challenges you're probably facing. Like not getting enough leads, getting stuck on objections, or not closing sales in the house.
Learn how we can help you:
Get trained up in a lightning-fast 9.5 hours
Self-generate more leads
Become a confident closer
Pick a time for your 1-on-1 demo.
Or use the links below to get instant access, 100% Risk Free! Backed by our 30-Day 'NO BS' Money Back Guarantee.
Thanks for joining me, and I look forward to sharing more with you in the next blog.