Recruiting and growing your roofing sales team.
This is one of the MOST challenging things that we all face.
And it never really seems to get easier —until right now because I'm going to teach you the 9 BEST industries to recruit from to give you a higher chance of finding the RIGHT people who stick around and perform at a high level.
This is especially for owners, managers, recruiters, and team leaders who are in charge of growing the team.
And I'm going to share my experience and what I've discovered from having the honor and privilege to serve literally thousands of sales reps across U.S. (and in Canada and Australia), speaking and running one-on-one trainings and small workshops for some of the industry's top roofing contractors.
I'm sharing what I've learned from each and every one of these roofing contractors through in-depth conversations to help you:
Recruit better people
Retain those people, so you can grow your business
Before we get into that, though, welcome or welcome back. My name is Adam Bensman, The Roof Strategist. Everything I do here — and on my YouTube channel, Instagram, my podcast (on Apple and Spotify) and in my all-in-one sales training, sales strategy, and sales system — is designed to help you and your team smash your income goals and give every customer an amazing experience.
To do that, we need to have salespeople. So, let's discuss the 9 BEST industries for roofing sales recruitment.
FREE "Pitch" Like a Pro Roofing Sales Training
240+ Video Library for Storm and Retail
For Roofing Sales Reps & Owners With New Hires: All the training you need to be a "million dollar" closer!
Get Instant Access FREE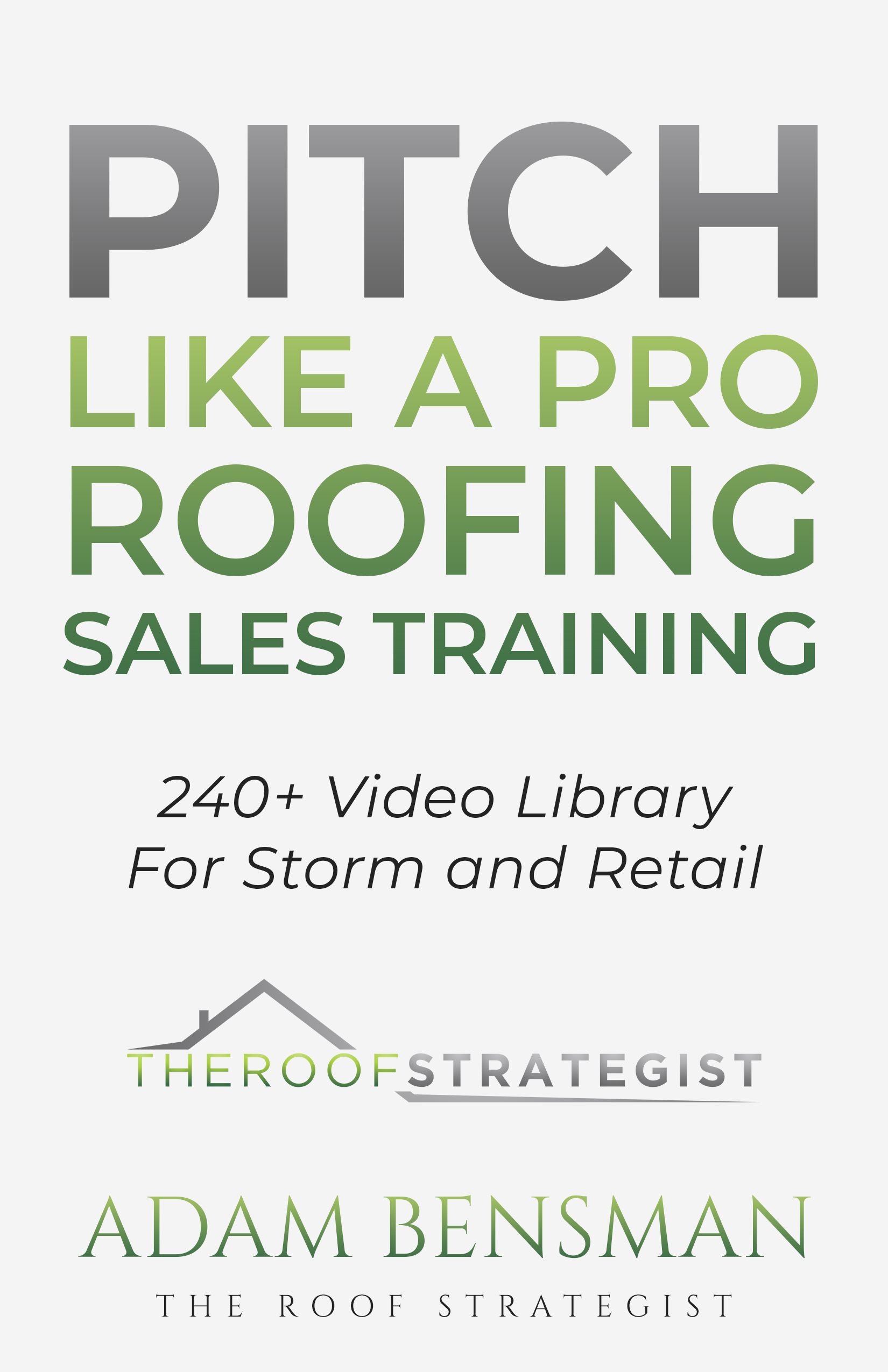 Roofing Sales Recruitment Industry #1: Emergency Services
This includes law enforcement officers, police, and firefighters, all of whom have:
Incredible discipline
Experience enduring extreme amounts of stress
A background in handling very challenging interpersonal interactions
It's no secret that law enforcement often encounters VERY tense situations — they're screamed at, hollered at, or engaged in physical altercations.
So, when it comes to door-to-door roofing sales interactions and angry homeowners, it's really a cake walk for folks with a background in law enforcement.
And same goes firefighters. They've been intense situations, so they often come with incredible discipline, experience dealing with high-stress situations, and good people skills.
In fact, many of my clients that are growing roofing companies have ex-firefighters, volunteer firefighters, and even active full-time career firefighters selling roofs on the side. One even recently reached out to me, and he's already sold over $500k doing this part-time by using my sales system.
So, number one is emergency services.
Roofing Sales Recruitment Industry #2: Military
Veterans and active military members are HIGHLY disciplined. Plus:
They've endured incredible amounts of stress.
They're very organized and focused.
They believe in delayed gratification, meaning they're willing to put in the work to achieve status in the military. They know how to rise to that level of occasion, whether it's advanced training or a particular specialty.
So, military personnel are phenomenal for roofing sales recruitment.
And in almost every training I run, I ask who's military. Guess what? Almost always, several hands in the room will shoot straight up into the air.
Roofing Sales Recruitment Industry #3: Students
Another great target for roofing sales recruitment is students. Now, one disclaimer here — we have to put a little bit of an umbrella around the "student" category because we have:
Current high school students, who can be great canvassers to hire
Current college students, who often get started in a sales position or internship
Recent college graduates, who come straight out of school and are eager to make good money (especially if they were like me and got a degree in something like psychology, which doesn't set you up for a career).
Also, it doesn't matter if recent college graduates have earned a bachelor's degree or an associate degree in liberal arts, construction management, trades management, or another field. There can be other ways to apply those skills.
The last thing to point out here is the student's age. Now, many people skip college and jump right into making money. So, "students" for roofing sales recruitment purposes really encompass that entire envelope of student-aged young professionals.
Roofing Sales Recruitment Industry #4: Athletes
In one of my last trainings, I had a former Olympic athlete and a former collegiate athlete in the room. Plus, I've worked with:
Triathletes
Football players
Track athletes
These and other athletes have a(n):
Incredible amount of endurance
Clear focus on a goal
Ability to delay gratification
Delaying gratification in roofing sales means putting in all the work to win and level up the right way, so you can compete at the next level. And we have to do that in roofing sales because:
We don't see the fruits of our labor instantly.
That's why many people quit roofing sales too soon.
But athletes have this way of just sticking with it and growing through that transition period because of their ability to delay gratification.
Roofing Sales Recruitment Industry #5: Customer Service Professionals
Customer service professionals with many backgrounds can excel in roofing sales. That includes those with customer service experience specific to:
Retail
Car rentals
The cellphone industry
Bonus tip — one of the roofing companies I trained recently recruited nearly their entire sales team from Best Buy.
Why? Because Best Buy has hyper-focused training on creating an amazing customer experience, and those ex-Best Buy's sales reps that are now in roofing sales are absolutely CRUSHING it. By the way, this was brand new to me because I hadn't heard of anyone with this level of success.
So, again, customer service professionals, including local banking professionals — those folks who you engage with on a day-to-day basis — are another good set of folks to recruit from.
Roofing Sales Recruitment Industry #6: Servers & Bartenders
Servers and bartenders have a thick skin, and they're used to dealing with strangers.
In fact, there's a member of the Pitch Pro Movement, who was a former bartender and who's now making A LOT in roofing sales (multi-six figures). He is absolutely CRUSHING it because he's used to dealing with people and sparking a conversation with anyone.
And, as a bartender especially, there's experience with some uncomfortable interactions, like dealing with people who've had too much to drink.
So, again, bartenders and servers tend to do exceptionally well in roofing sales because they have:
A thick skin
Good people skills
Also, bonus tip — I encourage some of my clients to run their roofing sales recruitment ads in the wrong category. Of course, you have a few different categories here, and I'll target servers in those ads saying:
Are you tired of serving tables? Want to earn what you're worth?
Another example of a headline for an ad targeting servers:
Tired of serving tables?
Apply the same skills & earn SIX FIGURES.
Even when I was down at Roof Con, I went out to the steakhouse, and I literally recruited our server right there. I got him set up with an interview with one of my customers who happened to be in Orlando and who was hiring because the guy was phenomenal.
And all I simply said to him was this:
Man, your skills have been phenomenal.
And I work with folks in a unique industry.
I didn't share that I was in roofing, but I did follow that with this:
You can earn six figures, even into the multi-six figures applying the skills that you've shared with me and demonstrated to me today.
If you're interested, just write your name and number on the back of the receipt, and I'll take it from there.
Not only did he do that, but he also came back to follow up for my info.
So, actively recruit from good people as you see them.
Roofing Sales Recruitment Industry #7: Door-to-Door Industry
I want you to keep your mind wide open here because "door-to-door" can mean A LOT of different things. The main ones that tend to come to mind first are industries like:
Roofing
Windows
Solar
Pest control
Home security
There are other industries, though, that sell or operate door-to-door too, like (but by no means limited to):
Garbage services
Power washing services
Religious affiliations (with door-to-door requirements)
Anyone with that door-to-door canvassing experience
Now, this may be kind of obvious, but many people do overlook it.
Roofing Sales Recruitment Industry #8: Sales
This includes sales from several different industries. Again, this one's a bit obvious.
Still, you have to be careful because a lot of folks with a traditional sales background are so used to someone walking in or showing up and saying, "I'm here ready to buy that."
If you don't have a company structured to supply them with leads and appointments, they can really struggle on the opening side or the canvasing side because they'd never had to do it.
But some industries in the sales side can do very well in roofing sales. And, as silly as it sounds, one of those is shoe sales. Some others include:
Cellphone sales
Auto sales
Insurance sales
Real estate sales
Bonus tip — a rep in the Pitch Pro Movement, a multi six-figure earner, used to work at a mall kiosk, where he handed out samples. So, even if you're at the mall or the airport, these types of salespeople are phenomenal for you to connect with and consider recruiting.
Roofing Sales Recruitment Industry #9: Teachers
I've worked with a number of teachers. In fact, the VP of sales at one of the roofing sales companies I'm actively training used to be a teacher, and they're doing a lot of revenue.
In the roofing space, you'll see that there are a lot of ex teachers. These teachers can be successful because they have the:
Patience
Communication skills
Interpersonal skills
Conflict resolutions skills
Plus, teachers have dealt with parents, which can be nearly the same as dealing with homeowners.
So, teachers are an industry to recruit from.
Bonus Roofing Sales Recruitment Tip: Don't Overlook the "Green Beans"
I want to share one final bonus tip here. As you recruit from these 9 categories, I want you to also open your mind up to what I call the "green beans," meaning folks from other industries.
In fact, two of my top roofing sales reps were green beans from industries not in any of the 9 categories I've mentioned. Why? Because we had a wide envelope of people who were just looking to change their life.
And one of those reps was a Cintas truck driver. The other was a former framer.
Still, the one consistency here is that we must spot the 5 make-or-break profile traits that will tell you right away if they're even worth a taking a shot on.
And those 5 make-or-break profile traits are being:
A hustler
Thick-skinned
Persuasive
Persistent
Confident
By the way, I teach you how to interview and spot those traits in one of my programs that's part of my all-in-one sales training, sales strategy, and sales system, the Roofing Sales Success Formula & Complete Sales Strategy.
That particular training is called "How to Build Your Dream Team." It comes with hiring ads you can run, along with training on how to:
Quickly qualify folks
Interview them
Spot the right profile traits
Sell them on the opportunity — One of the top recruitment threats you can face is people asking you, "Well, why should I settle for you and not the other roofing company?" After all, roofing sales reps shop around just like homeowners do.
Selling them on the commission-only or the heavy-commission pay plan — I teach a very unique way to communicate that message, so they jump on board.
If you're interested in that, just call or text (303) 222-7133 for more info or a private demo.
Recap: Top 9 Industries for Roofing Sales Recruitment
So, there you have it — the 9 BEST industries for roofing sales companies and leaders to recruit from.
Now, you can bypass that learning curve, target the right people with your ads in creative locations to pull from these 9 industries:
Emergency services
Military
Students
Athletes
Customer service representatives
Servers and bartenders
Anyone in a door-to-door industry
Salespeople
Teachers
Get More Roofing Sales Strategies, Tips & Videos
If you want more on any roofing sales topic, check out my all-in-one sales training, sales strategy, and sales system, the Roofing Sales Success Formula & Complete Sales Strategy.
This exclusive program covers everything from knock to close, with packages for individual roofing sales reps and entire teams. Many roofing sales companies LOVE this program because it's a consistent process to train everybody on a relatable sales system that WORKS and that's a lightning-fast way to get results.
If you have questions, just call or text (303) 222-7133 for more info or a private demo.
You can also subscribe for the latest roofing sales training videos and/or get a copy of my Pitch Like a Pro roofing sales training video library. It includes every roofing sales video I've ever done, organized by category, along with a bunch of tips, tricks, and more. It's great for new people and seasoned veterans, and it's updated all the time to help you and your team smash your income goals and give every customer an amazing experience.
And don't forget to check out my Marketing Battle Pack for instant access to 70+ pieces of my proven, turnkey roofing sales and marketing materials. It's an entire suite, specially designed for sales teams, managers, and owners, providing:
Scripts
Scheduling
Direct Mail Letters
Door Hangers
Goal Projection Planners
A LOT more!
It's affordably priced and comes with a 100% money-back guarantee. There's also a playlist of instructional videos in there, explaining every single thing. So, you can watch the videos, and you'll know exactly what to do.
Thanks for joining me, and I look forward to sharing more with you in the next blog.