I want to help you NAIL your interview, so you can get a career in the fast-paced, wildly high-earning potential of roofing sales where you could earn $100k, $200k, or even $300k in your very first year.
So, I'm going to teach you how to:
NOT blow it in your roofing sales interview
NOT end up accidentally saying "yes" to the wrong
In fact, a lot of people reach out to me and share that the company they started with is NOT who they ended up with.
Now, I was fortunate enough to start and stay with the right company for as long as I did until I came to this side of the business. It doesn't go that way for everybody, though.
So, I'm going to share a peek behind the curtain and:
Show you know exactly what roofing companies are looking for to prepare you for success.
Give you 3 really easy tips that are SUPER simple to follow.
Help you NAIL the interview and make a wildly strong impression.
Help you get that job offer with the right company, so you can make life-changing income and enjoy life-changing opportunities for you and your family.
First, I want to say welcome or welcome back. If you're new to the industry, you're in the right place. My name is Adam Bensman, The Roof Strategist. Everything I do here is designed to help you and your team smash your income goals and give every customer an amazing experience.
And although our stories might not be identical, my guess is that there ARE some similarities.
FREE "Pitch" Like a Pro Roofing Sales Training
240+ Video Library for Storm and Retail
For Roofing Sales Reps & Owners With New Hires: All the training you need to be a "million dollar" closer!
Get Instant Access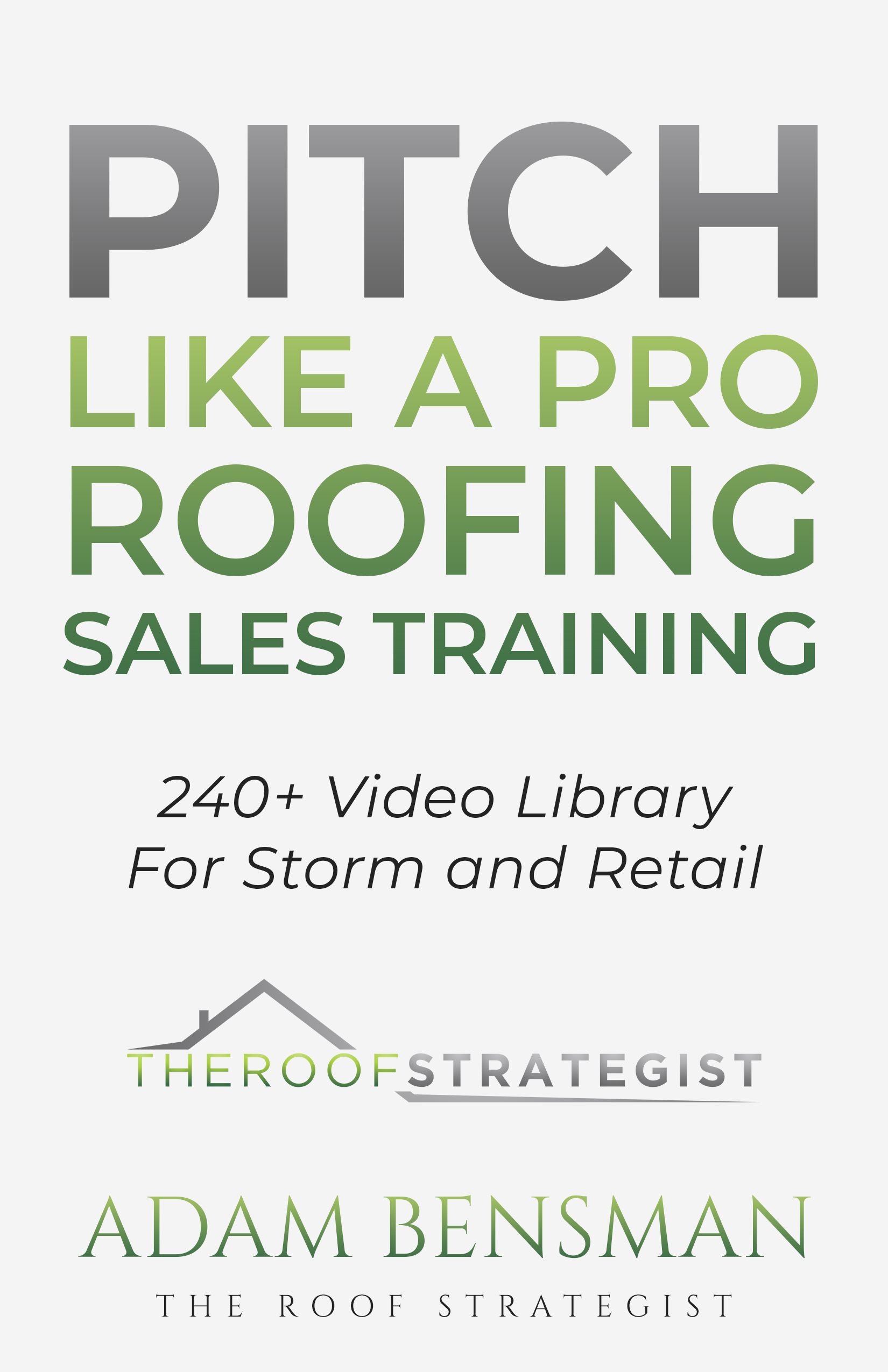 My First Roofing Sales Interview
I got into this roofing industry because I heard about it from my stepdad, Ron. I didn't know much about it when Ron told me that I could earn $100k/year selling roofs door to door.
NO way, I thought! WHO can make that kind of money?
This was back in 2011. At the time, I was a massage therapist and natural medicine practitioner earning under $20,000/year and:
I was living on a very strictly calculated $4.20/day in groceries.
I never went out to eat.
I couldn't even afford gas to visit my family on Easter.
That's why I called my mom to ask for $20 — and that's when Ron told me about roofing sales. At the time, I thought:
Who wants to get into roofing?
I don't know ANYTHING about roofing. Selling roofs sounds REALLY boring.
I don't have sales experience door to door. People still do that?
So, I brushed it off immediately. On my long drive home, though, I realized that it WAS worth a shot. That's how I ended up in my very first roofing sales interview.
When I walked into that interview, a gut feeling kicked in because this company was participating in fraudulent activity. I knew that they weren't the right people to do business with.
Now, let's talk about you and get you prepared for interviews with a peek behind the curtain, so you can:
Make that strong first impression.
Get offered that opportunity and really make some life-changing money.
Behind the Curtain: What Roofing Companies Look for, Teach & Expect
Roofing companies in every state in the U.S., as well as in Canada, Australia, and Sweden, are using my roofing sales system. I'm also an official sales training partner for Owens Corning.
I'm sharing this with you because:
I've had an opportunity to work with tons of business owners.
In my system, I teach roofing companies what to look for so that they can find the best salespeople.
And what I teach them is to look for folks who have certain profile traits and characteristics. Those are folks who are:
Hustlers: These people have shown that they've chased a really big goal. They've had to work really hard to achieve something, whether it's athletics, business, a specialized skill (like music), or whatever.
Thick-skinned: Thick-skinned folks aren't sensitive to rejection (I was NOT thick-skinned when I started in roofing sales). These folks don't get upset over getting called names (and that can happen to us in this business), and they don't get rattled when homeowners are rude, nasty, or just kind of crazy (and, of course, that can come out when we're approaching people at their home or their castle).
Persuasive: This is someone who can clearly communicate their point of view, whether it's sales, business, politics, religion, or whatever else. They're good at convincing others and getting them to see things from their point of view.
Persistent: These folks hear "no" and face rejection or obstacles, time and time again. Instead of letting those obstacles defeat them, they keep going. They continue to go through the motions over and over again, regardless of those roadblocks, so they can get to the end.
Confident: Confident people have a firm handshake, and they'll look you in the eye. To me, that broadcasts confidence. This is someone who communicates clearly, has their chest open, and communicates with assertiveness.
So, that's what roofing companies are often looking for — they want salespeople who are hustlers, thick-skinned, persuasive, persistent, and confident.
Now, let's look at the three tips you can use to ACE your interviews with roofing companies. Before we dive in, I also want to mention a video I did on How to Choose the Right Roofing Company. In that, I share questions to ask to gauge company culture. So, check that out.
Ok, here we go — now on to the three tips for nailing interviews in roofing sales.
Roofing Sales Interview Tip #1: Research the company interviewing you.
To nail your interview in roofing sales, you NEED to do your homework on the company that you're interviewing with.
When I was interviewing sales reps, the first thing I'd ask is, "What do you know about us?"
If they said, "Nothing," I'd end the interview.
Why?
Because if you're not willing to Google the company name — and if they aren't sure about what you do or how you serve people — that interview is DONE. It's over.
So, do your research before the interview. As you do, look at the roofing company's:
Reviews
Website
Recent Facebook posts
Standing with the Better Business Bureau (Are they accredited?)
Products and the manufacturers they're installing shingles for.
Certifications, charitable activities, and community involvement — Are they volunteering or supporting worthy causes?
As you do your homework here, take notes and bring them to the interview with you. If you do and you're up to speed on those details, you're going to show that:
You CARE.
You WANT the job.
You KNOW something about the business.
You ARE willing to put in the work.
Roofing Sales Interview Tip #2: Share stories.
You know those five profile traits that roofing companies are looking for — they're looking for folks who are:
Hustlers
Thick skin
Persuasive
Persistent
Confident
So, tell stories about your past that exemplify those traits and that behavior.
Now, we all know that salespeople can talk their way in and out of anything. That's why you do NOT want to go into a roofing sales interview and say something like this:
I am someone who's a hustler.
I'm willing to work really hard to achieve my goals.
That doesn't really go anywhere because anyone who's recruited more than one salesperson knows that a smart salesperson is just going to say what they think we want to hear.
So, instead, tell a story. Back up those qualities with real-world examples and stand out as a great candidate. You could stay something like this:
Listen, I'm someone who has worked really hard to achieve big dreams and big goals in my life.
And I'll give you an example. When I was…
Then, tell your story. As you do, talk about the:
Roadblocks and obstacles you've encountered and overcome
Persistence that you had, despite the setbacks you've experienced
Facing rejection and how you got through it to show that you're thick-skinned
So, your stories CAN showcase those outstanding qualities far more than any lip service that you could give.
Roofing Sales Interview Tip #3: Ask questions.
What questions should you ask in a roofing sales interview? Here are some great ones to show interviewers that you're interested, engaged, and ready to tackle the job:
What makes your business different than the next competitor?
Why would a salesperson, like me, choose to work with you, as opposed to one of the countless competitors in our market?
Why would customers choose your roofing company over a competitor?
What do you guys offer homeowners in a service or experience that other companies don't?
What is the number one roadblock I'm going to experience when it comes to achieving my income goal?
What advice would you give me if I was just getting started?
What do you wish you knew when you got into roofing sales?
What will I like the MOST versus the LEAST about the business and working for your company?
When you ask these intelligent questions, it shows that:
You're prepared.
You've done your homework.
You're ready to "sniff out" the good companies from "snake in the grass" guys who hire everybody.
That's why I empower you to be choosy, and it's one of the reasons I really want you to watch my video on How to Choose the Right Roofing Company (based on the culture).
So, those are your three tips:
Do your homework in advance.
Tell stories to showcase the talent that you've exemplified throughout your life. These stories can be about your past career, your childhood, college, high school athletics, learning musical instruments, past accomplishments, and more.
Come prepared to ask questions.
2 Bonus Tips to ACE Your Roofing Sales Interviews
I have a couple of pieces of bonus advice to share with you about interviewing in roofing sales:
Trust your gut: If you have a funny feeling about an organization, do NOT work with them. You can always tell an interviewer that you have to think about an offer or discuss it with your partner. It is a BIG deal to sign on with a roofing company, and it is OK to think about that decision. Personally, I wouldn't jump on board with a company that's requiring you to make that decision on the spot. This is a life decision, and putting that pressure on someone to make an instant decision just isn't fair. So, again, trust your gut and make sure you seriously consider the roofing company first.
Tell your interviewer you watch my YouTube channel: Let them know what type of roofing sales training you're doing on your own. This shows that you're doing your homework. It also shows that you're incredibly eager to learn and do better. Frankly, you'll stand out as LEAGUES ahead of other candidates by doing some self-study and simply being prepared for that interview.
So, that's how you can ACE your interview in roofing sales and earn life-changing money — like $100k, $200k, or even $300k in your very first year — regardless of your background, your past, your education, where you came from, where you went to school (or didn't). It does NOT matter.
The roofing industry will give opportunities to anyone. So, as you do jump into this business, I encourage you to keep coming back here for more.
Want More Roofing Sales? Or Training For Your Team?
We've helped thousands of sales reps overcome the same sales challenges you're probably facing. Like not getting enough leads, getting stuck on objections, or not closing sales in the house.
Learn how we can help you:
Get trained up in a lightning-fast 9.5 hours
Self-generate more leads
Become a confident closer
Pick a time for your 1-on-1 demo.
Or use the links below to get instant access, 100% Risk Free! Backed by our 30-Day 'NO BS' Money Back Guarantee.
Thanks for joining me, and I look forward to sharing more with you in the next blog.