I'm brand new to roofing sales. What advice do you have for me to succeed quickly?
I get asked this question ALL the time.
So, I'm going to share the advice that I wish I had received when I was a brand-new roofing sales rep.
I'm also going to give you a few tips that other folks have shared with me recently (after I posted a video on Instagram asking for their advice).
After all, we're all wired differently, and we have different backgrounds, different levels of experience in sales, and different communication styles.
And even though we're working for a company, we are also working on our own, so to speak. In fact, we're largely self-employed in many respects. We don't have someone staring over our shoulder.
Plus, this industry isn't well-known for robust training. I know that's getting better, but there's a lot that we need to learn, and it can feel like a mountain.
Where Should New Roofing Sales Reps Start?
Personally, the biggest hurdle for me when I was a brand-new rep was the product knowledge. I felt okay with people, but:
I didn't really know how to pitch.
I didn't know what I should be doing.
Still, I started to piece it together, and the most daunting thing for me was the stuff that I couldn't learn on my own. And that was the:
Product knowledge
Process knowledge
General industry knowledge
So, I'm going to break all of that down and share a simplistic approach to CRUSHING it when you're brand-new to roofing sales.
And if you're not brand new, I bet you're going to grab some golden nuggets from this too.
Welcome or welcome back, by the way. My name is Adam Bensman, The Roof Strategist. Everything I do here — and on my YouTube channel, Instagram, and my podcast (on Apple and Spotify) — is designed to help you and your team smash your income goals and give every customer an amazing experience.
In fact, my mission is to help people who are just like me, coming into the roofing sales business after really not doing too well.
When I entered this business, I was earning $1,600 a month. I had no sales experience. And I knew nothing about roofing. I'd never even been on a roof before. So, I literally had to Google shingle, rake edge, drip edge, and other basic roof knowledge.
I remember getting started and thinking:
How do we get on a roof?
Do we need a ladder? How do I set up a ladder?
What do I even look for?
All those little mechanics were horrifying to me. So, maybe that's you or someone you know. Regardless, the good news is that fear will get pushed behind you pretty quickly.
Now, let's get to the advice for new salespeople.
FREE "Pitch" Like a Pro Roofing Sales Training
240+ Video Library for Storm and Retail
For Roofing Sales Reps & Owners With New Hires: All the training you need to be a "million dollar" closer!
Get Instant Access FREE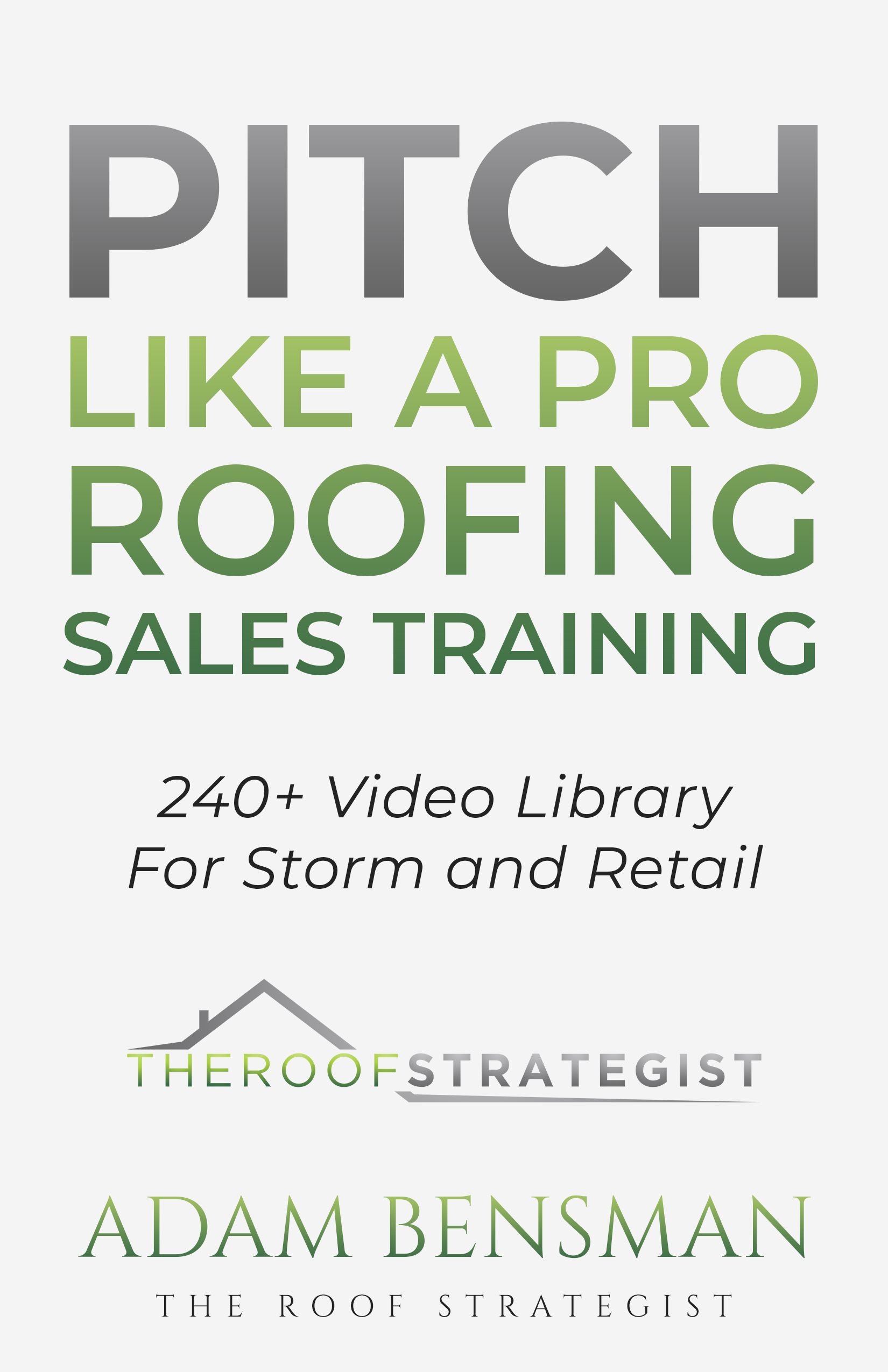 Roofing Sales Tip #1: Focus on selling every minute of every day.
Now, what do I mean on selling? I mean getting in front of people.
By the way, this can be done from about 10:00 a.m. to 7:00 p.m. I know you have to learn your market, and of course, there are retirees and stay-at-home spouses.
Still, you can work those neighborhoods in the morning by:
Knocking on doors
Leaving letters at the door
Sending direct mail letters if no one's home
Cold calling off of "For Rent" or "For Sale" signs
Networking in-person or online
Posting on social media to share your new message
Joining Facebook groups for the communities you serve
Doing anything to get in front of people
So, when I say focus on selling, this is making contacts and getting in front of people. And the HARDEST thing is your very first sale. It often feels like pushing a giant, concrete ball up a hill. At the top of the hill is the apex where it starts going down. In fact:
In the beginning, getting momentum — meaning traction to get that ball moving — is the hardest part. It feels like an uphill battle as we get going.
Then, once we make our first 5 to 10 sales, that momentum begins to carry us.
That's how you see the folks I've interviewed on my You Tube channel succeed. They struggled to get started, and then that momentum of their first few sales ended up carrying them. Now:
They don't have time to knock on doors.
They're getting too many referrals.
This can seem like a far-fetched, super unrealistic problem, but it can actually be a reality when you stick with it.
Roofing Sales Tip #2: Bet on yourself.
When you bet on yourself, you believe in yourself.
Now, I was recently talking to a very dear friend of mine named Jessie. Jessie is the gentleman who hired me, and I eventually became his chief operating officer.
So, as Jessie and I were talking on the phone, we said, "Hey, we're both kind of crazy. We like jumped off of a plane and built the parachute on the way down."
And that's how I was. I came into this business thinking, Hey, roofing sales. I'm going to make six figures! But I did NOT know:
How to sell
Anything about roofing
How to go door to door — I'd never done it.
With all of that, I left my stable income of $1,600 a month. Was it smart?
No, it went against all the advice my friends and family shared. They were telling me, "Hey, it's commission only. It's risky."
Instead of heeding that advice and taking the safe, conservative route (by the way, that may be the best thing for you), I went out on a limb. I wanted more.
And with high risk comes high reward.
I went all-in, and I bet literally EVERYTHING on myself. When I did that confidently, I just said to myself, I'm just going to do what it takes to succeed. And I did.
Roofing Sales Tip #3: Study in your off time.
Study, study, study when you're not selling.
What should you study?
Anything you don't know about the business or anything that's tripping you up, like your bottlenecks (Brian Tracy's book, Goals: How to Get Everything You Want — Faster Than You Ever Though Possible, does a really good job of explaining how and why it's important to understand these bottlenecks).
For me, when I started roofing sales, my bottlenecks were:
A lot of industry knowledge mixed with Xactimate
Understanding how to read a scope
Knowing how to communicate with homeowners
So, I studied up on the stuff I needed to learn in my mornings and evenings, so I would feel more confident when I was out selling.
Roofing Sales Tip #4: Prioritize process knowledge over product knowledge.
So, process knowledge is number one. Now, what do I mean by "process knowledge"?
Well, most homeowners are NOT going to drill you with technical questions about shingles and other products.
They just need to know that you're competent in the process.
That means explaining what they can expect and describing the customer experience by:
Educating them on how the claims process works if you're selling storm-damaged roofs
Guiding them through the install if you're doing retail
That is the number one most important thing. When you get competent in that, you become more confident. After all, competence breeds confidence.
Roofing Sales Tip #5: Roleplay.
Roleplaying is the one thing I didn't do but I wish I had.
So, why is roleplaying important?
Well, whether you roleplay with yourself in a mirror, with other roofing sales reps, or with your significant other — it doesn't matter — you're going to get that practice and those repetitions in.
Now, I want to drill down into this for a minute. With roleplay, we focus on repetition.
Example: Let's say you sell 50 to 100 roofs. That means out of all the objections you might hear, you get to rehearse your response 5, 10, or 20 times. You're not going to get them on EVERY single job. So, if you don't practice these, you've got 5, 10, 15, or even 25 repetitions.
On the other hand, when you roleplay, you could get that many repetitions down in 20 minutes. That means you get to work out the kinks — and that you're going to feel confident showing up at the door, knowing how to start that conversation.
Quick Recap: 5 Game-Changing Tips for New Roofing Sales Reps
Before we get into some more advice, let's go over the tips and advice shared so far:
Focus on selling every minute of every day. That's ALL you should be doing.
Bet on yourself. Go all-in.
Study in your off time to focus on those weaknesses and feel more confident selling.
Prioritize process knowledge over product knowledge. You will develop that in time.
Roleplay, roleplay, roleplay to get those repetitions in. People have asked me, "How did you get so quick on your feet?" And it's simply that I've done this over and over and over And that's the only way to get comfortable and sharp with it.
Up to this point, all of my advice for new roofing sales reps has been tactical.
Now, I want to share some personal development angles to consider.
Personal Development Advice for New Roofing Sales Reps
The MOST difficult part of roofing sales can be the internal demon all of us face.
In fact, I've done a video called How to Kill the Confidence Demon (it's part of my 3-part series called the Roofing Sales Success Formula).
And the point is that roofing sales is personal development in disguise.
That means your income is capped at where you are, and for you to earn two or three times as much, something has to change. I'm proof of that. I actually increased my income by 7 TIMES in my first 12 months in roofing sales — and to do that:
I became a new person.
I needed to literally kill the weak link, the part of me that second guessed myself and focused on comfort. That part of me was scared to cause tension, show up at people's homes, and disrupt the peace. I wanted to be a peacekeeper.
So, for most of us, this internal demon is our biggest threat.
Example: An Iraq war veteran reached out to me and said, "I never once skipped a beat in battle. When I was in a fire fight, I did exactly what I needed to do." But in roofing sales, he would be crippled by fear driving through neighborhoods. That fear was so bad that he wouldn't get out of his vehicle. He'd drive home and feel defeated. And that would make the cycle worse and worse.
Logically, that's insane. After all, this gentlemen faced the horrors of the worst, scariest situations that life could dish out. Yet, those internal fears still took over when he moved into roofing sales.
That highlights how:
Our internal demons can manifest themselves in such a deep way.
The more we're able to lean into that discomfort and develop personally to break through these obstacles, the more money that we can earn.
And that is the most important thing to embrace — the fact that roofing sales is personal development in disguise. So:
Embrace the journey.
Spend your time focused on communication, organization, self-improvement, and learning.
Lean into the discomfort (I wish I did that even earlier than I did. Roofing sales just forced me to it).
5 More Roofing Sales Tips for New Reps
Now, let's turn our attention to some roofing sales advice from other industry pros. On Instagram, I recently put up a post asking, "What's your number one piece of advice for new roofing sales reps?"
Here are some of the great responses and tips other folks shared (and that I want to pass along to you):
Just knock and talk. Stop thinking. This advice, shared by Felix Berrera, actually inspired some of my training and part of the Pitch Pro Movement. The idea is to get really good at getting into the flow state, so you can pitch, get out of your head, and stop overthinking. The fundamentals are to know what you're going to say when you show up. That's ALL you need to start that dialogue.
Get out and just knock over and over. Shared by Greg, this is great advice for just facing our fears. If you're someone who's hide from fear, I'm just going to tell you now this roofing industry is not going to work out for you. You have to be willing to look fear in the face and lean into it.
Be genuine. I love this advice, from "RSTRABB," and I couldn't agree more. Don't try to be a salesperson. Just BE. This is one of the main reasons why I teach formulas in my Roofing Sales Success Formula. There's the SLAP Formula, the ARO Formula, and the Car Park Formula. Those let you be yourself while still helping you knock down the right dominoes in the right order to win the sale.
If you don't know their names, expectations, or price range, apologize for wasting their time. This is great advice from MCM Services, Inc. We HAVE to focus on their needs, and we need to get into the mind of our customer to do that. That's probably the most important skillset to learn in sales.
Connect with your customer on a personal level. Also shared by MCM Services, Inc., this is about connecting on a personal level and figuring out the customer's needs, their expectations, and their price range. Be honest, and don't be shady. That's so important.
Why This Roofing Sales Advice WORKS: A Quick Story
In the Pitch Pro Movement, there's gentleman with 20 years of sales experience. He recently achieved his first 100% close-rate week, with $200,000 in top-line sales (for retail and residential jobs).
By the way, he's following the closing strategy I teach in my all-in-one sales training, sales strategy, and sales system, the Roofing Sales Success Formula.
So, I asked him, "What did you change?"
He said:
You know, what's funny?
 I actually changed everything before the presentation and nothing in it.
I rewatched your training, and I focused on connecting with the homeowner.
That's what helped him make the shift and hit that 100% close rate. And, just to be crystal clear here, that is a not sustainable closing rate (anyone who says they can do a 100% is delusional. It's false).
My point is that he had GREAT success when he focused on connecting on a personal level.
So, be yourself and follow the right sequence in the right order. It's not rocket science. All it takes is leaning into your own worst enemy, which is usually right between your ears (it's yourself).
Want More Roofing Sales? Or Training For Your Team?
We've helped thousands of sales reps overcome the same sales challenges you're probably facing. Like not getting enough leads, getting stuck on objections, or not closing sales in the house.
Learn how we can help you:
Get trained up in a lightning fast 9.5 hours

Self generate more leads

Become a confident closer
Pick a time for your 1-on-1 demo.
Or use the links below to get instant access, 100% Risk Free! Backed by our 30-Day 'NO BS' Money Back Guarantee.
Thanks for joining me, and I look forward to sharing more with you in the next blog.