Hey, Adam, here at The Roof Strategist. Today, I'm going to talk about overcoming a common objection we get in roofing sales — the Just leave your business card, and I'll call you if I'm interested rejection. It happens all the time.
I'm going to teach you a script — a step by step process that you can modify and make your own — that you can use to turn this rejection into an opportunity for a sale.
When you hear this objection, you're talking to nice people who won't say, "Get off my porch" or "Not interested." They're letting you down nicely.
So, when you hear this objection, here's what you do.
Why Not Leave a Business Card?
A quick story first. When I started in roofing sales, people would tell me "Just leave your business card. I'll call you if I'm interested." And I would hand out my business cards and share my roofing sales pitch, thinking it was working. I would get back to the office and think, Man, I handed out like 50 business cards today. Someone's going to call me.
Well, guess what?
The phone never rang. It didn't work for me, and it won't work for you if you do it like this.
What most people don't realize is that this rejection is actually an opportunity.
FREE "Pitch" Like a Pro Roofing Sales Training
240+ Video Library for Storm and Retail
For Roofing Sales Reps & Owners With New Hires: All the training you need to be a "million dollar" closer!
Get Instant Access FREE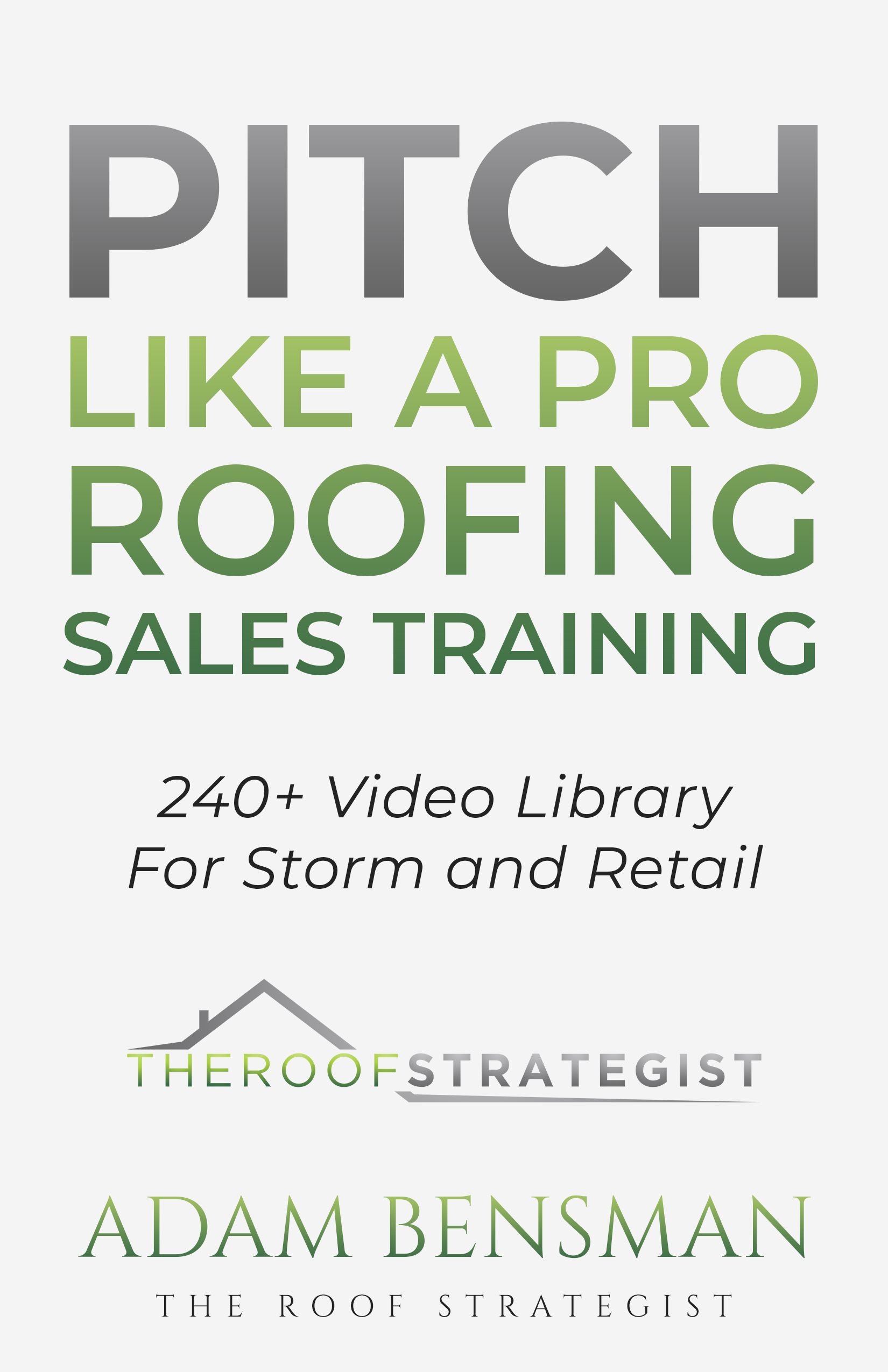 How to Turn the Business Card Objection into a Sales Opportunity
First, always have your pen handy, with something to write on. I use a clipboard handy, but of course, you could use your phone or a digital notepad. Whatever it is, you need to have something ready, so you can quickly document information.
Second, you need to use your body language. How you stand and what you do with your body can really set the tone.
Third, you need to say, Do you have any objection?
You've heard me use before, it's one of my favorite one-liners. It's a great tool to help you get invited on the roof for your inspection. The reason it's so powerful is that it breaks down barriers. You go from saying, "Can I jump on your roof?" and getting the automatic "no," to guiding the homeowner into giving you a "yes" even when they say "no." It's a negative agreement. So, you say:
Do you have any objection if I hop up on your roof for a quick inspection?
It will take 15 minutes, and I'll show you pictures when I'm done.
No?
Great.
They agree. They don't have an objection. So, it's a really powerful, non-aggressive way to get the invitation. This subtle sales tactic can make people feel comfortable, not forced. It helps you connect, and that can make a big difference.
Roofing Sales Script: What to Say When They Ask for Your Business Card
After giving out tons of business cards to people who never called, I switched to only giving them out to clients. Why? Because the chance of anyone else calling me is slim to none. And because I want to be in control of the process. I want to call them.
I've touched on this in a video called How to Stay in Control of the Sale, and here's what you do.
When they say, "Hey, just leave your business card. I'll call you if I'm interested," you say:
I actually just ran out of business cards.
Do you have any objection if I take your name and number for a friendly follow up call in a few days?
Then, wait.
Why & How This Roofing Sales Strategy Works
You'll notice a few elements here, so let's break this down — word for word, with body language, and the silence piece.
First is the question, Do you have any objection? This can bring their guard down. You naturally wait, and they naturally say, "No." This is a negative agreement tactic. When we ask, "Do you have any objection?" and they say, "No," they're actually agreeing to it.
The next part is asking for the name and number. Be clear about exactly what you want from them, which is their name and number.
Then, set crystal-clear expectations for a friendly, follow-up call. Tell them you'll follow up in a few days and ask the best day and time to call, so you're not pestering them.
Now, I get my pen. I'm a big fan of keeping a pen in your shirt. Having a pen handy makes it super convenient to jot things down, like customers' names, an address, a phone number, or any little snippet of information. And I have used this when I've been in the field training canvassing teams.
Again, ask:
Do you have any objection if I take your name and number for a friendly follow up call in a few days?
That's the exact script, and there are three subtle pieces to add to this:
Have your pen handy, so you're ready to write. And, so, you look prepared and professional.
Pay attention to your stance. You don't want to take a confrontational stance. That would be an in-your-face, shoulder-to-shoulder stance. A boxing stance. Instead, you want to stand at an angle. Blade your stance. It's non-confrontational, and it's a more comfortable and casual approach. That softens the body language (check out my video on Body Language that goes into this more).
Make sure they see your paper. Stand there, look down, and do not make eye contact. This is assumptive body language. That means we are standing as though we assume that they will give us information — their name and number. We sit there and wait. The idea is that you want that awkward silence. Do NOT budge or speak first. Remember, the golden rule of sales, He who speaks first loses sales. By letting that awkward silence loom, the chances are they will give you their name and number.
Quick Disclaimer
There's no golden ticket or silver bullet that's going to work 100% of time. That's not realistic.
Will you get rejected doing this? Maybe.
Will you get numbers that you would otherwise never have gotten? YES.
I guarantee it because if you do this 100 times, you get three numbers, and one becomes a sale, that's much better than handing business cards and making no sales.
How to Get Comfortable with This Roofing Sales Tactic
You can overcome that awkwardness at the door if you do this right. Personally, I use this for one reason only. I developed this process to train myself to get comfortable at the door and get over that awkwardness. I knew that the longer I kept someone at the door, the more likely it was that I'd start a conversation and get a sale.
So, here's what you need to think about:
The script
Your body language
The element of silence
Once you've said that you'll give them a friendly follow up call in a few days, now get the name and number. Then, say:
When's a good time for a friendly follow up call in a few days?
I don't want to catch you in the middle of supper or putting the kids down or anything.
What day's best — Wednesday?
What time would be best for you?
Once you get that day and time, say, "Great. I'm going to give you a friendly follow up call in a few days," and restate the day and time.
Roofing Sales Script: What to Say During Your Follow-Up Call
When you make that follow-up call a few days later, here's what you say:
Hey, Mr. or Ms. Homeowner. It's Adam here at The Roof Strategist, just giving you a friendly follow-up call after visiting your house a few days ago. I wanted to check in about what we talked about.
We open with "This is a friendly follow up call from when I was at your door."
Then, bring up what you spoke about:
You wanted to talk to your husband?
You want to wait for the insurance company?
And this really works. Here's an example of how I put it to use.
Example: I was in a neighborhood I opened up, talking to a wife whose husband wasn't home. She says "Leave a business card. I want to talk to my husband. We'll call you. We don't really know what we're going to do yet." Total rejection. She was being really kind, but she was talking from behind the door.
And I got through. When I used this tactic, I got her number and called her a few days later. Then, I said, "Hey, just making a friendly follow up call." She invited me back to the house when her husband was there, and I got that job and their neighbors.
So, this really does work, and I turned that rejection into a sale. All this is super simple to use. And if you need any follow-up scripts or emails, I have it all in the Marketing Battle Pack. So, check that out.
Recap: How to Overcome "Leave Your Card" Rejection in Door-to-Door Roofing Sales
When someone wants you to leave a business card and says they'll call you if they're interested, remember, they're just kindly rejecting you. So:
Do not ever hand a business card out unless someone pays you. You don't leave your contact info. You want to be in control of their information, and you want to control the follow-up. Simply say that you don't have a business card.
Ask, Do you have any objection if I take your name and number for a friendly follow up call in a few days? Then, ask about the best time and way to contact them. Email? Phone?
Blade your stance to set a more comfortable tone.
Let them see the paper you're ready to write on.
Take advantage of silence after you ask for their info. Wait for them to speak first.
Explain the "friendly follow up call" you'll give them in a few days.
When you call, say, "Hey, I'm just making a friendly follow up call after being at your house a few days ago. Just checking in to see if you talked with your husband or made a decision."
Use this step-by-step strategy. It'll help you avoid the common mistakes of being too forceful, not blading the stance, and not using the script as it is.
Bonus Tips
Here are a few more extra roofing sales tips to help you out:
Take advantage of email: I call it preselling or warming up for the sale. You can email to confirm the appointment. This will really help you warm up that lead. Because an email is an incredible opportunity to set expectations, explain what's going to happen, and make a commitment to a homeowner. You can also share a little about yourself. Just keep it short and sweet. It's professional and can make a good impression.
Use letters: I truly believe plain white paper works because it stands out from the overly produced marketing materials every other roofer hands out. The letter lets you send a personal message. I have a bunch of letters you can use in my Marketing Battle Pack. You can just plug in your information, and they're ready to go.
Try electronic signatures: I've used Adobe Acrobat, and it can be so much easier than driving to different cities just to get signatures. There are tons of electronic signature options out there. Just be sure the one you choose works well on mobile devices.
Want More Roofing Sales Strategies, Tips & Videos?
Subscribe for the latest roofing sales training videos and get your copy of my Pitch Like a Pro roofing sales training video library. It includes every video I've ever done, organized by category, along with a bunch of tips, tricks, and more. It's updated all the time to help you and your team SMASH your income goals and give every customer an amazing experience.
Also, check out my Marketing Battle Pack for instant access to 70+ pieces of my proven, turnkey roofing sales and marketing materials. It's an entire suite, specially designed for sales teams, managers, and owners, providing:
Scripts
Scheduling
Direct Mail Letters
Door Hangers
Goal Projection Planners
A LOT more!
It's affordably priced and comes with a 100% money-back guarantee. There's also a playlist of instructional videos in there, explaining every single thing. So, you can watch the videos, and you'll know exactly what to do.
Thanks for joining me, and I look forward to sharing more with you in the next blog.