Right now, a homeowner can buy a roof online, click to get a quote, and click to buy a roof ALL without having to talk to a single soul.
If you're in roofing sales, you might be thinking:
OH MY GOSH! Is my career on the line?
Is my livelihood about to get cut off at the knees?
What does the future of roofing sales even look like?
If you're an owner running a company and you have a website, you may be wondering:
Should I be using those tools?
Is it a gimmick or is it real?
Is it a THREAT or is it really going to help me SUCCEED?
Well, I'm going to answer those questions and more right now. As I do, you'll notice a few things:
I'm going to speak as objectively as possible: I want to air out a few things. Also, I'm biased because I love human-to-human experience, and my entire livelihood involves providing that experience to homeowners. Still, I'm working on ways to adapt with the times. So, I'm not actually concerned about this — I just want to air out this bias (because some people think I'm sharing this because I run a sales training platform).
I'm NOT mentioning any particular product or company names: Currently, there are a couple of big players in the game, and I know there will be even more in the future. In fact, I know people are developing these products as we speak. It's no secret that people want to be able to sell a roof online.
So, with the biases out of the way, let's get into:
The history of roofing sales, looking at how customers found us
Where we are today
What it all means for you and your career in roofing sales
What the future of roofing sales will look like and what homeowners may expect years from now
Now, let's rock and roll.
FREE "Pitch" Like a Pro Roofing Sales Training
240+ Video Library for Storm and Retail
For Roofing Sales Reps & Owners With New Hires: All the training you need to be a "million dollar" closer!
Get Instant Access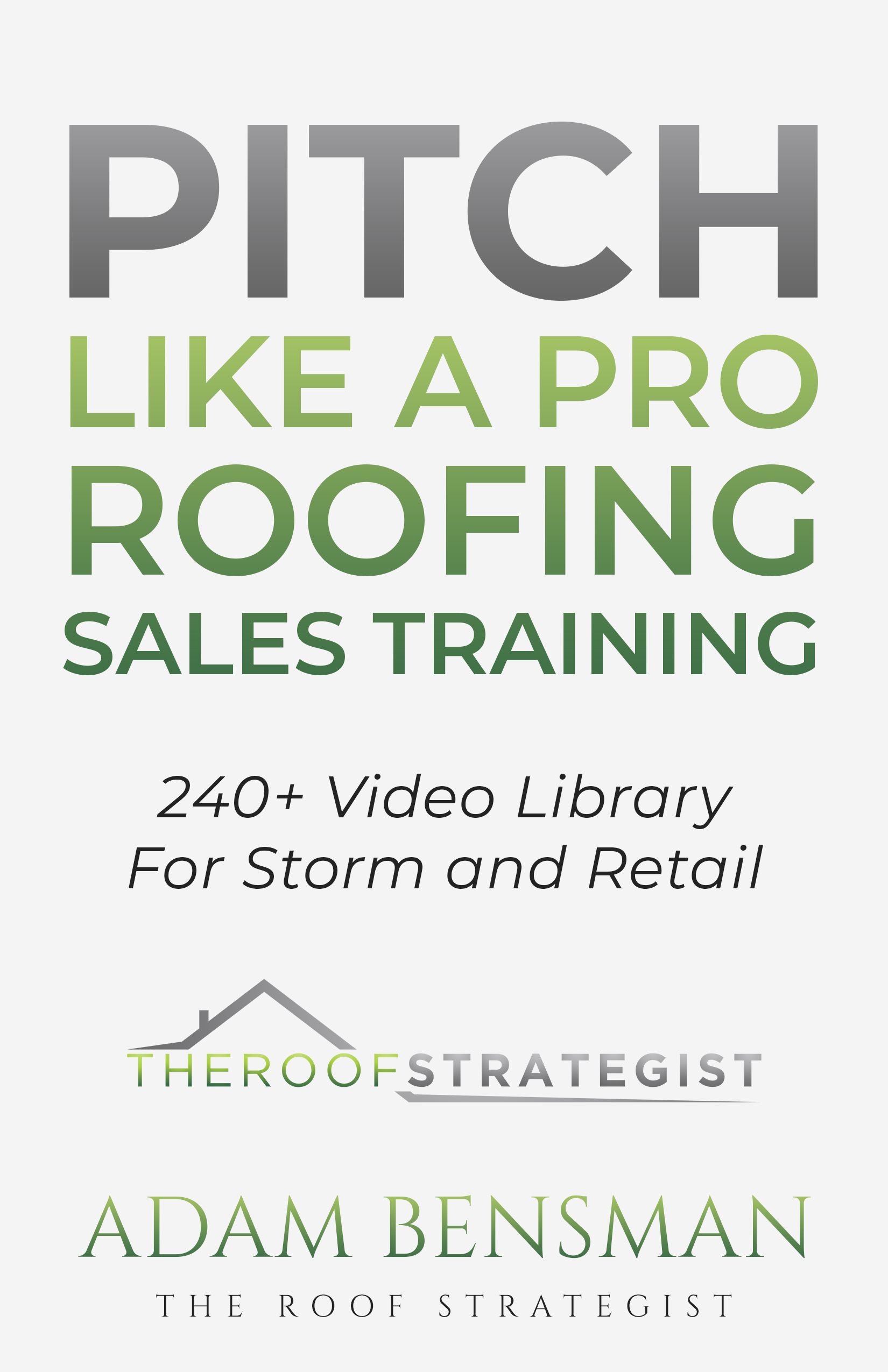 History of Roofing Sales: How It All Started
Now, there were a handful of ways people started with roofing sales. Of course, we could break this up into like a million different parts, but I want to go through it historically over the last few generations to highlight the world of roofing sales now.
So, when it all started, here's what was critical in roofing sales:
Phone books: In the past, you needed to be listed in the phone book to be viewed as a legitimate business. That meant having a listing in the phone book. A print ad in the phone book would show that you're even more established. So, many homeowners back in the day would go to the phone book, see all the companies, and assume the companies without ads were smaller and not well equipped. Usually, that meant they'd call the company with the bigger ad.
Word of mouth: As time progressed, word of mouth became very important, especially in neighborhoods and in storm damage roofing sales. That's because yard signs were going up in neighborhoods and people talked.
A website: With the internet, the next thing we needed was a website. In fact, if you didn't have a website, your business wouldn't be seen as legit. So, that old phone book ad was now replaced with a website.
Reviews and ratings: Fast forward a bit, and the next key thing became Google and social media platforms. That meant ratings and reviews. So, the next big push was for reviews. Without them, a company wouldn't look like a legit business. And, here, there were really two things we needed to build credibility — A LOT of reviews and A LOT of really good reviews.
So, that was the past in the roofing sales industry (again, I know you could layer in direct mail, SEO, pay-per-click, social media, and more). I just want to take you through the high-level history.
Now, let's look at roofing sales today.
Today's Expectations in Roofing Sales
These days, we're in a new era of expectation, and that's the web experience. That means we have smarter shoppers who:
Are tired of the sales gimmicks
Want their BIG question answered, including questions about cost
So, with the web experience, a homeowner can:
Visit and browse a website.
Learn what they need to know about a roofing company.
Decide whether a given company is a good fit or one they want to move forward with.
Let's look at an example to see how this works.
Example: I'm shopping for a sauna online, looking at these kits and checking out a couple of different brands. One website listed everything, including model numbers and pricing. I was SO excited when I saw that because they just made it EASY. The next one just told me to call them for information, and it didn't show the brands. So, I ignored that one despite their good reviews. From there, I'm looking to make that commitment, reaching out to select spa companies that I may want to work with.
Our homeowners and roofing sales are doing the same thing with this web experience. That's because:
Almost everybody has a website and at least a couple of reviews these days.
Homeowners are going one step deeper before talking to anyone. They're looking for whatever information they can find.
They want answers, and they want them NOW.
They're going to use this research to decide which roofers to consider and choose from.
So, today, that web experience is where I see these tools being very, very effective because it gives a homeowner the option to:
Scratch that metaphorical itch.
Get you the business.
Again, that's where we are today with roofing sales. With pricing today, I know many folks won't give out prices because of unknown factors, like rotted decking or things the homeowner didn't share.
That's why it's important to have the right disclaimers that include phrasing like, "variables beyond our control," or that provide a range of estimates.
So, the current web experience gives people what they want and can pave the way to what I view as the future.
Now, will some customers buy a roof online without talking to somebody? Yes, they will. Is that going to take a substantial amount of food out of your mouth? Not right now, and I'm not worried about it; here's why.
The Future of Roofing Sales
In the future of roofing sales, there are going to be three customer segments, including:
Online buyers: This describes folks who are comfortable with new tools and tech, and these tools let anyone enter an address, find their house, and choose the type of roof they'd like on it. With this tech, online buyers can pick their products, select their financing options, fill out the loan app, and then BINGO — they've just bought a roof without talking to a single soul. This segment does NOT want to talk to somebody. This online buying experience IS the experience they want and that they're looking for. I believe this segment will grow in the future because younger generations are tech-savvy and tend to want instant gratification (as opposed to folks of older generations who didn't have cellphones until later in life). So, this segment will happily buy a roof online. They don't need to see anything or anybody. They can make that decision online.
Hybrid shoppers: These folks will use those online tools to get quotes. They'll look at a few roofing companies, get some quotes, and value shop, searching for a local, reputable company (and not just the lowest price). In fact, hybrid shoppers know that the lowest price is NOT necessarily what they want, so they look at the whole landscape to choose a roofing company. They tend to have some pricing in mind going into sales appointments, and they're going to figure out who to work with after sitting through those sales appointments. So, these homeowners already have some price conditioning and expectations. In fact, they expect the roofing salesperson to do a good job to win the sale. I believe the hybrid shopper will be the largest segment of customers for the next few years (at least). That's because getting a new roof and choosing a roofing contractor are really BIG decisions. So, many homeowners are a little apprehensive. They want to make sure everything's legit before dropping a lot of money. In the short term, I believe this will be the FASTEST growing segment of our customer base.
Tech-adverse shoppers: This third segment includes folks who refuse to embrace technology, and we see this in the roofing community. In fact, some roofers refuse to even offer certain items or experiences to their customers. Similarly, some homeowners refuse the online buying experience because they want to meet the person who will be working on their home or their castle. This can happen in the higher net worth sector, in nicer communities with bigger homes. Those tend to be folks in the hybrid model, and they tend to be a bit more nervous about who's actually coming out to their home. I don't but I don't believe the lion's share of this market share will fall into the online system. That's because these folks want to vet their service professionals.
So, those are the three segments of customers I believe we'll see in the future of roofing sales. If we understand segments, we'll know how to approach them and deliver an amazing experience to earn their business.
Recap: The Future of Roofing Sales & What It Means for YOU
So, what does ALL of this mean to you as a roofing salesperson? It means that:
Homeowners desire transparency and rapid information: That means they want their questions answered quickly. So, your competitive edge as a salesperson or an owner can be to use tech and the latest tools to give people the information they want and need more quickly.
We'll need to adjust: In the future, we're going to have those three segments of customers. One of those will refuse the online shopping experience altogether. There will also be two segments of folks who ARE willing to buy a roof online without talking to anybody. I predict that the bigger segment here will be hybrid shoppers who want a little of the online and a little of the in-person experience.
That's what think the future of roofing sales hold, and it's why I believe that:
The "threat" to us can end up providing a GREAT service to many homeowners.
We have the opportunity to adapt to the times and keep our fingers on the pulse of this hybrid model.
Our sales process in the home and online needs to reflect everything, so we can win that business and build our in-person interactions into a digital experience.
Want More Roofing Sales? Or Training For Your Team?
We've helped thousands of sales reps overcome the same sales challenges you're probably facing. Like not getting enough leads, getting stuck on objections, or not closing sales in the house.
Learn how we can help you:
Get trained up in a lightning-fast 9.5 hours
Self-generate more leads
Become a confident closer
Pick a time for your 1-on-1 demo.
Or use the links below to get instant access, 100% Risk-Free! Backed by our 30-Day 'NO BS' Money Back Guarantee.
Thanks for joining me, and I look forward to sharing more with you in the next blog.