You're the first person to come out, so we're not ready to make a decision. We want to get three estimates first.
Have you heard this one?
It's an incredibly common objection, especially in retail roofing sales, when you show up at the house and you're the first person on site.
After all, we all know speed to lead is important.
But when you're the first one there, sometimes, the one-call close can be MUCH harder because the homeowner needs to make decisions after seeing the estimates.
And remember, one of the most POWERFUL skills in sales is learning to think like our customers, meaning:
Putting ourselves in their shoes
Getting out of our own way
I'd even guess that you'd want to do the same thing as a homeowner — you'd want to get other estimates too. In fact, imagine you're the homeowner now and think about what you would want. Imagine that:
You're getting 3 estimates to replace the concrete in your driveway.
You want 3 estimates to make sure the companies are reliable.
They show up on time to make sure the estimates are apples to apples, and most importantly, to make sure you're getting a fair price.
So, I'm going to teach you:
A few different techniques to help you close these deals, even if you are the first one in the house
How to make sure this doesn't come up at the END of the appointment (because, for some reason, this objection usually comes up after presentations — even the ones you nail!)
Welcome or welcome back, by the way. My name is Adam Bensman, The Roof Strategist. Everything we do here is designed to help you and your team smash your income goals and give every customer an amazing experience.
And if you want even more resources and videos on other roofing sales topics (like this one), hop over to our brand-new FREE training center, which includes my Pitch Like a Pro roofing sales training video library. Simply call or text (303) 222-7133 for more info or a private demo.
Now, let's get to it.
FREE "Pitch" Like a Pro Roofing Sales Training
240+ Video Library for Storm and Retail
For Roofing Sales Reps & Owners With New Hires: All the training you need to be a "million dollar" closer!
Get Instant Access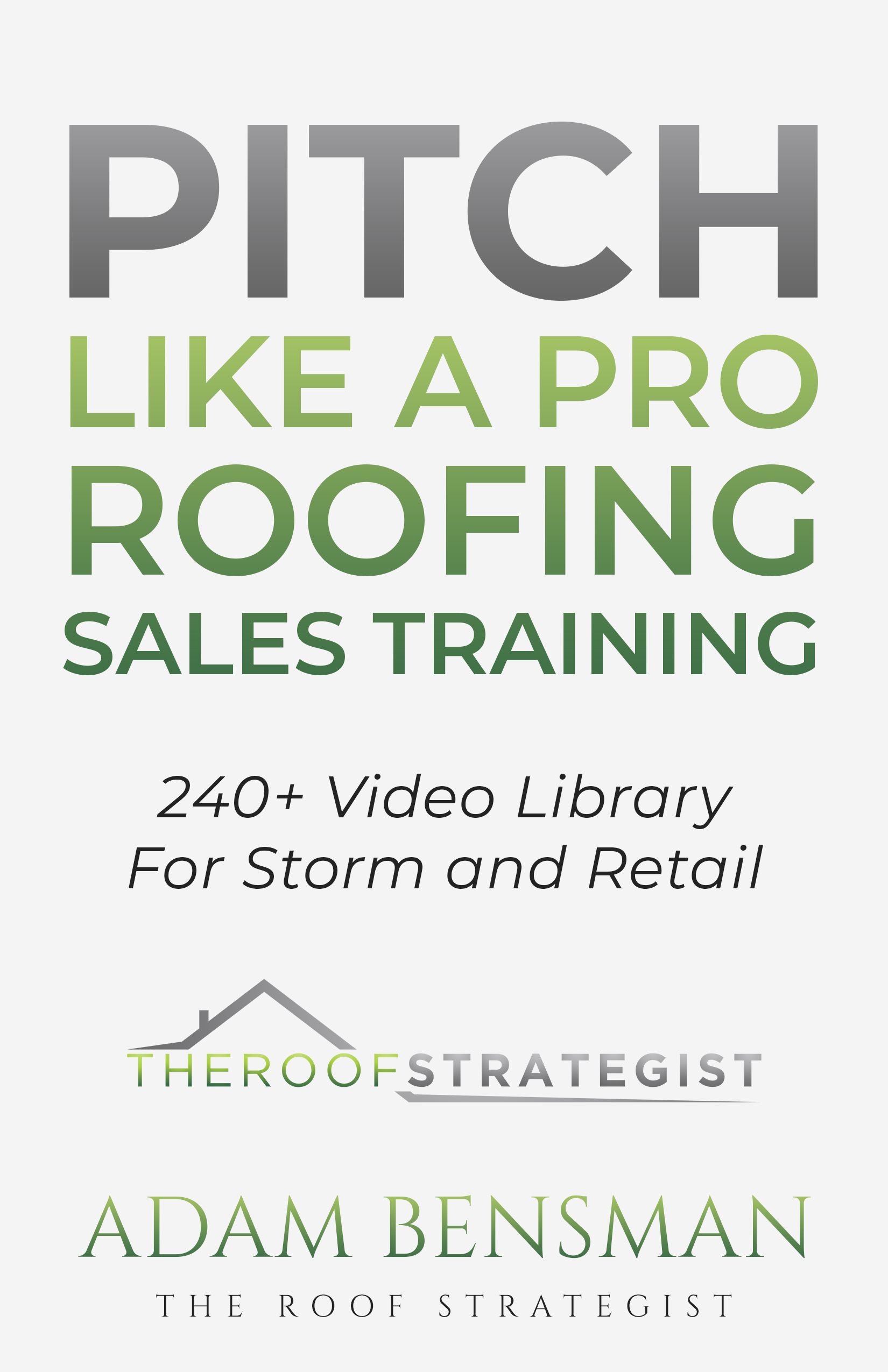 Roofing Sales Closing Tip #1: Don't Let This Come Up at the End.
This estimate objection should NOT arise at the end of an appointment — EVER. It should NOT come up.
Why?
Like I teach in my CARPARK Closing Formula, we want to discover — or ASSESS (the 2nd "A" stands for "assess" in this acronym) — where that customer's at in the process, so we can tailor our presentation to fit suit their needs.
Knowing that, you are NOT going to present to a customer the exact same way if you're the first versus last one out to the house. We need to present differently.
So, why not just ask one of the questions I ask? When you first get in the house, ask:
Hey, how many estimates have you received so far?
This gives me the information I need if I'm going to sell as the first or last one in the home. So, the quickest, easiest fix here is to air this issue out early, right from the start and before you dive into your presentation.
Roofing Sales Closing Tip #2: Explain How Estimates Differ.
The next tactic for overcoming the first estimate objection in roofing sales is a little complex (but hang with me for a moment because this can be WILDLY powerful).
First, let's look at some groundwork. There are 3 dominoes we MUST knock down in order to win any sale. Those are:
Trust: We have to develop unshakable TRUST.
Need: We need to create the NEED.
Money: We must overcome the MONEY issue.
Now, the trust aspect of this is HUGE.
So, we want to explain to homeowners, especially on the retail side, that not all estimates are apples to apples. That's because homeowners are doing exactly what you and I would do. They're going to:
Get an estimate.
Immediately scroll down to the bottom to see the dollar amount.
Overlook anything else written in that estimate, like details about the scope of work.
They're ONLY looking at the dollar-to-dollar comparison across different estimates.
Now, you and I both know that the MOST common way that roofers dupe homeowners is by providing those very basic work descriptions in their estimates, like:
Remove and replace roof – $X
When that happens, it's up to the roofer to make decisions on-the-fly choices, like whether or reuse or replace certain parts of the roof, such as the:
Wall flashing
Step flashing
Pipe jacks
Drip edge
And more
ALL of these details are up to the contractor on the fly, and it's kind of the only way they can make money when they're undercutting everybody (because there's just not enough meat on the bone to do that and actually survive in the roofing business).
So, we want to:
Explain this process to homeowners
Ask them questions
We can do that by saying something like:
Hey, you know, when you meet with other contractors, there are some key things to consider.
Now, I don't want you to bring this up, but you can gauge their level of authenticity, trust, and transparency by asking yourself some questions, like:   
Did they tell you what grade of shingle they're using, what grade of ridge cap they're using, or how they're installing their valleys?
Did they explain whether it's W metal or ice and water shield?
Did they tell you how many rows of ice and water shield they're putting on the home to make sure they're compliant with building code?
Do you know what type of pipe jacks they're using?
Are they reusing or replacing the roof-to-wall or sept-to-wall flashing?
Do they give you a color choice for the drip edge?
When you dig into these details, you may find that some roofers are trying to dupe you with their estimates.
So, if you're first in the home, the key takeaway here is to:
Put together a highly detailed estimate.
Go through those details, explaining how other roofers can be vague on purpose.
When you do that and you explain how to look for these things:
You plant the seed and start to develop trust.
You start to become the most trusted roofer, especially if the next guy shows up and does ALL of the things you warn them about. If that happens, the homeowner's going to think, Man, that first roofer was right!
Roofing Sales Closing Tip #3: Use the Risk Reversal Close.
To show you how this risk reversal close works, let's look at a scenario with a homeowner who likes you. When you're in that situation, the following is just one way you can leverage the risk reversal close (please note this is in script form to highlight how you can respond at every step to a homeowner):
You: Hey, how are you feeling about everything so far?
Homeowner: Well, we really like you. We just want to get a few estimates.
You: Hey, totally understand. So, what are your absolute biggest concerns?
Homeowner: Well, my biggest concern is that someone else will come in with a more competitive price.
You: I completely respect that, and I respect your time because I know that going through this process can be exhausting.
So, I'd be more than happy to get the project started and move on to the fun part of picking colors because you can get started 100% risk-free.
In fact, by law, you have a 3-day right to cancel, which means this agreement is dust in the wind if someone else comes out and does a better job than me. If that happens, just call me up, we'll rip this thing up, and you will NOT owe me a penny.
Sound good?
With that, you can lock in the deal while encouraging them to keep their other appointments with other roofing companies, so they can gather those estimates. Plus, you've highlighted the option to cancel the agreement if the homeowner likes another estimate or roofer better.
This risk reversal close is SO POWERFUL because in my experience:
About half the time, homeowners WILL cancel the other appointments because they like you and they just don't want to deal with anyone else.
Alternatively, if homeowners keep those other appointments, most other roofing sales reps won't do as good a job as you do IF you're using a proper sales process and system (like my Roofing Sales Success Formula).
When we go through ALL that and they TRUST you, they WILL sign with you. And if someone else doesn't do a good enough job, you've already earned the deal.
Remember, it does NOT matter if they end up canceling because if you sign deals using the risk reversal close, you're going to end up with MORE DEALS than you would otherwise.
In fact, without the risk reversal close, you'd have to follow back up, hoping not to get ghosted, to get back in the house. And wouldn't you much rather just close those deals and risk a few cancelations?
This HAS worked very well for me, the folks that I'm training, AND the companies I'm working with. So, try this risk reversal close. If you do, you'll likely overcome the first estimate objection far more effectively.
Roofing Sales Closing Tip #4: Set the Follow-Up Appointment.
Now, the final piece of advice here is SO important if you don't get the deal.
And that advice is to set the follow-up appointment with the homeowner. You can do that by saying something like:
Hey, I understand you're not comfortable moving forward.
Listen, I know it's a really BIG decision to select a contractor for your house, and it's hard to know who you can trust.
You don't know every single contractor, who has the BEST estimate, who's going to do the best job, or who's going to stand behind their work.
So, what I'd love to do for you is come back after your third and final estimate.
When is that again? A Wednesday?
So, how about I come back on Thursday and I'll be your question punching bag?
Then, we can review those scopes or estimates side by side, and I'll help you decide even if it's not with me.
Now, when's a good time for me to come out on Thursday?
THAT is how we can set that follow-up appointment.
Recap: How to Close BEFORE They Get Other Estimates
Let's summarize the four steps that can help you enjoy more success with the one-call close. Those steps are to:
Ask upfront how many estimates they've received.
Explain that all estimates are not apples to apples. Plant that seed of doubt for the other contractor by alerting the homeowner to some of the most common tactics we know are used to dupe homeowners.
Use the risk reversal close to entice them to sign RIGHT THERE, on the spot, with the opportunity to cancel with you within 3 business days.
Set up that follow-up if you don't get that appointment, so you can get back in the house.
Want More Roofing Sales? Or Training For Your Team?
We've helped thousands of sales reps overcome the same sales challenges you're probably facing. Like not getting enough leads, getting stuck on objections, or not closing sales in the house.
Learn how we can help you:
Get trained up in a lightning-fast 9.5 hours

Self-generate more leads

Become a confident closer
Pick a time for your 1-on-1 demo.
Or use the links below to get instant access, 100% Risk Free! Backed by our 30-Day 'NO BS' Money Back Guarantee.
Thanks for joining me, and I look forward to sharing more with you in the next blog.