Hey, Adam, here at The Roof Strategist. Today, I'm going to talk about how to make sales while you're drinking coffee, driving around in your truck, or even having a beer at the office.
This has been a highly anticipated topic because it's all about cold calling and how to use your phone to make sales.
So, I'm going to teach you a script that works. It's the script I used to land my first sale ever, which happened to be a commercial sale. I was cold calling with zero experience — no door knocking skills, nothing — and I made the sale using this script.
Now, before we dive in, I want you to think of this first.
Why Cold Calling for Roofing Sales?
When you're going door to door, you're finding out if the homeowners are home or not. It might take you a couple of hours to go through 60 doors.
If you're cold calling, though, you can rip through phone numbers and talk to people really fast. So, when we're trying to maximize our income, make the most sales, and earn more commissions, we need to think smart about how we use our time.
We need to think about when we can be working the phones to make sales.
That could be when:
It's rainy.
It's evening time.
It's nice out, but it's not the best time of the day to go knocking on doors.
You've simply got some time driving between different appointments.
If you can maximize those times by prospecting and working your phone, you can drive more sales.
Now, far too many people overcomplicate this. Instead, I'm going to make it as simple as possible because my cold call scripts are part of my Marketing Battle Pack. That's downloadable, turnkey information that you can literally buy, download, print out, and start using instantly.
How to Approach Cold Calling in Roofing Sales: By Claim Stage
Here's how it works. Think of it like door knocking without being face to face. If you approach it this way, you can take all the skills you develop going door to door and apply them to the phone.
Now, first the fundamentals. Remember, we have four different stages of the claims process that we want to work. Those are:
Stage 1 is when a claim hasn't been filed yet: This may be right at the beginning of the storm when a homeowner hasn't yet filed the claim and we don't know if there's damage. We know an inspection has to be done at this stage.
Stage 2 is when partial payment has been made: This could mean that maybe the roof's western slope or a shingle repair has been paid for. At this stage, we know that someone's had the insurance company out and that they likely were not really happy with the results. This is where they need someone like you, the professional storm restoration contractor, to show up and help them get that claim approved.
Stage 3 is when there's a claim denial: Here, the insurance company showed up, and they've said there was no damage. Now, your homeowner either thinks that there really isn't any damage or they're really mad because they know their insurance company isn't covering the damage.
Stage 4 is when the homeowner has the check in hand: At this stage, the roof has been paid for, and the homeowner is probably shopping for roofers and estimates.
So, how do you know what stage the property owner is at when you're cold calling them? Think about the storm.
FREE "Pitch" Like a Pro Roofing Sales Training
240+ Video Library for Storm and Retail
For Roofing Sales Reps & Owners With New Hires: All the training you need to be a "million dollar" closer!
Get Instant Access FREE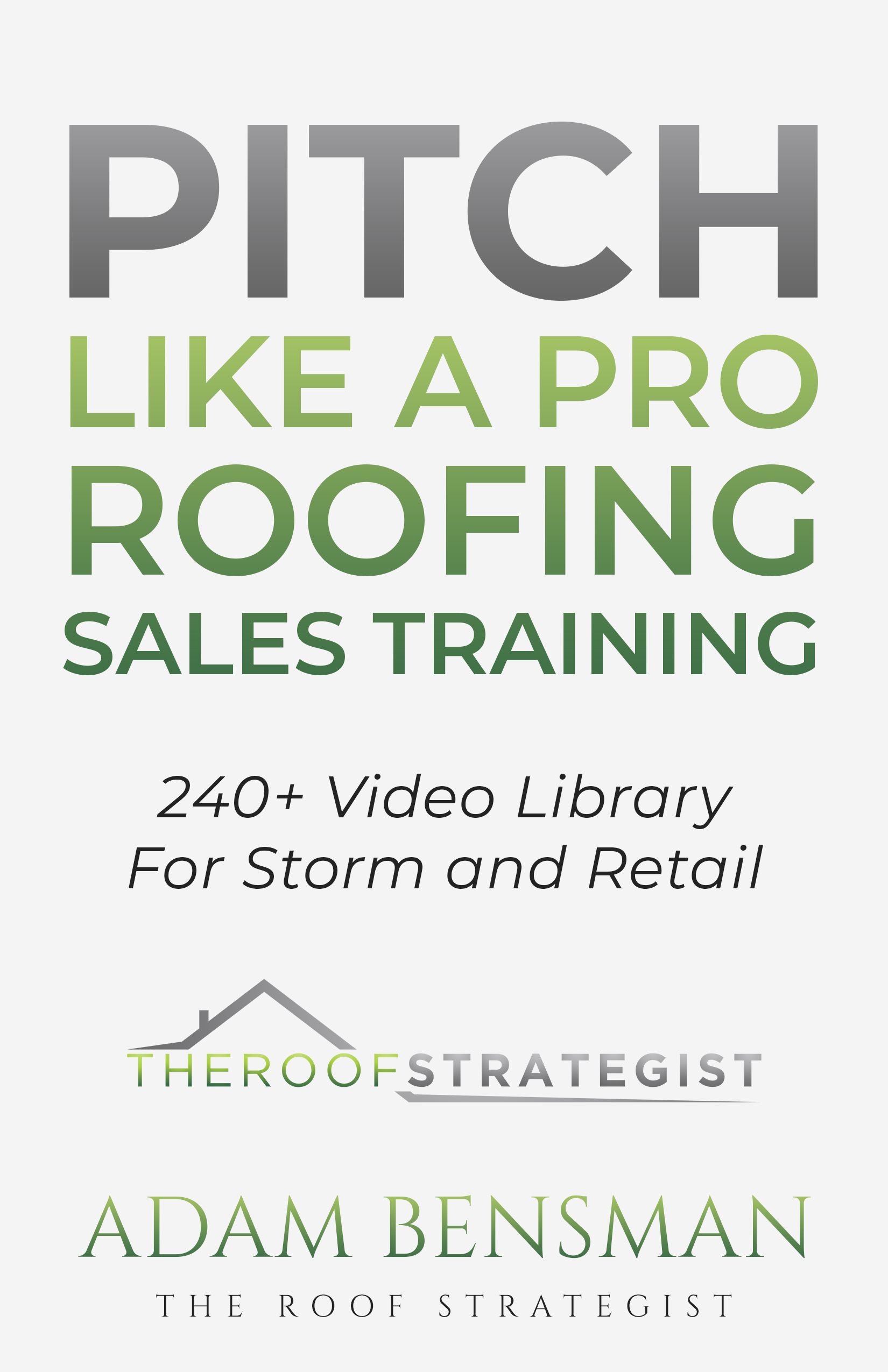 How to Approach Cold Calling in Roofing Sales: By Storm Stage
If we look at a storm, we can typically figure out where a homeowner or property owner is at in the claims process. In fact, if it's:
Within the first few weeks of the storm, we can assume no claim has been filed. So, we can lead with the inspection offer.
Later on, based on the area we're working, whether it's the fringe area or wherever, we'll know if there's been some smaller hail. Now, we can work Stages two and three, meaning partial payment or denial.
Towards the end of the storm, we know at this point that most people have probably already filed a claim. So, the people we're going to pick up just haven't decided to do the work yet. Or maybe they're waiting for the right time of the year, like for their kids to go back to school.
So, when we work our phones, we want to use a script that speaks directly to them. And you do that in the exact same way my training has you do that at the door.
For a quick refresher, you can take a look at my videos on How to Ace Your Pitch at the Door and How to Put Together a Quick Pitch to Capture the Conversation and Start a Dialogue.
How to Approach Cold Calling in Roofing Sales: Why Are You Calling?
Before I give you the script that I used to land my first commercial sale (and my first-ever sale), I want you to think about the purpose of the phone call. Why are you calling?
The first purpose is to start a conversation.
We want the person we're calling to pick up, and we want them to start talking.
We don't want to try to spit out our entire pitch immediately. That's one of the biggest mistakes that most new salespeople make with cold calling. They try to get it all out the minute someone picks up the phone. They rush it and overwhelm the person on the other end of the line. It's too much.
Instead, all we want to do is start a dialogue. That's it. We just want to have a conversation. From that conversation, our core objective is to set an appointment.
So, I'm going to teach you a couple of tactics to:
Start a conversation, so it doesn't feel like you're soliciting by way of phone.
Set that appointment. There's a lot of different sales training out there, and lots of salespeople will just say, "Hey, I'm in your neighborhood next Thursday at 10 a.m. or 2 p.m. Which one works?" Everyone's heard that one. I have a little different way of doing it. And I'm going to teach it to you in a minute.
So, first, I'm going to give you a proven commercial roofing sales script. It's the one I used to land my first sale. And you'll notice that when I'm approaching this commercial call, it's going to be a different angle than when I'm talking to a residential homeowner. We're going to talk about both here.
Commercial Roofing Sales Cold Calling: Think Like the Owner
When I called the commercial property and ended up making my first sale, I was thinking as though I was the commercial property owner.
By the way, I have material dedicated to this in my Marketing Battle Pack. It talks about how to get into the mind of your prospective buyer, whether that's the homeowner or the commercial property owner, and figure out what they really want.
Now, if I'm a commercial property owner and my roof needs to be replaced, I'm thinking I don't want to spend money that doesn't make me money.
And I probably don't really care that much about how it looks. I just need to make sure the roof functions, and I want to get it done cost effectively. Most importantly, I don't want any problems with it.
How I Used Cold Calling to Make First-Ever Roofing Sale
So, here's how it happened. I see this roof as I'm leaving the gym. It's raining outside, and I'm covered in sweat. I'm wearing my gym shorts, and I'm about six weeks into this business. Then, I see a "For Rent" sign literally next door to the gym.
I think, great! I now have an icebreaker. I can reference the name of the gym next door to his building. That'll soften up the approach, and the owner will think it's personal, not just a robocall. I'm mentioning something specific about his building and about his neighborhood that he knows is real.
The other thing I noticed is that the roof is three-tab shingles, and it looked horrible, like it needed to get done. I'm thinking, Man, I might have a great hook! By the way, this was also at the edge of the storm, so I was rolling the dice to find damage.
Commercial Roof Sales: My Cold Calling Script That Works
At this point, I grab my phone, and I'm dialing as I'm driving. I call the number on the "For Rent" sign and I say this:
Hey, I'm calling about the property at [whatever the address was].
I'm leaving Ford's gym right now. I just finished up, stopped by some customers around the block in the Atwood neighborhood. I just left the Atwood neighborhood to go to the gym and happened to be driving by when I saw your building. So, I wanted to call and ask a few questions.
Is this the owner or the manager?
Let's break this down.
First is the icebreaker. I'm referencing neighboring buildings, so he knows I'm legit referencing a neighboring neighborhood.
Next, I asked specifically, "Is this the decision-maker?" It just so happened that the owner picked up.
Here's what happened next.
Me: Great! Hey, before we get into it, my name is Adam. I'm with The Roof Strategist. And as I was driving by, I noticed that your roof looks pretty old and in disrepair and is likely going to be needing to get replaced soon.
Now, I might be able to help you get it replaced under your insurance coverage. If I can find some hail damage from that recent storm that came by back in April. Are you open to me coming by and taking a look?
The property owner: Yeah, you know what? That'd be great!
Me: You name the time. I'm happy to work around your schedule.
The property owner: How about tomorrow morning?
Closing the Commercial Roofing Sale
So, the next morning, I stopped by with someone who was helping train me to identify what to look for as hail damage. We did the inspection, and I ran the whole pitch. Then, I said:
Listen, here's the deal. I did find what appears to be hail damage. Now, it is marginal, but it is worth rolling the dice because your roof is pretty large, 90 square.
The best-case scenario is we file the claim. The entire thing gets approved. You do the whole roof. You owe the insurance deductible, and our offices are just around the corner. We're here forever, and you're taken care of.
The worst-case scenario is they deny it, and you're in the same position as you are now. So, do you want to roll the dice?
"Yeah, absolutely," he says.
So, we rolled the dice, I got the roof approved, and I did the job.
That commercial job was the first job I ever sold. And it was all from cold calling.
So, I want to break this down to show you how you can do this using your phone. And if you want to use the exact scripts I'm going over, they're all included in my Marketing Battle Pack. So, be sure to check that out.
Now, I'm going to go over a few fundamentals for cold calling in roofing sales.
Roofing Sales Cold Calling Fundamental #1: Personalize Your Opening
Let's break this down to see why it works and how you can easily adapt it to residential roofing sales or any prospect you're pitching.
First, we want to start a conversation and have a very short opener. We can use simple things, like referencing the neighbors.
Hey, my name is Adam. I'm calling after leaving your neighbor's house, a few doors up the road. I was just at Jill's or Suzy's home (or whatever the name is), and I wanted to call because I think I might be able to help you the same way I helped them.
Notice that I didn't say I'm a roofer? I'm not starting with, "Hey, I'm calling about your roof." Instead, I'm saying:
Hey, I'm calling because I was just up the street visiting with your neighbor, Michael, and I'm calling because I might be able to help you the same way I helped Michael.
Helping can mean that:
You maybe did an inspection.
You've helped them identify if there was damage.
Maybe you've talked with them, and maybe you're already working with them.
So, if you can reference something specific to who they are and the neighborhood, now, you can say:
Hey, is this the owner? Yeah? Great! And I'm sorry, I didn't catch your name. Susie? Great, Susie, my name is Adam, The Roof Strategist.
Roofing Sales Cold Calling Fundamental #2: Make It a Conversation
Now, BOOM — we slide into the same pitch that we use at the door.
I'm helping homeowners in your neighborhood get their roofs fully approved.
Specifically, I'm helping folks that have had the insurance company come out after the hailstorm, and they didn't get the outcome that they wanted.
May I ask how has the insurance claim been for you?
Now, we're in a conversation. I'm going to find out whether:
Yes, it was denied.
No, it was already approved.
Guess what? It doesn't matter what the outcome is or how they answer that question.
Now, we're having a conversation. So, start a conversation by simply referencing something in the neighborhood or dropping some names. Don't mention the roofing bit.
Roofing Sales Cold Calling Fundamental #3: Use Open-Ended Questions
Slide into an open-ended question to facilitate a dialogue. After you've opened with something familiar, you can say:
The best way for me to help you would be to come hop up on your roof, review the insurance paperwork, or sit down and educate you on the options.
It's a no-obligation appointment. When is the best time for me to come over to your house?
Here, I'm asking, "When is the best time?" and NOT "When works for you?" or "Is it okay?"
When we ask, "When is the best time?" now, we're channeling them. Instead of leading them to say "yes" or "no" with the "do want me to come by?" question, they're thinking about a day and a time. When's the best time? Okay, Tuesdays, I get home at 4:00 p.m. Perfect.
So, when you use that approach and ask, "When is the best time?" we let them offer up the time.
Now, some people will say "You have to prize yourself as a sales guy and make yourself look busy by giving them two options in your funnel." That's a technique, and it can work, but it's not my style because we're in the service business.
If I show up at someone's house and I'm soliciting them —  then I say, "When is the best time for you?", knowing they're a prospective lead that I'm going to close with a 70% close rate — I will happily adjust my schedule.
And if they name a time that doesn't work because you are a really busy salesperson, you can simply say, "Oh, shoot! It looks like I'm scheduled at that time. How about this other time?" Then, you name a time that works for you.
With this strategy, you're giving the impression that you care and that you're willing to work around their schedule.
Roofing Sales Cold Calling: Closing Tips
I'm going to share some final tips with you for cold calling in roofing sales.
Write down the phone numbers on every "For Sale" and "For Rent" sign you see: Those could be for any business that has a roof your company can do. These can all be leads.
Work the phones daily: Make it a practice to start cold calling every day. When you're driving around or when you're in the office on a rainy day, work those phones using these methods. The practice will make you more comfortable and make it easier for you to make those sales over the phone.
Use and adapt a script: Your script keeps you on point. Now, if you want to use my scripts, they're all instantly available in my Marketing Battle Pack.
That's how you use cold calling to really maximize your roofing sales and your commissions. When you're cold calling in the car, during the evenings, on rainy days, or whenever you can't be knocking on doors, you can use your downtime to win more sales and earn more commissions.
Want More Roofing Sales? Or Training For Your Team?
We've helped thousands of sales reps overcome the same sales challenges you're probably facing. Like not getting enough leads, getting stuck on objections, or not closing sales in the house.
Learn how we can help you:
Get trained up in a lightning fast 9.5 hours

Self generate more leads

Become a confident closer
Pick a time for your 1-on-1 demo.
Or use the links below to get instant access, 100% Risk Free! Backed by our 30-Day 'NO BS' Money Back Guarantee.
Thanks for joining me, and I look forward to sharing more with you in the next blog.