Discipline and consistency are two of the MOST challenging things to hold ourselves accountable to in roofing sales.
When you have a really good day, week, or month, it can be incredibly easy to let off the gas and think:
Hey, you know what? I'm going to take the afternoon off.
Then, one afternoon slips into the next and the next. Before you know it, your sales momentum PLUMMETS and comes crashing down.
The only way to get out of this is to get back on track. At this point, any of us can get into our heads and think:
I was doing SO well, and I dropped the ball.
I can't recover that ground.
That's LOST time, and it's LOST opportunity. Now, I have to work twice as hard to get back to where I should have been if I just stayed on the gas.
Many of us can even tell ourselves that getting back on track is too big of a challenge. We can end up:
Leaning into those feelings that it's all insurmountable
Putting a nail in our own coffins
Never recovering
It's almost like being on a diet. In fact, if you've ever been on a diet at some point in life, you're familiar with this. I know I was when I got into the roofing business and:
I gained 30 pounds.
I was drinking too much.
I was working too much and not taking care of myself.
When I was dieting, if I had a cheat meal, I wouldn't cheat a little bit. Instead, I'd think:
Well, I ALREADY cheated.
So, I may as well have eight more beers and then eat a whole cake.
That same concept can poison our success in sales.
So, I want to share a really simple way to maintain consistency and perform at a really high level in roofing sales.
First, I just want to say a quick welcome or welcome back. Adam Bensman, here, The Roof Strategist. Everything I do here is designed to help you and your team smash your income goals and give every customer an amazing experience. That's why I invite you to:
Subscribe to my YouTube channel, so you don't miss a thing.
Join me inside my FREE training center, which you can get instant access to by texting "FREE" to (303) 222-7133.
Check out my Playlist on Goals and Motivation that I think you might really like if you're jiving on this video.
Now, let's rock and roll.
FREE "Pitch" Like a Pro Roofing Sales Training
240+ Video Library for Storm and Retail
For Roofing Sales Reps & Owners With New Hires: All the training you need to be a "million dollar" closer!
Get Instant Access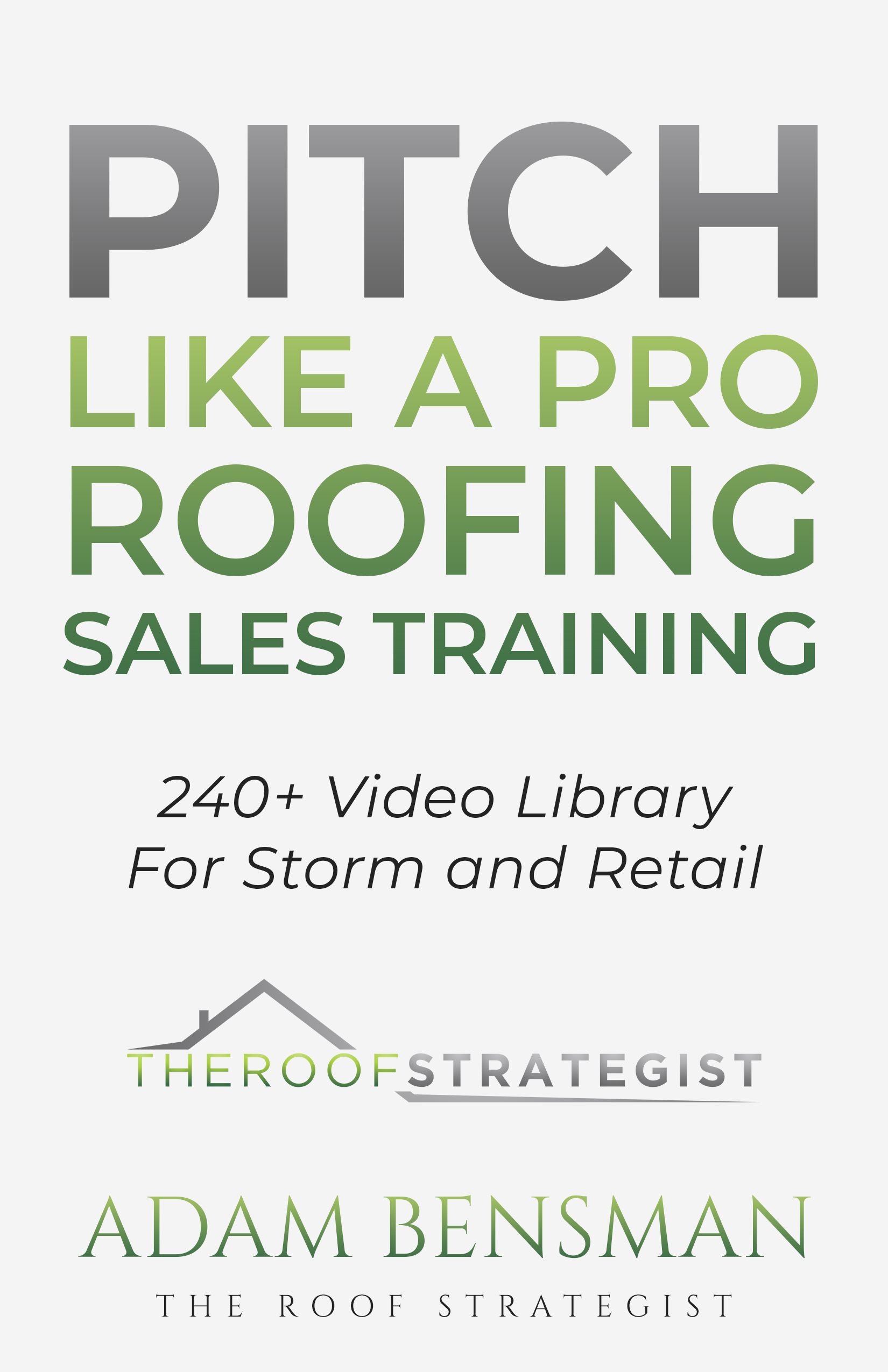 How to Maintain Consistency in Roofing Sales
Consistency can be a REAL challenge to achieve and maintain in roofing sales. That's especially true when:
We're doing really well: Consistency can be easy to fall off with a little break here and there.
We're getting started: We don't have traction yet, so we feel like we have nothing to lose when it comes to consistency. After all, nothing's really going on.
So, no matter where you're at with consistency or roofing sales, the key thing to focus on is the fact that we cannot control whether or not people buy from us (and feel free to disagree with me by dropping comments on YouTube).
The reality is that ultimately:
We cannot control whether or not someone buys from us — PERIOD.
Their purchase decision is made of their own free will.
We can ONLY control how we communicate that message in what we do.
The Secret to Consistency in Roofing Sales
Again, we can only control how we communicate in roofing sales.
With that, the secret to consistency is to literally:
Lose sight of the results.
Lose sight of the sales you're making and not making.
Put blinders on and focus on what you need to be doing and what you need to be saying each and every day.
Now, imagine waking up every day, regardless of whether you have 0 or 100 sales in your pipeline. After you wake up:
You're going to go to work.
You're going to engage in the same activities to generate deals, whether you have them or not.
With this, you focus on the RIGHT thing. That means:
Focusing on what you can control
Putting on blinders so we can practice our pitch, communicate clearly, present effectively, and overcome any objections
Those elements are 100% within our control. And I hate seeing sales reps lose sight of what's in their control and then:
Start playing the blame game.
Have excuse after excuse for why things aren't working.
Not take ownership of their role and what they can control in the situation.
I've caught myself doing this too. After all, it can be SO much easier to place blame elsewhere than it is to turn inward.
So, as simple as it sounds, the secret to consistency is to:
Forget the results. Results don't matter.
Focus on the activities you can control. If you stay consistent with these activities, the results WILL FOLLOW.
Want More Roofing Sales? Or Training For Your Team?
We've helped thousands of sales reps overcome the same sales challenges you're probably facing. Like not getting enough leads, getting stuck on objections, or not closing sales in the house.
Learn how we can help you:
Get trained up in a lightning-fast 9.5 hours
Self-generate more leads
Become a confident closer
Pick a time for your 1-on-1 demo.
Or use the links below to get instant access, 100% Risk-Free! Backed by our 30-Day 'NO BS' Money Back Guarantee.
Thanks for joining me, and I look forward to sharing more with you in the next blog.