Direct Mail is one of my favorite ways to generate leads. Anyone can use it. You can print letters out at home, stuff them in envelopes, and send them out. It's a powerful tool for individual reps, owners, and roofing sales manager.
In fact, every rep on your team can use the direct mail strategy to start generating really hot leads. The problem is, when you use this approach the wrong way, your results will be dismal, and you're not going to get the callbacks.
I'm going to teach you some best practices to get the most from your direct mail efforts.
I'm also going to answer some questions that come up a lot, including:
What's the best strategy to get addresses and mail to the right homes?
What do I put on the envelope?
What happens if I don't have the homeowners name (isn't that creepy)?
What do I stick inside the envelope, so I get the callback?
I'm also going to share my best tips to help you integrate or use direct mail alongside your door knocking efforts to get wild results. So, let's get to it.
Welcome back. My name is Adam Bensman, The Roof Strategist. Everything I do here, on the YouTube channel and the podcast (on Apple and Spotify), is designed to help you smash your income goals. And what better way to do that, then by having an incredible tool in your tool belt to generate cheap and easy leads, especially when you can't knock doors due to bad weather, gated communities, or whatever.
Roofing Sales Direct Mail Best Practice #1: Where to Get the Addresses
Please resist the temptation to do this from your computer by trying to scrub addresses, blast things out, and then praying for the best. That just doesn't work.
When you rely too much on the one letter going out, there are two failure points — the quality of your list and the number of impressions.
Failure Point #1: The Quality of the List
If you're just blasting letters out, you have NO idea if there's a yard sign in front, if they've had their roof done already, if there are shingles sitting in their driveway, or if it's roof loaded.
So, we need to get our eyes on the roof first and see it to make sure that the list is quality and that they are, most importantly, qualified. When I say "quality" here, I mean qualified, meaning they actually need a roof. Otherwise, we're just wasting time trying to sell something to someone who doesn't need it.
Failure Point #: The Number of Impressions
Direct mail letters are just one impression. A bunch of market research out there explains how many impressions are needed before people make buying decisions. And by impressions, I mean someone has seen a logo or something related to a business. It can take time and multiple impressions because it's about building authority, becoming familiar, and becoming recognizable.
In fact, top-performing roofing sales reps all say the same thing — they say it's key to:
Breathe familiarity
Camp out in the neighborhood and stay put
Focus on the neighbors in the same neighborhood
Because if a homeowner gets this letter and it's the only time they've ever even heard from you, they're probably not going to reach out.
But, if they've seen you, your logo, or your truck around the neighborhood — or they've seen you up on roofs or they've seen yard signs on their commute — and then they get the letter, there's familiarity, recognition, and authority. YOU are the neighborhood roofer.
So, we want to use these two factors together to make direct mail successful:
List quality
Your presence
Remember, one visit or one impression from a letter will NOT be the miracle cure. So, use best practices to get the address. Work this into your system when you're knocking doors and get your eyes on those properties before you mail out letters. That's how you'll know that they are qualified and need a roof, and it will give you a presence in the neighborhoods you want to target with direct mail.
FREE "Pitch" Like a Pro Roofing Sales Training
240+ Video Library for Storm and Retail
For Roofing Sales Reps & Owners With New Hires: All the training you need to be a "million dollar" closer!
Get Instant Access FREE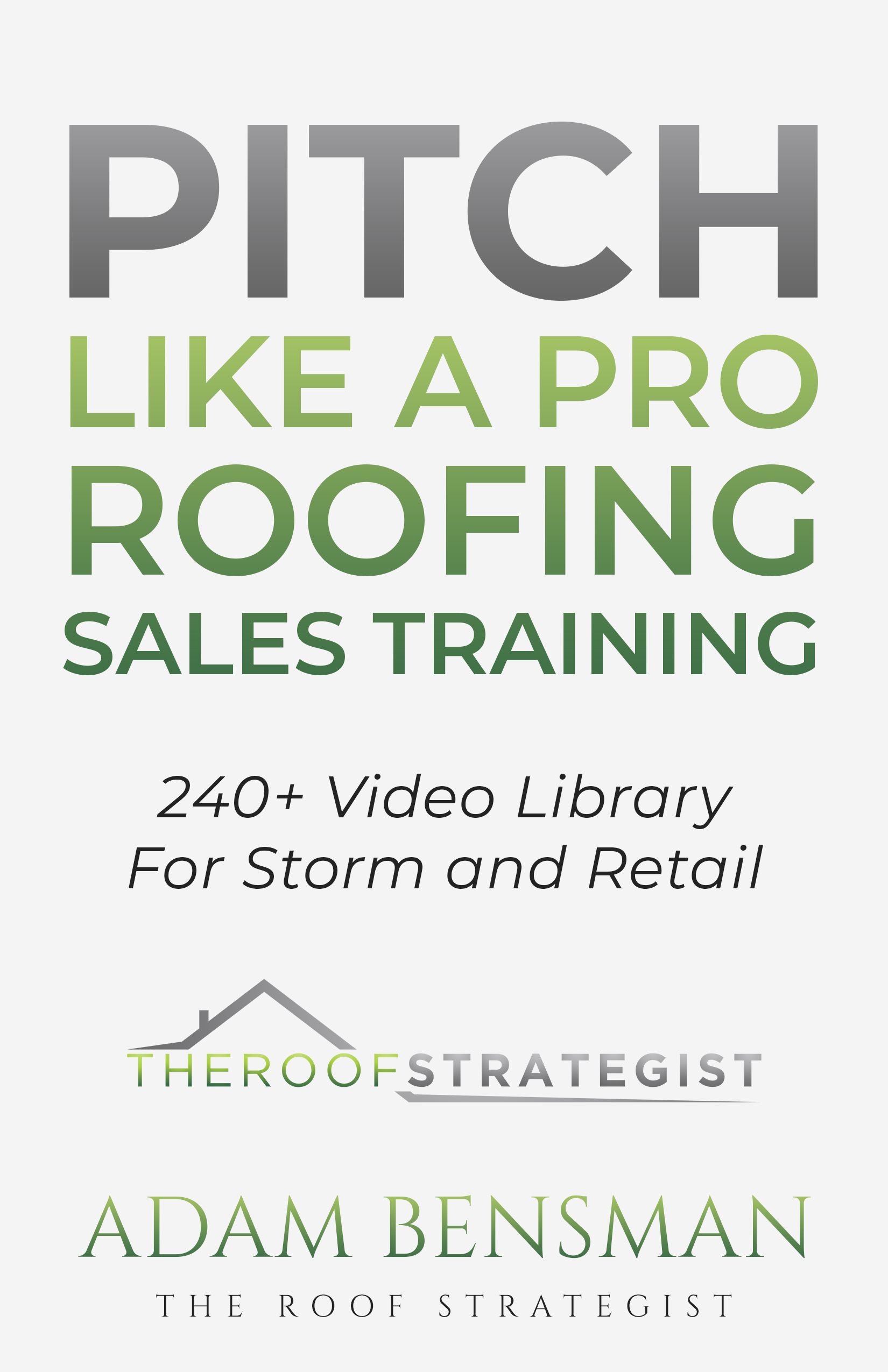 Roofing Sales Direct Mail Best Practice #2: How to Address the Envelope
Let's take a step back for a moment. I don't want to confuse address (to write a name and physical address on an envelope) and address (the physical location of a home). So, to keep it clear, we'll rephase this question to, what do we do with the name?
Let's make it simple.
Now, there's different ways to get property owner data. You can use options like these to search for property owners' names and addresses:
Free options: County Parcel Search
Paid tools: SPOTIO, HailTrace®, Interactive Hail Maps (Hail Recon®), KOL information, SalesRabbit
Out-of-the-box options: LandGlide, Hunting apps (like onX)
A couple little tips on addressing the envelope:
Personalize it: You want to keep it as personal as possible. Use full names when you can.
Play with it: If you don't have the full name, the right homeowner, or their neighbor, get creative. You can use just the first name, the husband's name, or the wife's name. It doesn't matter as long as it's personal. Ideally, you would reference one of those tools I just mentioned and put down the property owner's name. If you don't have it, don't let it hold you back. Just put in Dear Neighbor or Dear Homeowner.
Leave your name off the return address: I just put down the address, without a name, as the return address. If you're sending these, working from a home office, use your home address. Don't put your name on the envelope. If you do put your name on it, do NOT put the company name there too. Only put your name there. The reason is that it leaves homeowners curious about who sent it and what's inside.
Funny enough, as any of my customers knows, I send thank you letters out to them. I practice what I preach. So, they get these thank you letters, and they say, "It worked! Normally, I don't open my mail, but you got me."
And I say, "I didn't get you. I wanted you to experience exactly what it's like to receive one of these letters because that's how your customers are going to receive it. So, you believe in the system. You see how it works, and you've experienced it firsthand. And, of course, I simply wanted to say thank you." That's just how I do business.
Roofing Sales Direct Mail Best Practice #3: What to Put in the Envelope
The most important part of the letter you stick in the envelope is your message. You want to communicate the right message. I've done a video on the Five Essentials for Direct Mail, explaining how to structure these letters, so you can craft your own. And, of course, I provide all of my letters for storm and retail — 13 different letters for storm and 13 for retail, all translated into Spanish and for Florida — in my Marketing Battle Pack.
So, what is the right message to send to the homeowner?
It's the message that matches the homeowner's needs.
So, for example, if I see:
A three-tab roof à I'm going to send a letter about their three-tab shingle.
Wind Damage à I send out my wind damage letter.
A discontinued shingle à I'm going to send that specific letter.
I can also send letters with messaging like:
Are you tired of roofers knocking on your door?
Hey, I drove by and noticed this about your roof while I was on my way back from a customer's home.
We're in the neighborhood because we're installing or we just finished your neighbor's roof (an install notice).
The point is that these are just a few of the letters that I've written that you can get with the Marketing Battle Pack. And, of course, you can also write your own letters, following the tips in my Direct Mail video.
Whether you use my letters or your write your own, the most important thing is to focus on delivering the right message to the homeowner.
So, now, we know how to:
Get the addresses that are qualified, using our eyeballs.
Address the envelopes, so they get opened (the more personal the address is, the better).
Deliver a specific message, based on what the homeowner needs, so the message feels personal.
Now, let's talk about results.
Roofing Sales Direct Mail Best Practice #4: How to Get the BEST Results
How can you use direct mail to open up neighborhoods and really dominate? I'm going to explain this using William as an example. I've interviewed him before, and he's averaging about $20,000/month in roofing sales commissions.
He made $5,000 in a DAY using this best practice. Here's exactly what he did:
He picks a neighborhood and knocks on doors.
When no one's home, he leaves a letter at the door. This letter you would leave at the door is different, by the way, from the letter you'd mail. I have separate letters you can leave at the door and mail in the Marketing Battle Pack. Again, though, it's the same plain-paper approach as direct mail.
He sends the letter in the mail. So, a few days later, the homeowner gets and sees a letter addressed to them. They don't know who it's from, so they're curious. They open it up. And they think, Oh, wow!
He gets a call from the homeowner. They tell William how much they appreciate how he does business because it was so personal. Everybody else had been leaving really glossy door hangers on the door.
William gets the lead. He goes out there and signs the roof.
He knocks on the neighbor's door. Remember, he's already been in the area, leaving a letter at the door and sending letters in the mail. He's been in and out. So, these folks have seen him. There's some familiarity already there.
When William knocked on the neighbor's door, he used my method of talking to them. Here's what I usually say:
Hey there. My name is Adam. You know, I just left John's house next door. The reason I'm stopping by is that I actually came by last week, and you weren't home.
So, I sent you a letter in the mail after I stopped by. And since I'm working with John, he actually just chose us to do his roof, I just wanted to stop by and ask what questions you had about the letter I sent you.
At that point, after William says something like this, the homeowner tells him:
I'm so glad you showed up! I actually have had your letter sitting on my counter. I've been meaning to call you. I want to ask you to hop up on my roof and let me know what you think.
Then, William signs her up. The key message here is that William made $5,000 in a day using this approach.
This can take some time, of course, just like door knocking. It may be a few doors, and it could take a little bit longer. Sometimes, it can take a week or two after you've sent letters because people get busy. That's another reason why we want multiple impressions.
Recap: Direct Mail Best Practices in Roofing Sales
So, it's this simple:
Knock on the door.
Leave a letter with the right messaging at the door.
Send another personalized letter in the mail.
Show back up.
After you've knocked and sent two letters, now, you have a reason to be there again and follow up. As I mentioned in a recent video about the approach at the door, you have to have a reason to be there. The reason I'm showing up is because you weren't at home and I sent you a letter in the mail.
Then, when I do show up, I ask an open-ended question:
What questions did you have for me about the letter I sent you?
You don't want to ask a yes-or-no question, like, Did you get the letter I sent you? You want an open-ended question to start a conversation.
Now, you have all the tools in your tool belt to put this stuff to work.
I have teams across the U.S., Canada, and Australia using this strategy as part of the Roofing Sales Success Formula, which is designed for both individual reps and owners with roofing sales teams. It offers the complete strategy, integrating direct mail for all the key stages of the process, so you can open up and dominate a neighborhood with your letters. You're welcome to check those out, and you can get instant access by clicking on any of the links in this blog.
Want More Roofing Sales? Or Training For Your Team?
We've helped thousands of sales reps overcome the same sales challenges you're probably facing. Like not getting enough leads, getting stuck on objections, or not closing sales in the house.
Learn how we can help you:
Get trained up in a lightning fast 9.5 hours

Self generate more leads

Become a confident closer
Pick a time for your 1-on-1 demo.
Or use the links below to get instant access, 100% Risk Free! Backed by our 30-Day 'NO BS' Money Back Guarantee.
Thanks for joining me, and I look forward to sharing more with you in the next blog.