Let's talk about direct mail and how you can increase the open rate, meaning the people who actually get your letter, open it, and call you.
I'm going to teach you some really simple, cost-effective hacks to help you:
Stand out from the competition.
Most importantly, avoid having to compete for space in someone's physical mail inbox.
So, let's talk about how to increase your open rate with some super cheap and easy strategies that can be REALLY effective if you're self-generating leads via direct mail.
By the way, these strategies work for individual sales reps. In fact, that's WHY I created them (and I've done an entire playlist on how to use personalized direct mail for storm and retail in my Marketing Battle Pack).
So, whether you're writing your own direct mail letters, you're a company doing this at scale, or you're using my materials (or someone else's), the point is that there ARE ways to:
Increase your open rate with direct mail
Get even MORE leads
First, I want to say welcome or welcome back. My name is Adam Bensman, The Roof Strategist. Everything I do here is designed to help you and your team smash your income goals and give every customer an absolutely AMAZING experience.
And that starts with how you inspire them to even want to reach out.
That's what we're going to jump into in a moment. Before that, I just want to invite you to get your copy of a freebie in our new FREE training center. It's the Pitch Like a Pro roofing sales training video library.
Just click the link OR text FREE to (303) 222-7133 for immediate access to several resources and a whole bunch more goodies, including a  special announcement I haven't made public yet (I hope you get to see it in there).
Now, let's turn our attention to direct mail.
FREE "Pitch" Like a Pro Roofing Sales Training
240+ Video Library for Storm and Retail
For Roofing Sales Reps & Owners With New Hires: All the training you need to be a "million dollar" closer!
Get Instant Access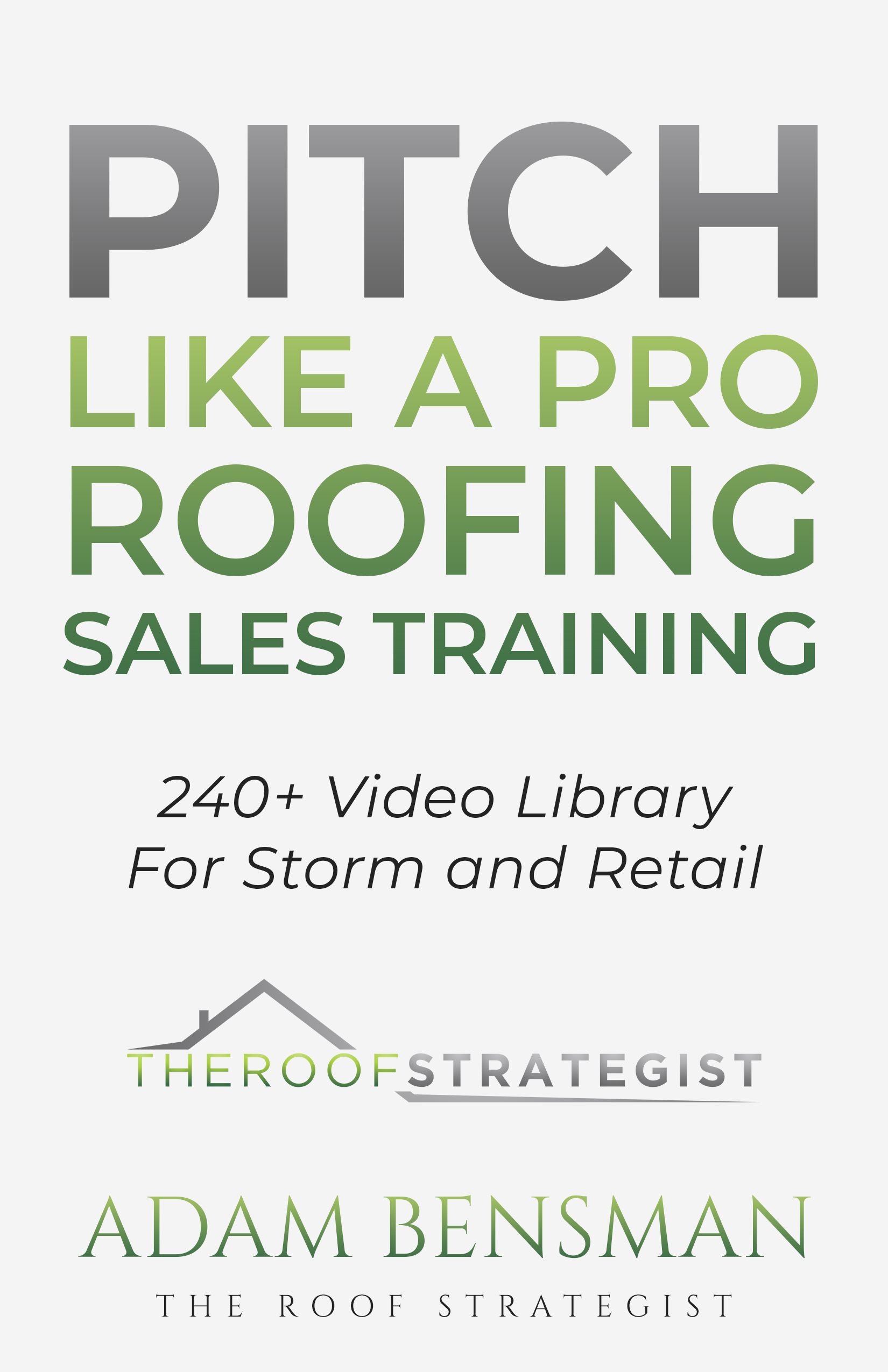 Direct Mail in Roofing Sales: A Sample Letter
Here's a sample letter inside of an envelope.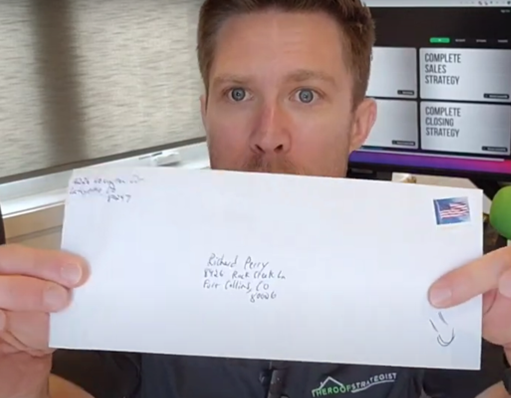 Again, I've done all this stuff on the letter itself, and we're just talking about the delivery method here.
First, I want to break down a concept known as a novelty bias.
Novelty bias is the notion that humans are intrigued by the unusual — the new things pique our curiosity. That's why you commonly hear and/or  see:
"Breaking news" in the news
"New" in front of Facebook ads
People simply have a novelty bias, and they're curious about new things. The different things can be intriguing.
So, let's do a quick thought exercise. Imagine:
You go to your mailbox, outside your home, to get the mail.
You see coupons from a local grocery store, inserts, glossy postcards with fine print — just a whole bunch of things that look like they're garbage.
You see the bills and some envelopes with glossy windows.
THEN, you see something that looks like it's from a friend or a person. It's NEW, DIFFERENT, and PERSONAL.
At that point, the novelty bias usually wins because:
It piques most folks' curiosity.
Many people will look at it more closely and even open it.
Now, let's talk about how to play into the novelty bias and some quick hacks you can use to get more people to open your letters, read them, and call you.
Our Objective with Direct Mail in Roofing Sales: The Sequence of Events
Breaking down the psychology of all this, here's how it works and what we want to happen (ideally) when we're sending direct mail in roofing sales. We want to:
Get our letter into the "open" stack, not the "garbage" stack, of mail.
Make sure that the letter actually gets opened.
Draw the homeowner in and pique their curiosity, so they read the letter.
Include a strong call-to-action that gives a homeowner a purpose, a reason to call, so they know exactly what to expect AND so they have some semblance of urgency to take action NOW. In other words, you want them to call NOW and not miss out.
So, that's the sequence. And getting them to open that letter:
Starts with the envelope
Involves the novelty bias
Direct Mail in Roofing Sales: 4 Simple, Cheap Hacks to Drive Up Your Open Rate
Here are the easy hacks that take advantage of the basic psychology of the novelty bias. These simple tricks can make your direct mail efforts far more effective at generating leads.
Handwrite your letter, using blue ink, so that it stands out.
Put the return address on the letter without a name. That will make them curious.
Draw a little squiggly line, a smiley face, a stick figure, or anything on the front or back of the envelope. It does NOT matter what it is, as long as it stands out (and it's appropriate). That little doodle will play on novelty bias. There doesn't even have to be there for a reason for the doodle. In fact, you could even put down a little saying on the back too, like "I stopped by on Tuesday."
Put the stamp on crooked. Again, we do this, so it feels more personal. And use a unique stamp, not one that looks like it's been rolled through a machine. You could use a "mariachi" stamp, a "Forever Love" stamp, or any other unique stamp you have because why not? It'll make that homeowner curious too.
So, if you received a letter that's handwritten in blue ink, with no return address, a little squiggly line, and a unique stamp you've never seen before, are you going to open it?
YES, you probably will.
Bonus Roofing Sales Tip: Put Something with Texture in the Envelope
Now, I have one more trick up my sleeve for you, and that is to use a little bit of change in your direct mail. I'm talking about coins, the cheapest form of currency, which probably isn't even worth the metal it's made of.
What if I put a coin in the envelope?
If I do that, you'll see and feel that little bit of texture in the envelope.
So, you can insert small items — like a penny or anything that's tangible, to create this lumpy sensation in the mail and play into the novelty bias (by the way, you may get these punted back, sometimes, because machines roll them when they post them in the mail).
This makes people curious about what's inside, and ALL of these elements can work together to build a homeowner's curiosity and compel them to open your letter.
And when your letter does a good job describing what you can do, solving their roof problem, with a strong call-to-action that gives them a reason to call you:
You WILL start getting MORE LEADS.
The leads from these letters will have WILDLY HIGH CLOSE RATES.
In fact, I have one company that's averaging three to four sales for every 100 letters mailed. They're following my strategy, using the letters in the Marketing Battle Pack.
By the way, it's crucial to remember that:
Not everyone is going to get those results (a 3% to 4% conversion rate is high, and even a 1% to 2% conversion rate is good).
Those calls don't always turn into appointments.
You still have to close the deal when you get that appointment.
Still, by using these direct mail strategies and making it all really personal, some sales reps will be able to make 3 to 4 deals for every 100 letters sent. And that'll just take an hour or so of stuffing envelopes (maybe even less if you're really efficient).
That's why I want to put this stuff in your hands.
So, now, you have a couple of options:
Watch some of my other roofing sales training videos, so you can learn how to write your own letters. Then, stuff them in envelopes and use the hacks I've just shared with you here.
Get my complete sales system, the Roofing Sales Success Formula, for you and your team. In this system, I provide all the letters you'll need for storm for retail, including the door hangers that work with these letters, laying out the entire strategy and sharing a whole bunch of other resources.
No matter what you do, you now have the tools to put this to work right now, so you can start using direct mail to get more leads and earn more sales.
Get More Roofing Sales Strategies, Scripts, Tips & Videos
If you want more on direct mail or any topic in roofing sales, you'll find it in my all-in-one sales training, sales strategy, and sales system, the Roofing Sales Success Formula & Complete Sales Strategy.
This exclusive program covers everything from knock to close, with packages for individual roofing sales reps and entire teams. Many roofing sales companies LOVE this program because it's a consistent process to train everybody on a relatable sales system that WORKS and that's a lightning-fast way to get results.
If you have questions, just call or text (303) 222-7133 for more info or a private demo.
You can also subscribe for the latest roofing sales training videos and/or get a copy of my Pitch Like a Pro roofing sales training video library. It includes every roofing sales video I've ever done, organized by category, along with a bunch of tips, tricks, and more. It's great for new people and seasoned veterans, and it's updated all the time to help you and your team smash your income goals and give every customer an amazing experience.
And don't forget to check out my Marketing Battle Pack for instant access to 70+ pieces of my proven, turnkey roofing sales and marketing materials. It's an entire suite, specially designed for sales teams, managers, and owners, providing:
Scripts
Scheduling
Direct Mail Letters
Door Hangers
Goal Projection Planners
A LOT more!
It's affordably priced and comes with a 100% money-back guarantee. There's also a playlist of instructional videos in there, explaining every single thing. So, you can watch the videos, and you'll know exactly what to do.
Thanks for joining me, and I look forward to sharing more with you in the next blog.