What if you could use direct mail to get really cheap, easy leads without even having to outsource it to an agency?
What if you could do that BOTH as an individual sales rep or an owner of a roofing company?
And what if you or your team could be doing this at night while watching TV, getting leads that are so hot they close near instantly?
Well, that's what I'm going to teach you here because DIRECT MAIL IS NOT DEAD.
FREE "Pitch" Like a Pro Roofing Sales Training
240+ Video Library for Storm and Retail
For Roofing Sales Reps & Owners With New Hires: All the training you need to be a "million dollar" closer!
Get Instant Access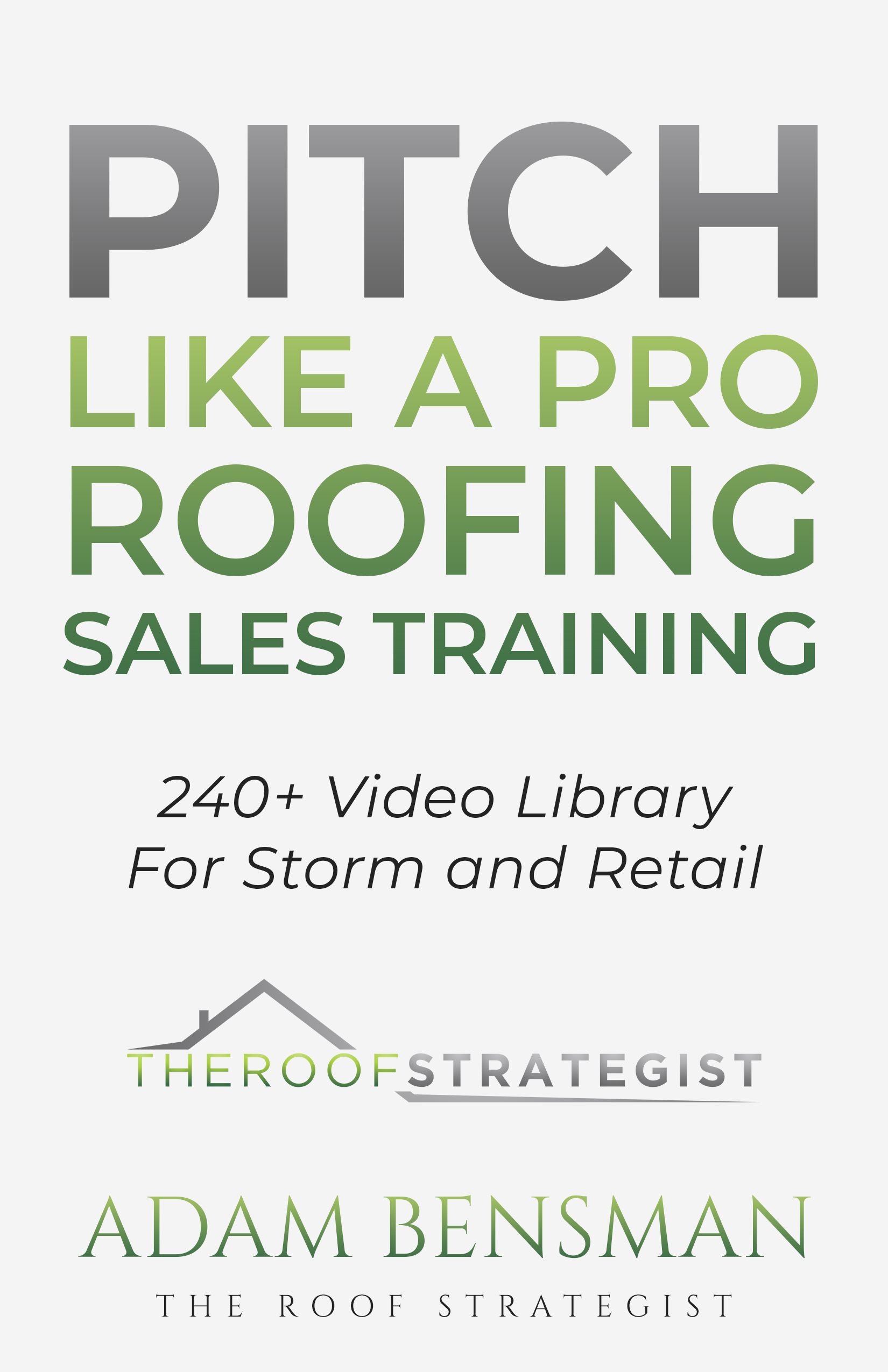 Why Direct Mail Is NOT Dead in Roofing Sales: 2 Stories
In fact, I want to show you an email I got from Noah (and, heads up, I actually have a few of these stories that I want to share with you, so you can see that this is legit!).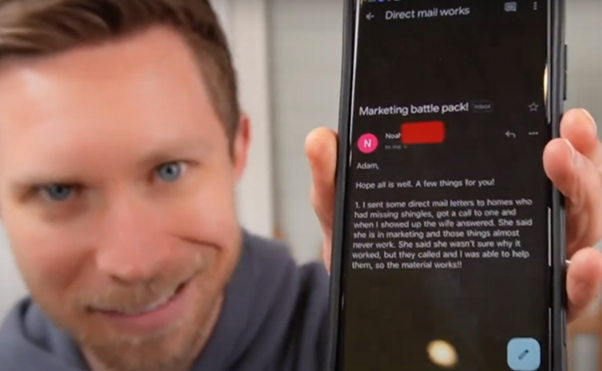 Here's what Noah said:
Hope all is well. Adam, a few things for you.
I sent some direct mail letters to homes that were missing shingles and got a call from one. I showed up, and the wife answered. She said that she's in marketing, and those things almost never work. She said she wasn't sure why it worked, but they called, and I was able to help them.
So, THE MATERIAL WORKS.
The "material" he's referencing is the material inside my Marketing Battle Pack, which is included in my Roofing Sales System. By the way, I have options for both individual roofing sales reps and roofing company owners.
Now, Noah said that this woman, his customer, is in marketing, and "these things don't work, but for some reason, it worked for them."
I also have a letter from a gentleman named Jeff.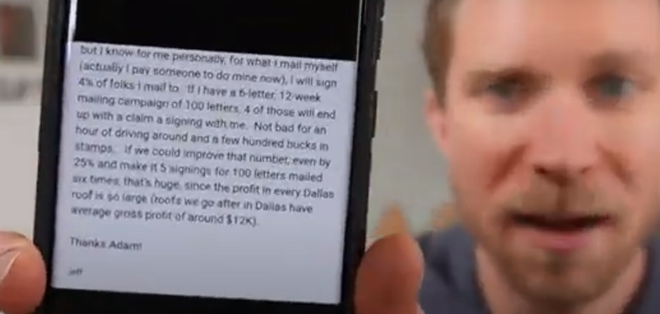 Here's what Jeff had to say (and I'm just reading a snippet of his message):
I will sign 4% of the folks that I mail to.
Of course, your results may vary, but he's following the system very closely, running with it and doing some really cool stuff. And at a 4% close rate with direct mail, that means Jeff is getting 4 deals for every 100 letters he mails out. To put that into perspective:
The response rate for mailers, like postcards and bulk direct mail, could be anywhere from 0.5% to as high as 2% just for the lead.
From that 0.5% to 2% of leads that call the office, about 20% "drop off" because they don't really qualify.
Once we book an appointment, then, you have your actual close rate. Again, the industry standard is about 30%, and your results may vary.
Now, I have several stories about how direct mail works, with testimonials from roofing sales reps to back it all up. I've also had roofing companies be very, VERY resistant to direct mail, saying they don't believe that it works.
So, I want to show you why direct mail is not dead.
Before we get to that, first, I want to say welcome and welcome back. Adam Bensman, here, The Roof Strategist. Everything I do here is designed to help you and your team smash your income goals and give every customer an amazing experience.
Now, I started providing my roofing sales training material because I didn't have the training and resources I really needed at the beginning, despite working for a company I loved (and the owner is a very dear friend to this day). Still, it was TOUGH getting started, and:
We just figured it out on our own.
Figuring it out on your own means really HIGH TURNOVER. In fact, I estimate that about 66% of first-year sales reps quit or get fired because they weren't prepared.
So, I created my entire sales system that's being used by many, many thousands in every state in the U.S. for both storm and retail. This includes tiny roofing companies that are just getting started and some of the top residential roofing companies in America.
And direct mail is one of the most powerful ways to arm every single salesperson or yourself with a strategy to make more deals, so that:
You're not reliant on company leads.
You don't have to only knock on doors.
You can take advantage of your door knocking efforts even if no one's home.
I've done an entire playlist of videos on Direct Mail, but I want to revisit this because:
It's relevant right now because people think direct mail's dead.
Direct mail is actually even more lucrative than before.
Why?
Well, let's take a look at how it works.
Direct Mail in Roofing Sales: How & Why It (Still) Works
A direct mail letter comes in the mail. And when we grab our mail, we tend to spread it out on the counter. Then:
We instantly throw out the pamphlets and brochures.
We look at the pile of envelopes left, and we sort from there.
We figure out what's a bill or something we need to take care of versus those marketing gimmicks, throwing out the gimmicky stuff.
We're left with your final pile of mail.
So, when you open your mailbox and pull out something like this, do you open it?
Or do you throw it in your trash?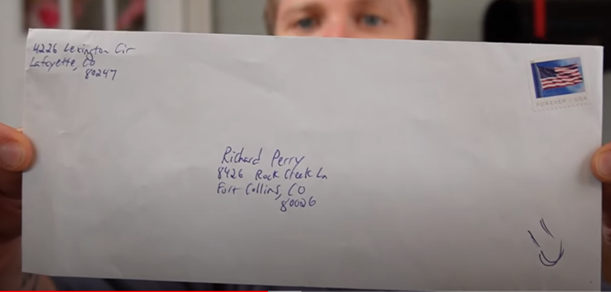 This is a hand-addressed, hand-stamped envelope with a little crooked smiley face on it. And this can:
Catch someone's attention.
Spark enough interest to get someone to open the letter.
Then, the "letter" is a note that starts with, "Sorry I missed you." If you saw this short note about why I stopped by, would you keep reading it to find out why?
Yes, most likely you will! You're going to keep reading, and the rest of this letter provides the value of a personal touch.
These are called long-form letters or long-form direct mail letters. They work SO well, which is why Noah had a woman in marketing reach out. That's because:
We're holding their attention MUCH longer with a long-form letter versus a postcard.
The letter comes with a far more personal touch that can tug at their heartstrings and really communicate that you care and that you can help.
The leads from these long-form letters tend to be of much higher quality than the ones that come from postcards.
I actually just talked with a gentleman, Jared, about this. He's using this material, and:
His close rate on the leads off of these letters is 90% (and I hear that consistently, by the way).
He's been using these letters for 2 to 3 years now.
Why Direct Mail Is Not Dead in Roofing Sales
The reason that direct mail is NOT dead is because of your inbox and your phone. In fact, your phone is cluttered with messages and ads in, on, or from:
Facebook
Instagram
Twitter
LinkedIn
TikTok
Email inboxes and more
The digital landscape is SO cluttered because it's fast, it's cheap, and it's easy. Still, very few people are willing to put the time into direct mail.
So, those who do can start getting leads because the mailbox is less competitive than their inbox.
That's why I believe direct mail offers even more of an opportunity today than in the past because:
Everybody was doing direct mail in the past.
Now, very few people are sending direct mail.
Those who are using direct mail are doing it the fast, easy way.
Of course, sending mass mail means you're sending mail to everybody, regardless of whether they're qualified. If you want to learn the strategies behind these, you can check out my Roofing Sales System.
In it, I provide over 280 letters, emails, and marketing material templates you copy, paste, and fill in the blanks for, so you or your team can use them for storm or retail. There are materials for:
Churches
Apartments and landlords
Targeted letters for highly qualified lists, meaning you've already stopped by the house and now you're reaching out via mail
So much more
And these materials are part of a whole system that connects the dots between:
Door knocking
Direct mail strategies
Back to door knocking
Leaving letters on the door
Making key touchpoints in the right neighborhoods, at the right times, with the right letters
Bringing it all together
After all, the letters work really well, but they work even better when we know how it all fits into a greater sales system.
Want More Roofing Sales? Or Training For Your Team?
We've helped thousands of sales reps overcome the same sales challenges you're probably facing. Like not getting enough leads, getting stuck on objections, or not closing sales in the house.
Learn how we can help you:
Get trained up in a lightning-fast 9.5 hours
Self-generate more leads
Become a confident closer
Pick a time for your 1-on-1 demo.
Or use the links below to get instant access, 100% Risk Free! Backed by our 30-Day 'NO BS' Money Back Guarantee.
Thanks for joining me, and I look forward to sharing more with you in the next blog.