Here's why I do NOT knock on doors that have "No Soliciting" signs.
Now, this topic is inspired by an Instagram DM that asked me this question:
What would you say to a homeowner who got aggressive after I knocked on their door when they have a "No Soliciting" sign?
First, that homeowner has EVERY right to be upset and aggressive in these situations. After all:
They had a sign that said, "Don't do this!"
You saw that sign and ignored it.
Does that come across as respectful to you?
Now, I know there ARE folks who are going to completely disagree with me, saying:
I knock on EVERY door. I knock at every home.
I've sold "No Soliciting" signs left and right.
I've made X, Y, and Z deals.
And there's a difference between what works in sales and what aligns with your own personal morals and values.
Let's look at two examples:
Your car warranty expires: We've all received those robocalls about car warranties just expiring, and they work! That's why they keep doing them. Still, you could NOT pay me enough money to try to con or scam people through some gimmicky sales tactic to just collect money. Again, it works, but it doesn't align with my values.
You've registered a business or purchased a home: When you do these things, you can start getting mailed letters that look like they're from some government agency, telling you to register your deed or protect your copyright. They tell you to send some amount to this agency and it looks legit. Again, this works, BUT it's completely unethical and misleading. And they disguise themselves as this federal agency because it builds trust and credibility. They're doing this from a PREDATORY
So, I want to share with you why I do NOT knock on doors when homes have "No Soliciting" signs.
Now, if you want more on this, I was interviewed by Dmitry Lapinsky of Roofing Insights as part of a series about "No Soliciting" signs. And this topic just keeps coming up, so let's address it head-on.
Before we do that, though, I just want to say a quick welcome or welcome back. Adam Bensman here, The Roof Strategist. Everything I do here — and on my YouTube channel, my podcast (on Apple and Spotify), and in my programs — is designed to help you and your team smash your income goals and give every customer an amazing experience.
And HOW can we give someone an amazing experience if we're disrespecting their boundaries?
I'm not sure we can, so let's first start with this.
FREE "Pitch" Like a Pro Roofing Sales Training
240+ Video Library for Storm and Retail
For Roofing Sales Reps & Owners With New Hires: All the training you need to be a "million dollar" closer!
Get Instant Access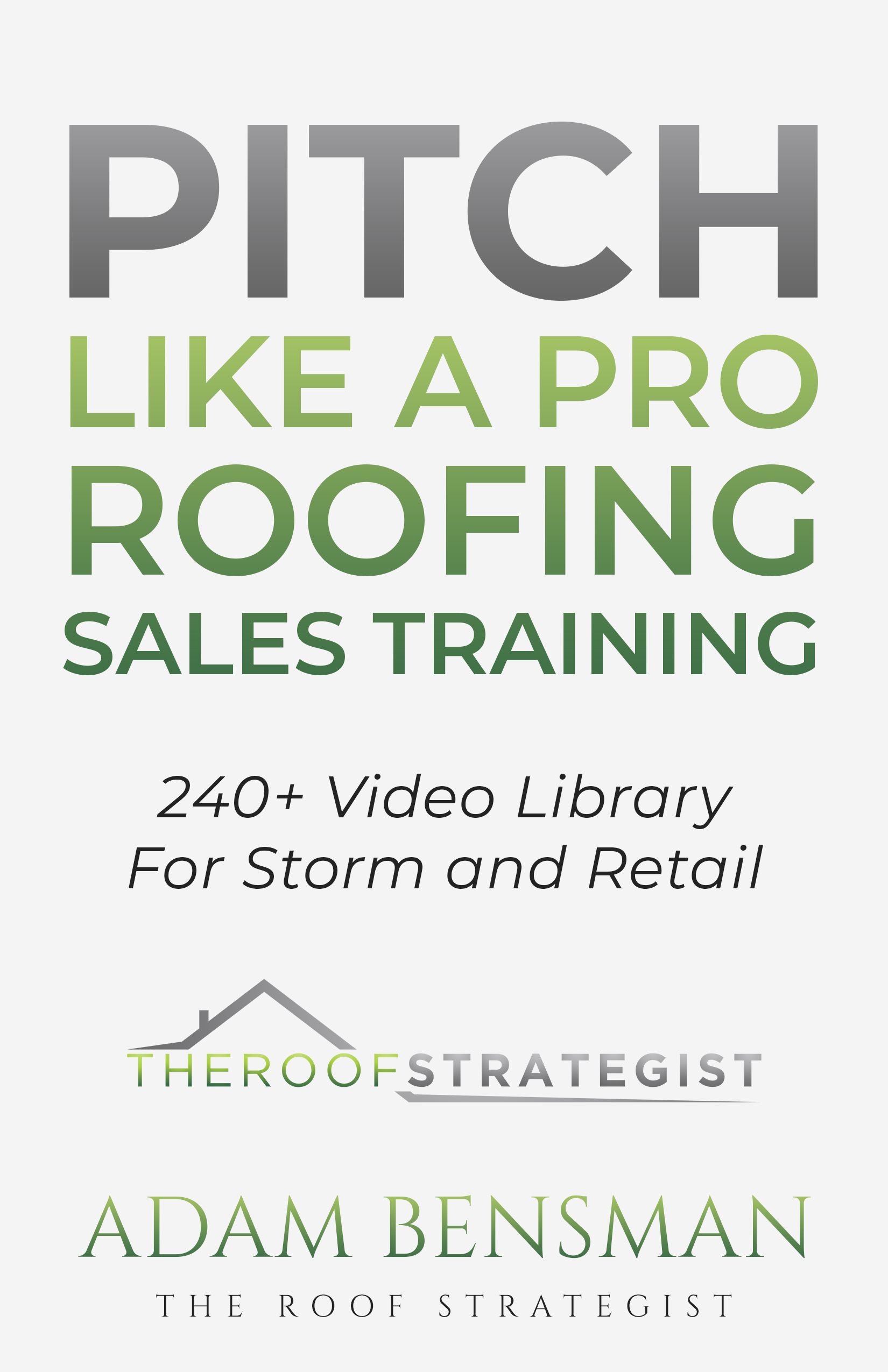 How to Handle "No Soliciting" Signs in D2D Roofing Sales
When you see those "No Soliciting" signs, why not send a message first?
In fact, that idea was posted on Facebook by a gentleman named Lucian who said that he leaves a letter at the door when he comes across "No Soliciting" signs. In fact, Lucian told me that:
He leaves letters on the door when he comes across "No Soliciting" signs.
The letters ask the homeowners to call him.
It works — he's had calls, with homeowners thanking him for not knocking. And that's turned into a $7,000 commission for just two pennies worth of paper and ink
Again, the homeowner was thankful that he didn't knock because their boundaries were respected.
It's that simple.
Now, there are things in sales that work that I'll do — and there are things in sales that work that I just will NOT do because I don't believe in treating people that way.
Why "No Soliciting" Signs in Roofing Sales?
Homeowners can have many reasons for putting up "No Soliciting" signs. In fact, those reasons could include that:
They have a medical condition.
They're night shift or graveyard workers, up all night working and resting all day.
They just had a baby, and it's really important for them to have quiet throughout the day.
Whatever the reason is for the "No Soliciting" sign:
They just do NOT want you knocking on their door.
If you disrespect that sign or request, you've now thrown off the whole routine for the family.
How to Respond When You See "No Soliciting" Signs in D2D Roofing Sales
When you see that "No Soliciting" sign, it really says "This is my private space and my house. I get to choose how I wish to be engaged with at my own property, in my own castle."
So, when you show up at that house and knock on that door with a "No Soliciting" sign, you're saying, "I don't respect you" to that homeowner.
Again, I know some people don't view it that way and who say that knocking on doors with "No Soliciting" signs works.
The point is that the "No Soliciting" sign is showing you someone's express boundary at their home. Now:
I firmly believe in respecting people's opinions (after all, my tagline is to help you smash your income goal and give every customer an amazing experience!).
I find it VERY challenging at scale to give people an amazing experience when you violate their boundaries out of the gate.
So, strategies like using the letter that Lucian mentioned CAN work.
By the way, my program includes all the letters, door hanger letters, direct mail letters, and letters to leave at homes with "No Soliciting" signs. That last one actually has this line in it:
Are you tired of people knocking on your door?
For many people, that line draws them in to read more, and they call you. Then, just like with Lucian (who isn't the only one to earn a $7,000 commission from taping a piece of paper to a door), they'll call you off that letter because:
You've differentiated yourself.
You've respected their boundary.
So, if you want to align your core values with your sales, you need to check yourself and ask yourself these questions:
Does this truly work for me?
Am I giving people an amazing experience?
Is this how I want to project myself to the world and the people who I serve?
Is this how I want to represent the company that I sell for?
Of course, everyone's beliefs are different, and that's the beauty of beliefs. So, you don't have to agree with anything here, but I challenge you to:
Really check how you conduct your business.
Ask yourself if how you conduct business aligns with how you want people to feel.
Again, I believe that, in door-to-door roofing sales:
We should NOT knock on doors with "No Soliciting" signs.
Still, that does NOT mean I don't try to sell to that person. It just means that I abide by their wishes and that I do not knock on their door.
We CAN use alternative strategies, like leaving behind letters or sending direct mail letters.
And all of the materials you need, including over 280 documents for both storm and retail, are available to you in my program, including letters geared to homeowners with "No Soliciting" signs. They give you ways to connect with and better serve your customers.
And when you reach out to homeowners in a way that respects their boundaries, there are good chances they'll thank you later for respecting them.
That's why I don't knock "No Soliciting" signs, and now, you can decide what works for you.
Want More Roofing Sales? Or Training For Your Team?
We've helped thousands of sales reps overcome the same sales challenges you're probably facing. Like not getting enough leads, getting stuck on objections, or not closing sales in the house.
Learn how we can help you:
Get trained up in a lightning-fast 9.5 hours
Self-generate more leads
Become a confident closer
Pick a time for your 1-on-1 demo.
Or use the links below to get instant access, 100% Risk Free! Backed by our 30-Day 'NO BS' Money Back Guarantee.
Thanks for joining me, and I look forward to sharing more with you in the next blog.