Hey, Adam, here at The Roof Strategist.
Today, I'm going to talk about canvassing and door-to-door roofing sales. I'm going to answer a question that comes up a lot.
Should you drive your truck to each house, or should you walk from house to house?
Everyone does it a bit differently.
Some guys like to drive their trucks between houses. Others like to go on foot.
So, what's best?
FREE "Pitch" Like a Pro Roofing Sales Training
240+ Video Library for Storm and Retail
For Roofing Sales Reps & Owners With New Hires: All the training you need to be a "million dollar" closer!
Get Instant Access FREE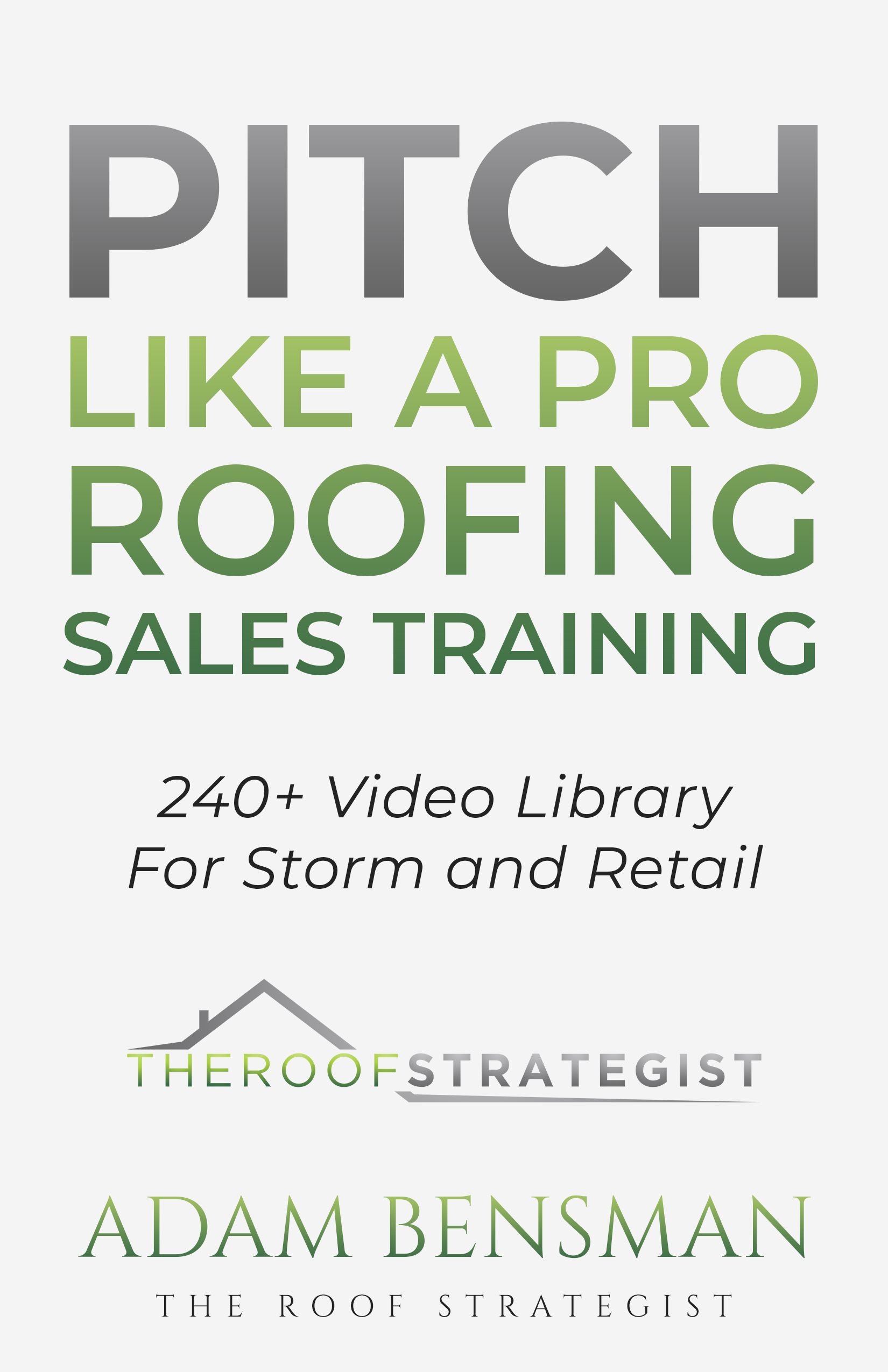 4 Reasons Why Driving Door to Door Is Better Than Walking
I prefer to drive my truck to each home. Why?
I want to drive house to house for a handful of reasons. By driving and bringing my truck to each house, I can:
Build credibility: I want to show that I'm serious. I want them to see my company shirt, my logo, and my truck in the background. That can immediately build my credibility when they open the door.
Show that I'm prepared: The minute I show up and that homeowner or prospect opens the door, they can see that I'm there with intention. I'm there, with my truck, to speak with them. I didn't just wander over.
Easily hop on the roof: Whenever I get a roof inspection, my truck's right there. I can quickly grab my ladder from it and hop up on the roof. I don't have to walk back a few blocks to get to my truck and anything else I may need to do an inspection.
Avoid raising doubts: If I don't have my truck with me and I have to walk back to it when I do get an inspection, I could be giving away the fact that I haven't had any luck. That could get the homeowner thinking, Well, his truck is about six houses down. Why didn't he have any luck with my neighbors? You don't want to start putting this idea into your prospect's mind.
So, the next time you're out canvassing, be sure to drive that truck from house to house. And make sure your logo on the truck is in plain view of the door, so it's easy to see.
When you arrive with your truck, you're going to watch your closing rate at the door go up, and you'll get invited to that kitchen table a lot more. I guarantee it.
Want More Roofing Sales Strategies, Tips & Videos?
Subscribe for the latest roofing sales training videos and get your copy of my Pitch Like a Pro roofing sales training video library. It includes every video I've ever done, organized by category, along with a bunch of tips, tricks, and more.
Also, check out my Marketing Battle Pack for instant access to 70+ pieces of my proven, turnkey roofing sales and marketing materials. It's an entire suite, specially designed for sales teams, managers, and owners, providing:
Scripts
Scheduling
Direct Mail Letters
Door Hangers
Goal Projection Planners
A LOT more!
It's affordably priced and comes with a 100% money-back guarantee. There's also a playlist of instructional videos in there, explaining every single thing. So, you can watch the videos, and you'll know exactly what to do.
Thanks for joining me, and I look forward to sharing more with you in the next blog.