The easiest way to close more deals is by offering financing.
If you don't believe that statement, consider this.
Imagine you walk into a car dealership. You find the truck you want for $74,000, and:
Dealership #1 says cash only.
Dealership #2 will finance $X, for a lease of $750 a month, or offer you a $200/mo. difference if you trade your vehicle in.
What's the BEST option and which dealer are you working with?
The cash-only dealer or the one who offered you affordable solutions that fit your budget and give you the easiest, most affordable way to say "Yes" and drive off in that brand-new truck?
THAT is why you NEED to offer financing on every single job.
First, welcome or welcome back. My name is Adam Bensman, The Roof Strategist. I'm humbled to be doing this video because my views on this have changed, and I'm not afraid to admit it.
Why?
Because that's growth and because:
This is sales.
This is an ever-evolving game of continual learning, and that's why I love it so much.
In fact, I've done this blog on a Sunday to master my craft, challenge myself, and put in some extra time to continue learning. So, as I take a big old slice of my humble pie, I'm going to tell you that:
I now believe in offering financing on every single project, including insurance jobs.
I practice what I preach. Even though I'm not selling roofs, I'm selling my own system. Now, I offer financing options for our sales rep packages, as well as our owner and team packages. And I can tell you that financing has made a phenomenal difference.
So, how does this all shake out and how can you use it to close more in roofing sales?
Let's remove the mystery and get started.
After all, everything I do here — and on my YouTube channel — is designed to help you and your team smash your income goals and give every customer an amazing experience.
And the buying experience is pretty significant for customers. They need to know that:
You're easy to work with.
Your project's affordable
You're a good choice for them.
So, let's dive in.
FREE "Pitch" Like a Pro Roofing Sales Training
240+ Video Library for Storm and Retail
For Roofing Sales Reps & Owners With New Hires: All the training you need to be a "million dollar" closer!
Get Instant Access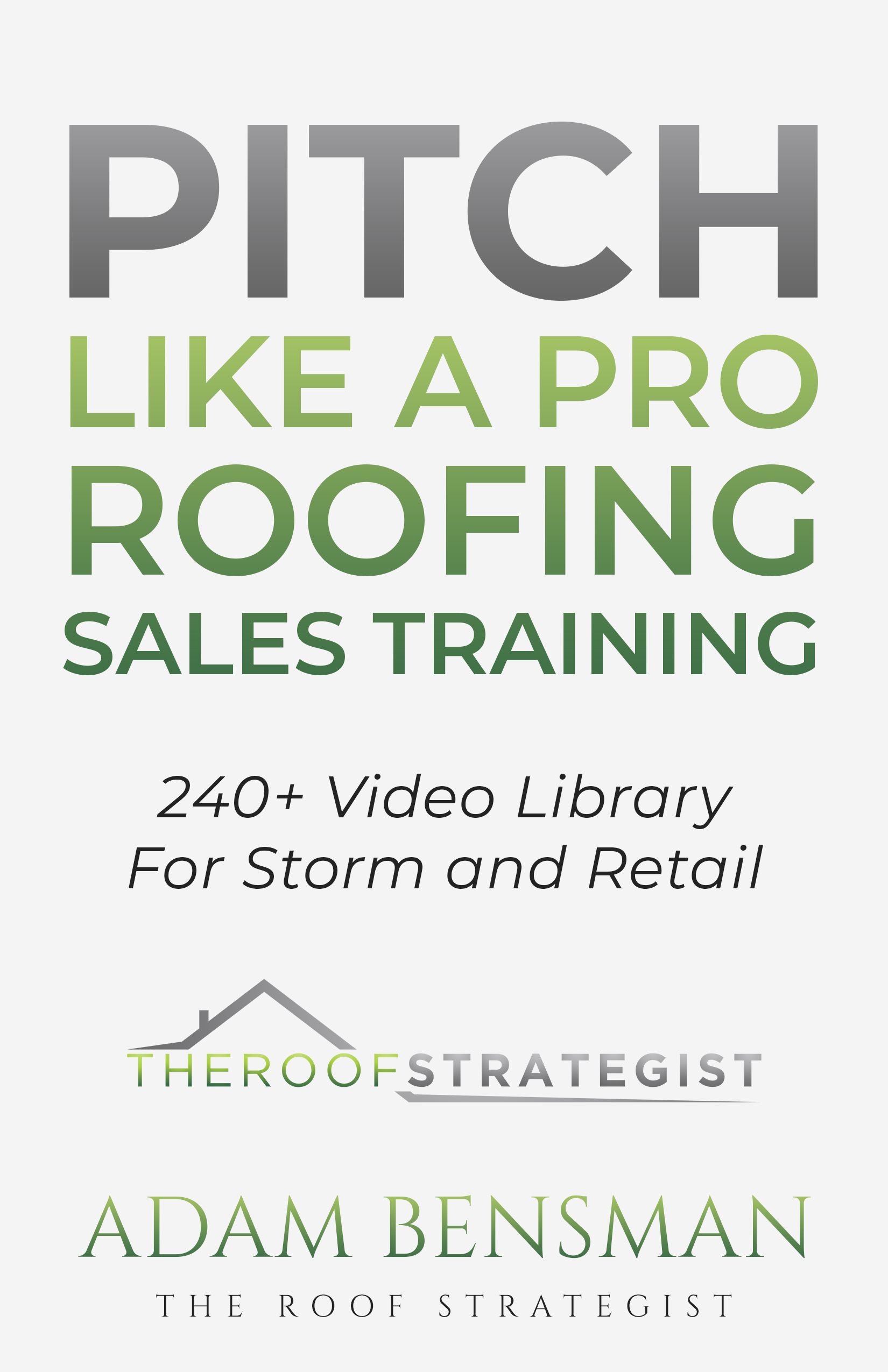 Why Financing in Roofing Sales?
Let's say your average roof is $20,000, and you're not offering financing.
In fact, that was more of the standard just a couple of years ago. Back in 2020, about 80% to 85% of the companies I was working with, including some of the top retail roofing companies, were:
Only operating with cash deals
Getting government rebate checks
Now, however, the markets are on a downslide, and:
Analysts are freaked out because we're about to go into a deep depression. We don't know when it's going to hit or when we're going to come out of it. Inflation is out of this world.
Homeowners are freaking out because of skyrocketing interest rates.
Contractors are being forced down one of two paths, and those who survive and even thrive during this market downturn will need to adapt their sales tactics to continually serve homeowners.
By the way, don't be duped into believing that roofing is recession-proof. It can be, but ONLY when you adapt in the right way. After all:
Roofing is an essential service, and every structure in America that has a roof on it will, in fact, need that roof to be replaced.
You happen to offer the solution for that, but it's up to you to adapt to the times and make it affordable for homeowners. You want an easy YES — you want to hear that the homeowner LIKED the roof, your company, and your product.
Financing in Roofing Sales: What Homeowners Think
Now, let's look at all of this by putting ourselves in the homeowner's shoes.
By the way, I had a gentleman in the Pitch Pro Movement who was not offering financing on his cash deals. His sales weren't phenomenal. He was doing horrible, but it just wasn't great.
Suddenly, in the Pitch Pro Movement, we talked about:
Financing
How to set it up
What it'll do for your business
BOOM.
A switch flipped, and he started offering financing, running an ad offering roofs that start at a very low monthly amount. In that first week of running that ad, he sold eight roofs — yeah, eight roofs in a week.
If the average profit is $4,000, you can do the math.
That is A LOT OF MONEY coming in simply by offering homeowners an affordable option.
And you can do the SAME thing.
Financing for Roofing Sales Training: I Practice What I Preach
If you want to see this firsthand, check out the Roofing Sales Success Formula. I have packages for owners and reps, and you're going to see that there is:
A one-time-only investment for reps
A 3-month investment, so we can make it SUPER affordable for reps who are just getting started
A 0% for 6 months financing option through PayPal, with a "Buy Now, Pay Off Later" option.
When you get in there:
I can help you make a sale in the first week or less.
You get paid, and you are already made whole from the one sale. Plus, you'll have more money in your pocket than you initially invested.
We do the same thing for owners too. There's a cash investment option, a one-time-only payment, and then they're done. They own it for life, with ZERO monthly fees and ZERO annual fees.
We can also break it up into 2 or 4 months. So, if we hear that cash flow is tight:
Owners can start with just 6 months.
We can get teams making A LOT more sales within the first 30 days.
With that, owners are going to have:
A 60-day return until a roof is sold and they get paid
2 really small monthly investments, which can be 100% paid off after selling a roof
ZERO cash outlay, letting them float that over the next four months
Better yet, if you're an owner and you call (or email) me early:
We can prorate it.
You get a one-and-done deal, paying it off without any early payoff penalty.
Now, which option's best for you?
The one-time-only option?
The option that's broken up into a couple of payments, at four months or six months?
When we made this shift:
We were able to serve more customers.
We had more people getting excited about it.
Now, we have folks picking whichever options are best for them. It's not one decision of whether or not they can afford it.
Instead, this opens up opportunities and flexibility to let folks figure out how to work with the program.
What Would You Choose?
Now, I want you to think of the car analogy and walking into the dealership.
Path one is the cash-only option.
Path two offers a cash deal and a lease deal, with trade-ins and financing.
Which option's best for you?
Remember, we're deciding how to pay you, choosing the easier option, rather than selling value and explaining why you're more money.
After all, if one contractor offers you a $20,000 roof that's a cash-only deal and another contractor offers financing for a roof that's $24,000, who wins the business?
It's going to be the second contractor who's charging more while meeting the customer where they're at.
The key takeaway here is this — OFFER FINANCING FOR EVERY PROJECT.
We want to make it as easy and affordable as possible, and we can do that by simply offering financing options for each and every deal.
Get More Roofing Sales Strategies, Scripts, Tips & Videos
If you want more on closing, financing, or any topic in roofing sales topic, you'll find it in my all-in-one sales training, sales strategy, and sales system, the Roofing Sales Success Formula & Complete Sales Strategy.
This exclusive program covers everything from knock to close, with packages for individual roofing sales reps and entire teams. Many roofing sales companies LOVE this program because it's a consistent process to train everybody on a relatable sales system that WORKS and that's a lightning-fast way to get results.
If you have questions, just call or text (303) 222-7133 for more info or a private demo.
You can also subscribe for the latest roofing sales training videos and/or get a copy of my Pitch Like a Pro roofing sales training video library. It includes every roofing sales video I've ever done, organized by category, along with a bunch of tips, tricks, and more. It's great for new people and seasoned veterans, and it's updated all the time to help you and your team smash your income goals and give every customer an amazing experience.
And don't forget to check out my Marketing Battle Pack for instant access to 70+ pieces of my proven, turnkey roofing sales and marketing materials. It's an entire suite, specially designed for sales teams, managers, and owners, providing:
Scripts
Scheduling
Direct Mail Letters
Door Hangers
Goal Projection Planners
A LOT more!
It's affordably priced and comes with a 100% money-back guarantee. There's also a playlist of instructional videos in there, explaining every single thing. So, you can watch the videos, and you'll know exactly what to do.
Thanks for joining me, and I look forward to sharing more with you in the next blog.