Today, we're going to talk about crafting your offer, crafting your pitch, and acing ALL of your sales and marketing outreach.
I'm going to teach you how to tailor your roofing sales pitch and outreach, so it's specific to:
The market that you're in
The stage of the storm
The type of damage that you're working
Welcome or welcome back, by the way. My name is Adam Bensman, The Roof Strategist.
Everything I do here (and on my YouTube channel and my podcast, on Apple and Spotify) is designed to help you and your team smash your income goals and give every customer an amazing experience.
So, let's dive in.
FREE "Pitch" Like a Pro Roofing Sales Training
240+ Video Library for Storm and Retail
For Roofing Sales Reps & Owners With New Hires: All the training you need to be a "million dollar" closer!
Get Instant Access FREE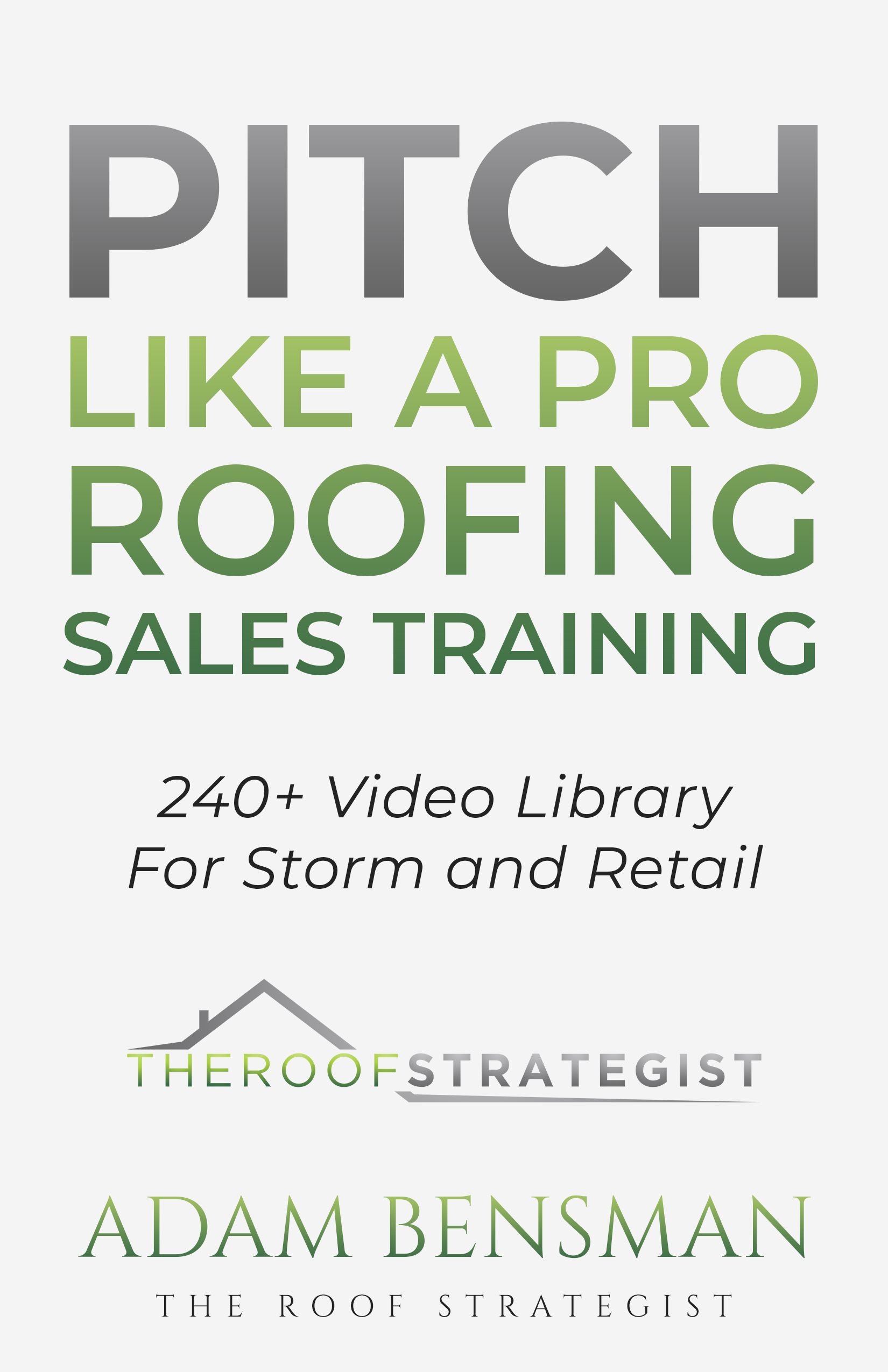 Roofing Sales Conversation Starter: Figure Out the Stage of the Claims Process First
Now, I put together another video about the Four Stages of the Claims Process. That's going to walk you through this process in detail, but I'm going to share a quick snapshot of it here too.
So, the four stages of the claims process are:
Stage One: No claim has been filed yet.
This is when there's some damage, after a fresh storm, and you're showing up, first to the scene. At this stage, your goal is to get them to file the claim.
Stage Two: Partial payment has been approved.
In this stage, the adjuster has already shown up and agreed to pay for part of the roof — like, they've said, "Hey, I'm paying for the Western elevations. That's it." Now, we got to get that from that partial payment to full payment.
Stage Three: The claim has been denied.
This can happen in the fringe areas of the storm, where difficult adjusters deny sound damage. This is where the homeowner really needs you.
Stage Four: The homeowner has the check in hand.
This is usually the tail end of the storm when homeowners have had the adjuster out and have had the project approved. Now, they just need to find a roofer.
How to Figure Out the Stage of the Claims Process
You don't automatically or always know what stage of the claims process homeowners are at. So, to figure that out, here are the key questions you need to think about when you're knocking on doors and canvassing in door-to-door roofing sales:
When did the storm hit?
How late into the season is it?
Where are my customers or prospects at right now, based on who I'm talking to?
If you're new, let's say you just got hired or you're starting a season late, you need to talk to the owner and the other roofing sales guys to get some more details. As you do, ask them these key questions:
Where are people at?
Have they filed a claim?
Are we working partial damage?
Are we working denials?
Do people have a check in hand?
Once you get the answers to those questions, you're going to craft all of your messages and all of your pitches to fit those details, and you're going to use that outreach to land sales.
Why Not Just Offer the 'Free Inspection' as My Roofing Sales Pitch?
If you've been through mainstream roofing sales training, you've probably learned to pitch the free inspection. In fact, you've probably learned a roofing sales pitch similar to this:
Hey, my name is Adam, I'm the Roof Strategist.
I'm here to offer you a complimentary inspection.
Can I hop up on your roof and take a look?
If you learned this pitch, it's just one approach. And it won't work if a homeowner has already moved past the roof inspection phase of the claims process. In fact:
What if the adjuster has already been out?
What if the homeowner already has a partial payment?
What if the claim was already denied?
What if they already have a check in hand?
In those situations, the homeowner does NOT need a roof inspection. They know they need a roof.
So, you need to cater your roofing sales pitch to what the homeowner actually needs and wants.
If you know where they're at in the claims process, what stage they're in, you now know how you need to refine and tailor your roofing sales pitch and outreach materials.
And if you're looking to:
Trim your pitch down: Check out my video on the 10-Second Roofing Sales Pitch.
Get more help acing your roofing sales pitch: Check out my Marketing Battle Pack. If you pick it up today, I'll send it to you instantly. It includes a quick template formula on how to ace that pitch and hook the customer by starting a very simple, easy conversation that makes sales not suck.
With this framework, roofing sales is going to get so much easier. You're going to show up at people's houses, and they're going to think, This is an easy conversation. It's easy to talk to this guy. He's not here to sell me something.
You're going to start loving your job a whole lot more when you follow this system.
Want More Roofing Sales Strategies, Tips & Videos?
Subscribe for the latest roofing sales training videos and get a copy of my Pitch Like a Pro roofing sales training video library. It includes a ton of videos on door-to-door roofing sales, pitching, and canvassing, as well as every video I've ever done, organized by category, along with a bunch of tips, tricks, and more. It's great for new people and seasoned veterans, and it's updated all the time to help you and your team smash your income goals and give every customer an amazing experience.
Also, check out my Marketing Battle Pack for instant access to 70+ pieces of my proven, turnkey roofing sales and marketing materials. It's an entire suite, specially designed for sales teams, managers, and owners, providing:
Scripts
Scheduling
Direct Mail Letters
Door Hangers
Goal Projection Planners
A LOT more!
It's affordably priced and comes with a 100% money-back guarantee. There's also a playlist of instructional videos in there, explaining every single thing. So, you can watch the videos, and you'll know exactly what to do.
Thanks for joining me, and I look forward to sharing more with you in the next blog.