We are fighting an UPHILL BATTLE against the horrible reputation of roofers in general.
Now, even if you are a 5-star-rated roofing company or you have strong moral and ethical principles that fuel your business and how you take care of people, it ultimately does NOT really matter in the minds of our customers.
Why?
Because they group almost ALL of us into the "scam artist" or "con artist" box.
They hear negative things about roofers from the:
News: The media is against us, blasting all sorts of things out there, like "Don't trust roofers," "Watch out for roofing scams" and "Watch out for door-to-door salespeople."
Insurance companies: Insurers blast out letters. In fact, we've seen this in Florida, with letters telling homeowners to never work with contractors who show up at their door. The letters say that roofers will damage their roofs.
Now, this language is INSANE, UNFAIR, and UNTRUE.
And beyond the media and insurers, we ALSO have:
Fellow roofers putting up blogs about scams and con artists in the roofing industry
Homeowners chatting about their horrible experiences with roofers
Predictive search (in search engines, like Google) suggesting phrases like "roofer scams" when you even start typing in the word "roofer"
This is what we're up against — article after article after article talking about:
How to tell if a roofer's scamming you
Different types of roofing scams
How to not get scammed by roofers
How to know if the roofer did a good job
Clearly, NO ONE TRUSTS US, and that's a shame.
The good news, though, is that the roofing industry is changing.
And if you're here, you are part of that change, and you're bringing some true honor and professionalism into the roofing industry because you're:
Doing the right thing to earn business
Saying the right thing when it matters
Truly taking care of the customers
So, I'm going to share how I've approached this horrible reputation issue in the past, starting by sharing a first-hand experience.
FREE Offer for Deeper Roofing Sales Training
Before we get started, I first want to share a quick welcome or welcome back. My name is Adam Bensman, The Roof Strategist. Everything I do here — and on my YouTube channel and in my all-in-one sales training, sales strategy, and sales system, the Roofing Sales Success Formula & Complete Sales Strategy — is designed to help you and your team smash your income goals and give every customer an amazing experience.
Now, the reality is that one of the main reasons I do what I do — one of my biggest "whys" — is that I NEVER access to resources like YouTube or FREE training to help me in my journey. And the reality is that nearly 66% of roofing salespeople quit or get fired in their first year. That's mostly due to a lack of knowledge, understanding, and training.
Often, it's mental — we're grouped into this category of "horrible" roofers, so:
It begins to poison our mind.
We think, You know what? I don't really want to be in the roofing industry. It's full of scumbags!
I've been through this, and I don't want it to happen to you (if it hasn't already). So, let's get to how to fight against the horrible reputation associated with roofers and the roofing industry.
And, head's up, if you do want to dive deeper into this topic, I invite you to get a FREE copy of my Pitch Like a Pro roofing sales training video library. It now has a brand-new FREE training center, with a welcome video and access to my:
Roof Claims Crash course
Recommended reading list
10 closing techniques that work for every situation
A direct link to the WILDLY PROFITABLE sales system that customers and salespeople love (That one is hosted on Owens Corning University, and it's exclusive there, but you'll have links to everything right inside.)
Simply click the link above, enter your email, and get access to that free training center, so you can begin to Pitch Like a Pro (when you do, you'll be joined by many thousands of other folks who are already there). You can also text FREE to (303) 222-7133 for instant access.
Now, let's get to it.
FREE "Pitch" Like a Pro Roofing Sales Training
240+ Video Library for Storm and Retail
For Roofing Sales Reps & Owners With New Hires: All the training you need to be a "million dollar" closer!
Get Instant Access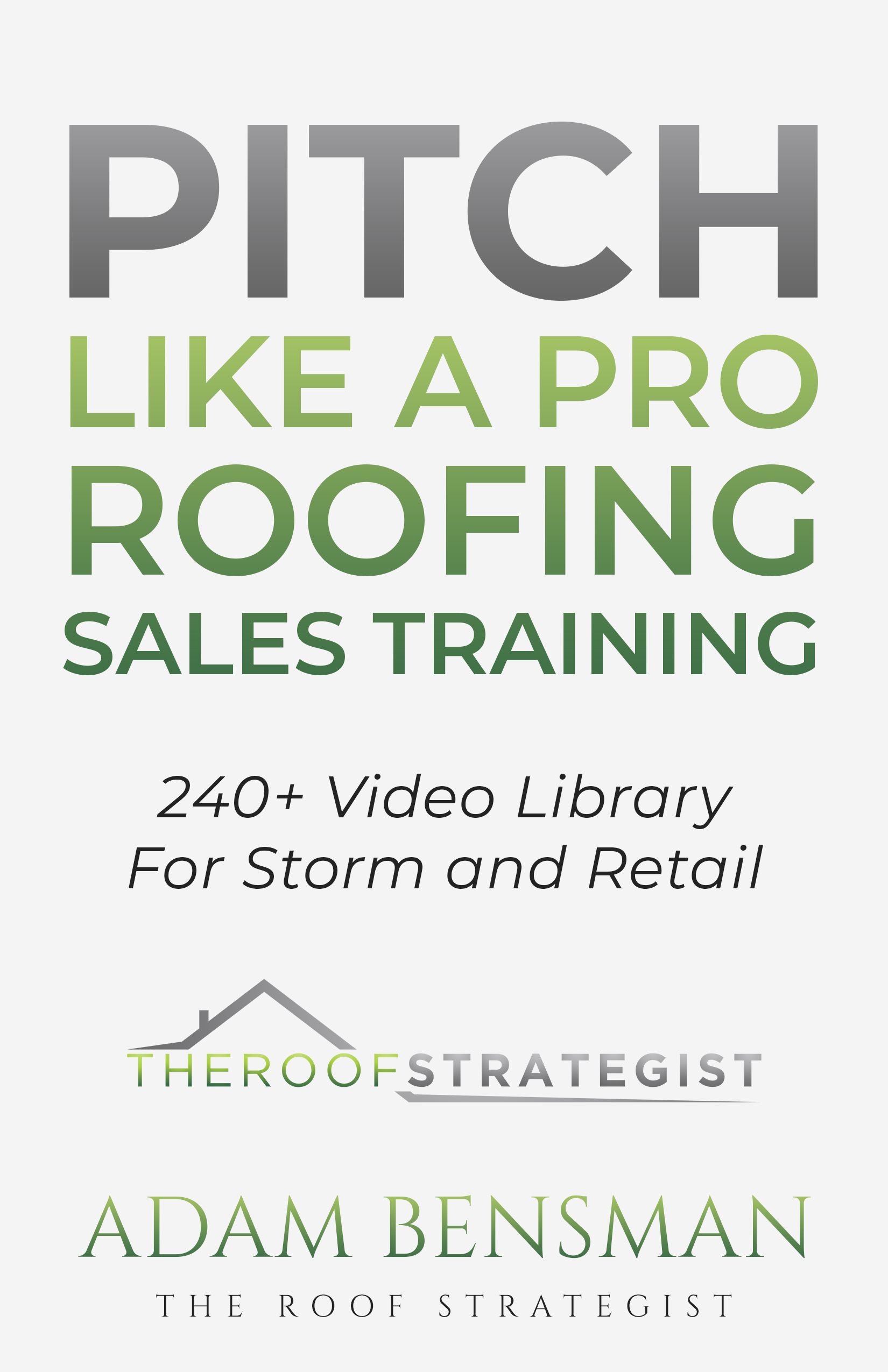 How to Fight the Bad Rap in Roofing Sales: Rise to the Occasion
When we're grouped into this category of "horrible roofers," we need to:
Meet homeowners head on.
Face the uncomfortable truth.
First, I just want to set the stage with a story.
Facing the Bad Rap in the Roofing Industry: My Experience
I live in Madison, Wisconsin, just off of Lake Mendota, which is a big lake. Just a few weeks ago, a really big hail and windstorm hit my hometown.
When that happens, the water level rises, and "no wake zoning" goes into effect because the homes are so close to the water. That means boats can't go fast and cause a wake.
So, when the no wake zoning took effect after that big storm, Sheena (my wife) and I saw it as a rare opportunity to get out on our paddle boards and explore the glassy lake waters.
We grabbed our boards, and when I'm about 50 feet away from my truck:
A screen door flies open.
This woman comes charging out of her backyard.
With her finger up, she's screaming at us, scolding us.
I'm literally on my board, and I look around at Sheena and say, "What's going on? What is this woman SO irate about?"
Now, it wasn't until I started to hear the curse words and insults that I realized what was actually happening. She was calling me a scammer and yelling at me to "get a real job."
I was on a paddle board, wearing swim trunks, at the time — I wasn't wearing a roofing company t-shirt or anything.
That's when IT CLICKED!
My truck had "roofer" on it, and this woman was SO frustrated with roofers that she assumed that:
I was using my roofing truck as some sort of "sly" tactic.
I was paddling through the channels into people's backyards to try to make sales.
Now, I cannot tell you how hard it was to bite my tongue as she's calling me a SCAMMER and a CON ARTIST. She's yelling at me "go get a real job" and "go back where you came from" — all the things that you've heard before.
So, I took breath and said:
Ma'am, I'm very sorry to see that you're so upset.
I don't know what to tell you. Yes, I am a roofer. I live around the corner.
My wife and I are simply here to go for a paddle board on Saturday afternoon because there's no wake on the lake.
The woman turned as white as a ghost at that very moment. She felt SO incredibly stupid, and she apologized to me.
But you know what?
Her response was SO emotionally charged because of:
Her direct experience
What she had seen in the news
The disruption she felt at her home
And it doesn't matter if you're in storm or retail roofing sales. You can experience this just the same either way.
So, here is my BEST ADVICE for anyone who has to overcome the "scammer" reputation that we deal with in the roofing industry.
And before I start sharing my tips and insights, please feel free to share this blog with all of the new people on your team because you and I both know that they're going through this and they're not yet equipped with the confidence to stand proudly in the roofing sales position and confront this head on.
Roofing Sales Tip #1: Acknowledge What the Homeowner Says.
The first thing I want you to do is to agree with the homeowner and acknowledge what they're saying.
By the way, YES, this is very similar to my ARO Formula, which involves three steps to overcoming objections:
Acknowledge
Reassure
Overcome
I teach this in my complete roofing sales system (click on that link or call or text (303) 222-7133 for a for more information or a demo).
So, we need to first acknowledge the homeowner's concerns head on, saying something like:
Mr. and Mrs. Homeowner, I completely understand.
And believe me, this IS a battle that I fight every single day.
I am grouped into the category of "horrible roofers" because you've probably seen roofers on the news. You've heard of the scams, and you've seen other roofing companies talk about it. You may have even seen insurance companies talk about it too.
All I'm doing is repeating back to them what they're thinking. This is simply reassuring the homeowner that they're "normal."
Now, as we reassure them:
We want to tell them what they're thinking.
If you are wrong, they'll correct you, which is the cool part about this.
That's a really powerful technique, by the way, used in FBI negotiations. It's called elicitation. In fact, by facing this issue and tackling it head-on, we start to build trust.
When we say this — "Hey, I understand you've seen this in the news. You've probably had some bad experiences with people showing up and maybe a bad direct experience. You've seen letters or notices from your insurance agent" — they'll probably say "Yeah, I have." Then, they can start to let their guard down.
Roofing Sales Tip #2: Give Them an Option.
Now, to start to overcome this, we are going to give them an option to test us for themselves.
And we do that by:
Removing their risk and concern
Offering a path forward, so we can prove it to them and they can experience for themselves why we are not like everybody else
Here's what we say to explain this option:
Hey, Mr. Homeowner. Of course, I can sit here and tell you I'm not like the other roofers. I could tell you that until I'm blue in the face, and it means nothing.
What DOES mean something is what other people are saying about us.
Now, this is where we want to show our social proof, pulling up our:
Google reviews
Facebook reviews
Better Business Bureau reviews
In fact, I even show the bad reviews and our response to them. I've even shown customers one-star reviews.
Why?
Because when we address this stuff head on, it puts them at ease (and you don't necessarily have to show them bad reviews).
The point is to look at that this like an opportunity because your responses to the bad reviews can show how you care, you're trying to help, and you're trying to make things right for the homeowner.
So, show that social proof of what other people say about you.
Roofing Sales Tip #3: Show How You Are Different.
Beyond showing your reviews, you can also differentiate yourself by sharing your (and/or your company's) values. To do that, you can say something like:
Mr. Homeowner, do you know what the top complaints are for roofing companies and contractors in my business?
They are that:
The contractors didn't show up on time.
The job costed more than they expected.
It took too long.
There was horrible communication.
There was horrible follow through.
This is the problem with contractors working with us.
We are different, and I could tell you until I'm blue in the face, but I just want to share with you our company values and how we work.
First, we show up ON TIME. If we're not on time, we're going to be in contact with you.
Second, we do what we say we're going to do, and with our process, you can hold us accountable for what we say we're going to do because we believe in a transparent communication. And when you work with us, you are going to get A, B, C, and more.
That last part is where you layout the value, the next steps, and what you have to offer. So, you could say:
When you work with us, you're going to get a text message AND email notification of all the critical updates related to your project.
I'll be in touch with you, or our office or production team will be in touch with you.
We're going to prep your home beforehand.
And by the way, the project's not done until we do our certificate of completion and walk around the home with you, so you have the final signoff that everything's done.
Now, what I'd love, Mr. Homeowner, is an opportunity to prove to you that:
We are different.
We are a contractor that you will happily welcome into your home to serve you.
And if for any reason you're not satisfied, you let me know, and we will get to the bottom of it right away.
Recap: How to Fight the HORRIBLE Reputation of Roofers
Tying everything together, here's a quick recap of what we can do to fight the terrible reputation associated with roofers and the roofing industry.
We need to acknowledge what the homeowner thinks, saying:
Hey, I understand. I fight this every day.
Yes, we're all grouped into the category of being a scammer and con artist. We have to battle what the news says, what other roofers say, what insurance companies say, and maybe even what their agent has been telling them.
Unfortunately, this is something that I have to deal with EVERY DAY. Now, I can explain it away all you want, but I know that doesn't mean anything.
So, I'd like to start off by showing you some of our reviews. In fact, I'd like for you to see some of our bad reviews, what people have said, and how we've responded because it is construction and things do go wrong.
Most importantly, I'd like to show you how we're different and how we are working so hard to heal the reputation that roofers have in our industry one customer at a time.
Do I have the opportunity to show you and let you be the judge?
Do you know what that homeowner is going to say?
They're likely going to say something like, "I really appreciate you addressing that head on and leaning into it."
So, by simply coming along compassionately and not getting all flustered, I PROMISE you're going to:
Have a GREAT SHOT of fighting against the horrible reputation issue
Preserve your mental health and wellness
Protect your own mindset, so you can be as PROUD as you should be, being a true servant in the roofing industry
Get More Roofing Sales Strategies, Scripts, Tips & Videos
If you want more on any roofing sales topic, you'll find it in my all-in-one sales training, sales strategy, and sales system, the Roofing Sales Success Formula & Complete Sales Strategy.
This exclusive program covers everything from knock to close, with packages for individual roofing sales reps and entire teams. Many roofing sales companies LOVE this program because it's a consistent process to train everybody on a relatable sales system that WORKS and that's a lightning-fast way to get results.
If you have questions, just call or text (303) 222-7133 for more info or a private demo.
You can also subscribe for the latest roofing sales training videos and/or get a copy of my Pitch Like a Pro roofing sales training video library. It includes every roofing sales video I've ever done, organized by category, along with a bunch of tips, tricks, and more. It's great for new people and seasoned veterans, and it's updated all the time to help you and your team smash your income goals and give every customer an amazing experience.
And don't forget to check out my Marketing Battle Pack for instant access to 70+ pieces of my proven, turnkey roofing sales and marketing materials. It's an entire suite, specially designed for sales teams, managers, and owners, providing:
Scripts
Scheduling
Direct Mail Letters
Door Hangers
Goal Projection Planners
A LOT more!
It's affordably priced and comes with a 100% money-back guarantee. There's also a playlist of instructional videos in there, explaining every single thing. So, you can watch the videos, and you'll know exactly what to do.
Thanks for joining me, and I look forward to sharing more with you in the next blog.