The deductible comes up AGAIN. You try SO hard to communicate to the homeowner that it's their contractual obligation between them and the carrier.
You explain that, by law, they need to pay it. Then, you hear this — But WE CAN'T AFFORD IT.
Can you help?
Now, we have a whole market of people who simply need financial help.
That's especially true with rising deductibles for hail, wind, and hurricane damage claims, as well as deductibles that are percentages of home values.
So, I'm going to teach you three really EASY ways to start offering financing for deductibles. This can work for roofing companies of any size.
By doing this, you can connect with this entire market of folks who need financial help — and who you can't serve at this point. There's literally no way that you're not going to win that business.
But by offering financing, you now open up this world of opportunity to serve an entire segment of the roofing market that was off-limits to you before.
In fact, in the Pitch Pro Movement, we recently had a leadership round table, and one of our members who had not been offering financing at all started to offer it — and he CLOSED EIGHT DEALS IN A WEEK as a one-man show. That was 100% due to the new financing offer.
Now, he's:
Running ads on Facebook for financing
Bringing in business at a higher rate than he was able to because he found that, in the market he was serving, people just need financial help
So, by offering that help, he earned more business and created an amazing experience for his customers.
I want to help you do just that.
More on Deductibles (& Other D2D Roofing Sales Topics): FREE Offer
First, I just want to say a quick welcome or welcome back. My name is Adam Bensman, The Roof Strategist. Everything I do here — and on my YouTube channel and in my all-in-one sales training, sales strategy, and sales system, the Roofing Sales Success Formula & Complete Sales Strategy — is designed to help you and your team smash your income goals and give every customer an amazing experience.
In this blog, I'm going to help you give an amazing experience to folks who otherwise just simply couldn't afford to work with you.
So, I'm incredibly excited to have you here. And if you want more videos on deductibles in roofing sales, check out my FREE Pitch Like a Pro roofing sales training video library. It's 100% FREE — just click the link, call (303) 222-7133, or text FREE to that number, and we'll get you all set up.
When you access Pitch Like a Pro, you'll also get immediate access to our BRAND-NEW training center, as well as a whole lot more, including (but not limited to) my:
Roof Claims Crash course
Recommended reading list
10 closing techniques that work for every situation
Simply click the link above, enter your email, and get access to that free training center, so you can begin to Pitch Like a Pro (when you do, you'll be joined by many thousands of other folks who are already there).
Now, let's get to financing deductibles.
FREE "Pitch" Like a Pro Roofing Sales Training
240+ Video Library for Storm and Retail
For Roofing Sales Reps & Owners With New Hires: All the training you need to be a "million dollar" closer!
Get Instant Access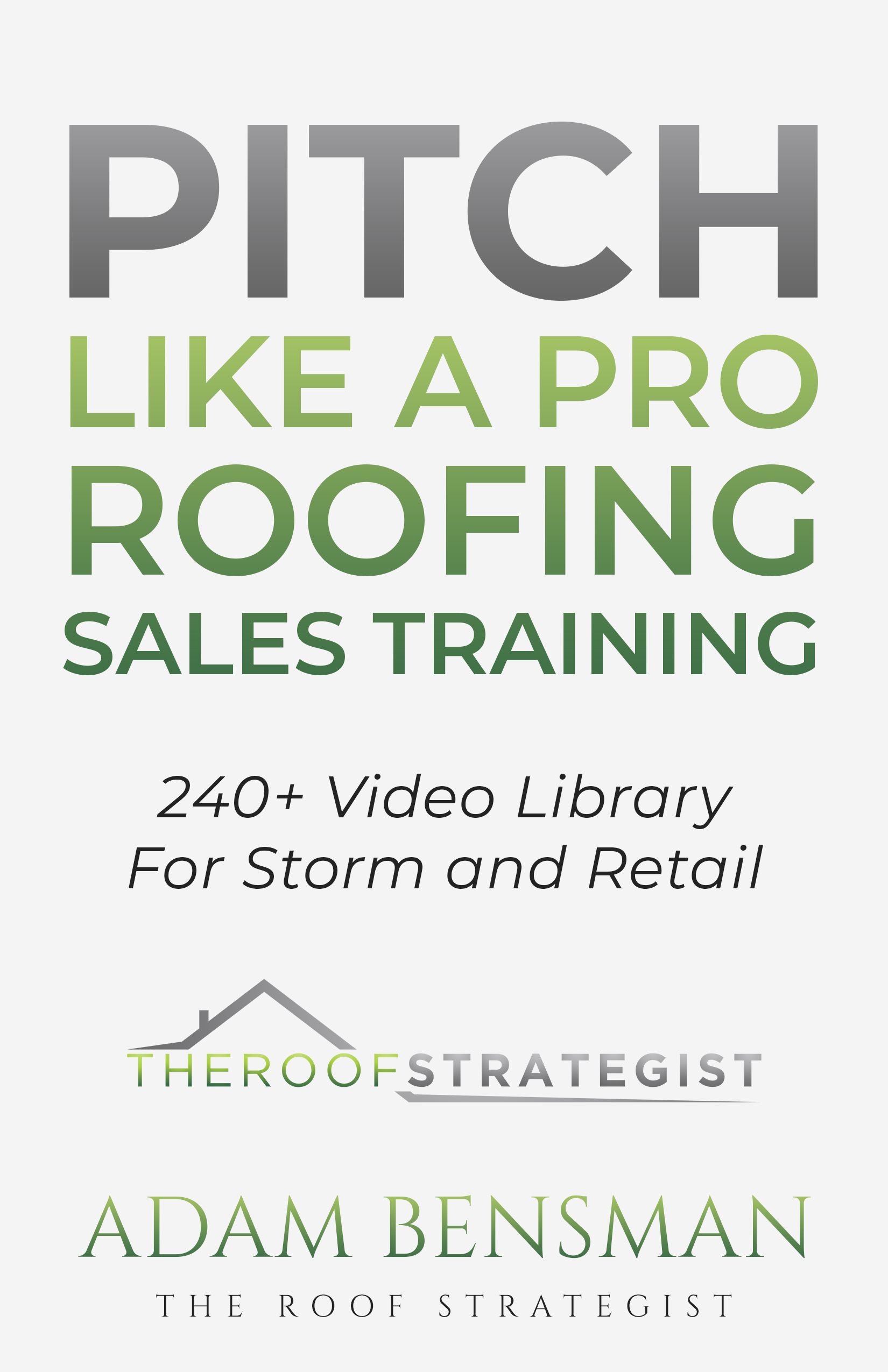 Background on Financing Roof Deductibles
There are three ways to finance deductibles in roofing sales.
By the way, if you're an individual sales rep, you will need the buy-in from the owner or leadership because a lot of the financing will need to be set up through the company.
Also, there's one exception on this list, which I'll touch on shortly.
Roof Deductible Financing Option #1: Accept a Credit Card
The first option for financing roof deductibles is to accept credit cards.
Don't worry, by the way — we're going to talk about some fun things related to credit cards. And many folks simply want to be able to use their credit card because they get the points.
Now, there's generally about a 2.9% fee on credit cards, plus a roughly $0.30 transaction fee for common carriers (at the time of filming this; please note that fees change regularly).
So, let's just say the credit card fee is about 3%.
That means:
There's a nominal fee for accepting credit cards to collect payments of about $1,000 to $2,000.
You get to collect that money immediately. You get paid right away.
Financing Roof Deductibles with CCs: How to Accept Credit Cards
There are a few ways to accept credit cards for deductibles in roofing sales. By the way, be sure to vet all of the resources I mention here for yourself, so you can make sure they're a good fit for your business.
Some options for accepting credit card payments include:
Podium: I use Podium, and I like it because it's really powerful with text messages, offering auto-intelligence, texting over invoices, and more. The rates are really affordable, and Podium comes with automatic reminders to follow up with customers. So, it can offer solutions on many fronts.
Wave: Wave is another app that lets you quickly accept and process credit card payments online. It integrates with a program called Stripe, which empowers you to email invoices. Then, people can pay via credit card right there. You can also set up in-house payment plans, so you could break deductibles up into 4 or 5 different payments (over a handful of months). If you do set up payment plans, you're going to want to charge a bit more since the homeowner will be leveraging your money.
Again, with credit card payments, remember:
There's a roughly 3% fee.
You CAN set up in-house payment plans through some credit card processors, offering more flexibility to homeowners who want to finance their roof deductible.
Some people just want to use a credit card because they get rewards.
So, set yourself up with credit card processing — and make sure you or your reps have credit card readers, so it only takes a tap to process payment (and financing requests).
Roof Deductible Financing Option #2: Use FMD
FMD stands for Fund My Deductible. This website basically offers an in-home financing option, tracking it all for you (and this company does not know that I'm mentioning their website).
So, this is a turnkey option for financing those deductibles in roofing sales.
By the way, I've interviewed Ryan Davis from FMD on my YouTube channel, discussing the laws around deductibles, how to fund deductibles, and more.
So, check that out for more great information on deductibles in roofing sales — and look into FMD as a resource to potentially fund those deductibles.
Roof Deductible Financing Option #3: Offer Traditional Financing
Now, many people don't think of using traditional financing for roof deductibles.
In fact, many storm restoration contractors don't even offer financing.
Why?
Because they don't think they need to if they do mostly storm work or cash jobs.
If that sounds like you, I challenge you to consider setting up financing because (again):
Some homeowners may want to qualify for and finance a larger deductible.
If you can't help folks who want or need financing for their roof deductible, you're NOT going to earn the business.
Traditional Financing for Roof Deductibles: The Options
Now, let's dig into the options for traditional financing a little deeper. With traditional financing, you're going to need to have a lender, meaning a company that lends the cash.  With that, you can:
Finance the deductible itself, as well as the entire project or insurance claim: Now, I wouldn't do this on my home, but some people may choose to finance the roof while pocketing the cash from the insurance proceeds. That's entirely up to them. You're still billing the insurance for everything on the scope, and that homeowner will still be contributing their deductible. And if they finance the entire project and keep the insurance money, they stay liquid and still pay for the full project.
Finance the deductible with a HELOC: A HELOC is a home equity line of credit. This is a mortgage product whereby a homeowner can take out a loan against the equity in their property, as long as they have built up enough equity in their house. HELOCs are often associated with lower interest rates, and they can be treated like cash. That means that you'd get paid the same as cash while the homeowner would have this loan against their mortgage. The neat thing about a HELOC is the fact that the interest rate is tax deductible because it is a mortgage product (Disclaimer: I'm not an accountant, and I'm not your accountant. Please double-check all of this with any financial expert or legal expert on your team).
Recap: 3 Ways to Offer Financing for Deductibles in Roofing Sales
Now, you know three EASY ways to offer financing for deductibles, so you can start to:
Help and serve more customers
Win MORE business from customers you couldn't serve before
And those three simple ways to finance deductibles in roofing sales are to:
Accept credit cards: Look for mobile card reader apps. I like Podium because you can text the info over to the company, so they can run that credit card. There's also Wave, with Stripe integrations, for setting up in-house payment plans.
Use FMD: Fund My Deductible offers in-house financing and tracking, walking you through the process, step by step (please be aware that I'm not sponsored by FMD).
Offer traditional financing: This could include standard home improvement loans or loans you'd provide someone if they're buying a retail roof from you. Again, the homeowner can finance the deductible with this option. They may even be able to finance the entire project AND pocket some of the proceeds from the insurance. This works as long as it's all done legally and totally aboveboard, meaning we're invoicing for what's actually done, down to how the homeowner's contributing their deductible. And if you're a salesperson who can't really control this, talk to homeowners about getting a HELOC (home equity line of credit). They're usually pretty quick, with low fees, and there can be tax deductions associated with the interest (depending on state laws, which you should double check).
So, there are three effective ways to:
Finance deductibles
Open up a new sector of customers who you couldn't serve before
WIN more business.
Get More Roofing Sales Strategies, Scripts, Tips & Videos
If you want more on deductibles, overcoming objections, or any D2D roofing sales topic, you'll find it in my all-in-one sales training, sales strategy, and sales system, the Roofing Sales Success Formula & Complete Sales Strategy.
This exclusive program covers everything from knock to close, with packages for individual roofing sales reps and entire teams. Many roofing sales companies LOVE this program because it's a consistent process to train everybody on a relatable sales system that WORKS and that's a lightning-fast way to get results.
If you have questions, just call or text (303) 222-7133 for more info or a private demo.
You can also, subscribe for the latest roofing sales training videos and/or get a copy of my Pitch Like a Pro roofing sales training video library. It includes every roofing sales video I've ever done, organized by category, along with a bunch of tips, tricks, and more. It's great for new people and seasoned veterans, and it's updated all the time to help you and your team smash your income goals and give every customer an amazing experience.
And don't forget to check out my Marketing Battle Pack for instant access to 70+ pieces of my proven, turnkey roofing sales and marketing materials. It's an entire suite, specially designed for sales teams, managers, and owners, providing:
Scripts
Scheduling
Direct Mail Letters
Door Hangers
Goal Projection Planners
A LOT more!
It's affordably priced and comes with a 100% money-back guarantee. There's also a playlist of instructional videos in there, explaining every single thing. So, you can watch the videos, and you'll know exactly what to do.
Thanks for joining me, and I look forward to sharing more with you in the next blog.