What if I told you there is only ONE number that you need to focus on to earn even more in roofing sales?
This one number is the deciding factor that's going to separate a medium producer from a top producer from someone who may have earned more money flipping burgers, rather than being in roofing sales.
I'm going to teach you a very powerful mindset shift — and a very specific number — that will let you increase your income exponentially if you focus all of your time, resources, and energy into it.
Just One Number?
This number is NOT what you earn at the end of the year, but you can double or triple your income when you focus on it. Or if you're like me when I came into the roofing sales business, I increased my income by 7 times in 12 months. SEVEN TIMES. That was back in 2011.
Today's numbers have changed. The game has changed. And there are plenty of people who have done even better than I did in my first year. And that's what I hope for you.
Welcome or welcome back, by the way. My name is Adam Bensman, The Roof Strategist. I'm here (and on my YouTube channel and my podcast, on Apple and Spotify) to help you and your team smash your income goals and give every customer an amazing experience.
Now, there are other pieces to this beyond money — and that's your life, your livelihood, your health, the opportunities that you enjoy with your family, and the lifestyle that I want you to love.
And remember, roofing sales is personal development in disguise. It develops our communication skills, our mindset, our daily routine, our habits, our time management skills, and a whole lot more. In fact, just this morning, I was journaling about improving myself in every category, every day, to make those incremental improvements.
And one of the reasons I'm doing that is to focus on this exact number.
It's the ONE number that I measure and that I want you to measure as well. That's what we're about to talk about.
Before We Dive In…
I have a free offer for you. If you have not done this yet, get a free copy of my Pitch Like a Pro roofing sales training video library. You can download it right now. If you do, you'll get access to all of the videos I've ever done, organized by category for really easy binging, studying, and sharpening those roofing sales skills. It's 100% free.
FREE "Pitch" Like a Pro Roofing Sales Training
240+ Video Library for Storm and Retail
For Roofing Sales Reps & Owners With New Hires: All the training you need to be a "million dollar" closer!
Get Instant Access FREE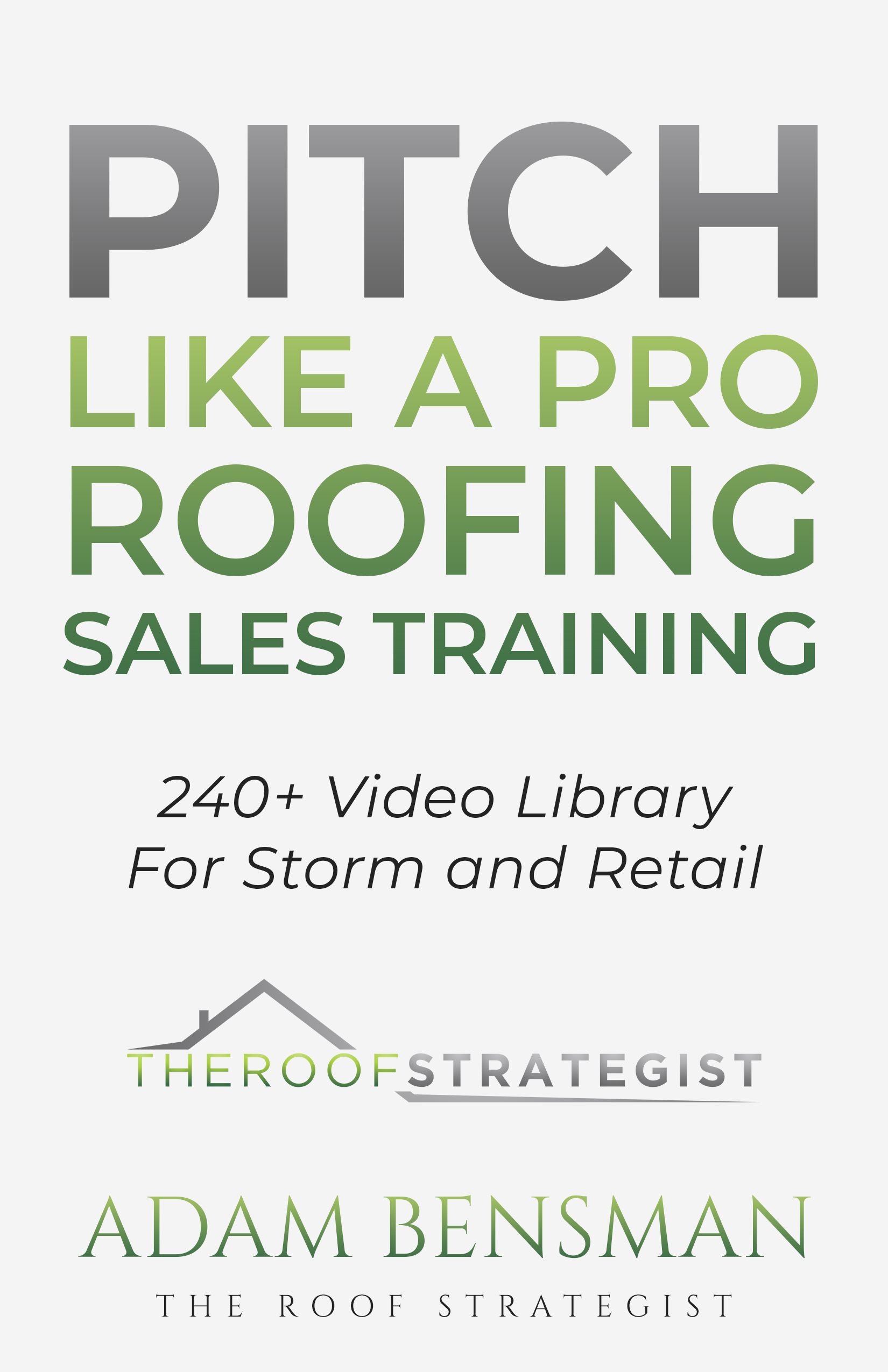 What Numbers Should I Focus on in Roofing Sales?
Check at the image below. Then, answer this — what are the numbers in the right-hand column ($48, $72, etc.) versus the numbers in the left-hand column ($100k, $150k, etc.)?
Here's the difference:
On the left side are different brackets of income. We're going to call that annual income.
On the right side is the ONE NUMBER that you need to focus on — the EFFECTIVE HOURLY RATE or the EHR.
Why Focus on the EHR in Roofing Sales?
So many people in roofing sales are focused on the top-line number, that annual income in the left-hand column, that they lose track of the effective hourly rate. And I want you focus on that EHR.
If you journal (or start journaling), write down this EHR in your journal. Keep in mind too that the EHR is based on a 40-hour work week, on average. That's 2080 hours/year (hrs/yr).
Now, let's look at an example of how the EHR works out in the real world.
Example: In my first 8 months or so in roofing sales, I generated $140,000 of income. This was back in 2011. Of course, not all of that had been paid out. It had been generated in the 8 months, and there were some trickle carryovers.
But here's my point — do you think I worked 40 hours/week (hrs/wk)?
NO.
I always joke with roofing salespeople that 40 hrs/wk is kind of part time. We have a hard time turning off because the more we work, the more we can make.
But we can often look at this the wrong way and drown ourselves, overwhelm ourselves, and burn out. And that can cause inefficiencies that actually zap money from our pockets.
So, I want to challenge you to ignore the annual income and focus on your effective hourly rate.
Why?
Because, sometimes, chasing the big numbers isn't the best strategy.
Example: Let's assume I earned $200,000 my first year and that I worked 80 hrs/wk. At $200k, my EHR is $96, as the image above shows. Since the EHR is based on a 40-hour work week, that $96 gets chopped in half. Now, it's cut down to $48.
My point is that this big number — $200,000 — really works out to $48/hr if I double my time to earn it. AND that's the same $48/hr rate I'd earn working 40 hrs/wk and making $100k/yr.
So, what would you rather do?
Would you rather double your income and double your time? Or would you rather learn to be more efficient?
The reality is we run out of time in the day at some point, so we need to focus on this effective hourly rate.
Now, there are two ways you can increase your EHR. Let's take a look at both.
Method #1 to Increase Your EHR in Roofing Sales: Go for Higher-Commission Jobs
This one is obvious, but the reason that I don't only focus on this strategy is that, sometimes, it's not in your control. If you're working in retail and you have inbound leads, you can't cherry-pick which houses to go to. It doesn't work like that.
Sometimes, you're in an area after a severe weather event, like hail, hurricanes, tornados, or wind events. And, again, you can't dictate what homes are damaged.
So, this can be a great thing, and we can chase the big jobs, like churches — and we can use the material in my Marketing Battle Pack, for example (which has been really effective at landing churches). But it's not something that you can always control.
Method #2 to Increase Your EHR in Roofing Sales: Optimize Your Efficiency
This method for increasing your EHR in roofing sales is one that you CAN always control. It's your efficiency.
Now, this is where you need to think about your personal development in terms of your daily habits.
And there are a number of ways to increase your efficiency. You can:
Plan better
Maximize your output
Improve your time management
Let's look at a few different examples of efficiency. These examples are insurance-related, and I'm going to touch on retail as well (because, yes, my all-in-one roofing sales training and strategy system, the Roofing Sales Success Formula, along with my Marketing Battle Pack and my Closing Strategy, are all available for storm and retail roofing sales).
How to Optimize Efficiency in Roofing Sales to Increase Your EHR: A Few Examples
Imagine selling a roof. You're going to:
Close a sale, whether it's a self-generated lead from knocking on doors, an inbound lead, or whatever.
Sign them, hopefully on the spot.
Meet with the adjuster. If it's insurance, you meet with the homeowner to review the scope. For retail, this would be the color selection, and maybe you did that right after closing the sale.
Sit on the install to make sure everything's good.
Collect the final payment.
Total, that's five visits to the customer. So, the distance between where you live (or where your office is) to your first job, that's what I call is dead time. It's windshield time. Then, if we have another neighborhood on the other side of town and others even farther away, I'm all of a sudden spread too thin.
All that commuting time is dead time that's wasted. It doesn't earn you any money.
So, here's how my program, the Complete Sales Strategy, has helped numerous first-year roofing sales reps become six-figure earners:
It's about maximizing efficiency by leveraging those five visits to the home to produce even more sales in the neighborhood.
That's how guys like Bill Sansom earned $2.2 million his first in roofing sales at the age of 60. He signed 60 out of 73 homes in a subdivision (check out my Interview with Bill Sansom). And it's why Marshall did $500,000 in just 6 weeks in one neighborhood with a 2-week vacation (here's my Interview with Marshall). There are countless other stories out there like this.
And it's because the Complete Sales Strategy is designed with efficiency in mind to help you:
Capitalize on your opportunities
Increase your efficiency
Drive more commissions in the same neighborhood
Because we can't always control commissions, but we CAN control our efficiency.
So, we need to focus on what's most important. And that is our efficiency.
3 Roofing Sales Efficiency Tips to Increase Your Income: Recap
Here's a quick recap of the three things you can do to work more efficiently, boost your EHR, and increase your income in roofing sales:
#1 –> Plan your days in advance: Every morning you wake up, you should know exactly what you're doing that day. I like to do my planning the night before.
#2 –> Maximize your output: Batch your time and activities as much as you can. For example, when I'm doing my follow-ups or estimates, I do them ALL. It helps to stay focused on the task at hand, especially if you pair your activities with the right time of the day. Remember, not every minute of every day is created equal for a roofing salesperson.
At 3:00 p.m., it's a great time to start generating business. If it's 5:00 p.m. on a weeknight, homeowners are coming home, and you have sales appointments, sales opportunities, and opportunities to knock on doors and run leads. Those aren't the times for you to go into the office and start updating your CRM. Do that in the morning, on rainy days, or in the evening. The bottom line is that you want to pair the right activity with the right time and day to really maximize your output.
#3 –> Manage your time wisely: You spend so much time in your vehicle. Use that time for your follow-ups and learning. Create a mobile office. I kept a mobile Canon printer in the back of my truck, so I had everything I needed to get work done. That way, when the adjuster's running late or I'm waiting around, I have plenty I can be doing and getting accomplished.
Again, your mission is to increase your EHR, your effective hourly rate. When we maximize efficiency, we're going to drive the needle up and increase our effective hourly rate.
How to Calculate Your EHR
Before wrapping this up, I want to show you how to calculate your effective hourly rate. You can calculate it annually, monthly, or weekly by dividing your total income by the total hours you've worked. That's going to equal your HER.
If you focus on moving that needle through efficiency and commissions, you'll see your EHR go up, and you'll be able to exponentially increase your income in roofing sales.
Get More Roofing Sales Strategies, Tips & Videos
If you want more on this topic, check out my video on the Daily Habits of $100,000+ Earner, as well as my Roofing Sales Success Formula for reps and teams.
You can also subscribe for the latest roofing sales training videos and get a copy of my Pitch Like a Pro roofing sales training video library. It includes a ton of videos on roofing sales, as well as every video I've ever done, organized by category, along with a bunch of tips, tricks, and more. It's great for new people and seasoned veterans, and it's updated all the time to help you and your team smash your income goals and give every customer an amazing experience.
Also, check out my Marketing Battle Pack for instant access to 70+ pieces of my proven, turnkey roofing sales and marketing materials. It's an entire suite, specially designed for sales teams, managers, and owners, providing:
Scripts
Scheduling
Direct Mail Letters
Door Hangers
Goal Projection Planners
A LOT more!
It's affordably priced and comes with a 100% money-back guarantee. There's also a playlist of instructional videos in there, explaining every single thing. So, you can watch the videos, and you'll know exactly what to do.
Thanks for joining me, and I look forward to sharing more with you in the next blog.