I have not wanted to share this publicly, but I am about to.
It's my SECRET WEAPON to deliver an absolutely AMAZING EXPERIENCE to my customers.
In fact, this secret weapon can help you:
Differentiate yourself from your competitors.
Discover the perfect time to follow up with someone, so you don't get ghosted in their inbox or when you send text messages.
I'm going to teach you ALL of this and more, including the tools I use.
By the way, I'm NOT affiliated with the companies that make these tools, and I don't receive any endorsements for talking about or using these tools. I'm simply sharing this with you so that, hopefully, these tools can help you too.
Before we get into it, I just want to say welcome or welcome back. My name is Adam Bensman, The Roof Strategist. I'm on a mission to shake things up in the roofing industry and give you everything that I wish I had when I got started.
That's why everything I do here — and on my YouTube channel and in my all-in-one sales training, sales strategy, and sales system, the Roofing Sales Success Formula & Complete Sales Strategy — is designed to help you and your team smash your income goals and give every customer an amazing experience.
Truthfully, the amazing experience is the most FUN part of it. When you do it from your heart, it comes back to you.
Of course, that's not why you do it. You don't do it, so it comes back. You do it because you love it, and you know it's the right thing to do. Also, it just so happens to generate:
Referrals
Happy customers
Great reviews
So, if you like this and want more, I've got a freebie for you. Simply click here or text FREE to (303) 222-7133 for instant access to my Pitch Like a Pro roofing sales training video library. There's also an exclusive announcement there, with more to follow.
Now, let's dive into the secret follow-up weapon that can help you close MORE.
FREE "Pitch" Like a Pro Roofing Sales Training
240+ Video Library for Storm and Retail
For Roofing Sales Reps & Owners With New Hires: All the training you need to be a "million dollar" closer!
Get Instant Access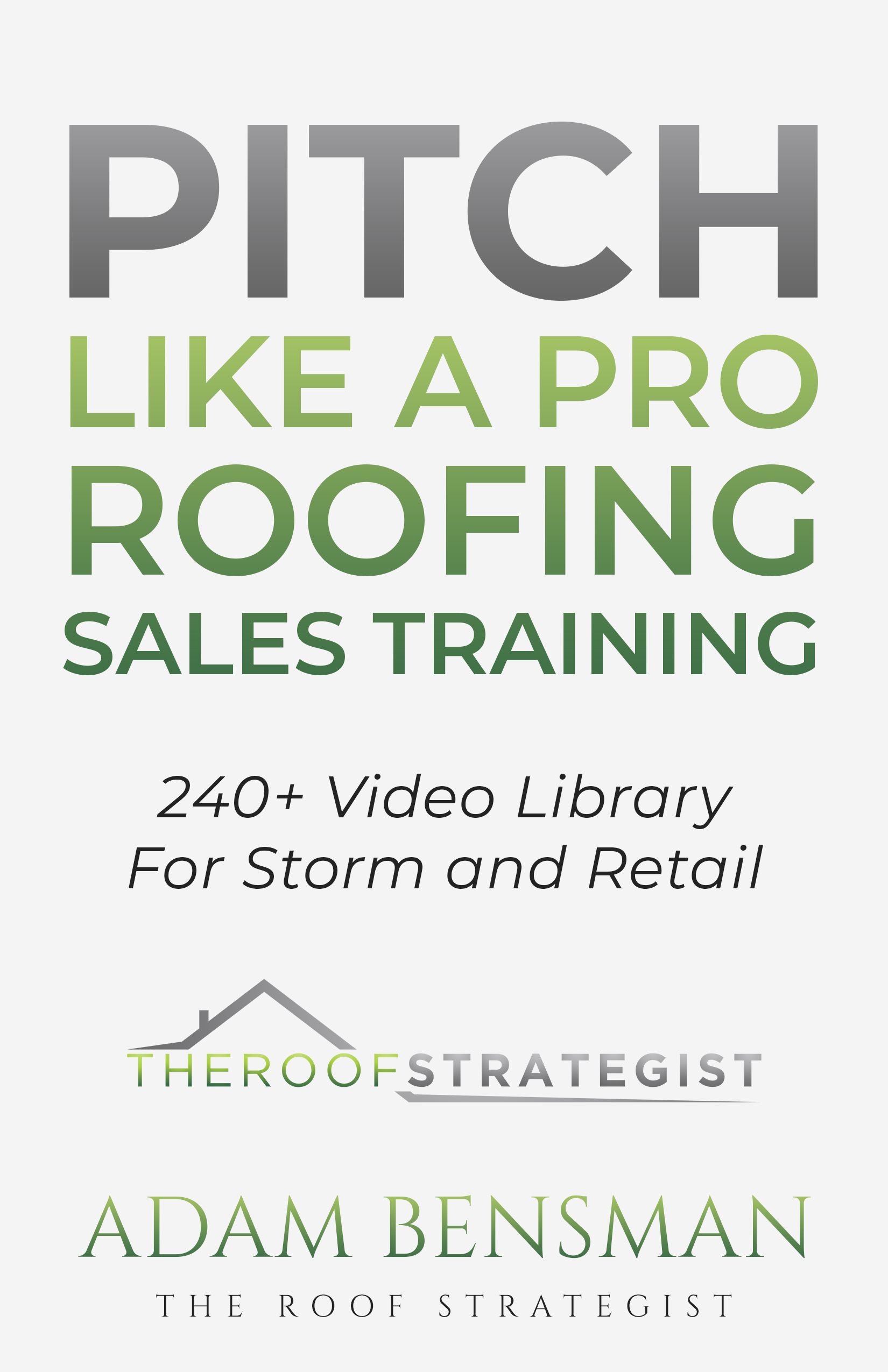 Roofing Sales Follow-Ups: What Is Video Follow-Up?
Video follow-up is simply a way for you to create a personal message, putting with your face on camera, to send your customers a short, fast-paced message.
When they open it, they can:
See you.
Read your body language.
Hear your voice.
Connect with you in a way that's a bit more personal than just an email or text message — After all, everyone sends emails and text messages.
FREE Tool for Video Follow-Ups in Roofing Sales: Loom
There's a FREE tool you can use to create compelling follow-up videos for your customers in roofing sales — Loom.
Disclaimer: I'm not sponsored or paid by Loom. I'm not recommending Loom because the company pays me (they do not). I recommend it because I love the product. It's incredibly helpful.
Now, here's the cool thing about Loom.
Let's say I have a homeowner who I didn't close on the spot, and they email me some questions about the contract or the agreement.
When that happens, I can respond in various ways, including by:
Simply replying to the email with answers
Leaving the customer a voicemail
Emailing them and leaving them a voicemail
What if I combined all that into a single, more personal video message?
With a video follow-up, I can:
Guide them through everything.
Get the chance to resell them.
Distinguish myself from the competition.
Now, I'm going to show you EXACTLY how to do all that, including:
How to use video follow-up in emails
How to follow up with video in text messages
By the way, Loom has a mobile app, so you can create videos:
On your phone
In your truck
Anywhere in the field
Plus, we're going to close in a PERFECT way to also figure out exactly when — meaning what time — to follow up with that customer.
You're going to LOVE this.
How to Use Loom for Video Follow-Ups in Roofing Sales
I'm going to walk you through how I use Loom.
So, I have the Google Chrome extension.
The icon looks like a little blue flower, and it sits on the right side of the browser address bar (see below).
To start recording a video, I do the following:
Click on the icon.
Decide whether to feature my face on screen: I could have anything in the background, like a proposal or certain things highlighted to remind the homeowner of their upgrade options. I can also choose to go full screen, with nothing else on my computer.
Hit "start recording" to begin filming.
Start my message as soon as Loom begins recording.
When I begin talking and recording my message, I can say something like:
Hey, Peggy, thank you so much for the opportunity to meet with you and your husband to talk about your roofing needs.
Now, I understand you have two other contractors coming out on Wednesday and Thursday next week.
So, what happens next, as we've discussed, is I'll show up on Thursday at 2:00 p.m. to go through the agreements with you, both of them side by side.
We'll take a look at all the different estimates.
And I'll be the question punching bag to help you figure out the best option, even if it's not me.
So, if you have ANY questions in the meantime, please go ahead and text or call me.
You have my contact info in my email, and I cannot wait to hear from you.
We'll see you next Thursday at 2:00 p.m.
Once I'm done with my message:
I click the "stop" button to end the recording.
The recording opens up in a new browser window.
I can click on the "title" field, below the recording, and type in a custom title.
Roofing Sales Follow-Ups: How to Send the Video Message
Now, it's time to send the video follow-up message to the customer.
To do that, copy a link for the video by:
Navigating to the upper right-hand corner of the screen.
Clicking on the link icon to copy the link.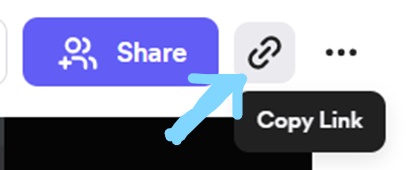 Then, go to your email and:
Write a descriptive subject line: That could be something like, "Watch this video I made for you."
Paste the video link into the body of the email: When you do this, an animated gif of the video message will automatically appear.
When a homeowner sees that subject line — Watch this video I made for you — what do you think they're going to do?
They're going to pop into that email and watch your video.
As soon as that happens:
You've successfully delivered a personal message.
You've reminded them of the next appointment while controlling the dialogue.
You've just set yourself apart because your competitors are most likely NOT sending video follow-ups.
You've invited your customer to read your face and body language.
"Receipts" for Your Roofing Sales Video Follow Ups
Now, the cool thing about Loom is that it will send you a "read" receipt.
That means that, when Peggy opens her email, clicks the video link, and watches the video, you get an INSTANT notification letting you know that someone has just watched the video (and the notification will tell you what video title has been viewed; that's helpful if you have multiple video messages out there).
When that happens:
You know that is the IDEAL time to call or text Peggy because she just watched your video moments ago.
Peggy will likely answer the phone when you call, saying something like "Oh, it's so funny you're calling right now, Adam! I was JUST watching your video."
Recap: A Powerful Way to Follow Up & Close MORE in Roofing Sales
Now, you know how to use Loom to create really compelling video follow-ups.
Again, I am NOT affiliated with Loom. I just love this tool. I use the paid version, but there is a free version too. Now, I recommend you:
Download the Loom app.
Test out the video follow-up with your next customer.
Email the link to see how the animated gift works in email.
Try sending Loom video follow-ups via text. If you do, just keep it short (like "Watch this personal video message I made for you" with the link).
This should help you with your follow-ups while:
Setting you apart from the competition
Empowering you to deliver an amazing experience
Putting another tool in your tool belt to ink more deals on the follow-up
Helping you WIN MORE BUSINESS!
Get More Roofing Sales Strategies, Scripts, Tips & Videos
If you want more on follow-ups, closing, or any topic in roofing sales, you'll find it in my all-in-one sales training, sales strategy, and sales system, the Roofing Sales Success Formula & Complete Sales Strategy.
This exclusive program covers everything from knock to close, with packages for individual roofing sales reps and entire teams. Many roofing sales companies LOVE this program because it's a consistent process to train everybody on a relatable sales system that WORKS and that's a lightning-fast way to get results.
If you have questions, just call or text (303) 222-7133 for more info or a private demo.
You can also subscribe for the latest roofing sales training videos and/or get a copy of my Pitch Like a Pro roofing sales training video library. It includes every roofing sales video I've ever done, organized by category, along with a bunch of tips, tricks, and more. It's great for new people and seasoned veterans, and it's updated all the time to help you and your team smash your income goals and give every customer an amazing experience.
And don't forget to check out my Marketing Battle Pack for instant access to 70+ pieces of my proven, turnkey roofing sales and marketing materials. It's an entire suite, specially designed for sales teams, managers, and owners, providing:
Scripts
Scheduling
Direct Mail Letters
Door Hangers
Goal Projection Planners
A LOT more!
It's affordably priced and comes with a 100% money-back guarantee. There's also a playlist of instructional videos in there, explaining every single thing. So, you can watch the videos, and you'll know exactly what to do.
Thanks for joining me, and I look forward to sharing more with you in the next blog.