Hey, Adam, here at The Roof Strategist. Today, I'm going to share my story of how I ended up in the roofing sales business.
I hope it inspires you.
Before I Got into Roofing Sales
I had my undergrad degree in psychology, which by the way, leads you nowhere. From there, I studied natural medicine, and I was broke. I was a massage therapist making $19,000/year.
My breaking point came one day in my early 20s. I had to email my mom to ask her for $20 to fill my tank with gas, so I could drive home for a family reunion. Ridiculous, right? I'm in my 20s, and I literally can't afford gas to see my family.
So, my stepfather, Ron, was in the roofing sales business. He says, "Hey, Adam, you can earn six figures selling roofing."
I was like "WHAT THE HELL?!?! ARE YOU SERIOUS — SIX FIGURES FOR SELLING ROOFING?!?!"
Now, at that point, that was an amount of money that I couldn't even track it. I wouldn't even know what to do with it if I had earned that type of money. So, I took his advice. I went on Craigslist, and I applied to five companies.
At the time, I was in Madison, Wisconsin. Little did I know, a massive hailstorm had just hit. So, of course, I got offers from all these different companies.
I chose an owner named Jesse, who I actually believed in and who had integrity. To this day, Jesse and I are still friends. He gave me more opportunity than I could ever imagine, and I'm forever grateful to Jesse for that.
So, I took the job.
FREE "Pitch" Like a Pro Roofing Sales Training
240+ Video Library for Storm and Retail
For Roofing Sales Reps & Owners With New Hires: All the training you need to be a "million dollar" closer!
Get Instant Access FREE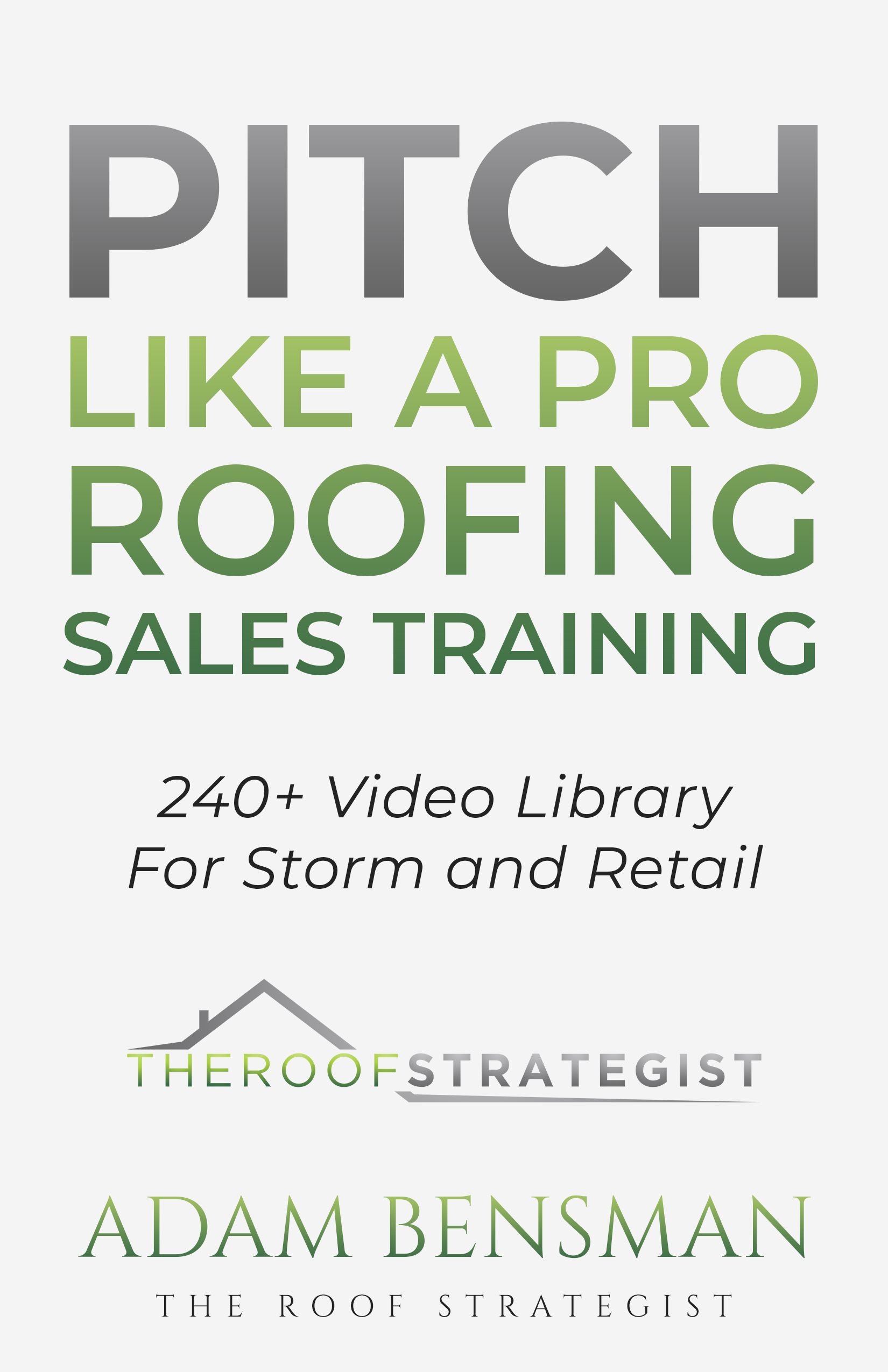 I Started Door-to-Door Roofing Sales with ZERO Training
In the nature of all things roofing, I had no training when I started. Jesse was busy. Everyone else around me was busy. I was in a satellite office, and I was not even at the point of having a hail map yet.
So, I was literally only told, "Here there's a three-type single, and here's a dimensional shingle. Now, go knock on doors and sell free inspections."
I remember the first time I got on a roof. I looked down, and I was like, This is hail damage? People replace roofs for this?
I had NO idea what I was doing. I had to figure it out on my own.
So, I went out knocking on doors. I got my teeth kicked in. I got yelled at and rejected. I thought, HOW do people do this for a living?
How I Made My First Roofing Sale
One day, I was leaving the gym after a workout. I'm in my gym clothes, covered in sweat, and I see a "For Rent" sign on a commercial building next door to my gym in Madison.
I call the number on the sign and here's what happened next:
Me: Hey, is this the owner?
Owner: Yes, it is.
Me: Hey, I just drove by your building. It looks like the roof is in pretty bad shape. And there was just a hailstorm that came through. You might have hail damage, and we might be able to get it replaced with your insurance coverage.
Are you interested in having me take a look?
Owner: Sure. When can you come by?
Me: How about in an hour?
That was it! I just called on a whim, and I set an appointment and sold my first-ever job, a small commercial property (90 squares).
The Power of My First Roofing Sales Commission Check
After I sold that job, I was fired up. Six weeks later, I got paid, and I was running with $1,000 in my bank account.
And at the point, I was still trying to juggle massage therapy with selling roofing.
My family was telling me:
Adam, you're nuts! You can't sell.
You can't leave the stability of $19,000/year to go sell roofing.
You have no training.
It's commission only.
You have NO idea if it's going to work.
But that first commission check in my bank account meant the world to me. I believed in myself and thought, Holy smokes! It IS possible.
I Go All-In with Roofing Sales
I finally left massage therapy and went all in with roofing sales. In my first 8-month season, late in a storm, I sold $1.4 million in sales. And I generated about $140,000 of income in 8 months.
From there, I went on to become:
The CEO of a multi-state storm restoration company: As a CEO, I traveled all over the country, helping people set up offices, work storms, train roofing sales teams, write our direct mail, work on marketing, and manage all of our crews.
A consultant helping businesses and salespeople just like you: I've also traveled all over the country and even to Canada consulting with roofing sales companies of all sizes. I continue to do this today because it's a passion project.
So, that's my story. And that's why my goal is to inspire and help you — the salespeople, managers, new owners, and owners who are growing teams. I want to finally provide the information and training that's helped me, so you can learn from my mistakes and successes.
A Word for Owners
Owners, I want to share something about what it takes to hire and grow a team.
There are a lot of people who are like me and you — who are looking for an opportunity to make a real living and make a difference.
They could be anywhere. For example, you can find that server who served tables. Maybe, you're out for dinner or getting beers with the guys after work, and you're like, Holy smokes, that guy's talented! Imagine what he could do if I can get him in this position.
They are a "people" person, and they're driven. And, suddenly, they're going from making $30,000/year or $40,000/year (with an inconsistent income) to finding a literally recession-proof job because it hails in a lot of places. It doesn't matter if the economy's booming or not.
A Word for Salespeople
Salespeople, if you can sell well, you'll never be without a job. There will be roofing companies who will hire you and get competitive on their pay. Just find a company that shares those same values you do.
You can also start your own roofing sales business.
Either way, communicating well and helping people — and being genuine and authentic — can change your life. And it'll change the lives of the people you hire and the people you serve.
Want More Roofing Sales Strategies, Tips & Videos?
Subscribe for the latest roofing sales training videos and get your copy of my Pitch Like a Pro roofing sales training video library. It includes every video I've ever done, organized by category, along with a bunch of tips, tricks, and more. It's updated all the time to help you and your team SMASH your income goals and give every customer an amazing experience.
Also, check out my Marketing Battle Pack for instant access to 70+ pieces of my proven, turnkey roofing sales and marketing materials. It's an entire suite, specially designed for sales teams, managers, and owners, providing:
Scripts
Scheduling
Direct Mail Letters
Door Hangers
Goal Projection Planners
A LOT more!
It's affordably priced and comes with a 100% money-back guarantee. There's also a playlist of instructional videos in there, explaining every single thing. So, you can watch the videos, and you'll know exactly what to do.
Thanks for joining me, and I look forward to sharing more with you in the next blog.