What does the future of roofing sales hold?
I have three predictions regarding the future of roofing sales that I'll share with you here — and I believe these changes are going to be occurring within the next 36 months.
That's right.
These three BIG changes WILL impact you and me both over the next 3 years.
Now, as I lay these out, some of this stuff may be a little scary, but I don't want you to feel afraid because, with change, we can either:
Jump on the wave, surf it, and be at the forefront OR
Let that wave crash through us, so we're left there tumbling on the bottom of the ocean, getting smacked into the sand while we watch everybody else coasting that wave, having a good old time passing us by.
Of course, being slammed to the bottom of the ocean, under a wave, is not very pleasant. I've been there.
By the way, welcome or welcome back. My name is Adam Bensman, The Roof Strategist. Everything I do here — and on my YouTube channel and in my podcast (on Apple and Spotify) — is designed to help you and your team smash your income goals and give every customer an amazing experience. And I've had the opportunity to help thousands and thousands and thousands of roofing sales reps just like you overcome the same challenges that you're probably facing right now.
So, if you haven't done it yet, get your free copy of my Pitch Like a Pro roofing sales training video library sent right to your inbox. It includes more than 300 videos, every video I've ever done, organized by category for easy binging.
It's great for the seasoned veteran who is looking to sharpen their skills, as well as owners and managers who need some training content for weekly sales meetings. To get instant access to all that right now, simply click on that link.
Now, let's get to my predictions and what I believe will be the BIGGEST three changes that we're going to face in roofing sales within the next 3 years.
First, full disclosure —I've done about five iterations of this post, trimming it down to the main three things that I think are key to focus on.
So, let's jump right in.
FREE "Pitch" Like a Pro Roofing Sales Training
240+ Video Library for Storm and Retail
For Roofing Sales Reps & Owners With New Hires: All the training you need to be a "million dollar" closer!
Get Instant Access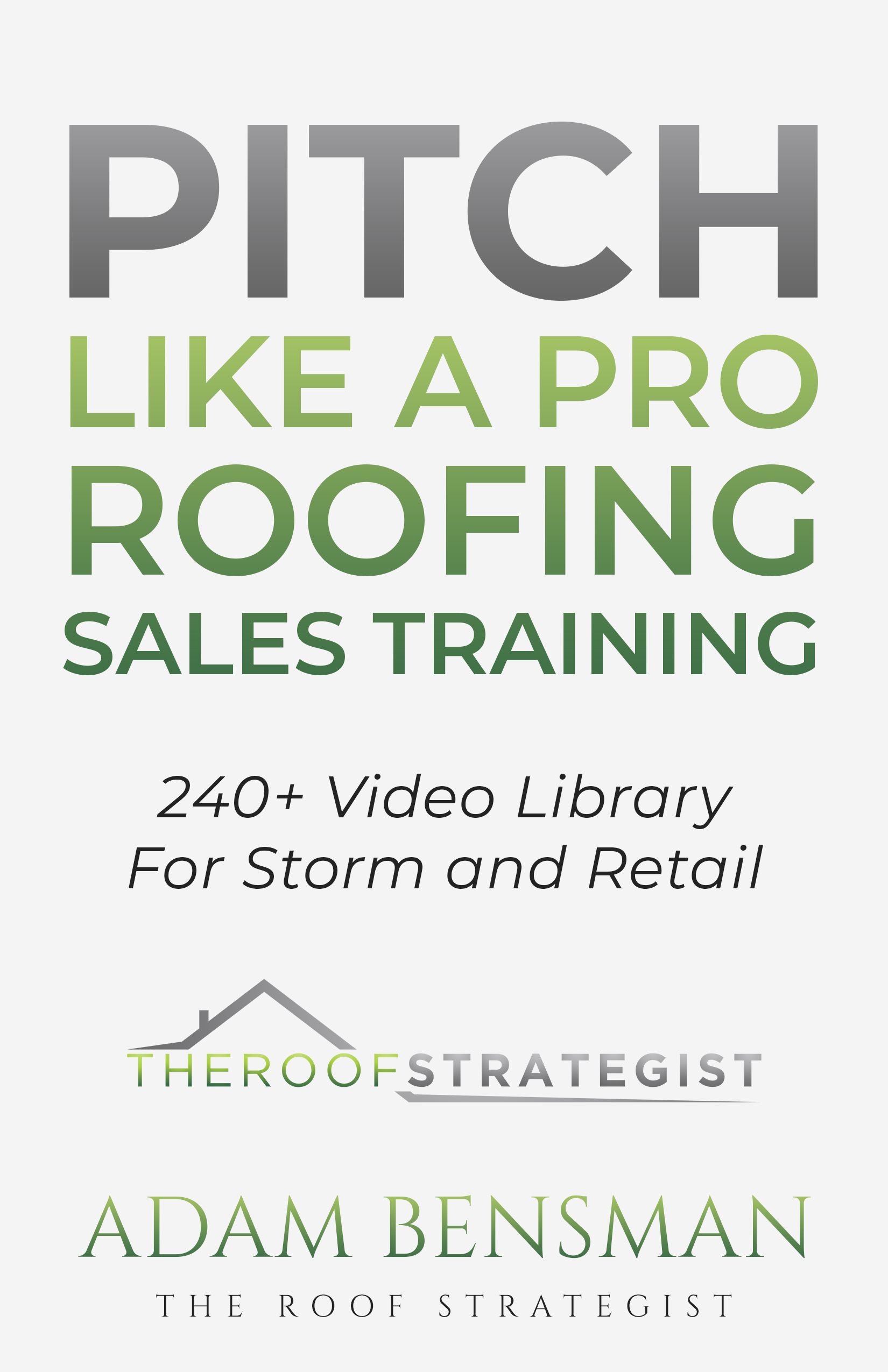 Roofing Sales Prediction #1: Technology trying to cut the salesperson out
I see an emerging trend in private equity and corporatization coming into the roofing industry. We see big companies gobbling up smaller ones and companies merging. And just like our utility companies are trying to create these monopolistic practices, I see this coming to the roofing industry.
Why?
Because there's all of this money coming in, and with that money, we see massive technological advancements.
So, I believe the future of roofing sales involves:
Technology
Systems of selling a roof online
Looking for ways to cut salespeople out
Remember, I said there's nothing really to be afraid of.
Now, I have a couple of questions for you, especially for any storm restoration contractors:
What percentage of the roofs that you sell involves the homeowner telling you they don't have a problem when you first approach them?
How many folks tell you, "I don't have any problems with my roof"?
For most companies, it's roughly 70 to 90%, meaning about 70 to 90% of people do NOT even know they have a problem.
Since we're in direct sales, we show up at the house to help the homeowner identify problems they weren't even aware of. That's why I think it's nuts when people say storm sales isn't really sales. After all, not anyone can show up at a stranger's house, totally unannounced with no brand recognition, and:
Get an opportunity to hop up on the roof when the homeowner thinks their roof is fine.
Show them that they have a problem.
Get them to take action on that problem.
End up with a contract for $20,000.
That's pretty WILD, in my opinion. Some restoration contractors have cut their teeth in one of the most challenging types of sales, and yet for some reason, they push back on me saying storm sales isn't that hard.
So, my point is that:
There WILL be a new Amazon Roofing.
Roofing is getting commoditized.
People will be able to shop for a roof online.
By my estimation, about 70% of the roofing industry in the U.S. is driven by severe weather, hail, wind, or hurricane damage.
In fact, pretty much everywhere — from Arizona and Utah, all the way up through the Midwest, the Dakotas, and in every single state up until about Pennsylvania — the majority of the market is driven by storms.
Of course, in the northeast and on states like California, Washington, and Oregon, storms may not be happening at the same frequency, BUT they still get some severe weather being on the coast.
So, if we were to carve out segments for:
Storm
Retail (elective roof replacements)
New construction
Now, the buy-a-roof-online people are NOT going to impact new construction. That's totally different.
These online systems are designed to sell roofs to people who KNOW they need a roof. As a result, I don't believe this technology is going to impact the storm market as much.
Emerging technologies to identify the damage and speed up the process will impact us. But I'm not super concerned about the technology cutting the salesperson out because, generally speaking, these folks don't even know they have a problem.
It's the retail market folks who will jump online and look up "roof replacement" because they know they need a new roof. So, this could impact retail roofing sales more.
My prediction on the technology side is that:
There's a bunch of money and private equity coming into roofing sales.
With tech companies growing, companies are now finding ways to make the process faster and to cut the salesperson out.
That's the main thing — cutting the salesperson out. So, that means figuring out:
How do we sell a roof online?
How do we estimate on autopilot?
How do we present automatically?
How do we give the homeowner control to select their options?
Again, I believe this will be often a race to the bottom because:
Buying a roof is a BIG decision.
There's going to be some market adaptation until people are even comfortable saying, "I bought this roof online. I didn't talk to anyone until I literally gave a deposit for a $20,000 system."
I just think there's going to be some human element involved, and I think that we have some time to adapt.
So, number one is technology.
Roofing Sales Prediction #2: Price Pressure
For both storm and retail, price pressure comes from:
Supply chain issues
Material availability issues
Skyrocketing costs of roofing
In 2011, when I got into the roofing sales business, we were fighting to get 300 a square. Today, that same market is selling at 650 to 675 a square. The price DOUBLED or more than doubled in about a decade.
In today's economy, we are seeing 7 to 12% price increases on raw materials per quarter. That means that:
The cost of roofing is compounding pretty much FOUR TIMES faster than the stock market.
The price of roofing is going to double every five years. That's about the projection that I've shaken out.
If someone decides they don't want to do their roof today because they think they can get five years more out of it, the cost of that roof will double in five years.
At today's rates, that means a $15,000 roof is going to be about:
$5,000 more if they wait a year and prices rise by 7%
$9,000 more if they wait a year and the rate shoots up 12%
That can give homeowners a sense of real URGENCY and motivate them to take action now, instead of punting the roof off and saying "we'll do it later."
The truth is they're going to be spending $5,000 to $9,000 MORE for the exact same roof if they wait just one year. And it's not like they're getting some fancy new product — it's literally the same roof, with the same color options.
So, those price pressures are going to impact the roofing space because we're going to have to get creative on our financing solutions.
Now, let's talk about storms. I believe that we are going to see price pressure from insurance companies both on:
Policy coverage
Deductibles
By the way, we're already seeing exclusions and special deductibles for hail, wind, and hurricane claims. So, I believe that's going to going to continue, and we're going to have to adapt to this price pressure, changing:
How we serve
What we offer, including financing
On the retail side, we have price pressure due to these rising costs and rising claims. With coverage and deductible issues:
The insurance companies are trying to cut themselves out.
They're trying to pay less, playing games on not paying out.
They're moving to other platforms, outside of Xactimate, for their estimates.
We were recently discussing this in the Pitch Pro Movement, with special guest Drew, talking about disputes and lack of coverage (if you're interested in that, click on the link, and that recording will be available for you).
So, my second prediction for the roofing sales industry is the price pressure.
Roofing Sales Prediction #3: Solar
This prediction is somewhat of a threat to the roofing sales industry, but it's also an opportunity — solar.
Now, at first, I was VERY resistant to solar. In fact, I posted in some industry Facebook groups, asking if solar salespeople believed in solar for their own homes.
Surprisingly, most salespeople did NOT believe in the economics of solar for their own homes. And I sat through presentations, thinking, I'm not into this! It wasn't until I started to uncover a new way to do solar, integrating solar with a roofing company for both retail and storm, that it really clicked.
In fact, with this realization, I helped a company double its revenue in 90 days, going from $1.2 million/month to about $2.5 million/month, simply by integrating the two.
And a gentleman inside the Pitch Pro Movement — in our first solar sales training session — told me that he just sold another 22-kilowatt system closed. That's 42 kilowatts in two days. The homeowner was getting the roof paid for by insurance, and after he called me out to look at it, the repair job turned into a $120,000 sale. Pretty nuts, huh?
So, with these financing vessels provided by solar, we're able to have a competitive edge by integrating roof with solar.
The problem is the confusion. Sales reps don't know:
What to sell
How to sell it
Whether to pitch solar or roofs or integrate their different pitches
That's usually where companies fail. The sales rep runs around, not sure about whether to lead with roof or solar, and the deals fall apart. They don't have a hook, and there's no urgency.
Now, this is truly an art because the solar sale is a bit more complex. It is really like financial arbitrage. So, we need to learn how to communicate.
And in the next three years, I think that the companies that aren't doing solar with their roofs are going to start LOSING deals to competitors who can offer better financing options opened up by solar.
Plus, homeowners are going to want solar due to the new tax credits at 30%. And there are also:
Domestic manufacturing tax credits: This can bump the tax credit up to 40%.
State tax incentives: In Illinois, for instance, there are some circumstances in which you can get as much as 50% or more from tax-deductible systems.
So, there are all of these little nuances — and if your company or you are not in a position (or don't know how) to sell solar or offer solar the right way to win more business, I do think that you will struggle in our market.
Again, with solar, we can turn an insurance claim into a roof-solar combo, putting us in an amazing spot for that homeowner.
By the way, I have a new Solar Sales System that will be released very, very soon (we've been working on it behind the scenes, rolling it out with one company).
Recap: 3 Predictions for the Roofing Sales Industry Over the Next 3 Years
Summing it all up, here are my three BIG predictions for what I think will put pressure on our industry over the next three years (and don't worry because we can adapt):
Technology attempting to cut the salesperson out by automating certain processes: I do believe that a large part of the market will be the last to adapt, and I don't think that the human element will be removed entirely. I do think that our roles may change in time, but time will tell.
Price pressure from the retail market: This comes from the cost of goods skyrocketing with inflation, material availability, and oil prices. On the insurance side, we have our coverage issues, and we're going to need to adapt on that front.
Solar: We'll need to, at some point, jump on board and learn how to integrate this model, or we're going to get left behind as our competitors offer solutions that we simply cannot touch.
Get More Roofing Sales Strategies, Scripts, Tips & Videos
If you want more on any roofing sales topic, you'll find it in my all-in-one sales training, sales strategy, and sales system, the Roofing Sales Success Formula & Complete Sales Strategy.
This exclusive program covers everything from knock to close, with packages for individual roofing sales reps and entire teams. Many roofing sales companies LOVE this program because it's a consistent process to train everybody on a relatable sales system that WORKS and that's a lightning-fast way to get results.
If you have questions, just call or text (303) 222-7133 for more info or a private demo.
You can also subscribe for the latest roofing sales training videos and/or get a copy of my Pitch Like a Pro roofing sales training video library. It includes every roofing sales video I've ever done, organized by category, along with a bunch of tips, tricks, and more. It's great for new people and seasoned veterans, and it's updated all the time to help you and your team smash your income goals and give every customer an amazing experience.
And don't forget to check out my Marketing Battle Pack for instant access to 70+ pieces of my proven, turnkey roofing sales and marketing materials. It's an entire suite, specially designed for sales teams, managers, and owners, providing:
Scripts
Scheduling
Direct Mail Letters
Door Hangers
Goal Projection Planners
A LOT more!
It's affordably priced and comes with a 100% money-back guarantee. There's also a playlist of instructional videos in there, explaining every single thing. So, you can watch the videos, and you'll know exactly what to do.
Thanks for joining me, and I look forward to sharing more with you in the next blog.