How do you follow up without coming across as pushy, sleazy, aggressive, or totally repulsive to homeowners?
I know following up with folks can raise questions, like:
Am I coming across as being pushy?
Am I following up too much?
Sometimes, we overcompensate, and we do not end up following up — or not following up enough — either of which can be detrimental.
The reality is, though, our follow-up will either:
Move people closer toward YES
Shove people back towards a hard and definitive NO
So, we need to strike that balance of great customer service that allows you to get permission to follow up as often as you need to.
Now, I'm going to make a really BIG claim.
There's one simple rule when it comes to following up, and if you do this on the very first follow-up, it lays the groundwork for you to follow up virtually as much as you want (within reason, of course).
In fact, theoretically, this should solve ALL of your concerns about:
Not following up enough
Following up too much
Coming across as pushy
And, yes, it is as simple as changing what you say on the very first follow-up.
Before we get to that, I first want to say welcome or welcome back. Adam Bensman here, The Roof Strategist. Everything I do here — and on my YouTube channel, my podcast (on Apple and Spotify), and in my roofing sales programs — is designed to help you and your team smash your income goals and give every customer an amazing experience.
And part of your customer's experience is how they experience YOU when you're not in the house.
So, when we look at the follow-up as an opportunity to encourage customers to get to "yes":
We have to NAIL it.
If we don't nail it, we're going to lose deals.
We don't want that to happen. And if you like this and you want more, join me in my FREE training center. You're going to love what's inside, including my:
Playlist on the follow-up
An extensive video training library
My recommended book list
And so much more
Just text "FREE" to (303) 222-7133 or click the link above for access.
Now, let's dive in.
FREE "Pitch" Like a Pro Roofing Sales Training
240+ Video Library for Storm and Retail
For Roofing Sales Reps & Owners With New Hires: All the training you need to be a "million dollar" closer!
Get Instant Access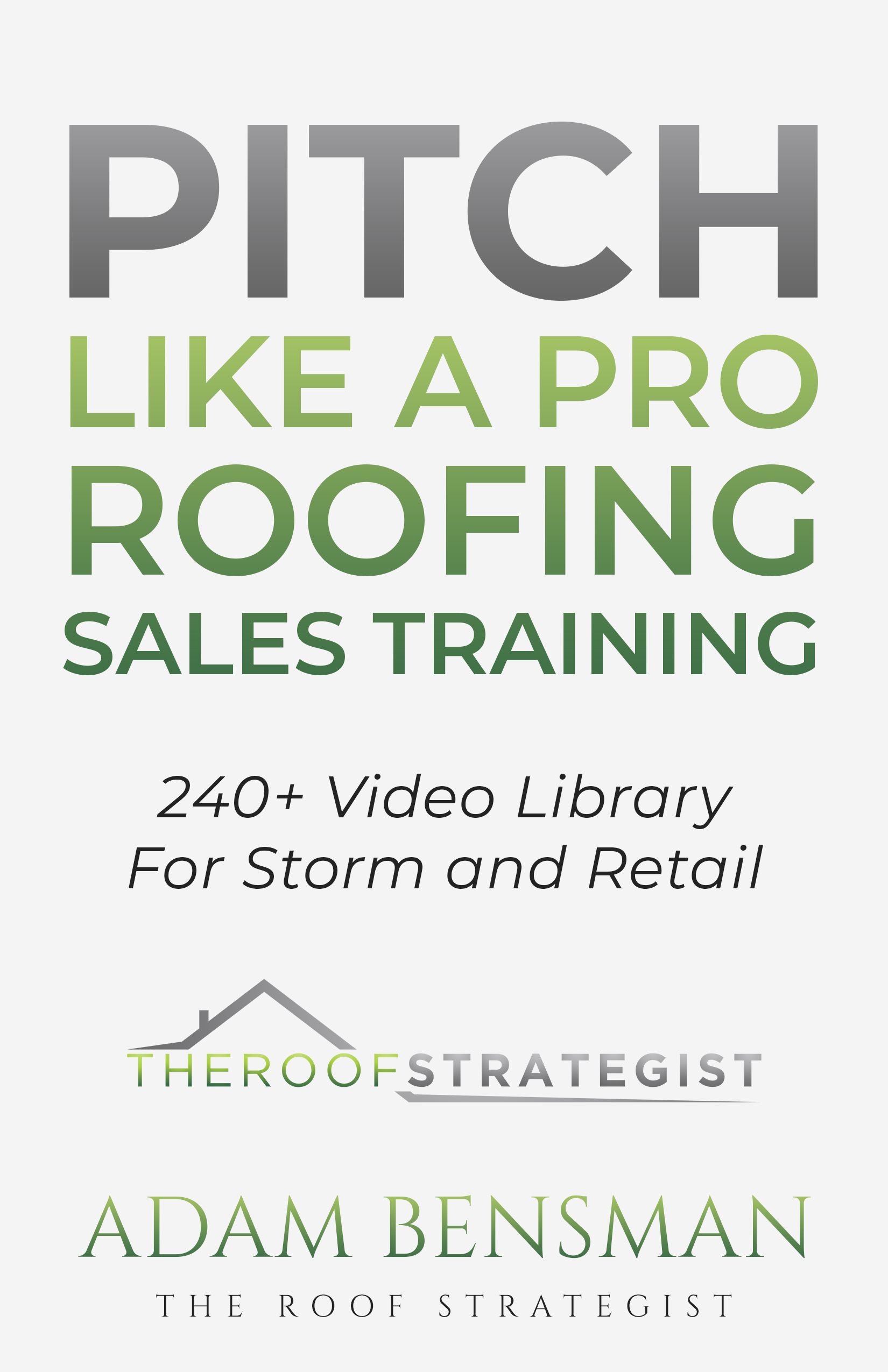 How You Follow-Up Matters in Roofing Sales
I'm covering this topic because I recently had a BAD experience with follow-up from a sales experience. Here's what happened:
A salesperson came to my house on a Saturday at 11:00 a.m.
He called at 2:45 p.m. the same day, leaving me a voicemail that I didn't answer.
He called at 3:00 p.m., leaving another voicemail to ask (again) if I was ready to move forward. At this point, I was getting a little frustrated.
He called me AGAIN at 4:00 p.m. and 4:30 p.m., followed by two calls the next day (on Sunday).
That's SIX follow-up calls that ALL have the same purpose. They all were focused on asking me if I had made a decision.
Now, you can see why I didn't move forward with him.
In fact, when he left the house, I was pretty sure that I was going to choose him and his company. But after I experienced this follow-up, I decided to go in a different direction because:
The salesperson was inconsistent, and he didn't listen.
He made it all about him.
He was NAGGING me.
That's the homeowner's perspective here. And if that salesperson had done what I'm about to teach you here (instead of doing what he did), I likely would've chosen him.
That's the truth — if he just changed this ONE THING in what he said, he could have had my business.
And before I tell you what that ONE THING is, let's lay out some groundwork first so that it all makes sense.
Roofing Sales Follow-Up Rule #1: Make it ALL about the customer.
I do this on the very first follow-up, so I can set expectations of what that customer will experience from me.
As I do that, I make it ALL about the customer, not me.
After all, they don't care about me. So, I need to make it about THEM.
Roofing Sales Follow-Up Rule #2: Give them an easy path to say 'no.'
I know it sounds crazy, but I want to give them an easy path to say "no" because I'm investing my valuable time in the follow-up.
The reality is some homeowners will have already made a decision and don't want to encounter conflict. So, they just ghost you, ignoring your calls and voicemails.
And you never get a definitive answer.
That's why getting a "no" can be valuable.
Of course, it's not as valuable as getting a "yes" because commission doesn't come with a "no." Still, it means that you can move on.
So, again, at the beginning as we're following up with our customers in roofing sales:
We make it all about the customer as we set those expectations.
We give them a clear path to say no.
An Example of How to Follow Up in Roofing Sales: Roleplay
Now, let's shift into roleplay to see how this would work on your very first appointment, with these elements coming together. Here's how I do it and what I say:
Hey Peggy, Adam, here. I just wanted to thank you and your husband for spending your time with me last night talking about your roof project.
I hope you guys have a great trip this weekend up to the Hamptons to visit the in-laws.
When it comes to your roof, I know that you and your husband are both incredibly busy people, and my guess is that you probably have A LOT more that you'd like to give your attention to than this roof project.
So, part of my commitment to providing outstanding service means helping you guys make a decision on the best contractor for you, even if it's not with me.
That's why, I'm going to continually follow up and make myself available to you.
Now, if for ANY reason you make a decision in another direction, please let me know. Again, I understand that you're busy. You can even text or email me the word "no," and I'll take a hint.
Until then, though, I want you to know that I will continually follow up.
So, please do not hesitate to reach out with any questions.
That is the introduction that sets expectations for the follow-up. After that, I'm going to tell them what happens next because:
Homeowners need to be told what to do.
I don't want to leave it up in the air.
I'm going to give them direction and let them know what happens next.
Here's what I say to homeowners to communicate this next part.
I'll be dropping the sample board off at this time.
Then, you'll call me once you get the adjuster's information, and our scheduling department will call you soon to schedule everything.
Alternatively, if they haven't made a decision yet, you can say this:
I'll be following up with you next Tuesday by 3:00 p.m.
I look forward to our follow-up appointment at your house next Tuesday at 3:00 p.m.
All I did was tell them what to do and what I'm going to do.
Now, put yourself in the shoes of the customer. If you heard what I just shared — and if I made it all about them, delivering service, and acknowledging that they're busy while giving them an out — would you be far more receptive to my follow-up calls?
I know that if that gentleman at my house did this, I would've been more polite, I would've texted him back, and it would've opened up a discussion (and, quite frankly, we probably would've chosen that gentleman).
So, that's the ONE simple thing that you can do on the very first follow-up. Just remember to:
Make it about the customer.
Set clear expectations.
Give them an easy out to say "no."
When you do this in your follow-up, you show that you are there to serve them — not to help them write you a check and reek of commission breath.
Now, the next step is to apply this and prove me right or wrong. So, plan to do this on your very next follow-up appointment, using that script to nail the follow-up.
Want More Roofing Sales? Or Training For Your Team?
We've helped thousands of sales reps overcome the same sales challenges you're probably facing. Like not getting enough leads, getting stuck on objections, or not closing sales in the house.
Learn how we can help you:
Get trained up in a lightning-fast 9.5 hours
Self-generate more leads
Become a confident closer
Pick a time for your 1-on-1 demo.
Or use the links below to get instant access, 100% Risk-Free! Backed by our 30-Day 'NO BS' Money Back Guarantee.
Thanks for joining me, and I look forward to sharing more with you in the next blog.