Signing up the neighbors after your first sale in a new neighborhood doesn't have to be hard.
There's a simple way to do it, and that's what I'm going to teach you today.
I'm going to share three steps you can use to drum up additional sales without knocking on doors.
You can also use this roofing sales strategy to enhance your door knocking.
Welcome or welcome back, by the way. My name is Adam Bensman, The Roof Strategist.
Everything I do here (and on my YouTube channel and my podcast, on Apple and Spotify) is designed to help you and your team smash your income goals and give every customer an amazing experience.
So, let's dive in.
FREE "Pitch" Like a Pro Roofing Sales Training
240+ Video Library for Storm and Retail
For Roofing Sales Reps & Owners With New Hires: All the training you need to be a "million dollar" closer!
Get Instant Access FREE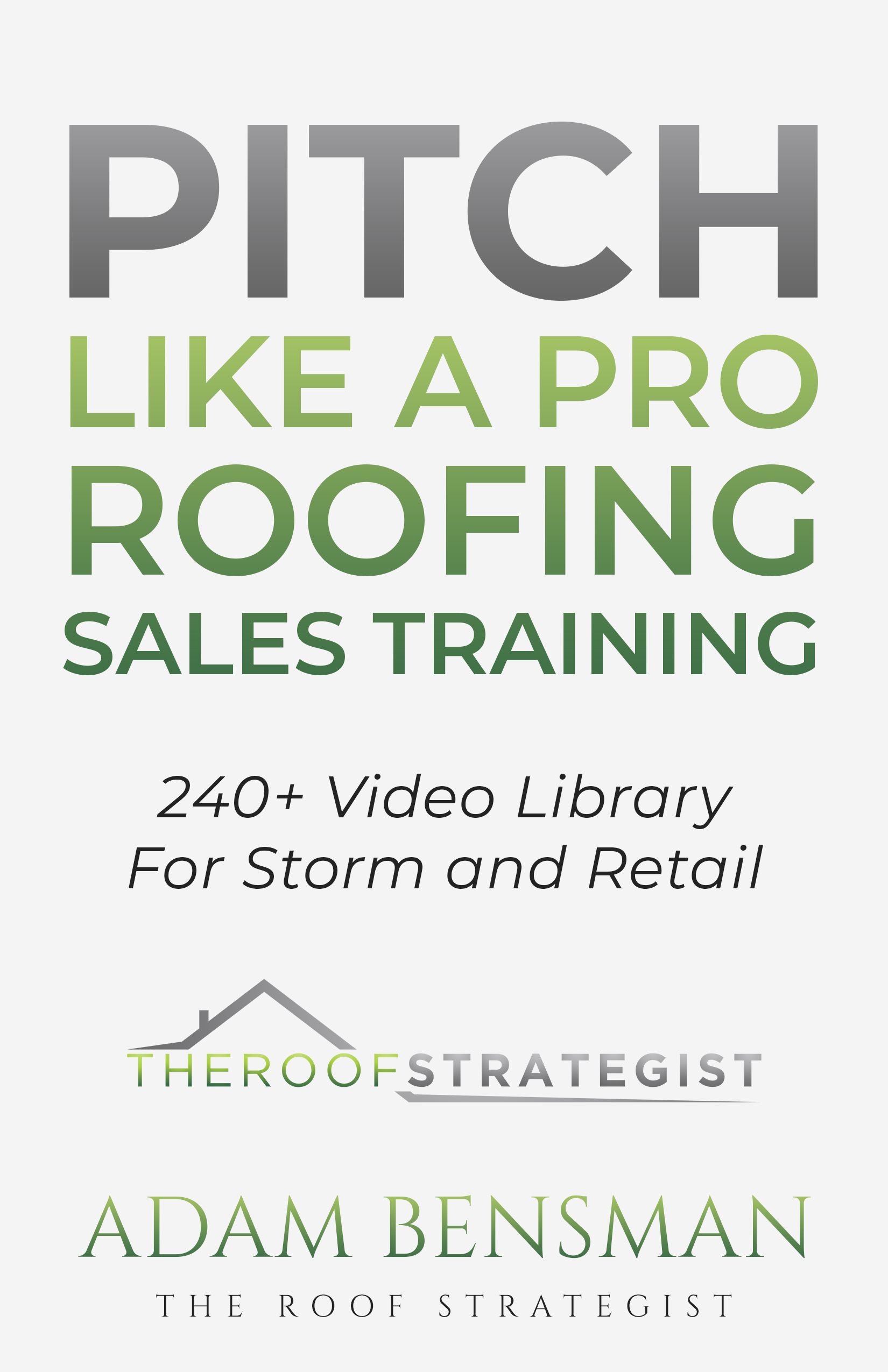 Step 1: Set the Stage
Let's say we just signed up a neighbor across the street.
We want to use this opportunity to build credibility in the neighborhood, so we can start trying to sign up the neighbors.
Here's how I get started.
I stake my yard sign.
I walk across the street.
I have this letter in my hand.
The letter I'm bringing with me has "Neighborhood Notice" printed right at the top, as you can see below.

This is a marketing technique to capture someone's attention.
And if this is an early stage of the storm — and if you're trying to open up what we refer to in the industry as your "honey hole" — we want to capitalize on this opportunity.
So, I'm going to come with this letter in hand, after staking my yard sign at the house directly across the street, prepared to hang it on the neighbor's door.
Why Print Out a "Neighborhood Notice" Letter?
People ask me this all the time, and here's why I do it. The printed letter is personal.
It's NOT just generic marketing literature that looks like the door hangers everyone uses.
The Neighborhood Notice letter, by the way, is part of my Marketing Battle Pack. This turnkey program lets you just plug in your information and click "Print" for instant access to proven marketing materials that can help you earn more sales, no matter how much experience you have (or don't have) in roofing sales.
Step 2: Knock on the Neighbor's Door
Now, with my Neighborhood Notice in hand, I walk up to the neighbor's door, and I knock on it.
If they're home, I'm going to give my pitch to let them know that I'm working with their neighbors and that I can help them out too.
If no one's home, I'm going to hang the Neighborhood Notice on the door.
What does the letter say? It explains that:
I'm working with their neighbors to replace a roof that was totaled from a hail damage.
I'd love the opportunity to work with you.
Contact me today, with an urgent call to action.
I share what I call an "offer bump." This primes the neighbor my "Price Lock Guarantee."
If you've watched my video on Selling the Contingency Agreement, you'll know that I've coined this phrase the 'Price Lock Guarantee' to signify that the property owner is going to pay no more than their deductible.
That's the "price lock." It's set by the insurance company, and it can put homeowners at ease. I use that as a little hook, writing in the call to action:
Be sure to ask us about our Price Lock Guarantee.
That can be intriguing to homeowners. It makes them stop and think:
Wait a minute. A Price Lock Guarantee?
No other roofers talked about this price lock thing.
And that opens up an opportunity for the callback.
How Homeowners React to Seeing the Neighborhood Notice
So, again, I leave my Neighborhood Notice letter rolled up by the door if the neighbor isn't home. Now, as that homeowner comes up to their front door, here's what happens:
They're going to see the rolled-up letter.
They're going to think it's a notice. And guess what? It is!
They're going to read it.
When they do, they'll see your handwritten signature in blue ink at the bottom. I like blue ink and the handwritten signature because, again, gives it a personal touch. And it sets you apart from other roofers who are using the generic door hangers that everyone uses.
This gets that neighbor thinking, Hey, The Roof Strategist was here. Plus, they see your yard sign across the street, and they're going to know who you are.
Step 3: Come Back the Next Day
What if the neighbor doesn't call you after you leave the Neighborhood Notice at their door?
Well, you now have an opportunity to come back the next day.
When you do, here's an effective roofing sales pitch to use at the door:
Hey, my name is Adam. I left some literature for you, a Neighborhood Notice, letting you know we're working with Sally across the street and helping her with her roof.
I might be able to help you with your roof as well.
Have you had your insurance company out yet?
This a GREAT opportunity to help drive more sales as soon as you start inking deals in a new neighborhood — and before the process of installation comes up.
Want More Roofing Sales Strategies, Tips & Videos?
Subscribe for the latest roofing sales training videos and get a copy of my Pitch Like a Pro roofing sales training video library. It includes a ton of videos on roofing sales pitching and canvassing, as well as every video I've ever done, organized by category, along with a bunch of tips, tricks, and more. It's great for new people and seasoned veterans, and it's updated all the time to help you and your team smash your income goals and give every customer an amazing experience.
Also, check out my Marketing Battle Pack for instant access to 70+ pieces of my proven, turnkey roofing sales and marketing materials. It's an entire suite, specially designed for sales teams, managers, and owners, providing:
Scripts
Scheduling
Direct Mail Letters
Door Hangers
Goal Projection Planners
A LOT more!
It's affordably priced and comes with a 100% money-back guarantee. There's also a playlist of instructional videos in there, explaining every single thing. So, you can watch the videos, and you'll know exactly what to do.
Thanks for joining me, and I look forward to sharing more with you in the next blog.