I'm about to explain the HORRIFYING reality of competing on price in roofing sales — and I'm predicting that you will never, ever want to drop your prices ever again after learning this.
Now, this topic keeps coming up because there's no secret that there's always someone willing to do it cheaper.
In fact, I was recently in San Marcos, Texas, training a team of Owens Corning contractors for an invite-only event, and this issue kept coming up. I kept hearing:
Adam, we have cheap labor.
There's ALWAYS someone willing to do it for less, and we're really struggling here.
Now, I have an entire training on how to sell with the highest price and even beat the competition. But this isn't about that.
What this is REALLY designed to do is:
Plant a seed in your mind.
Change the way you think about sales forever.
Help you run ALL of your personal sales decisions and/or your company sales decisions by the numbers.
Now, I'm horrible at math. I've double-checked this math, but I encourage you to pay VERY close attention and double-check my math too.
Most importantly, I want you to follow along and do this math with the numbers that are relevant to your personal sales or your roofing business.
Before we get started, I just want to say a quick welcome or welcome back. My name is Adam Bensman, The Roof Strategist. I'm super excited to have you here. Everything I do here — and on my YouTube channel and in my all-in-one sales training, sales strategy, and sales system, the Roofing Sales Success Formula & Complete Sales Strategy — is designed to help you and your team smash your income goals and give every customer an amazing experience.
But an amazing experience needs to be funded. We can't do it if we're broke.
So, we need to learn how to sell with a higher value, and that's going to start with our mindset.
Now, let's jump right into the horrifying truth about competing on price.
Again, after you do this math with me, I'm betting you will NEVER want to drop your prices ever again.
FREE "Pitch" Like a Pro Roofing Sales Training
240+ Video Library for Storm and Retail
For Roofing Sales Reps & Owners With New Hires: All the training you need to be a "million dollar" closer!
Get Instant Access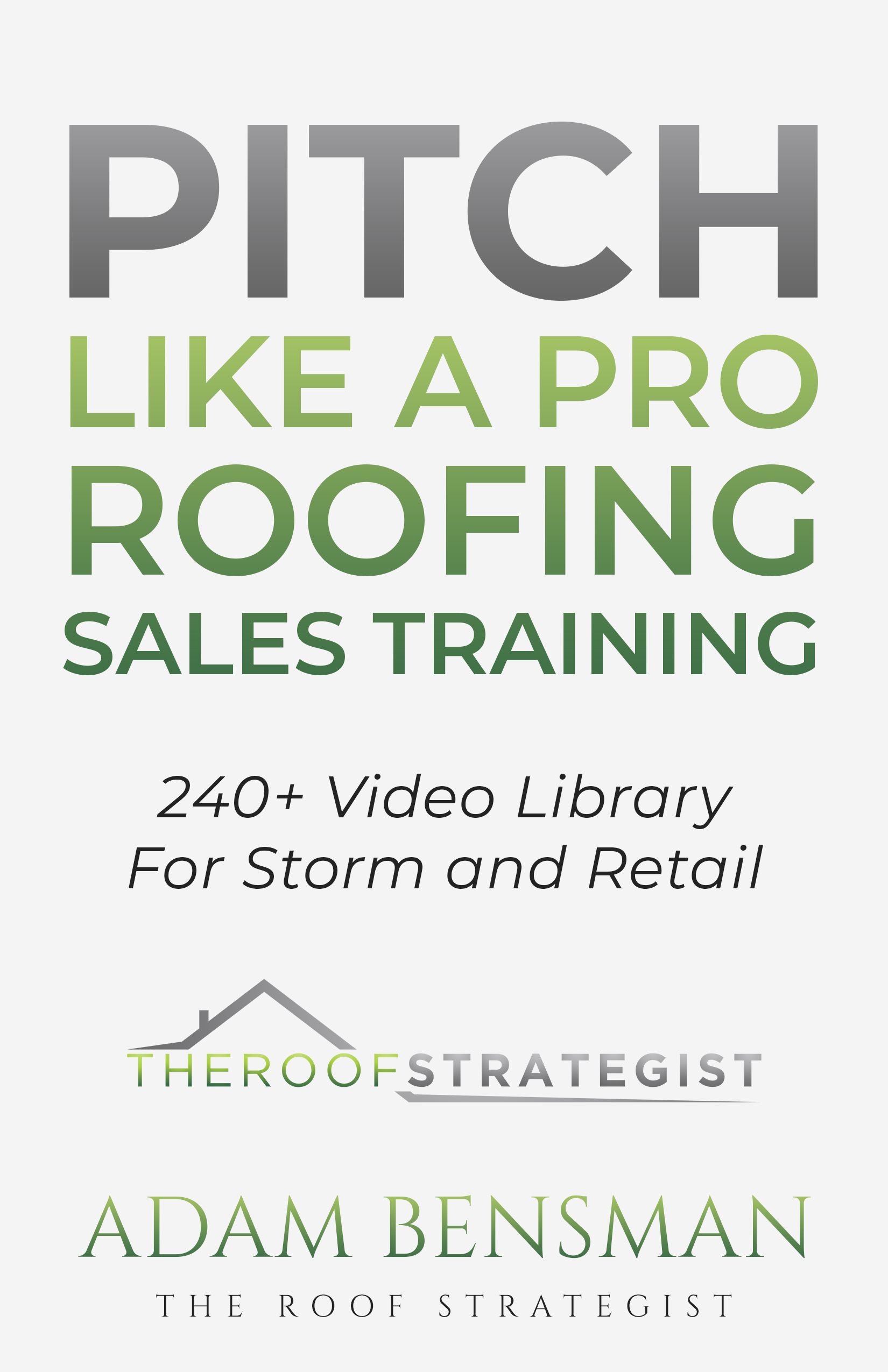 How Price Drops Impact Roofing Sales Reps
Let's start on the individual level, looking at a roofing sales rep. I'm going to say this salesperson sells an average of 100 roofs.
By the way, that number is based on a recent poll I put up on Instagram. I simply asked this:
How many roofs should the average salesperson sell? This is someone who's a good fit for the industry and who's working full-time.
50 to 100 is what most folks said. Now, I know that there are many who can do more than that, depending on the structure of the business. So, reflect on your number, but follow along on my math.
Generally speaking, when we start competing on price:
We're doing price drops on the retail side.
We're giving things away, like free upgrades.
We end up forfeiting our commission.
In fact, when we start giving things away, our commission can take a hit to the tune of about $200 to $500.
Many salespeople rationalize this (and, believe me, as a new salesperson, I fell victim to this very delusional way of thinking), saying to themselves:
Well, I'm giving up $200 to $500, but that's in exchange for earning $1,000, $2,000, or $3,000.
So, if I have to give up a little, it's okay.
Again, you might be sitting there thinking:
Well, yeah, that makes sense.
After all, if someone tells me, 'Here's $2,000 or $1,800, do I REALLY care about the difference?
Of course, I'd rather have the $2,000, BUT I'll settle for $1,800 because it's still better than nothing!'
The problem with that line of thinking is that we are NOT considering the COMPOUND EFFECTS of what that actually means on our personal income.
How Much Reps LOSE with Price Drops in Roofing Sales: The Math
If we sell 100 roofs and we're giving up $200 to $500 with every sale, we are forfeiting $20,000 to $50,000 of income every single year.
100 roofs/year x $200 lost/roof = $20,000 lost/year
100 roofs/year x $500 lost/roof = $50,000 lost/year
We are literally just giving away $20,000 to $50,000 of income every single year. Now, imagine going home to your significant other tonight and saying, "Honey, are you cool if I give away $20,000 to $50,000 of our income to make easier sales and bring in some money?"
"NO," is probably what your significant other is going to say. Maybe they'll even grab your shoulders and give you a good solid shake, saying:
Honey, just learn to SELL the value because you won't need to sell as much.
Why are you giving away our income that is supposed to feed our kids, set up our future, buy our dream home, and set us up to retire early?
What are you thinking?
So, to make up for this $20,000 to $50,000 deficit, you now have to sell an extra 10 to 25 roofs per year if your average commission is $2,000. That's a 10% to 25% increase in your sales volume just to make it BACK to where you should have been.
That is CRAZY.
Now, based on everything I've seen, if you were to sell these roofs WITHOUT having to compete on price, your close weight may drop, BUT it likely will NOT drop 10% to 25%, again based on my experience.
The point?
Just SELL AT A HIGHER PRICE. Even if you bring in less sales, you will still be:
More profitable
Earning this money, instead of having to chase 10% to 25% growth simply to net out at where you already should have been.
How Price Drops Can Hurt Roofing Sales Companies
This picture gets WAY more horrifying when we dial out to the company level. So, owners and managers, pay very close attention here.
For this example, I'm going to use a company that's selling 300 roofs a year. That's about a $6 million/year company, with a $20,000 average on roofs. So, your mileage may vary if you are competing on price.
Generally speaking, with full roof systems, we're not competing on hundreds of dollars — we are talking thousands of dollars.
So, let's say that you're giving up $2,000 on every single roof. Here's the math:
300 roofs/year x $2,000 lost/roof = $600,000 lost/year
$600,000 of PURE GRAVY PROFIT on the table is simply now out of the company's pocket.
That's more than a HALF MILLION DOLLARS just GIVEN AWAY. It's a boatload of money, and it gets even more chilling when we look at the cost to the company and what we need to do to make up for it.
How Much Companies LOSE with Price Drops in Roofing Sales
Now, if we look at average company profit (again, this is a range; adjust to your market, as needed), if the average roof is roughly $4,000, that means that:
The company must sell 150 additional roofs to get that money back.
There will be 150 MORE homes that the company is liable for if something goes wrong.
There are 150 MORE homes that the company is married to through the life of the labor warranty.
The company's sales force and cash flow are tied up to sell 50% more roofs, just to get the same amount of profit.
So, if you ARE coming in at an average of $2,000 higher on price because you decided you don't want to compete on price, will your close rate going to go down by half?
No, it won't. So, even if you sold less roofs at a higher amount, you will still end up making more money.
This race to the bottom is ludicrous because:
We forfeit money.
We increase our liability.
We destroy our cash flow.
We steal from those we love
I know the word stealing sounds dramatic, BUT if I took $20,000 to $50,000 away from my family because I'm giving it to my customers, I AM stealing from my family. It's a different way to think about this.
BUT if we end up bringing in an extra $600,000 at the company level — or the extra $20,000 to $50,000 at the individual level — what could that do for your growth, whether it's with your company or your family?
Your Assignment: Crunch Your Numbers
Now that you've seen the numbers and how the math shakes out in general, I want you to:
Run the numbers, based on the number of roofs you sold.
Do the math to figure out the average amount that you've given up on a project.
Determine that difference and how many more roofs you need to sell.
After doing that, will you ever drop your price?
No, right?
After all, smart salespeople who learn how to sell at a higher price, even if their close rate isn't as high, end up in a better position, with happier customers who have an amazing experience, because they can fund the growth.
So, there you have it. That's the horrifying truth of how price dropping can start a race to the bottom for you and your company.
Get More Roofing Sales Strategies, Scripts, Tips & Videos
If you want more on any roofing sales topic, you'll find it in my all-in-one sales training, sales strategy, and sales system, the Roofing Sales Success Formula & Complete Sales Strategy.
This exclusive program covers everything from knock to close, with packages for individual roofing sales reps and entire teams. Many roofing sales companies LOVE this program because it's a consistent process to train everybody on a relatable sales system that WORKS and that's a lightning-fast way to get results.
If you have questions, just call or text (303) 222-7133 for more info or a private demo.
You can also subscribe for the latest roofing sales training videos and/or get a copy of my Pitch Like a Pro roofing sales training video library. It includes every roofing sales video I've ever done, organized by category, along with a bunch of tips, tricks, and more. It's great for new people and seasoned veterans, and it's updated all the time to help you and your team smash your income goals and give every customer an amazing experience.
And don't forget to check out my Marketing Battle Pack for instant access to 70+ pieces of my proven, turnkey roofing sales and marketing materials. It's an entire suite, specially designed for sales teams, managers, and owners, providing:
Scripts
Scheduling
Direct Mail Letters
Door Hangers
Goal Projection Planners
A LOT more!
It's affordably priced and comes with a 100% money-back guarantee. There's also a playlist of instructional videos in there, explaining every single thing. So, you can watch the videos, and you'll know exactly what to do.
Thanks for joining me, and I look forward to sharing more with you in the next blog.