How do you get more leads from home shows?
Well, if you're like most roofing contractors, you probably think home shows are okay. In fact, they usually don't produce great results.
And, sometimes, unfortunately, they're a total FLOP.
You invest all of this time, energy, and money to get the booth, the signage, your swag, and all of the stuff you need to bring, only to see some pretty dismal results.
Now, I see A LOT of salespeople who really don't want to work home shows, but they have to be there. So, they don't feel like home shows are a really great use of their time.
Well, I'm going to let you in on a little secret.
When done right, home shows can become WILDLY profitable lead sources, generating hot leads that book appointments and turn into real sales.
And the way to do that is to blend these five elements that'll be teaching you here. These five tips CAN get you more leads from home shows.
So, the very next home show you have, start doing this stuff. It's all cheap, fast, and easy — and it WILL help you get more leads.
By the way, thanks for joining me on today's video. My name is Adam Bensman, The Roof Strategist. Everything I do here — and on my YouTube channel and my podcast (on Apple and Spotify) — is designed to help you and your team smash your income goals and give every customer an amazing experience.
And I have a freebie for you to help jumpstart that journey. If you haven't already done it, get your free copy of my Pitch Like a Pro roofing sales training video library, with more than 300 videos, organized by category, for easy binging. You can get instant access now (by clicking on that link).
Now, let's get to the five different strategies you can use to get more leads from home shows.
Quick Background
I learned all these in the trenches, at home shows and conferences that I've attended as a guest, a host, and a booth host. In fact, I've worked with companies to maximize sales at their home shows by simply understanding:
How potential customers are roaming the homes
How they think and what they're looking for
What's going to capture their attention and draw them in
And here are a handful of strategies that work to get more hot leads.
FREE "Pitch" Like a Pro Roofing Sales Training
240+ Video Library for Storm and Retail
For Roofing Sales Reps & Owners With New Hires: All the training you need to be a "million dollar" closer!
Get Instant Access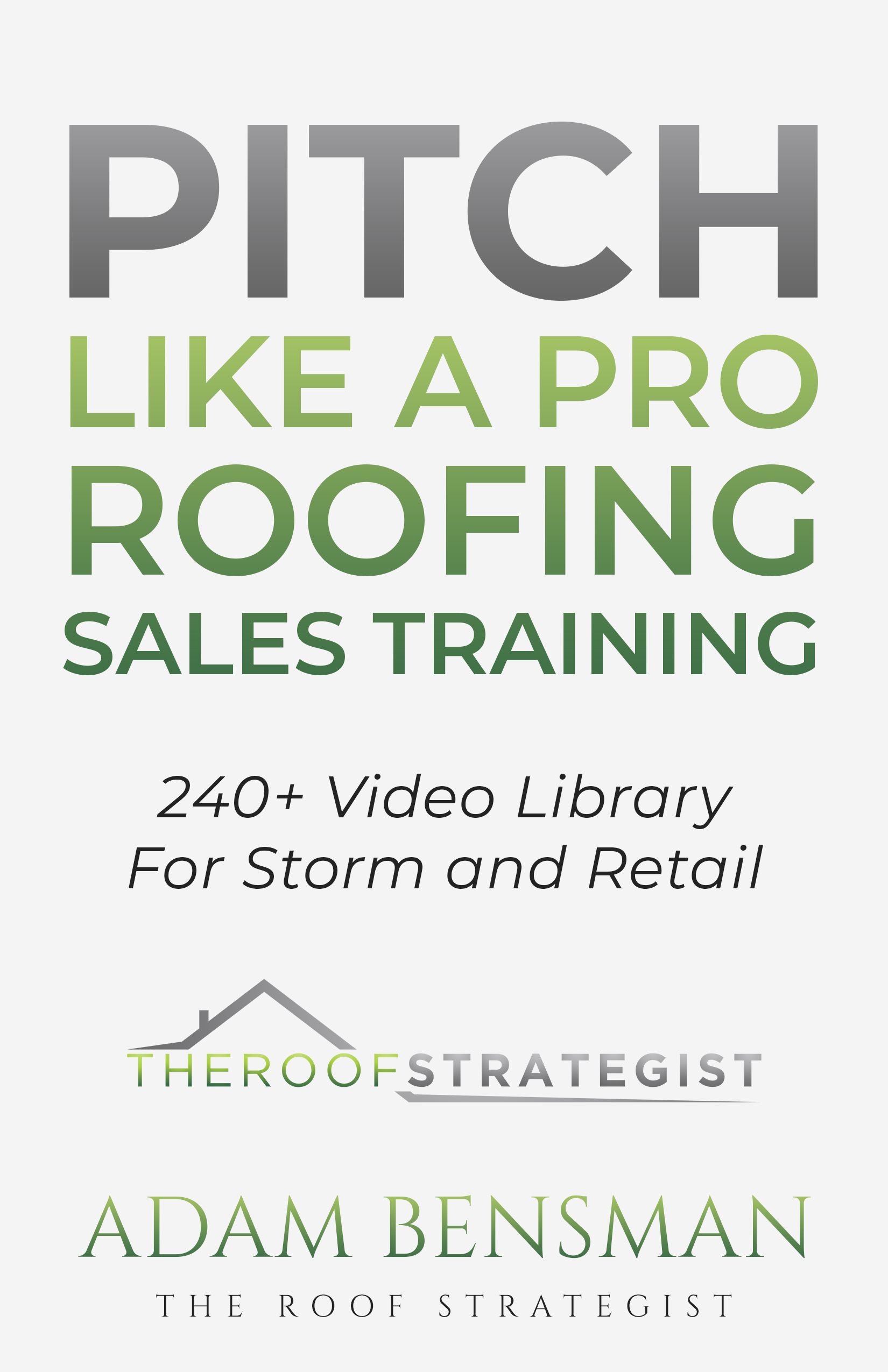 Home Show HOT Lead Strategy #1: Ditch the Table
No table? Yes, do not use a table.
Now, you're probably thinking:
Well, where are we going to put our big, fancy banner?
Where are we going to put our business cards, our candy, and all of the things people are going to pick up?
You're not going to put it between you and the customer because that's wildly impersonal. It's NOT how people do business.
In fact, I invite you to stop by my booth at Roofing Con and Roofing Process. If you do, you'll see that there will NEVER be a table there (unless they force me to have one).
Why? Because I want to invite you in. I want to:
Have a human-to-human interaction
Connect on a personal level, instead of having this type of "business" transaction between you and this customer, essentially (and literally) keeping them at a distance and in the walkway, so they continue walking
So, NO table for you to stand behind.
Now, let me take a step back here. I do like a table, sometimes, but I push my table off in the corner when I use one.
I know Feng Shui and all — it's not perfect. But it DOES give you a place to retrieve all of the swag, the offers, the business cards, literature samples, demo products — all that stuff. It can provide a more engaging atmosphere to invite people in.
So, the first tip is to not use or stand behind a table so that you can create an inviting space.
Home Show HOT Lead Strategy #2: Start the Conversation
You need to be out in that walkway, initiating the conversation.
And guess what works wildly well (just like in door-to-door roofing sales)?
It's the SLAP Formula:
Say 'Hi' and break the ice.
Let them know why you're there.
Ask an open-ended question and wait for their answer.
Present to their answer.
That SLAP Formula that works at the door also works WILDLY well to simply start that conversation at home shows.
And if you've walked around home shows, I'm sure you've seen those people behind the table doing ALL the wrong things. They're sitting in a chair, behind a table, looking at their phone, and just killing time.
And that broadcasts the wrong message. If that's what you're doing at home shows, you're never going to make sales.
So, the bottom line is that you're there to sell, with no table and an inviting space — and you're going to start the conversation.
Home Show HOT Lead Strategy #3: Run a Giveaway
I recommend having a giveaway. Now, what kind of stuff can you give away?
All sorts of stuff, like:
TVs: I've given away TVs. You can put a big TV up in your booth with a "FREE GIVEAWAY" sign on it.
Tickets: You can give away concert tickets or tickets to a sports game.
Gift certificates: These can include restaurant gift certificates, Amazon gift certificates, or gift certificates to any big-name retailer.
Electronics: iPads, computers, or other cool new gadgets are also fun and exciting for people.
The point is that the giveaway can be a real attention grabber, especially when:
You have an inviting space.
You're out starting the conversation.
With that, the giveaway becomes like a little bonus, a carrot dangling some bait out and sending the message:
Hey, come on in.
We got some fun stuff for you, whether you buy from us or not, you can be entered to win this great TV.
Essentially, a giveaway is a really strong lure that can bring some joy and excitement. And by the way, look at it like a marketing expense.
Now, to run a giveaway, you can do a drawing, entering people into the contest as they come into your booth or area. That's what I did.
So, the giveaway is a very important strategy to attract people to you and your space at a home show.
Home Show HOT Lead Strategy #4: Offer a "Show Deal"
The "show deal" is a wildly powerful offer that gives people a strong reason to take action TODAY.
After all, people will ghost you if you just grab their info and try to follow up later. They don't answer the phone, or they tell you, "We'll call you if we're interested." Either way, you don't lock deals down, and you get a lot of lukewarm traffic.
So, we need to give people a reason to want to take this offer right NOW.
With the show deal, you can do things like offering the following to homeowners who book an appointment today:
A $50 gift card: If they book, you can bring the $50 gift card (to a local restaurant, Amazon, Walmart, gas franchise, or whatever) when you show up for the appointment.
A show discount: If they book an appointment today and they decide to move forward with you, you can knock $1,000 (or whatever) off of the installation.
An upgrade: If they book an appointment today and they decide to move forward with you, you can upgrade their shingles at no extra cost.
This show deal introduces a sense of urgency and scarcity to the situation. It gives the customer a compelling reason to take action right NOW because if they don't, this offer goes away, and you're not offering it anywhere else.
So, having that show deal gets them to take action right NOW.
Home Show HOT Lead Strategy #5: Book the Appointment
The final tip for getting more hot leads at home shows is to book the appointment right on the spot.
Now, many people do NOT do this.
They take the card, chat, play phone, and/or send some text messages.
You NEED to convert that lead into the appointment, right then, for the show deal to get locked in and enter the giveaway.
How to Tie It All Together
Here's how to pull all of this together. When you are at the home show, chatting with people, say something like this:
Hey, if you book your appointment for a free estimate, whether you choose to work with us or not, there are two things I'm going to do.
First, I'm going to lock in the show deal.
That means I'll be bringing a $50 gift card with me to our appointment, just for the opportunity to sit down and chat with you.
Again, there is absolutely no obligation here.
Plus, you will be entered to win this TV.
How to Get Hot Leads at Home Shows: Pro Tip
The hottest lead from a home show that closed on the nicest project would always win our giveaway prize.
So, we'd show up with that TV, and the gift card (or whatever it was), and that homeowner was truly ecstatic.
Again, reciprocity is one of the most powerful centers of influence. That means that if you do something nice for someone, they do something nice for you.
Recap: 5 Strategies for Getting Hotter Leads & Deals from Home Shows
Blending this all together, here's a quick summary of the five things you can do to get more hot leads at home shows.
Create an inviting space with no table that stands as a barrier between you and the customer: You don't want to keep folks in the walkway. You want to invite them in.
Start the conversation: Be energetic, happy, and enthusiastic. Smile. And use the SLAP Formula to initiate these conversations.
Run a giveaway: Set this up prominently in your booth. It's going to lure people in and get them excited about the opportunity to win some cool gadget that they want or wish they had.
Offer a show deal: Make this a really compelling, powerful offer that will get people to take action on the spot. You want them thinking, I do want an estimate. I do want an assessment. I do want an inspection, and I want it right now!
Book the appointment on the spot: Use your show deal to book appointments while you're at the home show. Invite people to lock in the show deal and get in on the giveaway.
So, those are the five very simple — and cheap, easy, and wildly lucrative — steps to help you generate more deals at the very next home show you run.
Get More Roofing Sales Strategies, Scripts, Tips & Videos
If you want more on any topic in roofing sales, you'll find it in my all-in-one sales training, sales strategy, and sales system, the Roofing Sales Success Formula & Complete Sales Strategy.
This exclusive program covers everything from knock to close, with packages for individual roofing sales reps and entire teams. Many roofing sales companies LOVE this program because it's a consistent process to train everybody on a relatable sales system that WORKS and that's a lightning-fast way to get results.
If you have questions, just call or text (303) 222-7133 for more info or a private demo.
You can also subscribe for the latest roofing sales training videos and/or get a copy of my Pitch Like a Pro roofing sales training video library. It includes every roofing sales video I've ever done, organized by category, along with a bunch of tips, tricks, and more. It's great for new people and seasoned veterans, and it's updated all the time to help you and your team smash your income goals and give every customer an amazing experience.
And don't forget to check out my Marketing Battle Pack for instant access to 70+ pieces of my proven, turnkey roofing sales and marketing materials. It's an entire suite, specially designed for sales teams, managers, and owners, providing:
Scripts
Scheduling
Direct Mail Letters
Door Hangers
Goal Projection Planners
A LOT more!
It's affordably priced and comes with a 100% money-back guarantee. There's also a playlist of instructional videos in there, explaining every single thing. So, you can watch the videos, and you'll know exactly what to do.
Thanks for joining me, and I look forward to sharing more with you in the next blog.