How do you become more confident selling roofs?
If you're new, how do you be confident communicating things you're not quite sure about yet?
Or if you're seasoned, how do you regain confidence after you've been knocked down a peg or two?
I'm going to teach you how to be confident, even if you aren't yet. I'm going to share a very simple tool that I learned from someone else.
After all, we need clarity, and we need focus to earn business in roofing sales because people don't want to buy from someone who's wishy washy. We need that drive, clarity, and passion to communicate clearly to a homeowner that we really, in fact, know what we're doing.
But if you don't know everything, how can you embody those skill sets?
Here's how.
Setting the Scene: A True Story
Now, I'm giving 100% credit where credit is due. And that goes to a gentleman named Marcos with AGU Roofing. He's one of the most kind-hearted, passionate, and intelligent leaders I have worked with. He and I went out to dinner (thank you for dinner, by the way, Marcos), and we were joined by Marcus.
Both Marcos and Marcus work in Orlando. They are competitors. Yet, here we are sharing, inspiring each other, and helping each other grow. And that is the power of the movement, the Pitch Pro Movement. Both of them are members, along with their teams. And they're all using the Roofing Sales Success Formula for their team.
Now, I'm telling you this story because Marcos pulled something out of his hat. It was one of the most intelligent, powerful lessons that all sales leaders should listen to.
So, listen up owners and managers. This is a lesson that every single sales rep can learn from. And, Marcos, thank you. This is a brilliant way to teach anyone how to be confident even if they aren't yet.
My name is Adam Bensman, The Roof Strategist. Welcome back. Everything I do here (and on my YouTube channel and my podcast, on Apple and Spotify) is designed for one simple reason. And that is to help you and your team smash your income goals and give every customer an amazing experience.
Let's begin.
FREE "Pitch" Like a Pro Roofing Sales Training
240+ Video Library for Storm and Retail
For Roofing Sales Reps & Owners With New Hires: All the training you need to be a "million dollar" closer!
Get Instant Access FREE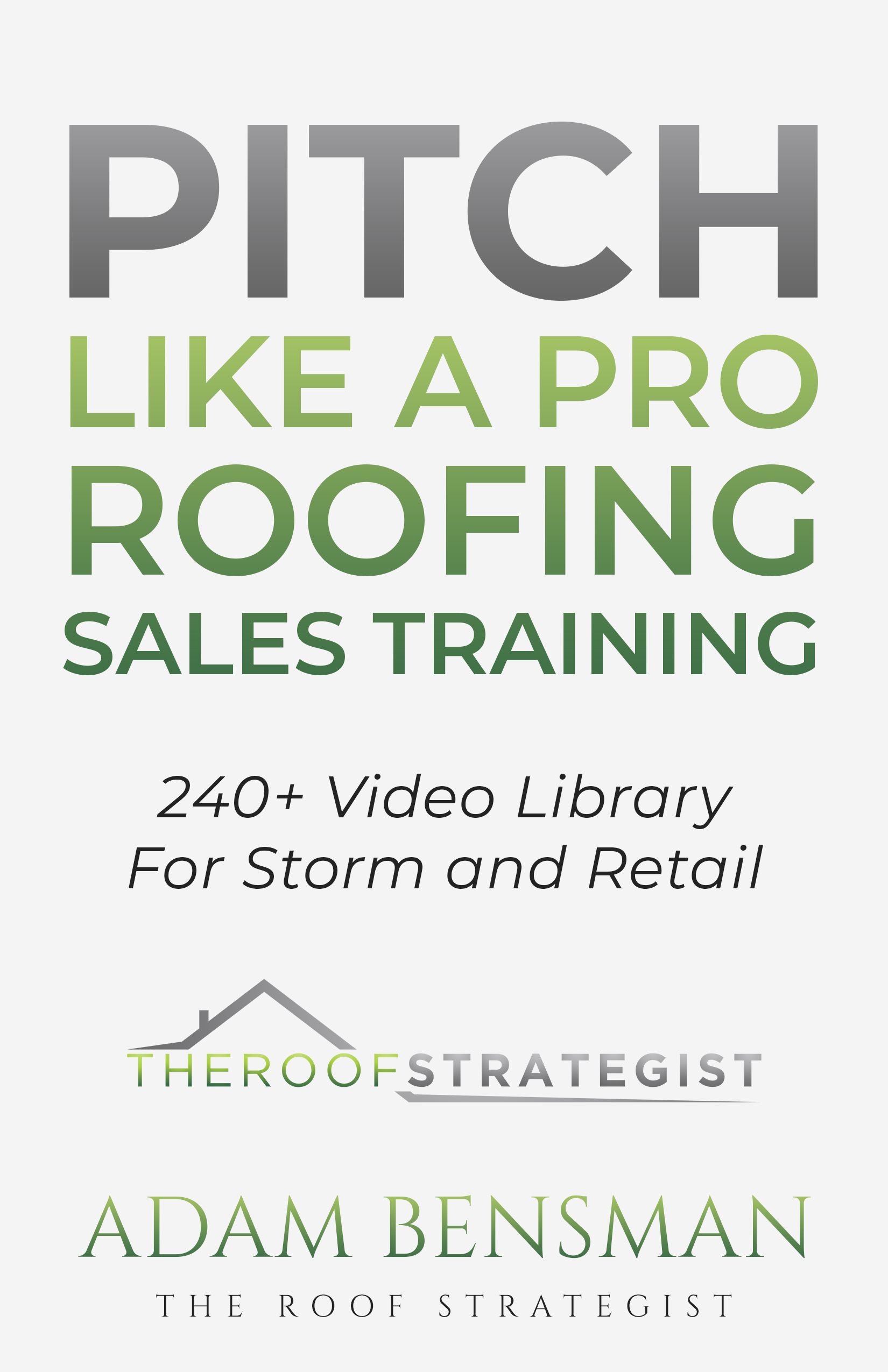 The Best Strategy for Gaining Confidence in Roofing Sales
The story I'm sharing with you took place at this dinner. I'm sitting at the table, and our steaks get served. I'm there with Marcos, Marcus, and a guy named Dick, who is a young sales rep on the team. He's a very passionate, very hungry, and has a huge heart.
Marco sees the vision, the passion, the drive, and the potential inside of Dick. But Dick hasn't quite uncovered that for himself yet. But he's incredibly passionate about the culinary arts and cooking. And he's a fantastic cook.
So, we're sitting in the booth at this restaurant in Orlando just after day two at Roof Con. We order ribeye steaks. Those get served, and we're cutting into them.
Dick, who loves steak and cooking, starts sharing a story minutes after talking about how he can be more confident when he deals with homeowners. Because there's still some trepidation and hesitation that's coming across. By the way, Dick is performing at a high level, and he's doing very well. But he knows that his ability to improve and sell better — and to give customers an even better experience — depends on boosting his confidence. But he's struggling in it.
That's when Marcos did something truly brilliant.
As we're cutting into the stakes, Dick says "Guys, I make the best New York strip steak ever. I would love to have you guys over for a grill out and cook you this steak."
Without skipping a beat, Marcos says, "Oh yeah? Why is that?"
Bringing the Passion & Confidence to Life
Suddenly, Dick shifts into this mode of pure passion and excitement, and he says:
I take this New York Strip, and I melt down butter. I infuse it with herbs in rosemary and garlic. And, then, I coat the steak in this butter, and I put it back in the fridge, so the butter seals itself around that steak. And it essentially marinates in this beautiful, rich fatty flavor, infusing all of these herbs and aromatics.
And then on a ripping hot skillet, I throw that New York strip on there for about three minutes on each side. And I tilt the pan and I start basting, and I get that steak nice and coated. Then, we let it rest. It will blow your mind.
Then, Marcos turns to Dick and says, "Dick, THAT is the confidence that you need when you communicate. You need to pretend you talking about the best steak of your life."
And I sat there because I fell right into this. Dick fell right into this. Marcus sitting with me fell right into this.
And Marco says to Dick:
That, my friend, is exactly why I asked you because I know your passion, I know your excitement, and I know your drive. And if you are able to embody that same level of passion, that same level of excitement with what you do and how you communicate your love, your passion for that incredible New York strip steak, you are going to be able to communicate with confidence, even if you quite don't feel it yet.
And that moment, for me, was one of the MOST memorable experiences ever. Thank you to both Marcos and Dick.
How to Bring Out Your Confidence in Roofing Sales
Here's what we can all take away from that story — we need to embody the confidence within us. To bring out that confidence, we need to:
Remember and think about our greatest passions
Rehearse talking about what excites us
Your mission is to bottle that up and bring it into what you do and how you communicate with a homeowner.
You do NOT need to be passionate about roofs and roofing systems and processes.
But you DO need to be passionate about providing an amazing experience for that customer.
And you can do that by communicating just like Dick did when he described why he loves cooking that steak. When you do, without even thinking about it, you will be more confident in every single conversation that you have.
To learn more about how to develop confidence, check out my playlist on Boosting Your Confidence.
Want More Roofing Sales Tips, Training & Videos?
Subscribe for the latest roofing sales training videos and get your copy of my Pitch Like a Pro roofing sales training video library. It includes every video I've ever done, organized by category, along with a bunch of tips, tricks, and more. It's updated all the time to help you and your team SMASH your income goals and give every customer an amazing experience.
Also, check out my Marketing Battle Pack for instant access to 70+ pieces of my proven, turnkey roofing sales and marketing materials. It's an entire suite, specially designed for sales teams, managers, and owners, providing:
Scripts
Scheduling
Direct Mail Letters
Door Hangers
Goal Projection Planners
A LOT more!
It's affordably priced and comes with a 100% money-back guarantee. There's also a playlist of instructional videos in there, explaining every single thing. So, you can watch the videos, and you'll know exactly what to do.
Thanks for joining me, and I look forward to sharing more with you in the next blog. And, Marcos, thank you very much.