How do you win business against a competitor in roofing sales? It's by doing things that they didn't do.
If you've watched my videos or read my blogs, you know that almost everything we do to win business in roofing sales involves educating a homeowner in ways that other people have not. This allows us to build a tremendous amount of trust and then, of course, earn the business.
One thing that comes up a lot is ice and water shield, a component we use on nearly every roof (and, yes, I know it's not the same in every market; southern versus northern markets can do it differently, based on location, code requirements, etc.).
Now, the problem is that most folks don't go into detail to communicate what the ice and water shield really does. Here's why you should if you want to stand apart from your competition in roofing sales.
By the way, welcome. My name is Adam Bensman, The Roof Strategist. Everything I do here is designed with one simple goal in mind — to help you smash your income goals and give every customer an amazing experience.
Why Explain Ice & Water Shield?
I'm going to share a story with you to highlight why we need to learn to sell ice and water shield, even if you're thinking, Well, everyone uses it.
This is from one of my biggest influencers, Joseph Sugarman. He is one of the greatest direct response copywriters of all time (and if you're looking for an author to read or someone to follow, I strongly recommend Joseph Sugarman). He had record-breaking sales by writing an ad to sell smoke detectors, which is quite possibly the most boring thing that anyone would ever want to shop for.
Here's how he did it.
How to Sell More Roofing with the Right Explanation: The Sugarman Approach
Back in the day, every single smoke detector contained a special metal compound as a sensor. When smoke would hit it, the compound would expand, triggering the smoke detector's alarm.
Joseph Sugarman realized that every single smoke detector has one of these sensors, but no one was talking about it.
So, he crafts this incredible print ad (in the '60s or '70s, I believe), describing the hypersensitivity of this smoke detector and how it can protect families. He also used the ad to educate people and explain how the smoke detector worked. He pointed out that:
The smoke detector had this incredible element to keep people safe.
The element is made of precious metals, which he described in detail.
When smoke hits that element, it expands and triggers these sensors, sounding an alarm that smoke is in a home.
Not once did the ad mention that this was "exclusive" or that other smoke detectors didn't have this element. He simply said our smoke detector has this. And the result was record-breaking sales.
So, if this philosophy can work for selling quite possibly the most boring thing in the world to purchase, it can certainly work in roofing sales.
FREE "Pitch" Like a Pro Roofing Sales Training
240+ Video Library for Storm and Retail
For Roofing Sales Reps & Owners With New Hires: All the training you need to be a "million dollar" closer!
Get Instant Access FREE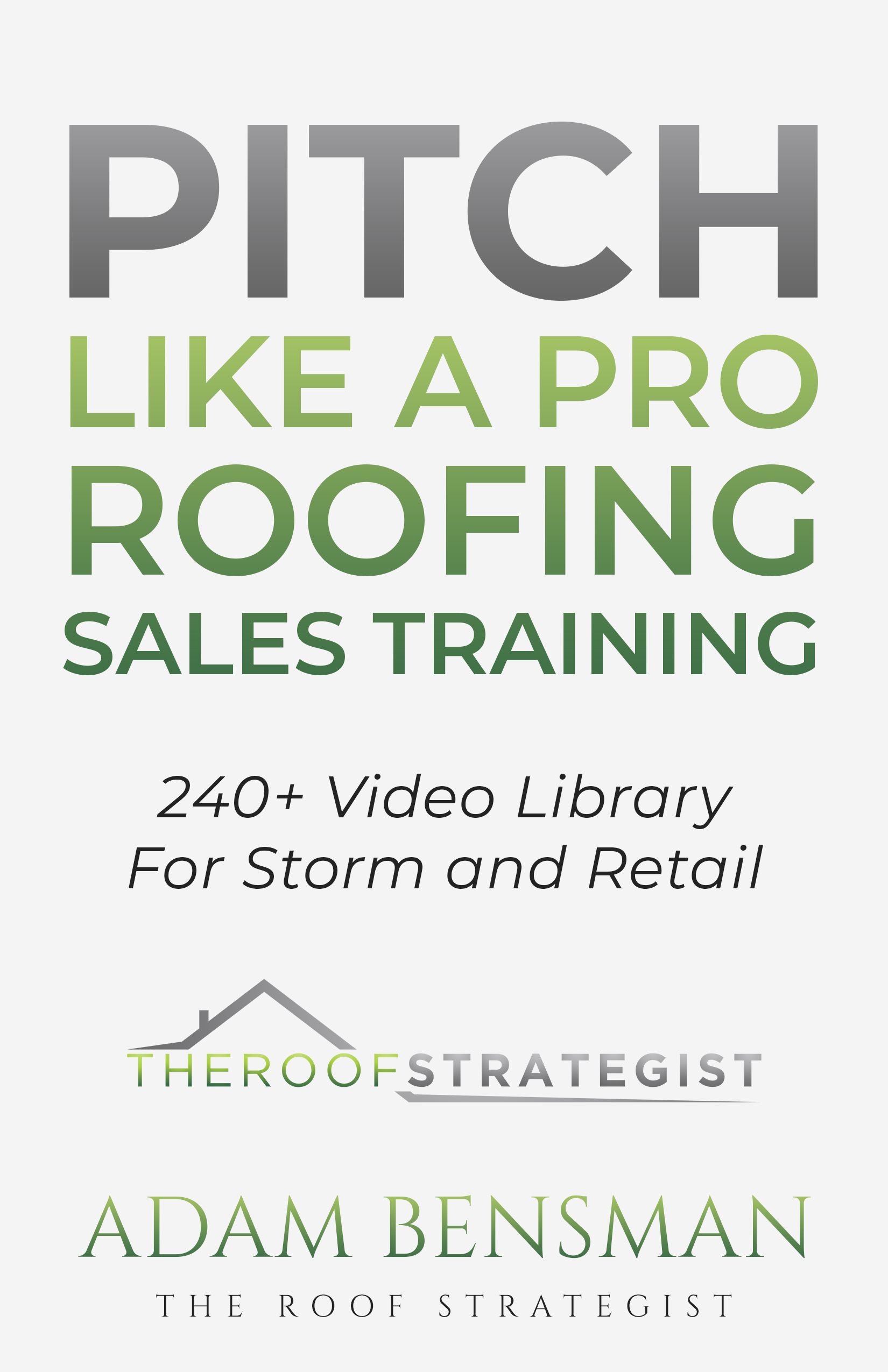 How to Explain & Sell Ice & Water Shield
I'm going to teach you what has worked incredibly well for me to win business over competitors. I cracked this code in the very first year that I was selling roofs, and I've trained tons of people to use it (I even shared it at Roof Con).
This is really going to help because, never in a million years, did I think I'd have to explain ice and water shield homeowners. So, here is how I do it.
I like to explain this using my hands and making a sketch. I do this to draw in homeowners' attention because it's a really powerful strategy with in-person sales.
Roofing Sales Script & Sketches: How to Explain Ice & Water Shield
Here's exactly what I say, draw, and show homeowners when I'm explaining ice and water shields. Below, I have the sketches and gestures I show them at each part of my explanation, which is in italics.
Mr. Homeowner, as you know, here's a cross-section of roof and your gutters.
We want water to shed off your roof. So, water's going to be coming down this way.
But what can happen, especially in colder climates (like my friends up north), are ice dams or any potential for water to go the other direction.
That can cause the gutters to freeze up, with water coming over the gutters.
That's when we get these little icicles and ice buildup.
When that happens, we've got water going in the wrong direction, underneath your roof shingles or in areas of heavy water traffic, like the valley of the roof. So, we've got water coming down to a central point, and we have a lot of water flooding down there.
Now, we want to make sure you're protected as best as possible.
So, Mr. Homeowner, think of this as a roof shingle is installed. Here's your little shingle and its nail strip. We've got multiple nails going into that shingle (each "x" in the image represents a nail).
Now, the underlayment that it goes through goes like this.
Sometimes roofing companies choose to use metal in the valleys of the roof.
Well, let me ask you this Mr. Homeowner, what happens when you put a nail in a coke can?
See all that space? If you put a nail in a Coke can, you can see in the background there, and there's plenty of room for water to come through.
So, what happens with all these nails going through?
Water is going to seep out, and water has a lot of different opportunities to find its way into your home.
Now, ice and water shield is a very special membrane that we apply by peeling and sticking it to the decking of your roof. We do that, following building code, from the eaves where the water's going to run off or in the valleys.
This ice and water shield is special because it's a self-sealing membrane.
Now, what do I mean by that?
I mean that water can't get through it.
That eliminates the hundreds and hundreds of tiny little holes in your roof that could let water go through your ceiling, which we don't want.
So, we use ice and water shield in the valleys, on the eaves, and in other vulnerable areas that could possibly leak. It's all self-sealed with, and the ice and water shield essentially work like a second roofing system. And that's how we make sure that this roof is watertight for your home.
Recap: How to Explain & Sell Ice & Water Shield
The main takeaway you want to leave homeowners with is the nail-in-the-Coke-can idea. As you do this:
Help homeowners visualize it: Use your hands and/or sketch out your explanation with pen and paper. This will support your explanation, and it keeps homeowners engaged.
Ask and answer this question: What's happens when you put a nail in a Coke can? Coke spills out from all the nails. That's the water coming through a roof. An ice and water shield sticks and works as a self-sealing membrane, which is essentially a second roofing system to shed water.
Using this in your very next sales presentation — even if everybody else is using an ice and water shield — can position you as an expert. Your competition probably isn't taking the time to explain this and help homeowners understand how their roofing system works and how an ice and water shield will benefit them.
And it's just one way you can get a competitive advantage in roofing sales and close more deals. If you're looking for more help on closing, I have a few other paths you can take, including a Closing Playlist on using the contingency agreement as a closing tool and my Car Park Closing Formula, showing you how I run a sales appointment start to finish.
That program, if you're interested in making an investment in yourself or your team, is available as part of my Roofing Sales Success Formula, which can help you run sales appointments more effectively, so you can close more deals.
Want More Roofing Sales Strategies, Tips & Videos?
Subscribe for the latest roofing sales training videos and get your copy of my Pitch Like a Pro roofing sales training video library. It includes every video I've ever done, organized by category, along with a bunch of tips, tricks, and more.
Also, check out my Marketing Battle Pack for instant access to 70+ pieces of my proven, turnkey roofing sales and marketing materials. It's an entire suite, specially designed for sales teams, managers, and owners, providing:
Scripts
Scheduling
Direct Mail Letters
Door Hangers
Goal Projection Planners
A LOT more!
It's affordably priced and comes with a 100% money-back guarantee. There's also a playlist of instructional videos in there, explaining every single thing. So, you can watch the videos, and you'll know exactly what to do.
Thanks for joining me, and I look forward to sharing more with you in the next blog.