So, you want a job in roofing sales and you don't know where to start. Maybe you ran across an opportunity because you saw someone who changed their life and you're thinking:
Wait a minute! HOW are you doing this?!? They got the new truck, and they're earning six figures or more!
You wonder HOW they did that. Or maybe you're interested in roofing sales because you found my YouTube channel.
You may be asking yourself, Could this roofing thing be for me now?
Now, no matter where you came from, your walk of life, whether you have sales experience, or whether you know about roofs, it does NOT matter. In fact, I didn't know anything about sales, and I did not know anything about roofs when I got into this business — and look where I am now.
This same opportunity is waiting for you in roofing sales IF you're a good fit for the industry.
So, I'm going to teach you two key things:
How to figure out if you are a good fit for roofing sales: I'm going to give you a peek behind the curtains at what roofing companies are looking for and what I teach them to look for.
How to find the right roofing company: If you know how to spot the right company, you don't have to sit back and hope one of them will accept you. And you won't jump on the first opportunity that shows up because folks who do that often jump ship and go to the next company that really is a better fit for them.
Before we get started, I just want to say a quick welcome or welcome back. My name is Adam Bensman, The Roof Strategist. Everything I do is designed to help you and your team smash your income goal in roofing sales.
Of course, the first step is getting into the industry. Now, if you're new to this world and you really want to ACE your interview and do great, I highly recommend you get a jumpstart on your knowledge, so:
You can share with the companies when you interview that you've been learning and studying my roofing sales training.
You know what they're looking for.
You have a jump start on your basic sales knowledge.
To do that, I invite you to join me inside my FREE training center. Simply click that link or text "FREE" to (303) 222-7133. And if you're a fan of the channel and you know someone who might be interested in roofing sales (even someone you may be recruiting), please share this with them because I think it's going to be really, really helpful.
Now, let's dive in.
FREE "Pitch" Like a Pro Roofing Sales Training
240+ Video Library for Storm and Retail
For Roofing Sales Reps & Owners With New Hires: All the training you need to be a "million dollar" closer!
Get Instant Access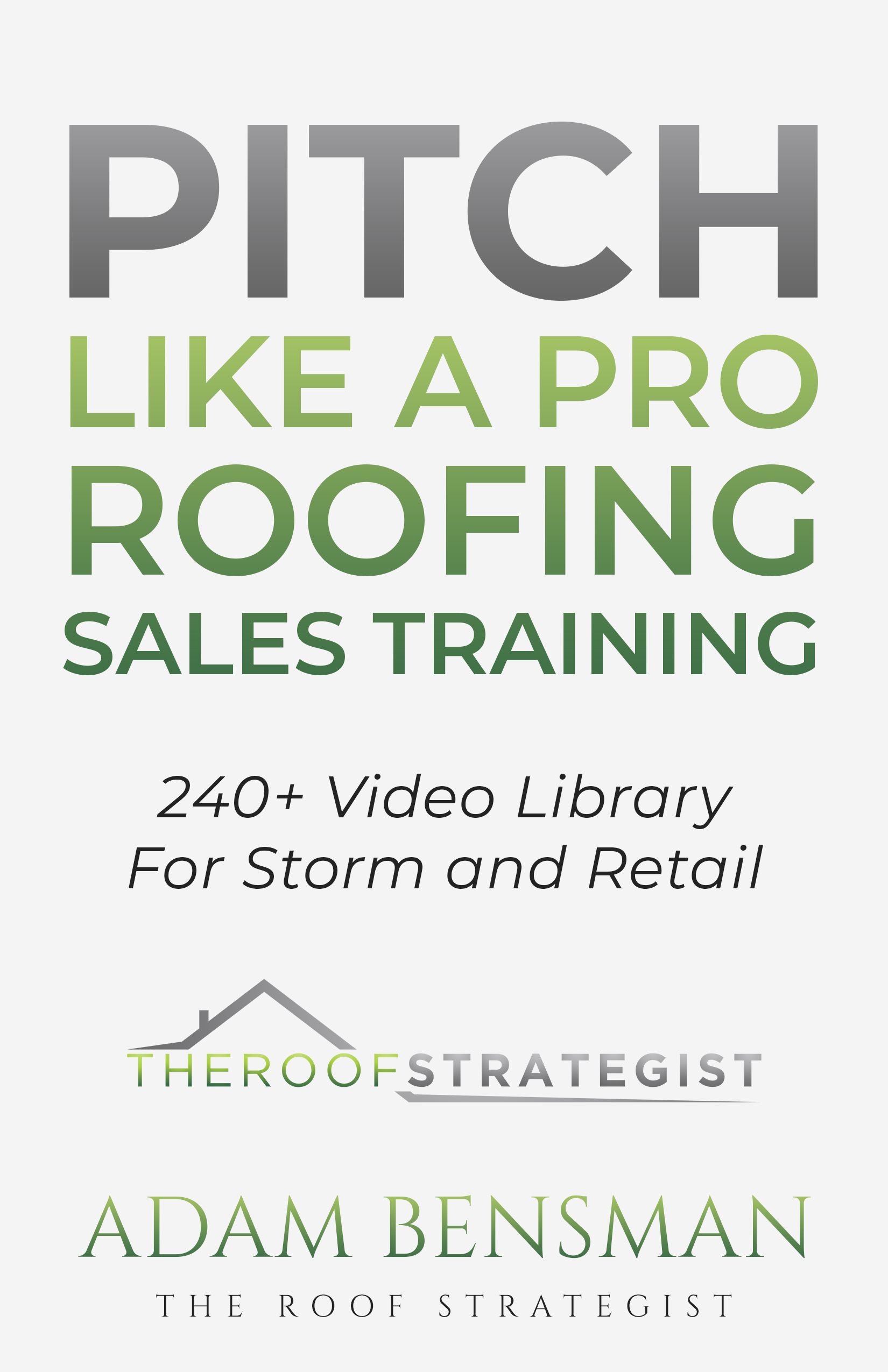 Who Is a Good Fit for Roofing Sales?
Let's go behind the scenes and peel back the curtain of what I teach company owners and managers when it comes to recruiting. I teach them to look for five profile traits or characteristics to make sure people are a good fit.
Those five characteristics are being:
A hustler
Persuasive
Thick-skinned
Persistent
Confident
Here's a breakdown of each of those traits and why they matter in roofing sales.
A hustler is someone willing to put in the work to achieve a really big goal, whether that's in athletics, business, or whatever.
A persuasive person is willing to communicate their point of view, and they're capable of persuading someone to see their viewpoint, regardless of whether the topic is politics, athletics, or sales.
Thick-skinned folks are NOT easily rattled. They can knock on doors and hear insults (like "sleazeball" or "dirtbag"), and they aren't going to go home and cry about it. This was a struggle for me at the start because I was a peacekeeper. So, I had to learn how to handle conflict, and now, I look at it as a challenge, turning this negative situation into a positive one.
A persistent person doesn't give up when they hear the word, "no." Instead, they try to figure out how to make something happen when they hit a roadblock. They don't let a, "no," get in their way or interrupt their momentum or progress.
Confident people are assertive in their dialogue. They look you in the eye, it's a firm handshake. They look you in the eye, shaking your hand firmly, and they're assertive with their dialogue.
So, those are the five character traits that are great fits for roofing sales.
If you don't have all of those traits, you probably are not a good fit. Keep in mind, though, that I was NOT thick-skinned when I started in this business. Still, I was willing to put in the work to develop that trait.
So, I just want you to be prepared. If you don't have all five traits or you aren't wildly strong in a particular area — but if you ARE willing to put in the work to develop those characteristics — you could very well be a good fit for roofing sales.
How to Find the Right Company as You Start Roofing Sales
Now, let's dive into finding the right company. As we do this, I  want to rewire your mind and how you think about finding a job in the traditional job market. With that, there tends to be a lot of corporate red tape.
Generally, roofing isn't quite like that. The reality is most roofing companies are almost ALWAYS on the lookout for good people to join their sales team, even if they're not running hiring ads.
These are the companies where the right people, who get introduced or who come into our business and are a good fit, are going to get hired.
So, I want you to feel really empowered that you do NOT have to settle. You can go out there and find that RIGHT opportunity.
Pro Tip: If you walk into a roofing company office and tell them that you're interested in a job in roofing sales — and that you've been doing your homework (and you can even mention studying my YouTube channel) — you CAN have a shot at getting hired. I've had a few people do that in our office, and I ended up giving them a chance and hiring them because that approach demonstrated ALL of those key character traits.
How to Get Started in Roofing Sales
Where do you begin when you want to get started in roofing sales? This is a common question that comes up, and I want to share some answers. To get started:
Jump on the job boards: This will help you get familiar with the opportunities in your area. Go on whatever job board you use online, searching for "roofing sales" and browsing the results. Take note of the company names, so you can look into them.
Google each roofing company: Start doing some homework by looking at online reviews and company websites. Remember, when you show up at a house, you have to be there to sell confidently, knowing that the company you work for is going to deliver everything that you sell. If that doesn't happen, there's a good chance you'll end up shifting companies. That's why it's SO important to be choosy and feel empowered to select the RIGHT company.
Last Point: Roofing Sales Is NOT for Everyone
So far, we've covered the five key traits for roofing sales and how to find the right roofing company. Now, I want to pivot to the emotional side, ending on this note.
The roofing industry is definitely NOT for everybody. In fact:
It is wildly simple: I can teach almost anybody the fundamentals and basics of selling a roof and what you need to do every day, how to give great service, and what to say at the door. All that is on my YouTube channel and in my training center. I have a package available for individual sales reps.
It is NOT easy: Roofing sales challenges us EVERY DAY. We carry all of our personal baggage to work, and we can bring our work baggage home. It's just not the same as a traditional job.
Let's look at a few examples of things I've dealt with to make this crystal clear. Let's say you're dealing with:
A family member with cancer
A loved one passing away
Relationship issues
These and other very intense and challenging issues bring very REAL baggage and trauma. In roofing sales, we simply don't have the privilege of just checking it at the door. Instead:
We bring it to work.
It impacts how we work in roofing sales, which is demanding, high-stress, and fast-paced.
So, this industry can be very taxing, and it's very important that:
You know what you're getting into.
You learn to set clear boundaries.
Now, the beautiful part to end this on is this fact:
Roofing sales is personal development in disguise.
For me, roofing sales has been one of the greatest gifts of my life because:
It put me in an industry that gamified my personal development and growth.
When I learned how to handle conflict better, I started to make money.
When I learned how to manage my time better, I started to make more money.
When I learned how to communicate more clearly, I would make more money.
When I learned how to sell and close, I'd make more money.
When I'd learned how to overcome objections, I'd make more money.
When I learned how to structure my days in a way to be hyper-effective, I'd make more money.
So, every time that I grew personally and transformed, blossoming into a new human (as cheesy as that sounds), the gamification was personal development with the reward of earning an incredible income. For you, that can be six figures or even multi-six figures in your very first year.
Now, I hope you're as excited as I am because my dream is to get a message from you about how you found the right company and made your VERY first six figures in a lightning-fast period of time.
Want More Roofing Sales? Or Training For Your Team?
We've helped thousands of sales reps overcome the same sales challenges you're probably facing. Like not getting enough leads, getting stuck on objections, or not closing sales in the house.
Learn how we can help you:
Get trained up in a lightning-fast 9.5 hours
Self-generate more leads
Become a confident closer
Pick a time for your 1-on-1 demo.
Or use the links below to get instant access, 100% Risk-Free! Backed by our 30-Day 'NO BS' Money Back Guarantee.
Thanks for joining me, and I look forward to sharing more with you in the next blog.