Let's talk about effective scouting techniques in roofing sales and storm restoration.
I'm going to share some simple strategies with on how to:
Scout effectively in your truck
Make the most of your time
Concentrate your resources the best you can
Welcome or welcome back, by the way. My name is Adam Bensman, The Roof Strategist. Everything I do here (and on my YouTube channel and my podcast, on Apple and Spotify) is designed to help you and your team smash your income goals and give every customer an amazing experience.
Now, let's dive in.
Roofing Sales Scouting Strategy #1: Get Good Hail Mapping Software
The first thing I want to do is make sure I have my hail map with me. I'm very partial to:
Interactive hail maps
A great app called Hail Recon that works with the GPS on your phone
With hail mapping software, you can actually see where you're at in relation to the map. And you can get real-time data and easily identify where you want to go.
That's going to save you a lot of time behind the wheel.
FREE "Pitch" Like a Pro Roofing Sales Training
240+ Video Library for Storm and Retail
For Roofing Sales Reps & Owners With New Hires: All the training you need to be a "million dollar" closer!
Get Instant Access FREE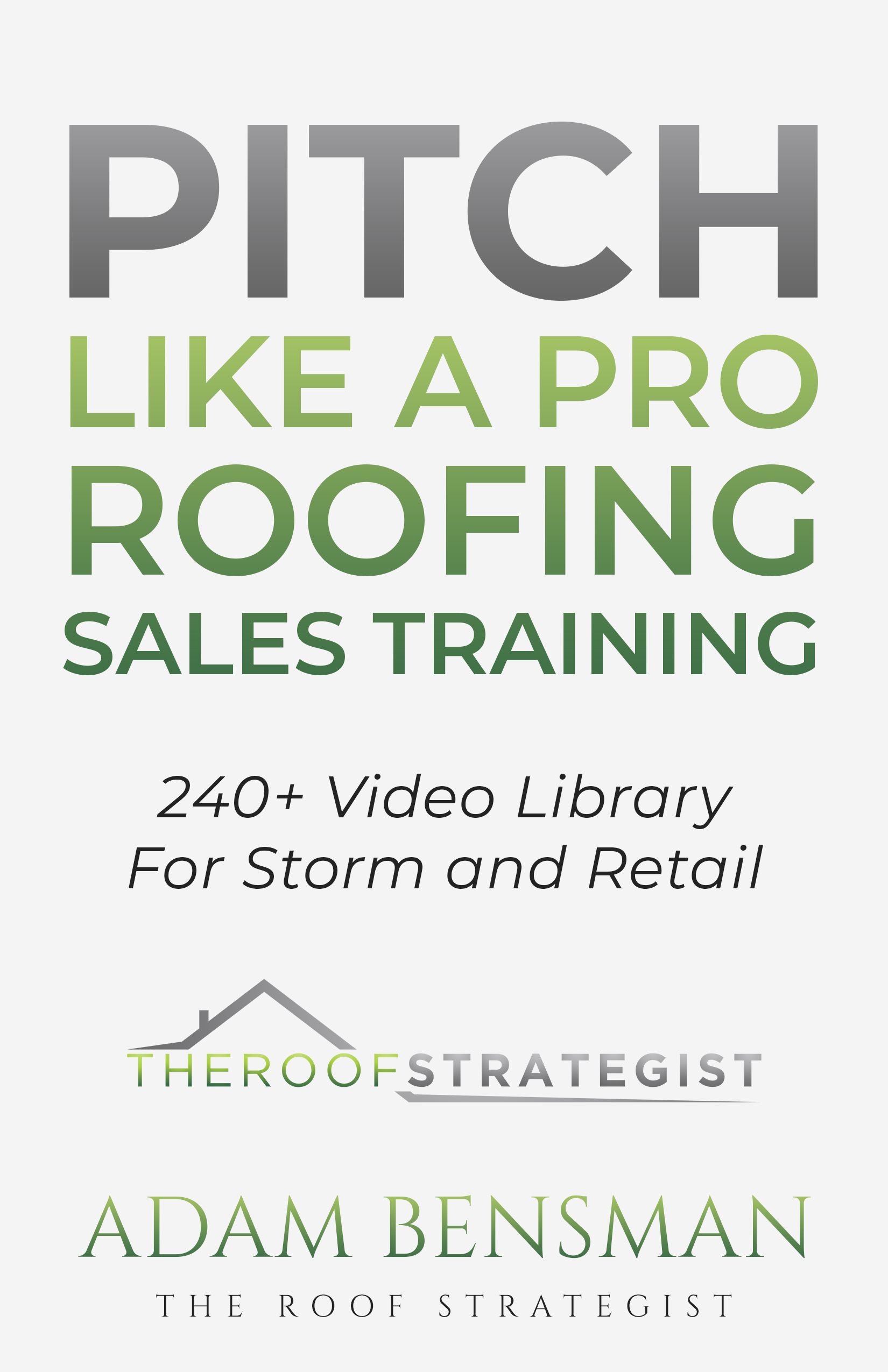 Roofing Sales Scouting Strategy #2: Use Google Earth
One obvious way to use Google Earth when you're scouting is to look for downed debris.
You can also use Google Earth as a location tool to see whether or not certain areas are good to target. Remember, we want to hit high-density areas with nice, big houses if we can.
We also want to locate first — before we hit the roads — so we don't end up spending a lot of time driving.
I've spent 10 to 14 hours a day scouting storms to get my team located in the most profitable, lucrative areas. And I want to be precise because time is not on our side. We want to get all that low-hanging fruit, and we want to get it quickly.
So, to target that low-hanging fruit as fast as possible:
Use interactive hail maps and the Hail Recon app
Use Google Earth
Roofing Sales Scouting Strategy #3: Bring Binoculars
When I'm scouting in roofing sales, I want to make sure I have one tool on me — and that tool is binoculars.
With my binoculars, I can sit on the side of the road and take a look at any soft metal up on the roof of a home. I can check out the box vents, the skirting, and anything like that.
I can also take a look at the:
Dings on the roof to figure out whether there's hail damage
Electrical junction boxes for any spatter marks from hail impact (Those marks are about a third of the size of hail.)
So, when I'm out there scouting with my binoculars, I can take a look and learn a few key things, including:
If there's hail damage
The direction of the hailstorm
How severe the damage is, especially when it comes to areas like aluminum siding and window wraps
If I have the opportunity, I also want to pull up to apartment complexes or public buildings, so I can take a look from the ground at any downspouts or gutters, checking for any evidence of hail there too.
Roofing Sales Scouting Strategy #4: Take Notes
Document everything. Write street names down on interactive hail maps.
In fact, you can actually drop pins exactly where you want to go. That makes it easy to say, "Hey, here's a great area. That's where I want to target."
When you do your due diligence and scouting properly, you're going to:
Maximize your response time
Get some great traction very quickly for yourself and your whole team
Recap: 4 Highly Effective Strategies for Storm Restoration & Roofing Sales Scouting
Here's a quick recap of what you need to do to effectively scout hailstorms for storm restoration and roofing sales:
Get good hail maps and hail mapping software.
Use Google Earth to map out where you want to go before you hit the road.
Bring a pair of binoculars with you.
Take quality notes.
You spend a lot of time scouting. A little bit of due diligence upfront can end up paying off big time in the end.
Want More Roofing Sales Strategies, Tips & Videos?
Subscribe for the latest roofing sales training videos and get a copy of my Pitch Like a Pro roofing sales training video library. It includes a ton of videos on door-to-door roofing sales, as well as every video I've ever done, organized by category, along with a bunch of tips, tricks, and more. It's great for new people and seasoned veterans, and it's updated all the time to help you and your team smash your income goals and give every customer an amazing experience.
Also, check out my Marketing Battle Pack for instant access to 70+ pieces of my proven, turnkey roofing sales and marketing materials. It's an entire suite, specially designed for sales teams, managers, and owners, providing:
Scripts
Scheduling
Direct Mail Letters
Door Hangers
Goal Projection Planners
A LOT more!
It's affordably priced and comes with a 100% money-back guarantee. There's also a playlist of instructional videos in there, explaining every single thing. So, you can watch the videos, and you'll know exactly what to do.
Thanks for joining me, and I look forward to sharing more with you in the next blog.