Hey, Adam, here at The Roof Strategist. Today, I'm going to talk about using the contingency agreement to get more sales.
Now, most people in roofing sales, especially the new sales guys or gals, have problems when the contingency agreement comes up. It freaks the homeowner out, and it throws the sale.
Everything's hot, the homeowner's ready to go, and then BOOM — that horrifying document with 8-point font that's four pages long scares them.
So, we want to do is twist how we present the contingency agreement. We want to package it up first really nicely to make it look like it's in their best interest to sign it. That's how the contingency agreement actually becomes a sales tool.
Here's how to do it.
FREE "Pitch" Like a Pro Roofing Sales Training
240+ Video Library for Storm and Retail
For Roofing Sales Reps & Owners With New Hires: All the training you need to be a "million dollar" closer!
Get Instant Access FREE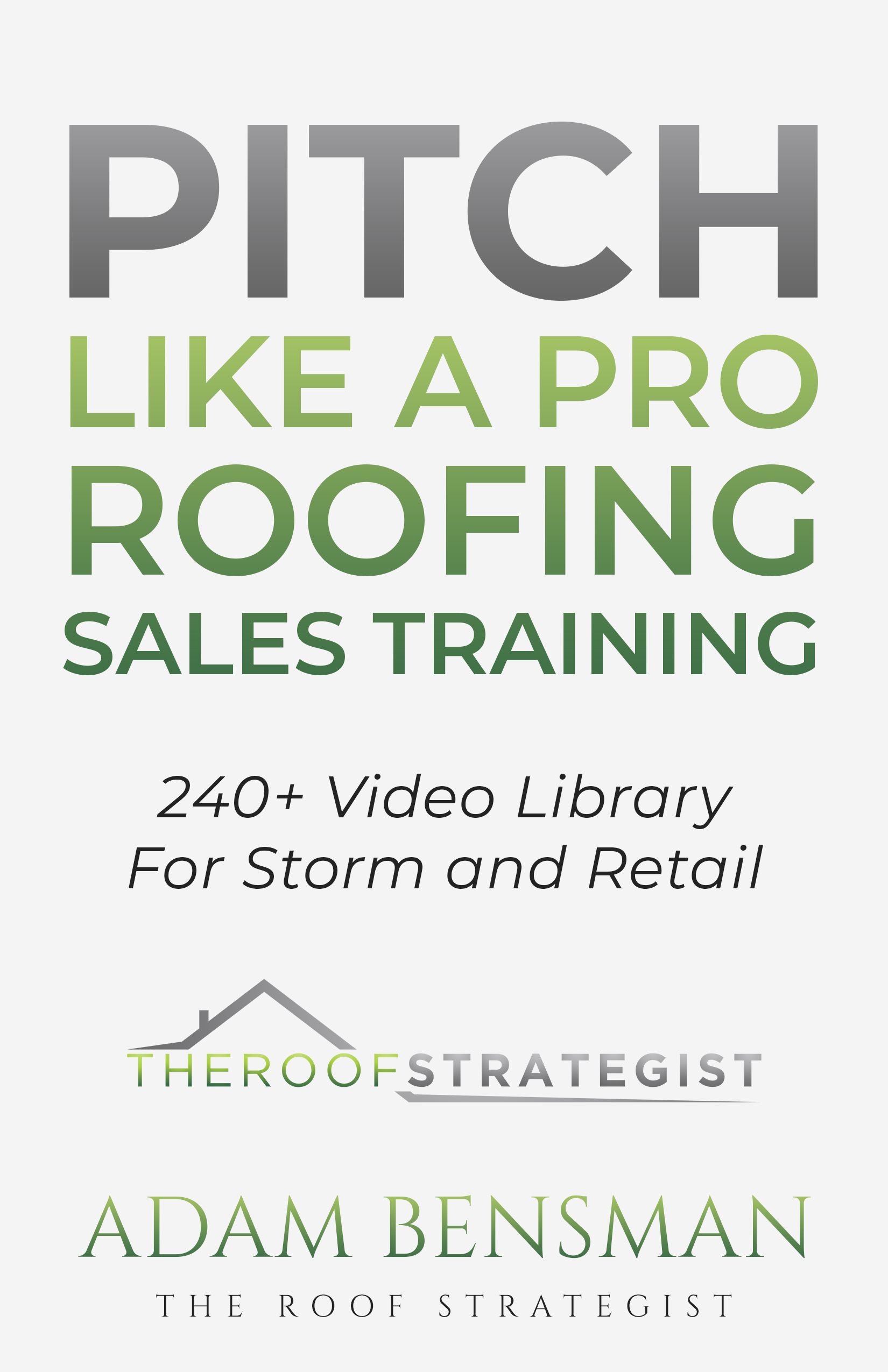 The Contingency Agreement as a Sales Tool: 3 Points to Highlight for Homeowners
I use a printout. And by the way, this is available in my Marketing Battle Pack (simply click if you are interested to see exactly what's inside).
Before I take the contingency agreement out, I'll keep it inside my folio or my folder, whatever I'm carrying with me. And I'll go through this first with the homeowner to get them excited about signing it.
When I do pull out the agreement, here's how I explain it and use it as a sales tool:
Peggy, I'm excited to move forward. All we got to do is go through a little bit of paperwork. Now, before I show you everything, I want to just give you the high-level explanation because we ALL know what it's like to sift through all the fine print.
So, here's what this agreement, the contingency agreement, does. It's actually put in place to help you out, and it does three things:
It allows me to go to bat for you with your insurance company. By law, your insurance information is protected. So, if the insurance company asks us and they see an autograph, it's official that we're working together. Then, they'll let me communicate with them about the details of your project.
It locks in the price. So, whatever the insurance company says the coverage is, the contingency agreement will lock in that price. I call it my price lock guarantee. My price lock guarantee makes sure that, if the insurance company says the project will be $12,000, I can't come back and call it $15,000 later.
It states that we are the contractor of choice to do the work after we help you get your roof and all the other damage covered. As you know, we don't charge you for working with the insurance company or negotiating a claim. We only get compensated by actually doing the work on your roof. So, if we get this all approved, we become the contractor of choice, and we do the project from start to finish.
Now, because this is a contingency agreement, that means you have everything to gain and nothing to lose. So, if the insurance company comes back and says 'we're not going to cover it' or 'the coverage is insufficient,' and we can't change anything, then this becomes dust in the wind. I'll rip it up, and you don't owe us a dime. Sound good? Perfect.
Now, let's move on to the contingency agreement. All I need you to do is date and sign here.
BOOM. It's done.
Now, I don't always get dramatic and rip up this piece of paper because I could use it again. But here's the point — your contingency agreement can be a sales tool if presented properly.
You can access this exact document that I use as part of my Marketing Battle Pack. All you have to do is click print, and you'll have immediate access to it, so you can use it as a sales tool when you walk through it with your customers.
Want More Roofing Sales Strategies, Tips & Videos?
Subscribe for the latest roofing sales training videos and get your copy of my Pitch Like a Pro roofing sales training video library. It includes every video I've ever done, organized by category, along with a bunch of tips, tricks, and more.
Also, check out my Marketing Battle Pack for instant access to more than 70 pieces of my proven, turnkey roofing sales and marketing materials. It's an entire suite, including scheduling, direct mail letters, door hangers, goal projection planners, and a whole lot more. It's affordably priced and comes with a 100% money-back guarantee. There's also a playlist of instructional videos in there, explaining every single thing. So, you can watch the videos, and you'll know exactly what to do.
Thanks for joining me, and I look forward to sharing more with you in the next blog.