It feels like your hands are tied and your heart hurts when you've got customers who need you, but they simply can't afford to pay their deductible. This throws up a giant roadblock.
We've all been there. And it could happen in a couple of ways:
After you sign up a customer and the adjuster approves the roof, the homeowner gets the scope and sees their $6,500 deductible (or whatever it is). Suddenly, the project is stonewalled. You don't know if you're going to get the roof.
The homeowner doesn't want to file a claim. They may even really need a new roof because of hail, wind, or hurricane damage. But they tell you they don't want to file a claim because they can't afford their deductible.
Now, whatever roadblock you're facing, I'm going to give you 3 different ways to legally and ethically help homeowners who truly can't afford to pay their deductible.
Welcome or welcome back, by the way. My name is Adam Bensman, The Roof Strategist. Everything I do here — and on my YouTube channel, my podcast (on Apple and Spotify), and inside the Pitch Pro Movement — is designed to help you and your team smash your income goals and give every customer an amazing experience.
Often, we face customers who deserve or need an amazing experience and who simply can't afford it. So, I'll be teaching you three ways to help. Let's get right to it.
Disclaimer: Every state has different laws. For my friends in Florida in particular, the third method I mention will no longer be a viable option. But I do want to explain these options. Also, whatever you do as an individual sales rep, it's critically important to clear these methods with the company that you're selling for first, so they know what's going on and so you have their permission.
FREE "Pitch" Like a Pro Roofing Sales Training
240+ Video Library for Storm and Retail
For Roofing Sales Reps & Owners With New Hires: All the training you need to be a "million dollar" closer!
Get Instant Access FREE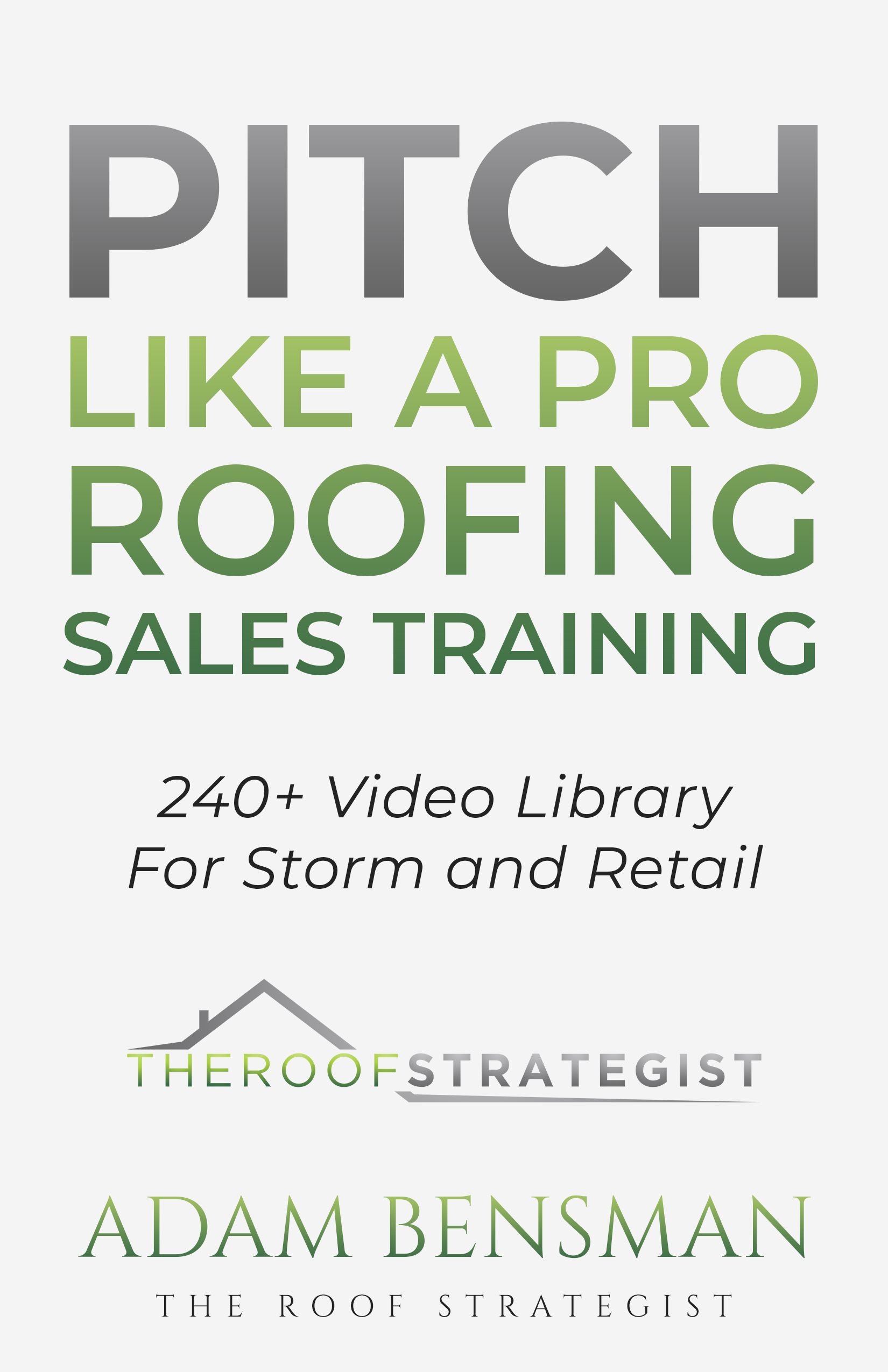 Roofing Sales Strategy #1: Use Actual Cash Value Payments
One option is to use the actual cash value (ACV) payments of various aspects of the claim that the homeowner may not necessarily need to replace.
This is a really great way to explain to the homeowner how you can help with their deductible while also giving you a competitive advantage to win the business.
After all, you and I both know there are plenty of roofers who will just give this stuff away. That's not ethical, and frankly, it's crappy sales.
Instead, we earn the business by highlighting the value. And we do that by educating the homeowner on how this ACV payment stuff works.
Roofing Sales: How ACV Works & How to Explain It to Homeowners
Think of actual cash value like used car prices. Here's how to explain it to a homeowner:
Let's say you get a used F-150 truck. Instead of paying the full $60,000 retail price for a brand-new truck, you get one that's 5 to 10 years old, saving you about $15,000 to $20,000. You offset the cost by getting the used car.
For a home claim, you might have things like fences or decks that are going to get pressure washed and stained. You might have soft metal damage on things like gutters or downspouts. You could have garage door dings. You may even have cosmetic window damage and dings on siding, the fascia board, and other areas that aren't going to compromise the integrity of a roofing system.
Those payments can be used towards the deductible.
As an example, let's say we've got $12,000 in damage to the window wraps, downspouts gutters, fascia board, and a garage door. The homeowner is not going to receive all $12,000 upfront.
They're going to receive a portion upfront. Let's say that upfront portion is $4,500. Well, that's a good chunk of change, and it may offset your deductible in one lump sum.
Explaining this to the homeowner is your competitive advantage. It shows why you need to be involved in this process from the beginning. If you are, you can go through the property with a fine-tooth comb before the adjuster gets there, so you know everything.
ACV: How to Show Your Value & Win the Business
With actual cash value, you can help the homeowner offset their deductible with these ACV payments for things they don't necessarily need to do. If you do, it can help to use:
A spotlight: A big and bright light, like a hunting spotlight, can be a really powerful tool on soft metals, gutters, downspouts, garage doors, and fascia boards. When you shine bright light on those areas, you're going to see all the little deviations cast a shadow.
Chalk: When you see shadows and dings under a spotlight, it's time to take your chalk out, turn it widthwise, and run it up and down over the dings. This will help you see where the gaps are for a hail claim (and, obviously, it won't do much for wind damage). For a hail claim, however, chalk can show where those little points of damage are, and that cosmetic damage will be paid for.
If you can make ACV work, you can be a hero to homeowners. And it'll help you win the business because you have that attention to detail that they're expecting. That's why you're there.
Now, it is important for the homeowner to understand that any of these actual cash value items they use towards the roof are technically no longer insured. That means if another hailstorm, windstorm, or hurricane comes through, they're not going to be able to collect on it twice because they didn't do the work.
This is usually not a big deal, but it's important that the homeowner fully understands what it is they're doing. And it's another opportunity to:
Explain the value you bring
Showcase your attention to detail in helping them get all of the items paid for appropriately, so they can reduce their out-of-pocket expense for their deductible.
Roofing Sales Strategy #2: Offer Financing
You can offer financing in various ways. That may include options like:
Traditional financing: If you are working for a company selling retail roofs or if you have a division selling retail, the chances are you offer some semblance of financing. You can probably extend those financing deals to your homeowners too.
Fund My Deductible: I'm not affiliated with this company, nor have I been paid to promote them. I did, however, interview Ryan Davis from Fund My Deductible when Texas passed the law outlining eating deductibles. And it is another tool in the toolbox to help homeowners who can't afford to pay their deductible.
Roofing Sales Strategy #3: Pay Referral Fees
As an upfront disclaimer, this will NOT work for my Florida friends (due to Senate Bill 76 and recent laws that have taken effect). Also, this is not necessarily my favorite method, and you must check with your local laws before using this strategy, so you can use it the legal and ethical way, with the proper paper trail.
In most states, homeowners who give roofing sales reps referrals can get a referral fee. By the way, I've done lots of videos of referral fees, including one on Roofing Sales Referral Programs and an entire playlist called Referral Madness, in which I teach my referral incentive program.
With referrals, I pay for the appointment. I don't pay the referral fee only if I get the sale. Of course, you can do whatever and whatever your company approves, but the way I do it is for the appointment, not for closing the lead referred to me.
Either way, that referral can be paid to the homeowner. Let's say it's anywhere from $25 to $250. Whatever that amounts to, make sure:
You're on the up and up when you invoice the insurance company.
You show that you've collected the deductible, even if comes from referral fees, from the homeowner.
You have the appropriate paper trail to show that you've been operating aboveboard, especially if you ever get audited.
You always check with the company first, before offering or paying referral fees. Confirm that you're operating legally and appropriately according to state and local laws, as well as your company policy.
So, if I pay a $250 referral fee and a homeowner sends me four referrals, I would likely pay that homeowner $1,000 ($250 x 4). Then, they would pay those referral fees back to me, so I can show evidence of collecting the proper funds that I invoiced the insurance company for. Again, it's all about doing business aboveboard.
Now, you have my three favorite ways to help homeowners who truly can't afford to pay their deductible.
Bonus Roofing Sales Strategy for the Deductible Objection: Pay Advertising Fees
Now, this is my least favorite method, but I just want to put it out there because it is a strategy used by some in roofing sales. And that's paying an advertising fee.
This has been going on for forever, and it's where roofing companies pay homeowners an advertising fee to stick a yard sign in their yards. Maybe it's $1,000 or something. And it's never actually accounted for.
It's like this sleazy, under-the-table way of "giving" a homeowner $1,000 but not actually paying it. I just don't like it. It has gray area written all over it. And, in certain states, it is illegal.
Do you use other methods to overcome the deductible objection? If so, drop a comment here.
Want More Roofing Sales Strategies, Tips & Videos?
Subscribe for the latest roofing sales training videos and get a copy of my Pitch Like a Pro roofing sales training video library. It includes a ton of videos on deductibles and referrals, as well as every video I've ever done, organized by category, along with a bunch of tips, tricks, and more. It's great for new people and seasoned veterans, and it's updated all the time to help you and your team smash your income goals and give every customer an amazing experience.
Also, check out my Marketing Battle Pack for instant access to 70+ pieces of my proven, turnkey roofing sales and marketing materials. It's an entire suite, specially designed for sales teams, managers, and owners, providing:
Scripts
Scheduling
Direct Mail Letters
Door Hangers
Goal Projection Planners
A LOT more!
It's affordably priced and comes with a 100% money-back guarantee. There's also a playlist of instructional videos in there, explaining every single thing. So, you can watch the videos, and you'll know exactly what to do.
Thanks for joining me, and I look forward to sharing more with you in the next blog.