You show up to an ugly house, and the icebreaker you thought you had won't work.
Now, you're freaking out, and you don't know how to break the ice. So, you end up showing up at the door, you skip the icebreaker, and the homeowner feels like you punched them in the face with a pitch.
And they reject you really quickly.
Then, you find yourself in those neighborhoods that have — I'm just going to say it — UGLY houses. Those are the ones that, when you open the door, you get hit in the face with an aroma that makes you want to vomit. I know because I've been in those houses.
So, how in the world can you:
Authentically compliment them?
Find common ground?
Build rapport and engage with customers who have an ugly house?
That's what I'm going to teach you here, and it's about more than just icebreakers for ugly houses.
In fact, I'm going to share:
The MOST important takeaway when it comes to building rapport
How to build genuine, authentic connections with your customers really, really quickly.
After all, I know how the whole rapport-building side of sales can go. There's the FORD acronym, and we know that we have to find common ground and give a compliment. But what happens is that:
People do this from a disingenuous or inauthentic place.
The homeowner feels like you're just being a chameleon, just mimicking them, and it lacks the punch that's going to help drive real connections and real sales.
So, let's get started.
First, welcome or welcome back. My name is Adam Bensman, The Roof Strategist. Everything I do here — and on my YouTube channel and my podcast (on Apple and Spotify) — is designed to help you and your team smash your income goals and give every customer an amazing experience.
Now, let's get into icebreakers, especially for ugly houses.
FREE "Pitch" Like a Pro Roofing Sales Training
240+ Video Library for Storm and Retail
For Roofing Sales Reps & Owners With New Hires: All the training you need to be a "million dollar" closer!
Get Instant Access FREE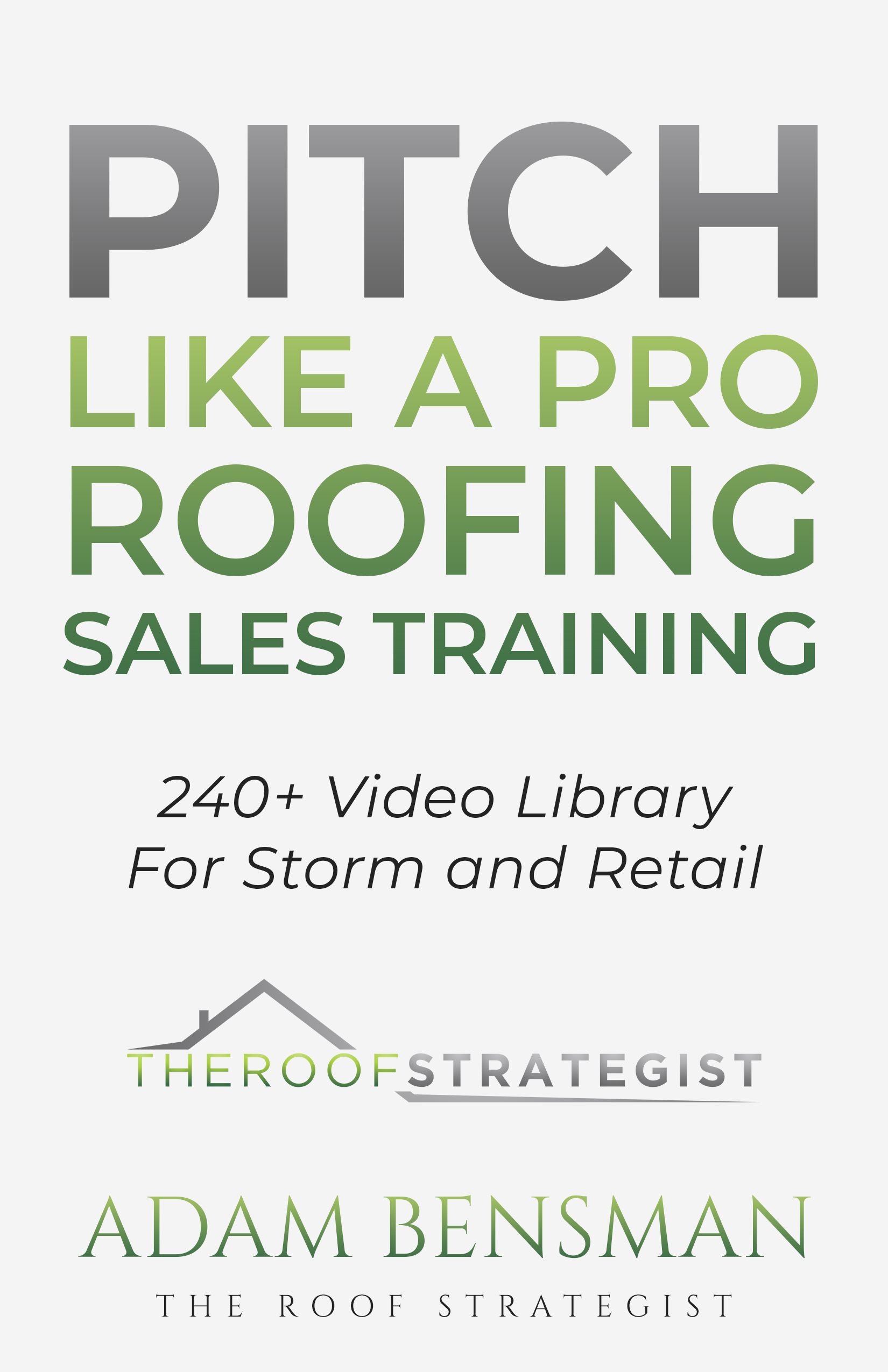 Why Build Authentic Connections with Icebreakers in D2D Roofing Sales?
I want to start this by sharing my most recent discovery related to establishing authentic connections. To explain this, I want to take you on a little journey with me. So:
Close your eyes.
Imagine the exact moment when you were a kid and you found out someone had a crush on you. Maybe it was in elementary school or middle school.
Do you remember feeling that the first time?
I do. It was the first time that I felt like loved, worthy, and excited.
Taking it one further step — and keeping your eyes closed — picture that moment when you heard that someone had a crush on you. Now:
How did you respond?
How did you feel?
Most importantly, how did you feel about that other person with the crush on you?
Even if they weren't the one for you and even if you weren't attracted to them, wouldn't you agree that you felt a higher sense of respect or appreciation for them?
Yes, you did, and that is the law of reciprocity at work (by the way, if you are in sales for more than a month, you know that reciprocity is one of the six methods of influence taught by Robert Cialdini).
How Reciprocity Can Work for You in Roofing Sales
Reciprocity means that people will do things for others who do things for them. That means:
If I do something nice for you, you're more likely to do something nice for me.
If I like you, you are going to most likely like me back because people like people who like them.
That's incredibly important and bears repeating — people like people who like them. Silly but it's true.
So, the key takeaway from this is to focus on:
Liking your customer
Bringing your heart to the conversation
Channeling all of your passion and excitement about making the sale into helping your customer get to the best possible outcome that is truly in their best interest.
Essentially, I'm going to be their hero. When that happens, you like your customer. Or better yet, you learn to truly fall in love with your customers.
How to Approach the Ugly Homes in Roofing Sales: Take the 'Family' Approach
Now, imagine with this whole ugly house analogy that you show up at an ugly house and your hands are tied. Think about it like that one relationship in your family that just isn't there. Maybe that person is going through something, or they've been rude to you.
But when you're in that group setting, as a family:
You find a way to connect.
You ask about something from their past that you know is going well or something that they're excited about because in your heart of hearts, you want what's best for them.
You can check the BS at the door.
So, when you like or love your customers, this all becomes easy, genuine, and authentic.
And if you can't do this, by the way, I'm just going to tell you now that you're better off leaving the sales side of the roofing industry. It's not going to be a good fit for you because you need to learn:
How to connect authentically
How to truly like your customers — When you do, they like you back.
Now, let's get to the action items and how we're going to do this.
D2D Roofing Sales Icebreaker Strategy: Give Genuine Compliments
I'm not talking canned compliments here. And the reason I say "not canned compliments" is that I've seen those canned compliments shelled out for not-so-good-looking houses with no landscaping and just a patchy lawn where the dog's peed everywhere.
Then, the first thing the salesperson says is, "Beautiful lawn."
Are you joking?!?!
That's what I'm thinking when I hear that. I think, This homeowner doesn't maintain their lawn. They don't even have a lawn!
In fact, wouldn't you agree that 'beautiful lawn' in this case could actually across as more of an insult?
It doesn't really pay a compliment here.
So, when we compliment a homeowner in door-to-door roofing sales, we need to:
Follow the framework of being genuine.
Be sincere.
Find common ground.
Focus on things that we have shared values around.
Now, let's tie all this together.
How to Give Genuine Compliments in D2D Roofing Sales
Genuine compliments are built on:
Common ground
Shared values
And those compliments don't have to be elaborate or incredibly deep. In fact, a genuine compliment could as simple as:
Hey, those are really cool glasses.
That's a really awesome shirt.
I love your shoes.
Cool belt.
Cool watch.
When you compliment people and it's a sincere, genuine compliment, it doesn't matter what it's about.
By the way, this did feel weird for me at first. I DID have a deep resistance to this initially because I didn't get a lot of compliments as a kid. Now, I have very loving parents, but I mean that I wasn't in an environment around other people, outside of my parents, telling me things like:
Hey, you're great at this.
Really good work.
You're cute, or you look great.
I didn't have that before. So, when people began to compliment me, I was like, WOW. That feels good! And I was uncomfortable paying those types of compliments to other people.
Now, however, I compliment people ALL the time because:
I look for points to connect on.
I find that I can connect MORE deeply and start conversations with people I never imagined I would or could talk to.
I don't even really think about it anymore.
So, when you genuinely compliment someone, it makes them feel amazing.
And if you resist this, my guess is that you're not used to doing it. Once you start doing it, though, you won't think twice about it.
Genuine Compliments in D2D Roofing Sales: Shared Values & Common Ground
Shared values and common ground are heavily linked. I'll explain how with an example.
Example: I showed up at this customer's house, and she had a vegetable garden at the same time my wife and I were spending most of our free time on a 40 x 20 vegetable garden.
So, I go up to this customer and say, "Great vegetable garden. It looks awesome." How genuine was that? On a 1-to-10 scale, that's probably like a 5, right? Because I noticed something.
Now, let's say, instead, that I said something like, "Hey, is that zucchini? It looks like that one might need to get harvested. If we wait until tomorrow, it'll turn into the size of a baseball bat."
If you've never grown zucchini, you wouldn't know this. But if you have, you'll know that it'll reach the right size, and then overnight, it'll grows into the size of a baseball bat. That's practically what happens.
So, I noticed something, and I used one of the most powerful tools in our arsenal of roofing sales tools — specificity.
Now, specificity means:
Being specific
Paying attention to the details
Highlighting or pointing out the details
We see this all the time in the news too. Does anyone ever just get shot by a weapon? No, they never do. They get assaulted by a black, military-style semiautomatic rifle with a high-capacity magazine. Those are a high level of very specific details.
Now, with that level of specificity about the garden:
I showed the customer that I knew what I was talking about.
We had this nice little sidebar about her vegetable garden.
I later earned her business.
Why?
Because we spent three minutes talking about vegetables before we even talked about the roof. So, those shared values started the conversation, leveraging specificity.
Genuine Compliments in D2D Roofing Sales: Example #2
I'll give you another example of how to find that common ground and use those shared values in door-to-door roofing sales.
Example: Let's say you know about some classic car model that a customer has in their garage or driveway.
If you walk up and ask about the engine — like, "Has that got a 302 in it?" — and if they respond, "No, it has a [whatever it is] in it," talking about those details highlights that common ground.
You're not just saying, "Cool car, bro."
You're being specific and saying, "I really am into this too" in a genuine way.
Remember, this can focus on anything — including the house, the person, whatever.
Where & How to Find Common Ground & Shared Values: 3 Strategies
Now, I want to leave you with a few action items and tips regarding what to look for to help you start a conversation and share a genuine compliment that's built on common ground and shared values.
Look for ANYTHING in or around the lawn that shows you what's important to that customer: This could include any vehicles or powersports toys parked in the driveway. Also, look for any flags, emblems, or stickers on the bumpers of cars or hanging in the window of the house that represent a cause that's meaningful to you. That could be any cause or topic you can connect with, whether it's being a veteran, a firefighter, a fan of some sports team, or a fan of some college.
Engage your other senses: This means pay attention to your nose. If they're grilling outside, there's your immediate thing if you love cooking. You can say, "Got room for one more?" or "That's smells great. Is that burgers?" Just play with it and engage your senses.
Look at the person and try to connect with them as an individual: Check out what they're wearing and how they're presenting themselves. A thoughtful personal compliment can go a long way.
So, those are some effective strategies for truly connecting and breaking the ice in door-to-door roofing sales, even if the house is ugly.
And I think this would pair really well with my playlist, Ace Your PITCH Going Door-to-Door & Canvassing. It shares a bunch of different ways to pitch, going over all the types of scenarios you're going to face. And you can blend these icebreakers into those pitching strategies and scripts.
Now, you know EXACTLY what to do the next time you're at that ugly house or you're really digging for an icebreaker because you can't find that common ground.
Get More Roofing Sales Strategies, Scripts, Tips & Videos
If you want more on any topic in roofing sales, you'll find it in my all-in-one sales training, sales strategy, and sales system, the Roofing Sales Success Formula & Complete Sales Strategy.
This exclusive program covers everything from knock to close, with packages for individual roofing sales reps and entire teams. Many roofing sales companies LOVE this program because it's a consistent process to train everybody on a relatable sales system that WORKS and that's a lightning-fast way to get results.
If you have questions, just call or text (303) 222-7133 for more info or a private demo.
You can also subscribe for the latest roofing sales training videos and/or get a copy of my Pitch Like a Pro roofing sales training video library. It includes every roofing sales video I've ever done, organized by category, along with a bunch of tips, tricks, and more. It's great for new people and seasoned veterans, and it's updated all the time to help you and your team smash your income goals and give every customer an amazing experience.
And don't forget to check out my Marketing Battle Pack for instant access to 70+ pieces of my proven, turnkey roofing sales and marketing materials. It's an entire suite, specially designed for sales teams, managers, and owners, providing:
Scripts
Scheduling
Direct Mail Letters
Door Hangers
Goal Projection Planners
A LOT more!
It's affordably priced and comes with a 100% money-back guarantee. There's also a playlist of instructional videos in there, explaining every single thing. So, you can watch the videos, and you'll know exactly what to do.
Thanks for joining me, and I look forward to sharing more with you in the next blog.