What would I do if I had to start over in roofing sales?
I'm talking about completely starting over, totally from scratch — I mean from the ground up, starting from zero — with only 30 days to make or break it.
I'm going to tell you what I'd do here in this blog.
Now, this topic was inspired by a post in a Facebook group.
The anonymous poster explained that he or she had been in roofing sales for about 5 years, earning about $100k/year and that (s)he had become a little complacent, not putting in much effort. And the individual was asking for advice on how to get back into the groove and dive in as if (s)he were starting out from zero again.
I responded to that with the five tips that I'll be sharing with you here. Those tips are aimed at fast-tracking my slow, expensive, and painful learning curve, so things can click more quickly for you.
So, whether you're brand new to roofing sales or you're kind of reemerging and shifting gears, these tips can help.
Before we get started, though, I just want to say welcome or welcome back. My name is Adam Bensman, The Roof Strategist.
Everything I do here — and on my YouTube channel, on my podcast (on Apple and Spotify), and in my Roofing Sales Success Formula & Complete Sales Strategy (used by thousands and thousands and thousands of folks across the U.S.) — is designed to help you and your team smash your income goals and give every customer an amazing experience.
Now, let's jump right into the five things that I would do if I had to start from scratch (by the way, this post was first made in the roofing and solar community Facebook group anonymously; you can see my lengthy response in that group).
FREE "Pitch" Like a Pro Roofing Sales Training
240+ Video Library for Storm and Retail
For Roofing Sales Reps & Owners With New Hires: All the training you need to be a "million dollar" closer!
Get Instant Access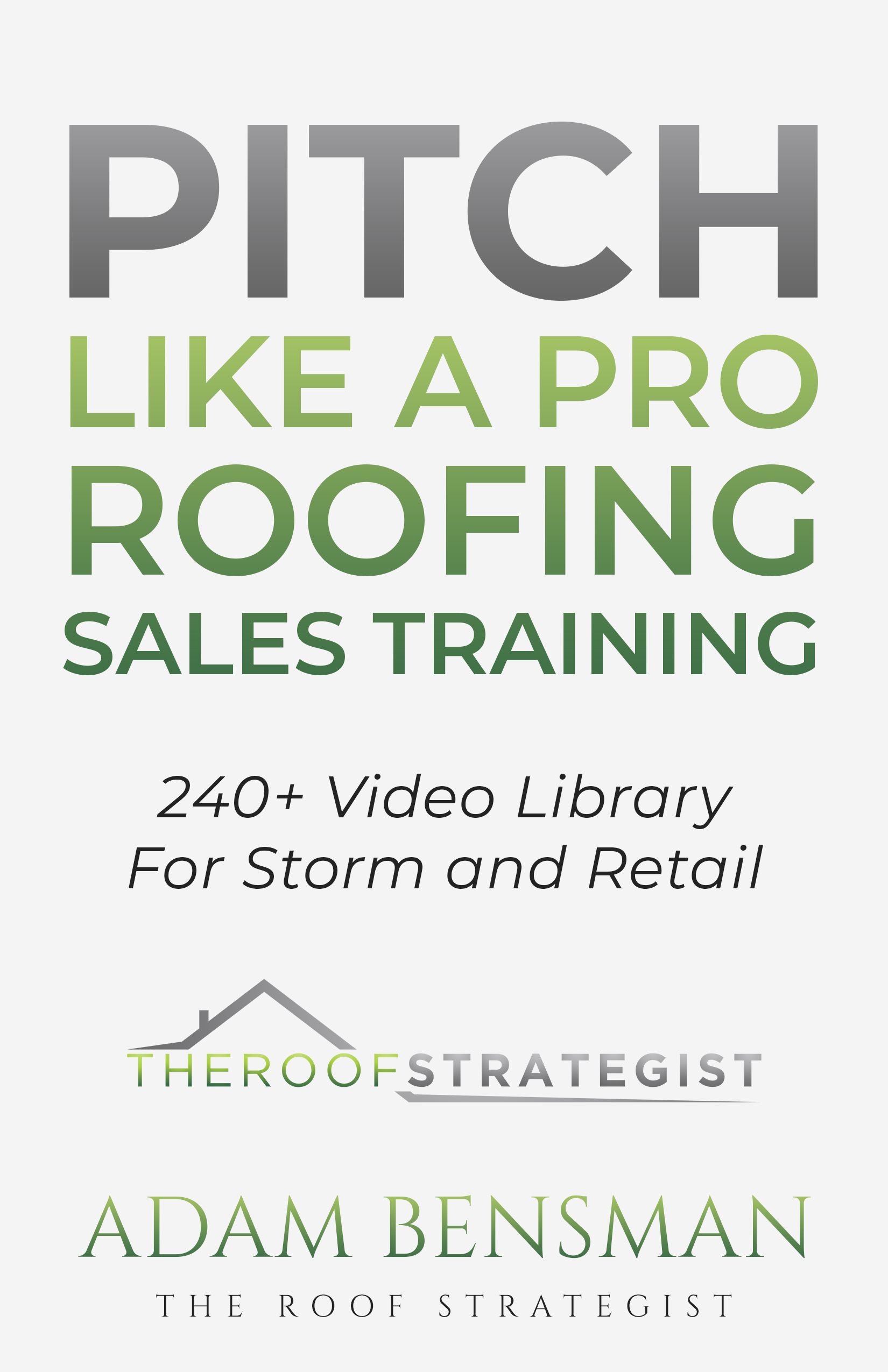 Roofing Sales Starting Tip #1: Write Down Income Goals.
If I had to start over in roofing sales, the very first thing I would do is write down my income goal.
Now, the Facebook poster who inspired this topic had been earning about $100k/year. And growing, to me, means challenging ourselves in different ways. Personally, I'd love to see someone who's been in the business for 5 years earning more than that (and it's totally possible).
So, with that in mind, I love this Zig Zigler quote:
You cannot hit a target you can't see.
One of the biggest problems in roofing sales is people saying, "I'm going to work hard, put in the time, and make good money." And it does NOT work like that.
So, the very first thing I would do is sit down and ask myself:
What do I NEED to make?
What do I WANT to make?
By the way, I walk you through this process, step by step, in my program, the Roofing Sales Success Formula & Complete Sales Strategy.
After writing down what I need and want to earn, I would then write down my "stretch goal." All of that is going to keep my vision focused on my target.
And, crazy enough, every time I've written a goal down, I've achieved it. Now, I'm working on new ones.
The point is that there is some magic in writing down your income goals.
It's not that writing this down makes some sort of miracle happen. No, when we write down our target, it can sort of turn us into like a bowhunter, with the bow cocked, ready to aim, release that arrow, and fire away to hit that target.
Those folks who have no idea of what their income goal is are going to be shooting in the dark.
So, we really want to have that target in our sights.
Roofing Sales Starting Tip #2: Create a Daily Sales Plan.
How do I create my daily sales plan? I do it by reverse engineering a plan from my income goals.
Now, if you've followed me for more than a day or so, you've probably heard me say that, in roofing sales:
We often see people who work hard and put in the time.
It's no different than trying to work out for like 8 hours to get a six pack.
The point is that we do ALL of these activities that aren't quite linked up to the main result we want. And I see far too many people spinning their wheels and not really doing the right things.
So, here's what I would do. I would:
Reverse engineer the income goal into a daily plan.
Use the daily plan to get clarity and focus on the most important sales activities.
Use the daily plan for accountability, so I know what to do every day, as opposed to just working hard and hoping for the best, which unfortunately is what most people do.
Now, if you've been in the business for a while, you'll know:
What your close rate is
Roughly how many doors you need to knock on to get a sale
If you know those numbers, you can reverse engineer a plan that details how appointments you need in order to get to a certain number of sales.
Again, we want to break that down into a 9-month season (because we need to sell and collect; 9 months is a conservative amount of time to do that).
In my program, the Roofing Sales Success Formula & Complete Sales Strategy, there's a breakdown and a very simple formula that helps you figure out what activities you need to do to generate appointments and get those sales. It specifically breaks down all of those key sales activities, including:
Knocking on doors
Making cold calls
Sending out direct mail letters
Putting up door hangers
Other general touchpoints with customers or leads
From this, you can figure out:
How many appointments, inspections, or leads you need
How many deals you need to close in 9 months to hit your income goal
Roofing Sales Starting Tip #3: Relentlessly Pursue the Plan Every Day.
With a daily sales plan in hand, the next thing I would do is relentlessly pursue that plan each and every day.
In fact, I would block out:
3:00 p.m. to 8:00 p.m., Mondays through Fridays
10:00 a.m. to 3:00 p.m. on Saturdays
During those blocks of time, I would shut off my notifications, and I would NOT let anyone do anything to steal my time. That time is dedicated to knocking on doors.
Of course, there are some neighborhoods, like areas where retirees live, where you'll want to be knocking on doors before 3:00 p.m. during the week.
Still, you have to start somewhere, and from ground zero, I'd be focused on selling during that 3:00 p.m. to 8:00 p.m. window Mondays to Fridays.
Roofing Sales Starting Tip #4: Do After-Action Reports.
I do an after-action report for every event, and I record it in my journal.
In fact, I actually just did one for a Columbus event and another for an Atlanta event I did. What I did was sit down and ask myself:
What did I do?
What would I do differently?
How can I continually improve?
By doing this, I can coach myself, taking this third-party aerial perspective and looking at myself to say:
When I was at the door, this is what worked.
This is what didn't work.
Then, after I complete my after-action report, I create an action plan for next time, outlining what I'm going to try to do differently.
This allows us to coach ourselves and discover:
Really BIG breakthroughs and winning moments
Teachable moments in the mundane, everyday stuff
That's how we can get better really, REALLY quickly.
So, after-action reports are critical. If you're not doing them already, start doing them daily with your sales.
Again, I do these after-action reports after EVERY SINGLE in-person training event I do.
Roofing Sales Starting Tip #5: Get an Accountability Partner.
I want you to share your sales goal and plan with someone, so they can hold you accountable.
Now, I want to put a couple of statistics out there (disclaimer: I don't remember the exact numbers here, but these are close enough to get the point across) — people with goals are about:
70% more likely to achieve those goals when they're written down
80 to 92% more likely to achieve their goals when they share that goal with someone else
So, go to a buddy, your spouse, your significant other, or anyone you're close to and say:
I want you to hold me accountable.
This is my plan to achieve my goal.
All I want to do is to share my goal and plan with you, so you can ask me if I'm on track, how I'm doing, and if I'm following my plan.
Simply having that accountability partner, someone you've committed to, is going to help you stay accountable to actually follow through with the plan.
After all, the truth is roofing sales is simple, not easy. It's a formula that covers 3 key things:
The BE: This means being the right person, who's committed to personal development (because roofing sales is personal development in disguise).
The DO: This means completing those sales activities every day. That's that daily plan (and a soft plug for my program). Every single person, from an individual sales rep to sales managers, team leaders, and owners, can have that daily plan to guide them. With that, it's much easier to hold everyone accountable to achieve the success that they've defined for themselves. It's a really beautiful way to lead, and it helps lift up and motivate entire roofing sales teams.
The SAY: This means saying the right thing. When you pitch at the door, overcome objections and close.
So, by having the right person as your accountability partner, you're going to stay accountable and you're going to have:
More motivation because you have to answer to that partner
Clarity on what you should be doing every day
Your after-action reports to help you finetune what you say
Plus, you have those free resources, whether it's my YouTube channel, my podcast (on Apple and Spotify), or my Roofing Sales Success Formula & Complete Sales Strategy (and, of course, you can use my free resources, your company's resources, or anyone else's).
The bottom line is that, by following these 5 steps within this simple framework, you're going to make it happen, even if you suck at selling.
Recap: 5 Things I Would Do If I Started from ZERO in Roofing Sales
Let's recap all of this, summarizing the five things I would do if I were starting over in roofing sales:
Write down a daily goal.
Reverse engineer that daily goal into a plan.
Block out those coveted sales times and commit relentlessly to selling during those time blocks.
Do an after-action report to find opportunities to improve, coaching myself to refine my skill sets.
Get an accountability partner.
Now, I want to leave you with this — roofing sales is personal development in disguise.
The BIGGEST part is showing up every day. If you can do that — and if you can lean into the discomfort, learn to manage your time, learn to communicate more clearly, and learn to handle conflict better — you'll grow any time you lean into these key areas.
That means that you will:
Serve more people.
Make a lot more money.
Get on track to smashing your income goal and giving every customer an amazing experience.
So, if you want my inspiration or help, I have some options for you below.
Get More Roofing Sales Strategies, Scripts, Tips & Videos
If you want more on any topic in roofing sales, you'll find it in my all-in-one sales training, sales strategy, and sales system, the Roofing Sales Success Formula & Complete Sales Strategy.
This exclusive program covers everything from knock to close, with packages for individual roofing sales reps and entire teams. Many roofing sales companies LOVE this program because it's a consistent process to train everybody on a relatable sales system that WORKS and that's a lightning-fast way to get results.
If you have questions, just call or text (303) 222-7133 for more info or a private demo.
You can also subscribe for the latest roofing sales training videos and/or get a copy of my Pitch Like a Pro roofing sales training video library. It includes every roofing sales video I've ever done, organized by category, along with a bunch of tips, tricks, and more. It's great for new people and seasoned veterans, and it's updated all the time to help you and your team smash your income goals and give every customer an amazing experience.
And don't forget to check out my Marketing Battle Pack for instant access to 70+ pieces of my proven, turnkey roofing sales and marketing materials. It's an entire suite, specially designed for sales teams, managers, and owners, providing:
Scripts
Scheduling
Direct Mail Letters
Door Hangers
Goal Projection Planners
A LOT more!
It's affordably priced and comes with a 100% money-back guarantee. There's also a playlist of instructional videos in there, explaining every single thing. So, you can watch the videos, and you'll know exactly what to do.
Thanks for joining me, and I look forward to sharing more with you in the next blog.