So, is roofing sales a good career?
Maybe you found out about roofing sales through a friend. Or maybe:
However, it happened, if you are wondering if this business is for you or if you could make it into a good career, I'm going to cover the pros versus the cons of roofing sales right here, so you can figure out if this business is right for you.
Before we get to it, first, welcome or welcome back. Adam Bensman, here, The Roof Strategist. Everything I do here is designed to help you and your team smash your income goals and give every customer an amazing experience.
Lately, I've been hearing folks at training events tell me that they got into roofing sales because they saw one of my videos. In fact, they're super happy, making incredible money, and enjoying life-changing opportunities.
Now, before we get into the pros and cons of roofing sales, I first want to share a quick version of how I found this business.
FREE "Pitch" Like a Pro Roofing Sales Training
240+ Video Library for Storm and Retail
For Roofing Sales Reps & Owners With New Hires: All the training you need to be a "million dollar" closer!
Get Instant Access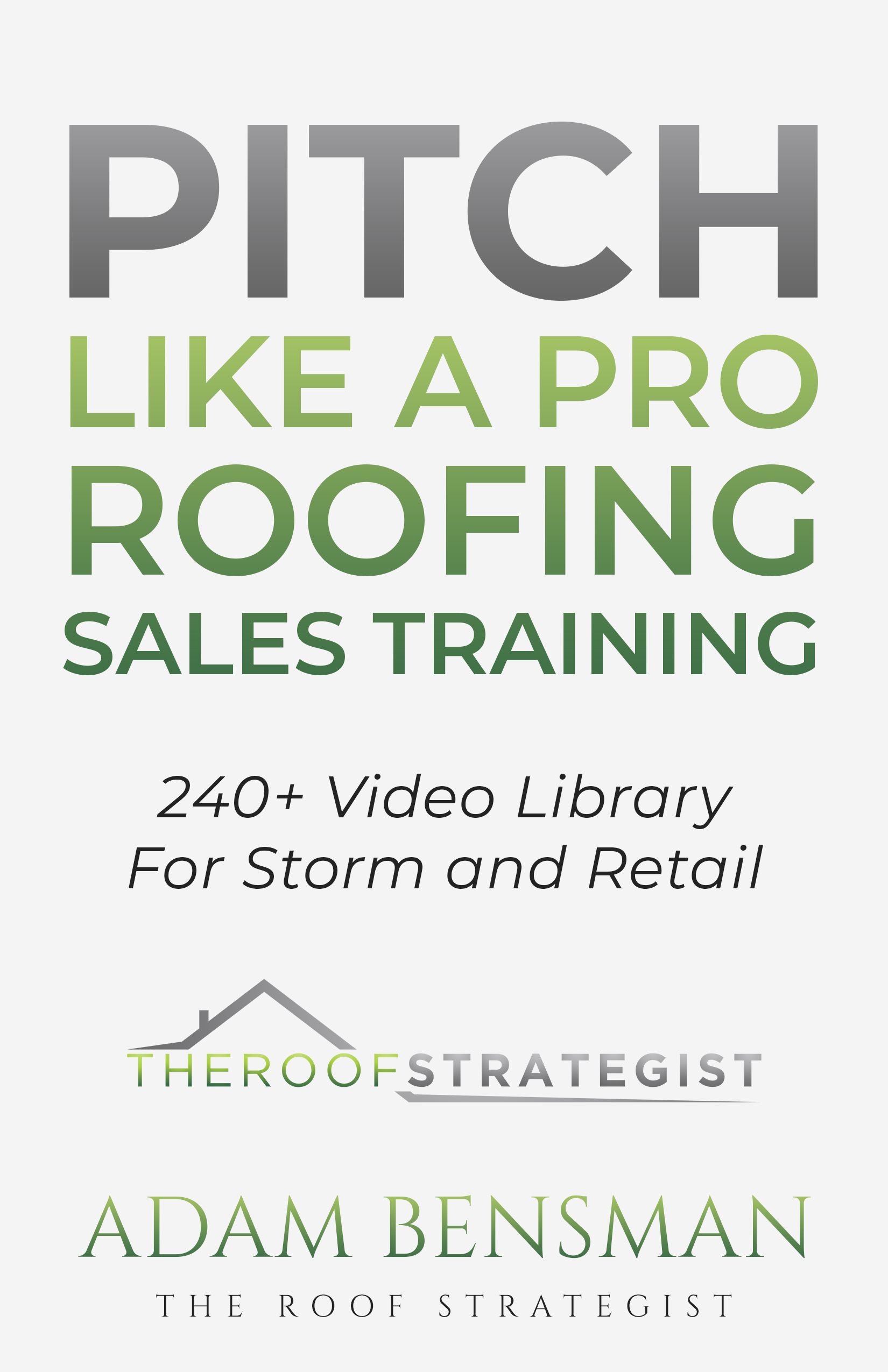 How My Roofing Sales Career Started: Background Story
When I first started my career, I drank the Kool-Aid served up to many of us getting started as professionals — and it can be a poisonous LIE. That's to "do what you're passionate about in life and you'll make money and be happy."
The truth?
That's GARBAGE.
In fact, I ended up doing that, and I went to massage therapy school because I was into natural medicine. That was my passion. I had experienced this modality that changed my life, and I wanted to give that gift to other people. So:
I go to this school to become a licensed massage therapist.
I study various modalities like core synchronism, radionics polarity therapy, reflexology, herbalism, and even colon hydrotherapy.
I started a private practice, which is really easy until I was missing one thing.
I was missing CLIENTS — and that meant I wasn't making any money. So, to make ends meet, I got a job at a massage therapy franchise, and I was earning under $20,000 a year. In fact:
I had to be on-site for a 6-hour shift, and I was only paid if I was booked.
Despite all the money the franchise made on each massage I gave, I was only paid $15 per massage.
I did NOT always get tips because not everyone tipped.
I could work for six hours, with a 45-minute commute each way, and walk out of there with $30.
I was living on $4.20/day in groceries. I never went out to eat.
Finally, I hit my breaking point during a family holiday. It was Easter, and:
I couldn't afford gas to drive 2 hours to see my family.
I had to ask my mom for gas money.
And that drive was what sent me on this journey into roofing sales. That's because my stepdad, Ron, picked up the phone when I was calling my mom to thank her for the gas money. At the time, I didn't know much about what Ron did.
When he picked up the phone, he said, "Adam, if you're looking to make a change, you know you can make $100k a year selling roofs door to door." When I heard that, I thought:
Selling roofs?
I do NOT know anything about roofs, and I do NOT know anything about door-to-door sales.
That sounds miserable.
So, I brushed it off at the time, rethinking it later and realizing that I had two choices:
I could keep going down this poverty avenue path.
I could jump into a career path with higher earning potential, applying myself and making life-changing money.
That's how I chose this route in 2011. I jumped on Craigslist and found a roofing company that aligned with my values. Then:
In my first eight months, I smashed my income goal. I made my first six figures, blowing my income goal out of the water by 40% — and making 140% of what I set out to make.
I climbed the ranks through the company. In fact, I ended up filling virtually every role there, except for accounting and installation.
I became the chief operating officer of a company operating in five states and six cities at the time.
Since then, I've taken all this knowledge and started my YouTube channel, the Roof Strategist. I've also:
Developed a roofing sales training system used by many, many thousands across America: In fact, it's used in every state in the U.S. for both storm and retail. It's even used in Canada, Australia, and Sweden.
Had the opportunity to become Owens Corning's official sales training partner: I've spoken at events and conferences all across the U.S., training tens of thousands of roofing salespeople just like you. I wouldn't be here today if I hadn't first worked in the trenches and been in that place of "worry" (even down to worrying about having money to eat or get gas).
So, that's my story.
7 Cons of a Career in Roofing Sales
Now, let's dive into the cons of the roofing industry; then, we'll hit the pros of it. When it comes to working in roofing sales, here are some of the downsides you could come across (and disclaimer — keep reading until the end because the pros after this can outweigh the cons below).
Con #1: You will be your own worst enemy.
In roofing sales, we're challenged in ways we just won't ever have to face in a cubicle job. When I started:
I was thin-skinned and sensitive.
I didn't like conflict.
I had to face ALL that head-on, and it was SCARY.
That was HARD, and it was not comfortable. So, that's the first downside to working in roofing sales.
Personally, I thought this was a pro, but for many folks, this can be a con.
Con #2: Roofing sales is NOT a consistent business.
If you need or want a set or consistent amount of pay each and every week, you're NOT going to get that in roofing sales.
Instead, your income in roofing sales will come in waves (and those high points can be a really awesome thing that we'll cover in the "pro" section below).
Still, if you really want or need that consistency in your income, roofing sales is NOT for you.
Con #3: Benefits are really rare in roofing sales.
Some companies are beginning to offer benefits, but it's not an industry standard. So, if you need a benefits plan that includes things like health insurance, you probably are NOT going to get it in roofing sales.
Again, some companies are starting to offer these types of benefits, so:
Don't let this con totally deter you.
Make it a point to ask about benefits when you're interviewing with roofing companies if you need or want benefits.
Keep in mind that the cost of benefits can be a drop in the bucket to your earning potential in this business if it's the right career for you.
Con #4: Finding the right roofing company to work for can be really tough.
I found the right company, and I stayed there the whole time I worked as a roofing sales rep. I got lucky, but it's not always that easy.
Some folks jump in and end up with roofing companies that are NOT a good culture fit. So, remember:
Don't be afraid to switch roofing companies: In fact, watch this video on How to Choose the Right Roofing Company.
Good roofing companies are ALWAYS hiring: So, you don't have to stick with a company that's just not right in terms of culture fit.
Con #5: Roofing sales is NOT for everybody.
If it were EASY to make $100k or $300k in your very first year with no experience, everybody would get into roofing sales. That's just not the reality of it, though.
Roofing sales is NOT for everyone, and some folks will do better than others in this field. In fact, those who tend to thrive in roofing sales are people who are:
Hustlers
Thick-skinned
Persuasive
Persistent
Confident
Those are the five personality traits I look for in new reps.
By the way, I was NOT thick-skinned when I started out as a roofing sales rep. I had to do some very deep inner work to get to that point. The point is that you need to either need to:
Have those 5 key traits.
Be very willing to develop them.
If not, roofing sales probably isn't going to be a great fit for you.
Con #6: About 66% of roofing salespeople quit or get fired in their first year.
You read that right — about 2 out of every 3 people don't make it past their first year in roofing sales before they start running for the hills.
There are a couple of reasons why:
Some aren't mentally prepared to face their own inner demons, and they get scared away.
Others aren't prepared for success, both mentally and tactically.
So, if you're reading this, you are already FAR ahead of everybody else because you're investing in yourself.
And, again, the company's support is a key element here. You need to find the right company.
By the way, if you're interested in my program and you want to learn more about roofing sales strategies and tactics for success, we have a package designed for reps (just click here for more info on that).
Con # 7: It takes a BIG mindset shift to be successful in roofing sales.
You have to think like a business owner, NOT like an employee or a salesperson. That's because:
You'll make different decisions as a business owner.
You're kind of writing your own checks, in charge of your own income, in roofing sales.
You may be investing in yourself through training programs, training videos, and other resources (again, my sales system gives you the resources and tools to think more like a business owner and fuel your own success in the roofing sales business).
So, those are the main downsides of pursuing a career in roofing sales.
Now, let's move on to the pros and what you stand to gain from working in this industry.
7 Pros of a Career in Roofing Sales
These pros can really outshine the cons of working in roofing sales. In fact, when it comes to the upside of a career in roofing sales, there are several BIG advantages you could enjoy, and they could change your life for the better.
Pro #1: You can set your own pay in roofing sales.
I know it sounds crazy, but it's true — you get to set your own pay in roofing sales.
In fact, one of the first things I do with new hires (and I teach this in my sales system) is create a daily sales plan. This takes ALL of the mystery out of achieving your income goal because:
You literally enter your income goal.
You find out exactly how to achieve that daily, including how to generate your leads, what marketing materials to use, and every other touch you need to make it all happen.
And when you get to set your own pay, the sky's the limit.
Pro #2: You can earn crazy amounts of money in roofing sales.
You can earn UNREAL amounts of money in roofing sales.
In fact, even first-year roofing sales reps can earn $100k, $200k, or even $300k in their first 12 months.
Actually, I just trained a 22-year-old who made:
Just under $200k in his first year in roofing sales
$250k last year in his 2nd year in the business
Another gentleman using my roofing sales system made $185k. Then, he sold a massive property for another $120k on top of it.
So, the earning potential is truly unreal, and to me, that outshines the cons of inconsistent income or benefits being rare in this industry.
If you made $300k — and the income's not totally stable and you're not getting benefits — who cares, right?
After all, you could just buy a benefits plan, and things may not be that inconsistent if you're trained up.
Pro #3: The faster you start, the faster you can see success.
Not everyone is going to be WILDLY successful in roofing sales the first year they get into this business.
Still, in my opinion, if you're a good fit AND if you're disciplined, working a good system every day there's no reason you should not earn a $100k at minimum.
That's not guaranteed, of course. I want to get that crystal clear.
Nevertheless, if you're actually working a good system, taking a disciplined approach to it, there are very good chances that you'll earn at least six figures after about a year of working in this industry.
If that doesn't happen, it's usually because:
You're not working.
You're not putting in the time.
You haven't fully committed, meaning you have like one foot in and one foot out. You haven't gone "all in" yet with roofing sales as a career.
Again, however, if this industry is a good fit for you, you can start earning wild amounts of money fairly quickly if you're armed with the right training, tactics, and resources to help you get up to speed.
Pro #4: Roofing sales is a fast-paced business.
The whole industry is fast-paced, and it can feel like you're:
Bouncing from appointment to appointment
Constantly fielding phone calls
Responding to emails and texts all the time
For some people, it's too much; for others, it's super fun.
So, if you like to move around, rocking and rolling on the regular:
There's no shortage of that in roofing sales.
It can make your day to day A LOT of fun.
Pro #5: There are NO cubicles in roofing sales.
If you're coming from an office job and you're tired of sitting in a little cube all day, you'll love roofing sales.
In fact, one of the reasons I love roofing sales is that I LOVE being:
Out at customer's homes
On the road
On roofs and outdoors
In new places and amidst new scenery
There's nothing more enjoyable than just being out in the great outdoors, on people's roofs. Plus, seeing the world from roofs is really cool.
Every day, you can see a new view — and it doesn't involve looking at the walls of a cubicle. That can be a really cool aspect of working in roofing sales.
Pro #6: Roofing sales is totally ADDICTING.
You get to set your own pay, and you can earn unreal amounts of money.
When I was a massage therapist, I would just:
Watch the clock and count down the time — tick, tick, tick, TICK.
Wait for the day or my shift to be OVER.
I've NEVER felt that in roofing sales. In fact, quite the opposite, in my roofing sales career:
I usually wish that there was MORE TIME at the end of the day.
I know that if I can just do this a little bit more, I'd earn more money.
That's why I'd advance and learn these new skills at like 9 p.m. I WISH there was more time every day.
So, if that excites you, you're going to LOVE roofing sales.
Pro #7: Roofing sales is personal development in disguise.
Now, the best for last — the final pro to a career in roofing sales is the fact that roofing sales is personal development in disguise. This is going to be a great career for you IF:
You love self-help books.
You want to be the best version of yourself.
Plus, your income gets better as you improve your:
Mindset, discipline, and focus
Organization and sales skills
Communication and conflict management skills
Planning skills
Other skills
When you get better, so does your income. Think of it like gamifying your personal growth, and your reward is a BUNCH of money, instead of a trophy.
And when we talk about money, I look at money as a "Thank You" note. After all, when you do a good job in roofing sales, your customers will literally say, "Thank you for serving me" — or thank you for helping me make a big decision, taking the time to explain all of this to me, or helping me solve this problem.
So, those are the pros vs. the cons of the roofing business.
And that last pro — the fact that roofing sales is personal development in disguise — is truly why I love this business so deeply.
I hope this helps you determine whether or not roofing sales is a good career for you.
Want More Roofing Sales? Or Training For Your Team?
We've helped thousands of sales reps overcome the same sales challenges you're probably facing. Like not getting enough leads, getting stuck on objections, or not closing sales in the house.
Learn how we can help you:
Get trained up in a lightning-fast 9.5 hours
Self-generate more leads
Become a confident closer
Pick a time for your 1-on-1 demo.
Or use the links below to get instant access, 100% Risk Free! Backed by our 30-Day 'NO BS' Money Back Guarantee.
Thanks for joining me, and I look forward to sharing more with you in the next blog.