It's time to make roofing sales FUN again!
After all, roofing sales can get a little monotonous. It's kind of like only using missionary with your partner and losing that excitement you had the first time.
When you get into the business, you wake up SO excited to go to work every day because there are new challenges and fresh opportunities to make new money. Then:
That excitement slowly dwindles.
It gets replaced with drudgery and monotony.
The fresh spark you once had is gone.
Just like with a partner, you need to have a vulnerable, open conversation about what you might like or might want to try — and:
You're going to have to experiment because missionary all the time is going to get a little stale and boring.
In time, you're going to learn what you like, what you love, and what you don't like. That's how we keep it fresh.
It's just the same with roofing sales and your career.
So, today, we're going to talk about three different ways you can make roofing sales fun again.
First, I'd like to say a quick welcome or welcome back. Adam Bensman, here, The Roof Strategist. Everything I do here is designed to help you and your team smash your income goals and give every customer an amazing experience.
And if you like this and you want more roofing sales training, sales strategies, sales techniques, and maybe even some discussions (on mindset and what we face in our day-to-day life in roofing sales), I invite you to join me in my FREE training center. There's no catch. Just click that link for immediate access.
Now, let's get into it.
FREE "Pitch" Like a Pro Roofing Sales Training
240+ Video Library for Storm and Retail
For Roofing Sales Reps & Owners With New Hires: All the training you need to be a "million dollar" closer!
Get Instant Access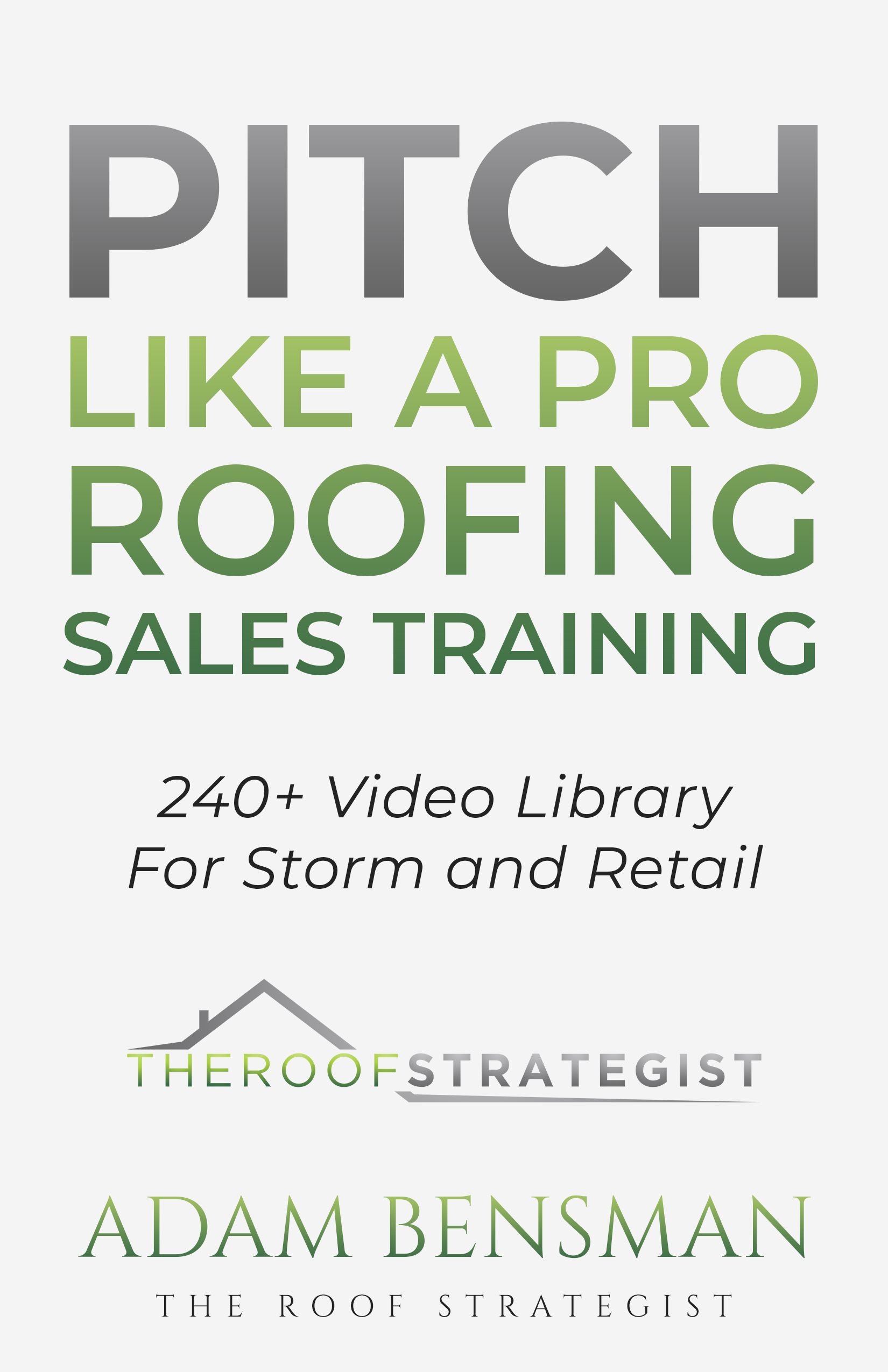 Background: Why Make Roofing Sales Fun Again?
Before we get to the tips for making roofing sales fun again, I want to share a quick story about what inspired this video.
Now, you may notice that I have this goofy mustache going on — I haven't seen my cheeks or my chin in many, many years.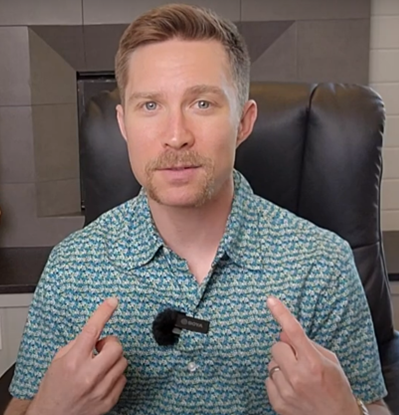 The other night at dinner with my dad and my wife, Sheena, she turned to me and said, "I think we should shave a handlebar mustache on you."
I was ALL for it because I LOVE new stuff and having fun. Then, she says, "Well, no, we can't do that because you have videos to film and stuff."
That was the exact moment when I realized that I had been taking my work too seriously.
My business has grown, and I've felt pressure, without even realizing it, to take things more and more seriously. So:
I didn't let my guard down.
I've been more and more rigid, structured, and professional.
So, I told Sheena, I said, I'm going to talk about missionary in this video. She's like, "Are you sure?" And I said, "Yes." After all:
We're all human.
We're all doing these things.
At the end of the day, I want to just connect authentically and share stories of relatable experiences to help you get the message and change your mindset of how you view work, so you can make it fun again.
That's when I told Sheena, "Let's do it. Let's shave the 'stache. If people don't follow along because of how I shaved my face, that's on them, not on me."
So, she shaved it, and she loves it, by the way.
And what's most important to me — that my wife loves it because she's the one who has to look at me. After that, I was talking to Sheena, and she said, "Tomorrow, you should make a video on how to make roofing sales fun again!"
That moment was a great reminder to just:
Bring back the fresh excitement to our day-to-day.
Feel free to speak our mind in a positive way to help others.
So, Sheena inspired this topic (thank you, Sheena!).
Now, let's get to our three tips to make roofing sales fun again.
Roofing Sales Tip #1: Don't take yourself too seriously.
Some say that you teach what you need to learn — and I couldn't agree more when it comes to this topic. In fact, I've been taking myself too seriously because it's no secret that:
Roofs are the single MOST BORING thing anyone could ever voluntarily want to sell.
Roofs are also the single most boring thing that anyone's going to want to buy.
So, why should we take ourselves so seriously? It's just roofing, and:
It's a product that doesn't even move, and it just sits there.
It's not sexy or exciting.
It's just there.
That's why we shouldn't take ourselves too seriously in roofing sales.
Roofing Sales Tip #2: Do something NEW.
Try something fresh and experimental. Now, I'm going to share a few examples here to make this crystal clear. And, again, I want to say that if you're only using missionary — or doing the same basic thing in roofing sales — it WILL stop being fresh and new at some point.
When that happens, here's what we do:
We talk and make ourselves vulnerable.
We have some fun and experiment.
Sometimes, those experiments flop. Other times, they don't. It's no different in your career.
In fact, I had a guy try something new and clever in a really competitive. Here's what he did:
He got a little toy shoe and put it in a bag.
He hung that on the door saying, "Just trying to get my shoe in the door!"
That was a way to break through the noise and really stand out among all the competition in the market. I LOVED it because it's fresh, new, and experimental.
Now, I do this in my current business, experimenting to keep it fresh and fun. Sometimes, I flop. Other times:
It works a little bit.
We hit a grand slam.
Then, we refine, reiterate, and improve.
You can do this too by changing up your pitch and your approach at the door. If you're using the SLAP Formula, you can experiment with new things, making it specific to their roof.
Here's what you can say:
Hey, the reason I'm stopping by is that I left Peggy's house, and I just got her roof approved.
Your roof looks like it's about the same age. It might even have that same shingle up there.
And while I was in the neighborhood….
That's where you can experiment and try something new. You could:
Mention a customer's name and tell a story.
Tell a joke.
Do something else fresh and new.
The same goes for your direct mail letters. Again, you just want to experiment and have fun because that's what this is all about. And to do that, you could:
Put a penny in the envelope and send out some "lumpy mail."
Play on folk's sense of curiosity, so they open the envelope to find out what's inside.
Use clever language, like "My services won't even cost you a penny, but I'll reimburse you anyway!"
It's all about being playful, cheeky, and open to experimenting.
When you do that, you can see what happens with real-time feedback — and you could stumble onto a real winning strategy that's not only fun but also works.
Roofing Sales Tip #3: Use humor.
Bring in the jokes! What better way is there to add a little levity and keep things fun?
I've done a video called the Try Not to Laugh Challenge, and there were two opinions on this:
Some thought it was the DUMBEST thing in the entire world: These folks would never take the challenge.
Others thought it was hysterical: These reps are going to try the challenge for themselves!
That topic was inspired by a book I read called, Humor, Seriously. The authors did experiments and showed that people who use humor in the sales process were able to sell more because:
Humor increased levels of trust
Humor also enhanced the customer experience and made the customers feel better.
So, here are a few ways we bring humor (and a little more fun) into our process:
Tell a joke at the door.
Use the "Try Not to Laugh" challenge.
Dance. Some members of the Pitch Pro Movement are literally challenging their team to do the chicken dance when the door opens to, again, bring in the humor.
Use self-deprecating humor. Poke fun at yourself, and joke with homeowners. Keep the buying experience light, and be playful because it's just
Recap: 3 Tips to Make Roofing Sales FUN Again
The bottom line is to remember to have FUN with this when you can and:
Break up the monotony.
Get that spark back and start seeing every day as a new challenge, with new excitement and new learning opportunities. Keep that spark bright because, at the end of the day, your energy and your motivation are MOST important.
Ultimately, if you're having fun with what you do, your performance will follow. And guess what?
Even if it doesn't, you can still have MORE FUN now staying at your same performance level. So, why not try it out and have more fun day to day, right?
Here's what you can do to make that happen:
Don't take yourself too seriously: I am taking my own advice here. I couldn't believe that I was going to talk about missionary on a video, especially knowing my channel. I've just been very conservative about things like that. So, I'm going to have more fun and not take myself so seriously.
Do something new: Try fresh things and don't be afraid to experiment. I actually shaved my face when putting together the video for this topic. It's different, new, and a little silly-looking. It's also FUN.
Bring humor into the process: That's why we're talking missionary here. Hopefully, that lands in some way that's light and that can help you tap back into your passion and excitement. Have fun with roofing sales because this is our livelihood, and we spend more time doing this than anything else.
So, I hope this helps you have more fun and enjoy yourself more in roofing sales.
Want More Roofing Sales? Or Training For Your Team?
We've helped thousands of sales reps overcome the same sales challenges you're probably facing. Like not getting enough leads, getting stuck on objections, or not closing sales in the house.
Learn how we can help you:
Get trained up in a lightning-fast 9.5 hours
Self-generate more leads
Become a confident closer
Pick a time for your 1-on-1 demo.
Or use the links below to get instant access, 100% Risk Free! Backed by our 30-Day 'NO BS' Money Back Guarantee.
Thanks for joining me, and I look forward to sharing more with you in the next blog.