We got a bunch of scumbag roofers to thank for this one.
It's the objection on a storm-damaged roof when a homeowner IMMEDIATELY says this because they don't want to have a conversation with you.
"You're ripping my insurance company off," they say.
Now, this objection is pretty much the identical to the "I'm not interested" objection.
And, sometimes, we don't get this at the door. Occasionally, this objection comes up if:
We didn't explain supplements or the process well enough to homeowners.
Things aren't going smoothly, and there's some pushback from the insurance company.
You know how sometimes a little birdie at the insurance carrier gets into the homeowner's ear, saying "I found four other contractors willing to do it for this, and your guy is too expensive." That's the WORST.
So, I'm going to give you three key talking points to help you communicate and have a REAL conversation with a homeowner who says, "You're just ripping my insurance company off."
Now, here's why it's SO important for you to learn how to respond to this objection — if you don't, the insurance company WINS, and your potential customer doesn't end up fining a claim. So:
They don't get the work done.
They lose out, especially if the roof is older and it needs to be replaced.
So, I'm going to show you how to really connect with homeowners and cut through their idea that every contractor is a sleaze ball.
Now, we are indeed fighting an uphill battle because we have insurance companies (like in Florida) literally sending letters to homeowners, saying all contractors who show up at your house are providing fraudulent services — or they're damaging roofs to get them approved. And the media picks this stuff up too.
That's why we need to rally together and be a light for the industry, communicating clearly, so our homeowners can truly get the service that they signed up for with their insurance.
By the way, welcome or welcome back. My name is Adam Bensman, The Roof Strategist. Everything I do here — and on my YouTube channel and in my podcast (on Apple and Spotify) — is designed to help you and your team smash your income goals and give every customer an amazing experience. And I've had the opportunity to help thousands and thousands and thousands of roofing sales reps just like you overcome the same challenges that you're probably facing right now, like this kind of rejection at the door.
So, if you haven't done it yet, get your free copy of my Pitch Like a Pro roofing sales training video library sent right to your inbox. It includes more than 300 videos, every video I've ever done, organized by category for easy binging. To get instant access to all that right now, simply click on that link.
Now, let's get to it — the three key points to help a homeowner see the light of day and overcome the "You're ripping my insurance company off!" objection.
FREE "Pitch" Like a Pro Roofing Sales Training
240+ Video Library for Storm and Retail
For Roofing Sales Reps & Owners With New Hires: All the training you need to be a "million dollar" closer!
Get Instant Access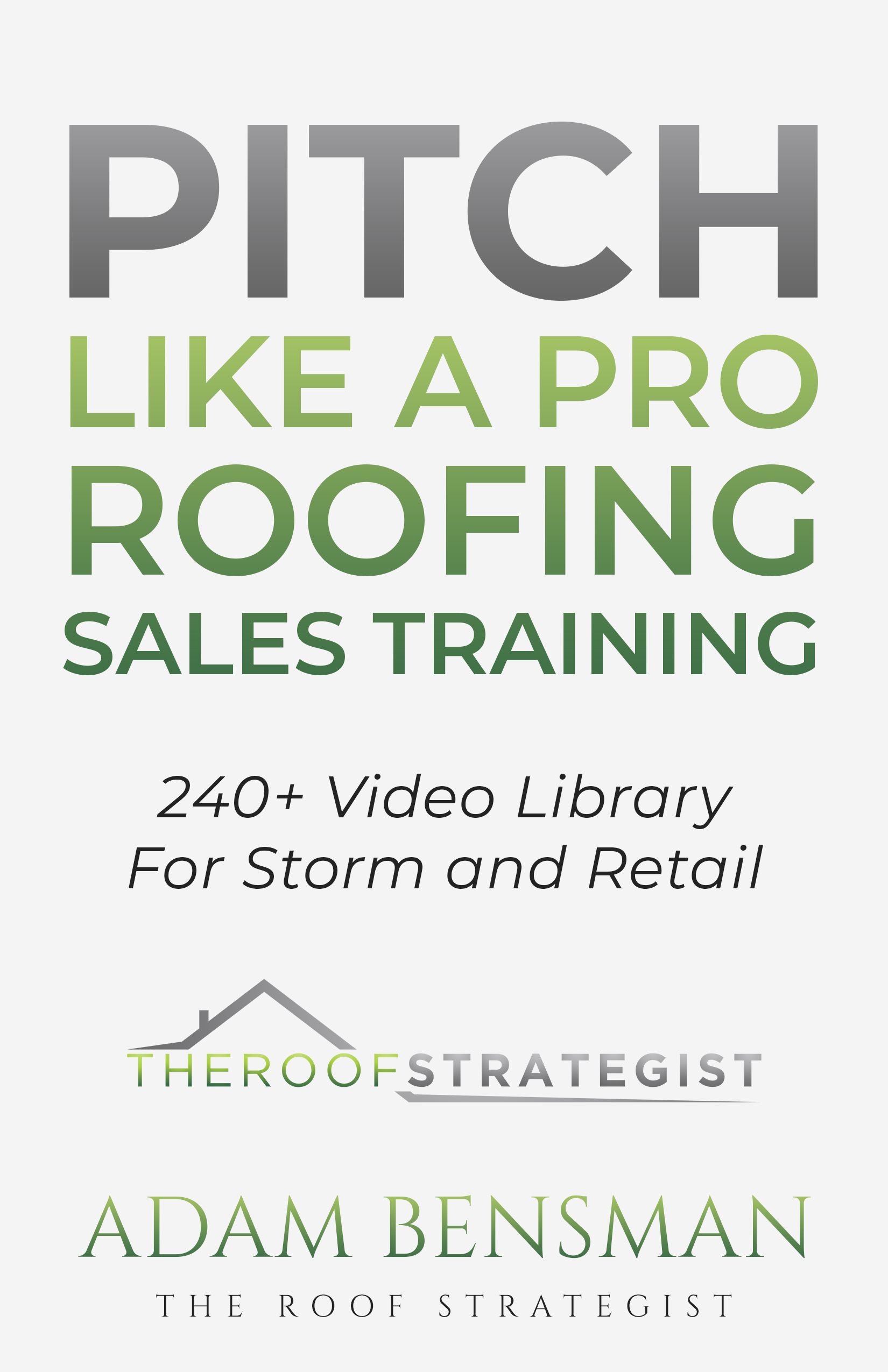 Roofing Sales Objection Strategy #1: Explain insurance as a service contract.
No matter what a homeowner thinks about you or contractors in general, the truth is that insurance IS a service contract. Many people overlook the fact that a policy is a service contract.
So, when a homeowner buys insurance, they're buying a SERVICE. Here's how to explain that to a homeowner:
Mr. Homeowner, I know it may seem like someone's trying to rip you off, but ultimately my sole mission is to help you get what you deserve under the contractual details on this service agreement.
We need to rewire how homeowners think about the process.
Disclaimer: We have to have to be mindful of UPPA laws (UPPA stands for the unlicensed practice of public adjusting). By law, we CANNOT discuss coverage or policy details with homeowners. I'm not concerned if you agree or not. I'm just telling you what the law is. Personally, I think that's a whole bunch of garbage, BUT I don't write the laws. We just need to comply with them.
So, I can't sit there and explain to a homeowner that I can help get them covered, but I can talk to a homeowner and say:
Hey, listen, I've worked with a lot of folks who've had this same concern, and they say, 'Hey, you're just ripping my insurance company off.'
And it's not until we start talking through what their real barrier or concern is because, YES, there are slimeball contractors out there.
But, Mr. Homeowner, an insurance policy or insurance coverage is a service contract.
This is only the first point. We DO have to go a little deeper, but, Mr. Homeowner, you're buying a service to keep your home protected.
My mission being here is to help identify whether or not there is enough damage to warrant even having a conversation about how to get this damage taken care of.
And it's NO obligation.
Only one of two outcomes will occur.
One is that I hop up there, take a look, and everything's fine. You have a clean bill of health, and you don't owe me a penny.
If we do find any damage, I'm going to document it with photos and videos.
And when I get down, off the roof, we're going to look through those together, so you'll see it with your own eyes. Then, you can be the judge.
That's just an example.
The point is to bring it back to what we're going to do with regards to this service contract for a service they're already paying for.
Roofing Sales Objection Strategy #2: Point out that insurance never pays more than needed.
Let's take a break from roleplay and just talk about the facts.
When was the last time you heard of an insurance company voluntarily paying more than they needed to?
I'd like to hear this story because — oh wait, yeah, that does NOT happen.
So, we want to communicate this to a homeowner and help them realize it without being rude. You can say something like:
Mr. and Mrs. Homeowner, I understand that it may feel like someone's trying to prey on the insurance company, but I want to ask you a question — and please bear with me — but when was the last time your insurance company paid more than was justified to pay?
Whether it was health insurance, car insurance, or home insurance?
They're going to realize that's NEVER happened because we can't EVER get an insurance company to pay more than what's justified. Then, you can continue with:
When you work with us, we make sure that ALL of the damage is documented appropriately, and we actually use the same software that the insurance company uses to create their "estimates."
By the way, if you're doing more retail roofing sales, you simply want to break down the objectivity and communicate the reasoning to get that roof repaired in such a manner, following manufacturer's recommendations and the code items that are required to install a roof.
When we outline all that, it is completely black and white. So, again, ask:
When was the last time that your insurance company paid MORE than they felt was justified?
"Justified" is key here, whether it's health insurance, car insurance, or home insurance.
And they're going to say, "Well, they haven't." That's when we lean in and say:
Hey, that's because the only way anyone gets compensated is when things are justified, meaning they're actually done.
So, that is a really powerful way for them to realize that it just doesn't happen. Then, follow up with:
So, we can't get paid on things that aren't justified. And the only way it's justified is if it's brought up to code or the manufacturer's requirements for safety and because that's what you're paying for in your service contract with your carrier.
Roofing Sales Objection Strategy #3: Explain the Deductible
Now, the final point to overcome this objection is to address the deductible. You can say:
Mr. and Mrs. Homeowner, the last thing is your deductible. I call this a contractual agreement between you and them because I'm removed from that.
The reason say that is because your deductible is a contractual agreement between you and the insurance carrier.
I have NOTHING to do with it.
By the way, this works similar to a copay.
Imagine that you had a $5,000 copay, and you went in for a major surgery on your knee that costs $25,000. Now, let's say the surgeon got in there and suddenly found a bunch more stuff that needed to be done, adding $7,000 to the bill. So, now, that's a $32,000 surgery.
And what does the surgeon do? He justifies it and shows you photo evidence of what needed to be done and why. Then. the insurance company will cover the additional amount if it's justified. That's the only way.
Right now, Mr. Homeowner, if you have a $5,000 copay and the bills goes up to $32,000, what do you owe? Still just $5,000.
The same thing happens in reverse. If your surgery bill is lower because your knee isn't as bad as the surgeon thought, let's say it's $15,000, what's your contribution?
It's still the $5,000 copay.
So, I want you to know that, working with us:
We're helping you because you're simply paying for a service contract. That's what insurance is.
We make sure that when we do serve you that all the work we do is a 100% justified. We're going to get your roof put back in the condition it was in before the storm and brought up to current code.
We use a black-and-white software, using the same language as the insurance carrier.
So, there's really no physical possible way for us to get paid or take advantage of anyone or even rip someone off here.
Finally, remember that your contribution is simply your deductible, whether the cost ends up being more or less.
That's why it's so important for us, when we help homeowners, to identify whether or not the damage is severe and then guide them through the next steps to get that damage repaired.
Recap: How to Overcome the Rip-Off Objection in Roofing Sales
So, there you have it — the calm, casual way to have a real, meaningful, engaging conversation with homeowners to get them off the fence when they feel like you're praying on their insurance company.
And remember, be compassionate with them because they feel this way after hearing a horror story from a neighbor or friend who hired some scumbag roofer who did not communicate clearly with the homeowner.
Those bad stories trickle down, and they can be amplified by the news and insurance companies. So:
Be compassionate.
Realize that they're just trying to do the right thing for themselves.
Guide them through these three steps.
If you do, you should be able to:
Break through.
Bring in some more business.
Most importantly, truly serve that customer to help them get the service that they've been paying for in their insurance service contract.
Get More Roofing Sales Strategies, Scripts, Tips & Videos
If you want more on any roofing sales topic, you'll find it in my all-in-one sales training, sales strategy, and sales system, the Roofing Sales Success Formula & Complete Sales Strategy.
This exclusive program covers everything from knock to close, with packages for individual roofing sales reps and entire teams. Many roofing sales companies LOVE this program because it's a consistent process to train everybody on a relatable sales system that WORKS and that's a lightning-fast way to get results.
If you have questions, just call or text (303) 222-7133 for more info or a private demo.
You can also subscribe for the latest roofing sales training videos and/or get a copy of my Pitch Like a Pro roofing sales training video library. It includes every roofing sales video I've ever done, organized by category, along with a bunch of tips, tricks, and more. It's great for new people and seasoned veterans, and it's updated all the time to help you and your team smash your income goals and give every customer an amazing experience.
And don't forget to check out my Marketing Battle Pack for instant access to 70+ pieces of my proven, turnkey roofing sales and marketing materials. It's an entire suite, specially designed for sales teams, managers, and owners, providing:
Scripts
Scheduling
Direct Mail Letters
Door Hangers
Goal Projection Planners
A LOT more!
It's affordably priced and comes with a 100% money-back guarantee. There's also a playlist of instructional videos in there, explaining every single thing. So, you can watch the videos, and you'll know exactly what to do.
Thanks for joining me, and I look forward to sharing more with you in the next blog.