There are only TWO reasons that people buy things — that's it.
There are two reasons driving people from where they are right now to deciding to give you their hard-earned money.
And this applies to every single product anyone ever buys, from a new pair of shoes or a new phone to a new car, a new truck, a lift kit for a truck, a roof, and more.
The same two buying reasons apply to ALL of those things.
Now, this is a wildly simple sales philosophy, but the breakthroughs you can have by applying these principles can help you close A LOT more sales.
Here's why. I'll prove it to you!
When you learn why people make buying decisions, you can tailor your sales presentation in ALL of your customer communications, so that it totally aligns and resonates with that customer.
And that's what motivates homeowners to cut you off and say, "I'm ready to move forward. What are the next steps?" opening the door for you to close.
This works when you've been able to identify which one of these two reasons is behind customers' buying decisions.
FREE "Pitch" Like a Pro Roofing Sales Training
240+ Video Library for Storm and Retail
For Roofing Sales Reps & Owners With New Hires: All the training you need to be a "million dollar" closer!
Get Instant Access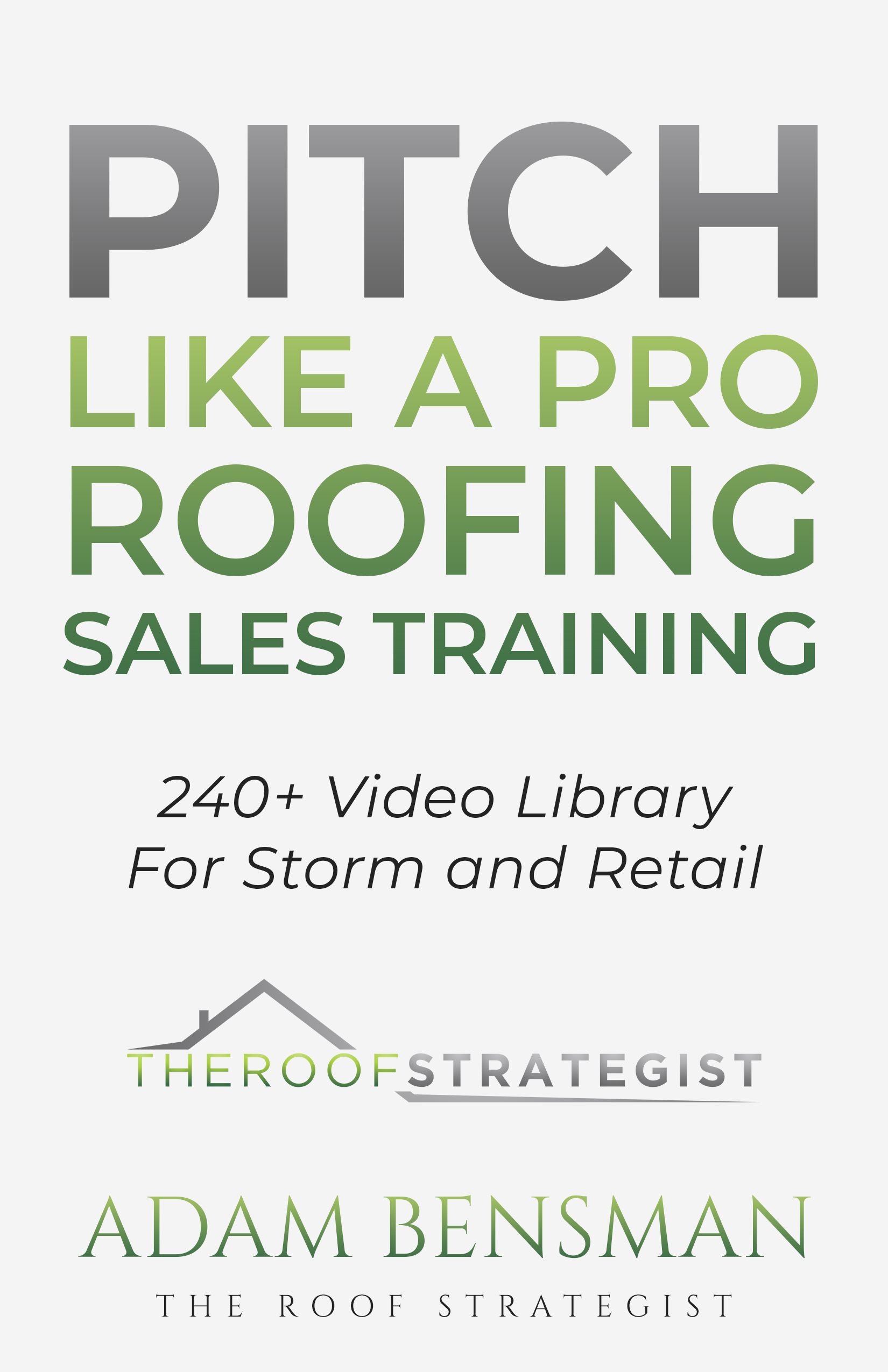 Why People Buy & Why It Matters
Now, I look at these reasons like levers in a customer's mind. If we can pull these levers appropriately by customizing what we say and how we say it:
Our sales message will just match.
It'll sing beautiful words of poetry into the customer's ears.
The customer is going to be super excited to work with us.
So, before we get started in today's video, I just want to say welcome or welcome back.
My name is Adam Bensman, The Roof Strategist. Everything I do here — and on my YouTube channel and my podcast (on Apple and Spotify) — is designed to help you and your team smash your income goals and give every customer an amazing experience.
And I've got a couple of ways I can help you do that beyond this blog:
My Pitch Like a Pro roofing sales training video library: This includes every roofing sales video I've ever done, organized by category, for easy binging.
My programs: This includes info about several of my programs, along with details about how to set up a demo, get in touch, and more.
Now, let's dive into this, covering:
The only two reasons that people buy things
How you can learn how to manipulate your sales dialogue and communications to create beautiful words of symmetry in your prospect's mind, so they choose to work with you
Why People Buy: Want & Need
The number one reason that people buy anything is that they WANT it.
Now, this is the stuff that's FUN to shop for.
It's the stuff that you find yourself lying in bed at night on your phone, researching — like the lift kit for your truck, your next vehicle, or the phone you might want. These are:
Elective purchases that are driven purely by desire
Things we can't wait to get
Buying decisions that bring us joy and a sense of fulfillment
So, does that criteria describe what it's like to buy a roof?
Heck NO is how most people probably answer that question. No one WANTS to buy a new roof, and no one thinks:
I cannot wait to spend $20,000 to $40,000 on a new roof because it's going to give us this new opportunity, amazing experiences, and increase the home value!
No one thinks that way.
Now, the second reason that people buy things is that they NEED them.
Yes, this IS crazy simple, like I mentioned above, but we're going to break down this psychology, taking it a few layers deeper, so you can apply it on your next sales appointment.
People buy for two reasons:
They buy the things that they want: These are exciting things that can bring pleasure and joy. This could include things like a new cellphone, a new truck, a new house — it's the FUN stuff.
They buy the things that they need: These are literally the things people cannot live without. This could include things like electricity, tires for your vehicle, and oil changes — we don't buy this stuff because we're excited. We need it.
So, we have these two categories of wants and needs. Again, no one wants to buy a roof because it's not fun.
Instead, in roofing sales, we need to learn how to communicate and focus our sales message in a way that cuts out the WANT and focuses on the NEED.
Want, Need & 3 Dominoes to Win the Sale
Now, in my Program, I teach that there are three dominoes that we must knock down in a specific order in order to get the sale. Those are:
Trust: We have to develop trust with the customer first.
Need: We have to create a need because people don't want to buy a roof.
Money: We have to showcase the high level of value that comes from our financial exchange of money for the product.
So, we have trust, need, and money.
With need, how do we showcase the findings of what we discovered on the roof? How do we get the homeowner to see the NEED and think, Hey, I really do need a roof, and I need it now!?!?
And the greater the need, the more likely it is that they'll move forward with the buying decision.
How to Evaluate "Need" in Roofing Sales
Now, when you're selling roofs, do you have a higher likelihood of selling a roof to the homeowner who has an active leak or one who's just getting an estimate because they'll have to replace the roof in 5 to 7 years?
Common sense tells us that the person with an active leak is probably more likely to buy a roof.
Why?
Because there is a very, VERY high need there.
So, if you look at need on a scale of 1 to 10, focus all of your communication on legitimately and ethically communicating and driving that customer as high towards a 10 as possible. And remember:
If they have an active leak, they're need is at an 11.
If they're looking to get a new roof in 5 to 7 years, their need right now is probably at about a 3.
Why Roofing Sales Customers Take Action: 4 Tips
We need to find those reasons that compel a homeowner to take action. To help you do that, I'm going to share a few tips with you:
Watch my video Stop Saying 'Your Roof Is Damaged': This is a key driver for creating the need.
Do an inspection that helps you sell: The inspection can highlight problems that homeowners may not have been aware of, helping establish the need for the roof.
Watch my video Objection: 'I Want to Wait Until Storm Season Ends': This has several angles of attack that we can use to overcome the "I want to wait until later" to do my roof. That usually comes up on the storm side.
Explain future price increases: This can help create a sense of urgency because the prices of roofing materials increase quarterly. In fact, as of September 2022, we're seeing about 7 to 12% quarterly price increases. That means today's rates are compounding much faster than the stock market and that the price of roofing is going up more than the stock market. At that rate, the price of roofing will double about every 5 years. So a roof that's $20,000 today will probably cost about $40,000 in 5 years if the homeowner waits.
Recap: The ONLY 2 Reasons People Buy in Roofing Sales
Now, you've learned that there are two reasons and ONLY two reasons that people buy things:
They buy the things that they WANT to buy.
They buy things that they NEED to buy.
Since roofing isn't an exciting item, not something that people look forward to buying, we need to learn how to sell things that people don't want to buy by focusing on the need. And, sometimes, we need to create the need.
Now, you have enough to run with on your next appointment. So, as you're communicating with customers, I want you to ask yourself:
Am I successfully communicating the need for them to take action now?
Am I successfully asking them questions to help them come to terms with the fact that they need a roof now?
Am I successfully communicating why it's not in their best interests to wait to get a new roof?
Your new mission now is to approach every sales dialogue with the following in mind:
I need to focus on creating an absolute need, and I'm going to use EVERY ethical angle I can.
I'm going to use all the information at my disposal, and I'm going to slow down and work on my inspection, so I can communicate clearly and have indisputable evidence for that homeowner.
Focus on the NEED, and you'll get better at earning those sales.
Get More Roofing Sales Strategies, Scripts, Tips & Videos
If you want more on my core philosophy (on trust, need, and money) or if you're looking for more info on any topic in roofing sales, you'll find it in my all-in-one sales training, sales strategy, and sales system, the Roofing Sales Success Formula & Complete Sales Strategy.
This exclusive program covers everything from knock to close, with packages for individual roofing sales reps and entire teams. Many roofing sales companies LOVE this program because it's a consistent process to train everybody on a relatable sales system that WORKS and that's a lightning-fast way to get results.
If you have questions, just call or text (303) 222-7133 for more info or a private demo.
You can also subscribe for the latest roofing sales training videos and/or get a copy of my Pitch Like a Pro roofing sales training video library. It includes every roofing sales video I've ever done, organized by category, along with a bunch of tips, tricks, and more. It's great for new people and seasoned veterans, and it's updated all the time to help you and your team smash your income goals and give every customer an amazing experience.
And don't forget to check out my Marketing Battle Pack for instant access to 70+ pieces of my proven, turnkey roofing sales and marketing materials. It's an entire suite, specially designed for sales teams, managers, and owners, providing:
Scripts
Scheduling
Direct Mail Letters
Door Hangers
Goal Projection Planners
A LOT more!
It's affordably priced and comes with a 100% money-back guarantee. There's also a playlist of instructional videos in there, explaining every single thing. So, you can watch the videos, and you'll know exactly what to do.
Thanks for joining me, and I look forward to sharing more with you in the next blog.