What do you do on rainy days when you're in sales?
Many salespeople have NO idea what to do on rainy or snowy days. So, they literally just sit on their hands in the office, assuming they can't make sales when it's cold or rainy out.
But the truth is, no matter what the weather's like, there ARE sales activities that you can still do to help you make money.
Before we get to those, I want to say welcome or welcome back. My name is Adam Bensman, The Roof Strategist. Everything I do here — and on my YouTube channel and in my all-in-one sales training, sales strategy, and sales system, the Roofing Sales Success Formula & Complete Sales Strategy — is designed to help you and your team smash your income goals and give every customer an amazing experience.
And if you haven't yet done it, check out our brand-new FREE training center by clicking the link. We've been adding a lot of new stuff there, so even if you have some of my old freebies, there are great new items in there now to check out as well.
You can also text the word FREE to (303) 222-7133, and we'll send you a link that gives you access to all of those amazing resources.
Now, let's dive into the 7 different sales activities that you can use to generate business even when it's rainy or snowy outside.
After all, even though it may feel like it, these bad-weather days don't last forever. They're merely a short blip on the radar.
Still, they can tank our momentum. In fact, it can feel like we're trying to push this giant boulder uphill, especially if we're brand new to the industry. And making that first sale is often the most challenging part (I talk about this in my Roofing Sales Success Formula).
So, when we don't keep this momentum and we let up off the gas, it takes A LOT of energy to get that ball moving again.
That's why we want to make sure that we keep up with our sales activities, even on those rainy, cold, off-season days.
Now, let's get to those rainy-day sales activities.
FREE "Pitch" Like a Pro Roofing Sales Training
240+ Video Library for Storm and Retail
For Roofing Sales Reps & Owners With New Hires: All the training you need to be a "million dollar" closer!
Get Instant Access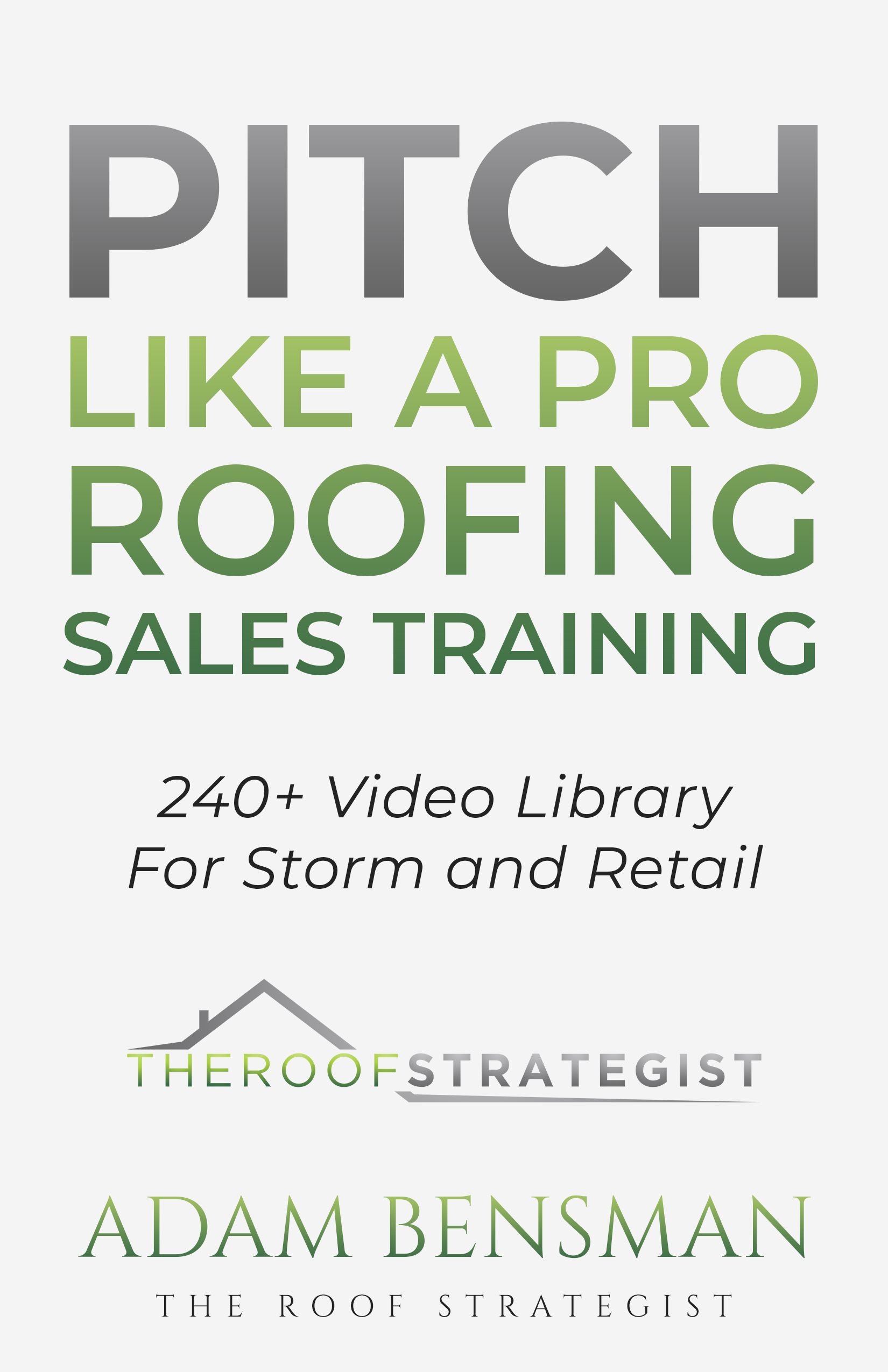 Rainy Day Roofing Sales Activity #1: Rehash Old Leads
If you're new in sales, this doesn't apply to you. But if you've been in roofing sales for even just a few months, rehashing your old sales means that you:
Go through ALL of those appointments that you ran in the past.
Look for the leads that went stale or got held up because someone ghosted you.
Sometimes, rehashing these deals we haven't closed can uncover some that we simply didn't have time to handle because we were too busy trying to generate other new leads or handle leads coming in from the office.
So, whether you're selling storm-damaged roofs or retail roofs:
Get in your pipeline.
Start rehashing your old leads.
By the way, this is literally the EASIEST way to start pulling money out of your pipeline.
Rainy Day Roofing Sales Activity #2: Networking
Now, I call networking relationships "10 X relationships." Why?
Because we'll put ALL of this time into landing a customer, and with that customer, we can land one sale.
However, with a referral relationship or a networking relationship:
You build those relationships once.
They can KEEP feeding you new leads over and over and over again.
In fact, I networked with a new home builder named Grant and:
He ended up reaching out to get a new roof for a remodel he was doing.
I ended up being his go-to guy for ALL of his roofing needs for his new construction projects and remodeling jobs.
He sent me four 100-square townhouses (that he owned, by the way), helping me earn my first 5-figure commission.
That was life-changing, and it was absolutely AMAZING. And I was able to do the SAME THING with my insurance agent, networking to build that referral relationship.
So, if you want more on this, check out my video called Rich Referral Relationships for 10x the Customers to get more strategies on how to build those strong referral relationships and lead with a TON of value.
Rainy Day Roofing Sales Activity #3: Cold Calling
Guess what? Your phone works when it is not nice out.
That's no secret, but still, many folks in roofing sales overlook the fact that they CAN still be making calls to set those appointments on rainy and snowy days.
And cold calling can be a great use of your time when the weather's bad, as long as you approach it with the right strategies.
So, if you want more on that, check out my videos on Cold Calling in Roofing Sales.
Rainy Day Roofing Sales Activity #4: Knock on Doors
When it's raining out, you CAN still knock on doors. Now, many people think they can't, or they'll tell you not to do it.
But listen, you CAN knock on doors when it's raining out. The difference is that you're just going to want to get an appointment to come back another day.
Now, when it's snowing outside, that's a whole different animal because:
It may be cold for a LONG time.
Those roofs are not accessible.
Still, nothing prevents you from knocking on doors when it's raining and setting a time to come back and hop on the roof. The point is that many folks are looking for reasons NOT to work when there's almost always a way that they could be productive.
So, don't assume knocking on doors is off-limits just because it's raining outside.
Rainy Day Roofing Sales Activity #5: Follow Up
Most roofing salespeople are not following up.
Maybe this is you, and if it is, know this — I've been down this road too.
It can be easy to skip that follow-up because:
We get too busy.
We're bogged down with leads.
We get lazy or complacent.
Rainy days can be the PERFECT time to go back through those leads, follow up, and start drumming up new business.
Rainy Day Roofing Sales Activity #6: Direct Mail
Direct mail is cheap, easy, and super effective.
You can find addresses in the office, going through missed sales opportunities to dig up addresses of past customers who you've been in contact with.
Actually, there are a million and one strategies to use direct mail, along with your rehash process, in order to:
Get back in new neighborhoods.
Layer in another touchpoint.
I've done an entire playlist on Using Direct Mail to Generate Leads. I highly recommend that you check that out.
Rainy Day Roofing Sales Activity #7: Ask for Referrals
Salespeople often don't ask for referrals. In fact, there's this kind of false idea some folks have that they can't ask for referrals until they've done the work.
Why wait, though?
Do you write checks for $20,000 to people who you don't like?
No, you don't.
So, when you earn the business:
People LIKE you.
They TRUST you because they wrote you a check.
Something made those folks want to work with you, so it's totally OKAY to ask those folks for referrals.
Now, I have an entire playlist called Referral Madness that shares my referral incentive strategy, going over what to offer and explaining why (and how) most of the industry is doing this completely backward. Check that out.
By the way, I had the referral thing all backward too. In fact, I've made almost every mistake I talk about. That's how I've learned and why I'm sharing this with you.
Also, my Referral Cheat Sheet is included in the training center that's part of my Complete Sales Strategy. This valuable resource reveals more about:
How to ask for referrals
When to ask for referrals
And it really works.
In fact, recently, I had an individual sales rep tell me that he was able to DOUBLE his closing rate after getting ahold of my package. He used my closing strategy, and right after signing his first appointment (a retail job):
He asked for referrals.
He left that customer with four referrals.
He DOUBLED his close rate in the weeks that followed.
So, use those strategies to make sales and make money on rainy and snowy days.
That's when almost everyone else who is not a top earner is probably sitting on their hands in the office, thinking they have nothing to do. And it's when you can pull ahead and start closing MORE.
Get More Roofing Sales Strategies, Scripts, Tips & Videos
If you want more on any door-to-door roofing sales topic, you'll find it in my all-in-one sales training, sales strategy, and sales system, the Roofing Sales Success Formula & Complete Sales Strategy.
This exclusive program covers everything from knock to close, with packages for individual roofing sales reps and entire teams. Many roofing sales companies LOVE this program because it's a consistent process to train everybody on a relatable sales system that WORKS and that's a lightning-fast way to get results.
If you have questions, just call or text (303) 222-7133 for more info or a private demo.
You can also subscribe for the latest roofing sales training videos and/or get a copy of my Pitch Like a Pro roofing sales training video library. It includes every roofing sales video I've ever done, organized by category, along with a bunch of tips, tricks, and more. It's great for new people and seasoned veterans, and it's updated all the time to help you and your team smash your income goals and give every customer an amazing experience.
And don't forget to check out my Marketing Battle Pack for instant access to 70+ pieces of my proven, turnkey roofing sales and marketing materials. It's an entire suite, specially designed for sales teams, managers, and owners, providing:
Scripts
Scheduling
Direct Mail Letters
Door Hangers
Goal Projection Planners
A LOT more!
It's affordably priced and comes with a 100% money-back guarantee. There's also a playlist of instructional videos in there, explaining every single thing. So, you can watch the videos, and you'll know exactly what to do.
Thanks for joining me, and I look forward to sharing more with you in the next blog.