Stop leaving EASY MONEY on the table that could nearly DOUBLE YOUR INCOME with little effort at all.
That's what we're talking about today — asking for referrals.
Now, I've spoken in front of thousands of people, and I've asked huge groups about their referrals and whether they've asked for any in a given week.
When I do, many people look around really sheepishly. That's pretty crazy because:
As salespeople, we all know that referrals are literally the EASIEST way to generate business.
Referrals are WARM LEADS, with a warm handoff.
The close rate on referrals can be as high as 80% to even 90%.
Still, most roofing sales reps are NOT asking for referrals.
Meanwhile, those who ARE using a referral system end up generating results like the gentleman who shared this with me.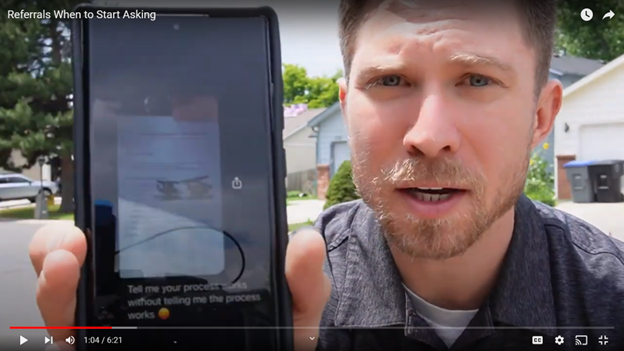 He wrote, "Tell me your process works without telling me the process works!"
The picture shows my Referral Cheat Sheet, included in my sales system. That's part of the process of handing a customer the welcome packet, so it becomes a habit to go through and ask for a referral. More on that in a second.
Before we get to this, though, I want to share the fact that if you miss this step;
You WILL be required to self-generate your own leads the hard way.
You WILL have to rely exclusively on your company for leads.
So, why not take control of your income, take control of your earning potential, and start asking for referrals at the RIGHT TIMES, the easy way?
That is what we're going to cover here.
Welcome or welcome back. Adam Bensman, The Roof Strategist, here. Everything we do here is designed to help you and your team smash your income goals and give every customer an amazing experience.
And if you haven't yet done it, jump into my FREE training center — NO catch. Simplpy click that link or text "FREE" to text (303) 222-7133.
Now, let's jump into referrals.
FREE "Pitch" Like a Pro Roofing Sales Training
240+ Video Library for Storm and Retail
For Roofing Sales Reps & Owners With New Hires: All the training you need to be a "million dollar" closer!
Get Instant Access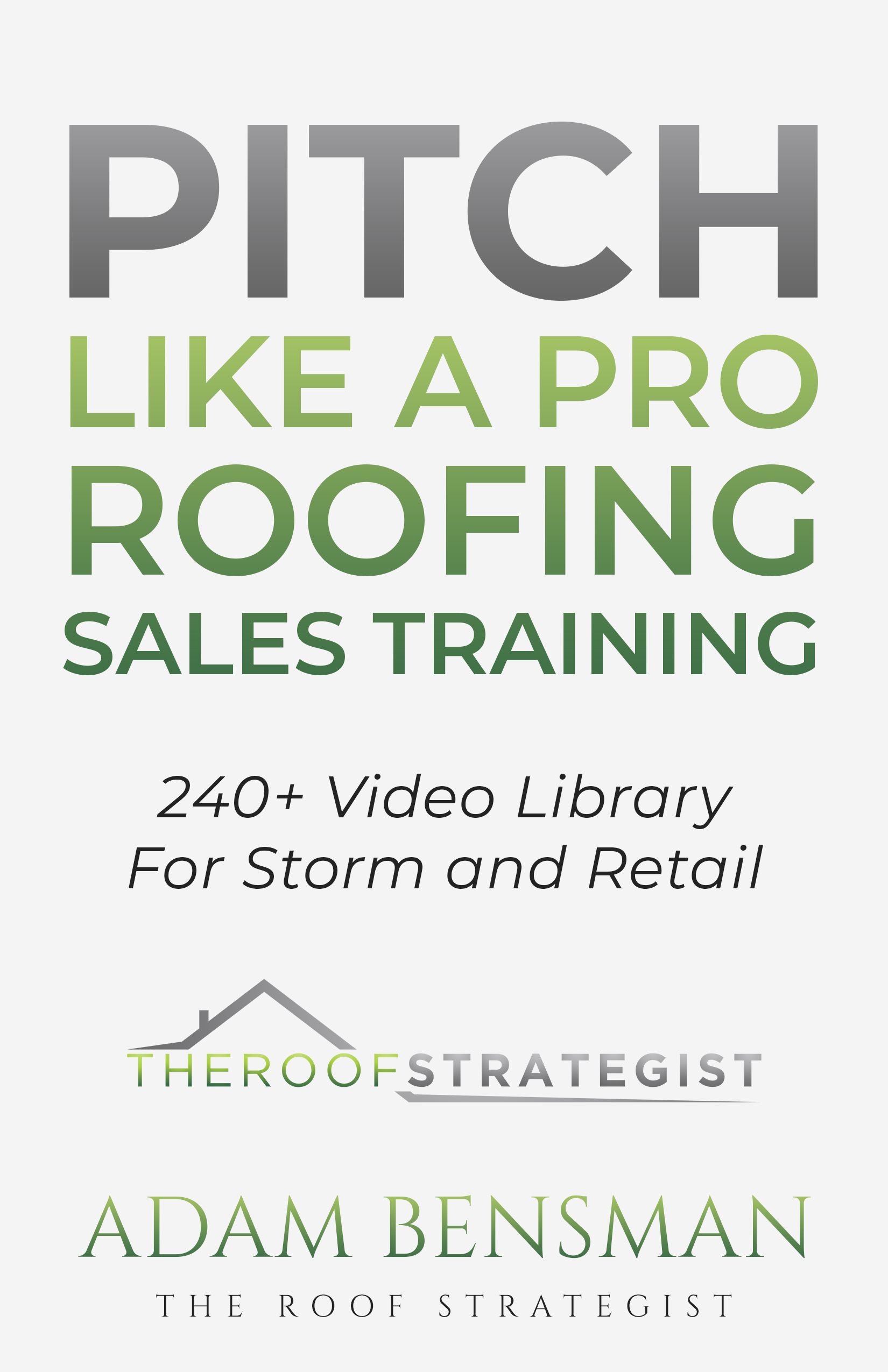 When to Ask for Referrals in Roofing Sales
"Adam, I can't start asking for referrals until after I've delivered value to that customer." That's what many roofing sales reps tell me, and they explain that they wait until after they install the roof to ask for referrals.
Now, that is total GARBAGE.
Why? Because if you've inked that deal already, the chances are that:
You HAVE helped the homeowner identify a problem with their roof.
You HAVE presented a solution to that problem, with a homeowner saying, "Thank you for helping me. Here's a check. Let's do this thing."
Now, would you give someone who you didn't know, like, or trust a check for $20,000? No, probably not.
So, right when we get that deal signed is when we should be asking for referrals. And that's just what this gentleman who wrote in to me about this process did, and:
He got referrals while literally leaving the house after signing a deal.
One customer ended up giving him four referrals just simply because he had this Referral Cheat Sheet printed out.
Now, I want to share a quick reminder here for owners, managers, and team leads:
It's MUCH easier to control our environment and get the behavior we want.
You can ask sales reps to ask for referrals until you're blue in the face, and they will NOT do it. I know because I tried that when I was leading a sales team.
If you make asking for referrals part of the sales process — you insert that into the welcome packet when you're going through everything — now that sales rep is REQUIRED to go through the referral process.
That homeowner has the referral information when you leave, and they know how the referral incentives work.
5 Times to Ask for Referrals in Roofing Sales
There are a handful of times that we'll have the opportunity to ask for referrals when we're working with homeowners. First, we can ask for referrals when:
We sign the deal.
The job is scheduled.
Now, not every sales rep is responsible for this. That's why my sales system provides all the emails that ask for the referral at these different points in the process.
After all, if I'm going to make contact with a homeowner, I'm going to:
Take advantage of their time and attention.
Invite them to participate in the referral program.
With all of this, I'm now setting the expectations that I'll be asking for referrals in the beginning. And if they don't have any referrals to share, you can simply say:
No problem! We're going to ask you again on the day of install and when the job's done.
Assuming things are going right (because they don't always), we're going to ask for referrals at least five times through the process. In fact, we're going to ask for referrals when:
We sign the new customer.
The job has been scheduled.
It's install day.
The installation is done and you're cleaning up.
You're collecting the final payment.
There are five points when we can do this, and I have emails that coincide with asking for these referrals at each different point.
Now, imagine asking ALL of your customers for referrals. at least 10 times. That's what happens when you use my sales system, and it's why people are able to not only grab that one sale but also end up with like 63 out of 73 homes in one subdivision!
That's why happened with Bill, who self-generated all of that business simply by leveraging these touch points to, again:
Give that customer an amazing experience.
Let them give the gift of passing along your incredible service to others.
The No-Brainer Way to Ask for Referrals in Roofing Sales (Even If You're Hesitant)
Now, there's one BIG thing I want to close with here, and it's the fact that many people are afraid to ask for referrals.
Why? Because, on the inside, they don't feel like they're actually doing a good job or delivering the service.
So, if that's what's holding you back, you need to reevaluate how you're serving your customers and how your company is serving your customers, so you can be proud of showing up and asking:
Hey, who do you know that I might be able to help the same way I've helped you?
Any friends, family members, neighbors, or coworkers?
So, there you have it.
That's why you should start asking for referrals on your very first sales appointment when you sign the deal before you leave the house. If you do, you'll be:
Self-generating more leads
Getting easy sales
Clearly smashing your income goals as you give everyone an amazing experience.
Now, if you want my wholesale system, all the letters, my Referral Cheat Sheet, and how I do this inside the house on the first visit, you're welcome to learn more about it in my program.
Want More Roofing Sales? Or Training For Your Team?
We've helped thousands of sales reps overcome the same sales challenges you're probably facing. Like not getting enough leads, getting stuck on objections, or not closing sales in the house.
Learn how we can help you:
Get trained up in a lightning-fast 9.5 hours
Self-generate more leads
Become a confident closer
Pick a time for your 1-on-1 demo.
Or use the links below to get instant access, 100% Risk Free! Backed by our 30-Day 'NO BS' Money Back Guarantee.
Thanks for joining me, and I look forward to sharing more with you in the next blog.