BAD sales habits.
We develop these unconsciously when we're inside the home or communicating with customers, either in person, on the phone, or in writing.
And these bad sales habits WILL cost you deals.
I've had the unique opportunity of being this baby-faced guy in roofing sales, and I was the youngest person at a company, working as the chief operating officer to train people my dad's age, even though I had the least amount of experience.
So, I KNOW what it's like to face those uphill battles.
By the way, for anyone who's struggling in roofing sales, I've been there. And for those of you who've been in sales for a bit, you are creating habits whether you'd like to admit it or not.
Now, many folks are completely unconscious of these bad sales.
So, I'm going to help you pinpoint those bad sales habits and how to stop them because if you keep doing these things:
You WILL lose the confidence of homeowners, and you'll lose their trust.
At times, you WILL look like an idiot (and no one wants that).
So, I'm super excited to help you identify these bad sales habits. Maybe you have these habits, maybe you don't.
First, though, I want to say welcome or welcome back. My name is Adam Bensman, The Roof Strategist. Everything I do here — and on my YouTube channel, on my podcast (on Apple and Spotify), and in my Roofing Sales Success Formula & Complete Sales Strategy program — is designed to help you and your team smash your income goals and give every customer an amazing experience.
And as we get started, I have a free offer to share with you. If you haven't done so already, get your copy of my Pitch Like a Pro roofing sales training video library sent right to your inbox. It includes every video I've ever done, organized by category and with playlists for practically everything, from body language and pitching at the door to fine-tuning how to close. It's a great tool for training new and more experienced salespeople.
Now, let's break down five common bad habits in roofing sales.
FREE "Pitch" Like a Pro Roofing Sales Training
240+ Video Library for Storm and Retail
For Roofing Sales Reps & Owners With New Hires: All the training you need to be a "million dollar" closer!
Get Instant Access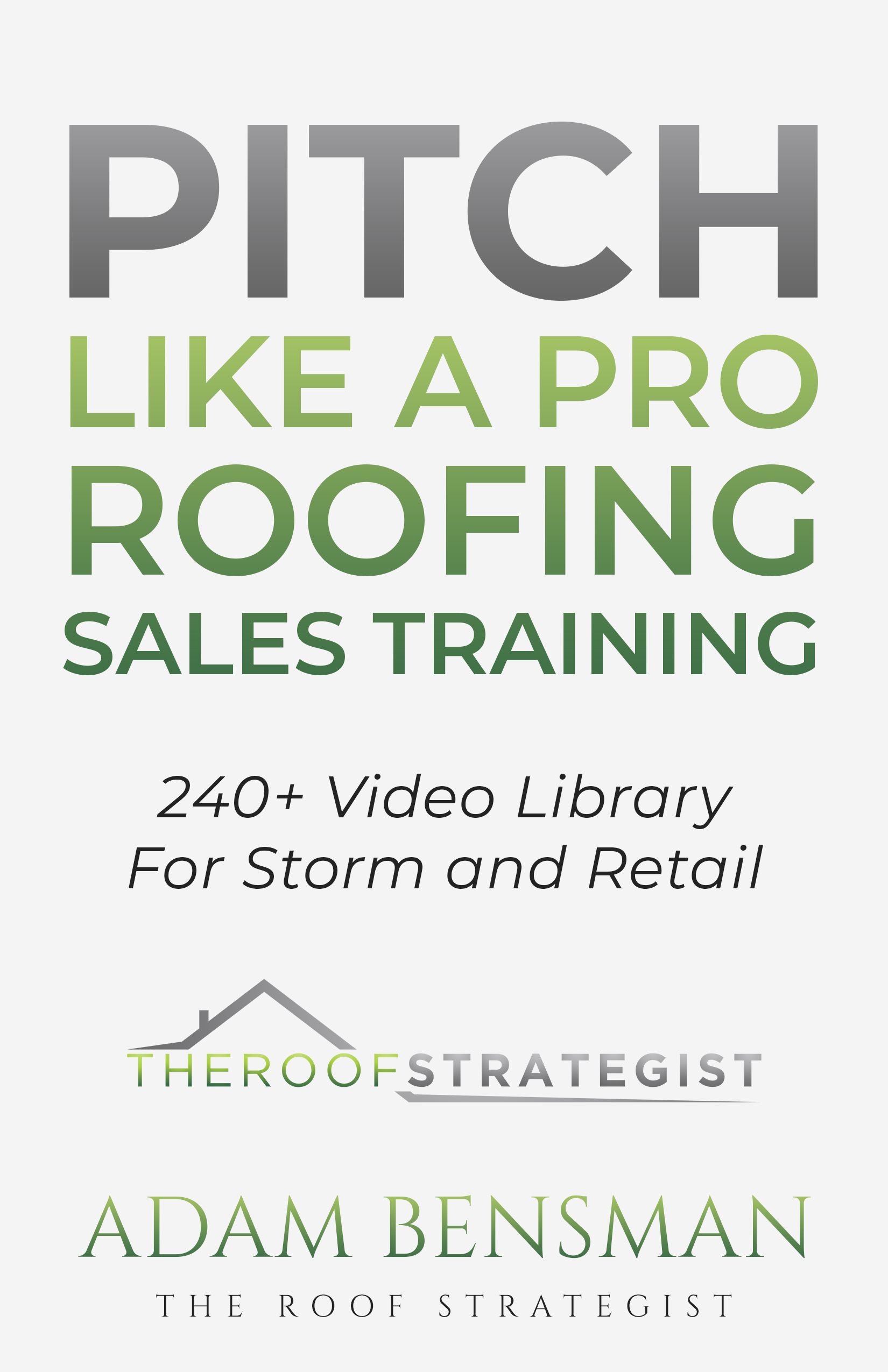 Bad Roofing Sales Habit #1: Using Filler Words
Filler words are the language of someone who lacks confidence. Like and um are a couple of the most common filler words folks use. When they do, they're either using these filler words to:
Buy time to think.
Bridge the gap and fill space while trying to feel more comfortable and confident.
As these filler words get used over and over again, they become ingrained. So, as you're speaking:
You're using these filler words, instead a natural pause.
You end up looking nervous and insecure, like you lack confidence.
Then, homeowners feel like you're deceitful and not trustworthy.
And what's the first pillar we need to knock down in sales? It's TRUST. After all, to win the sale, we need to:
Develop trust.
Create the need.
Overcome the money issue.
So, trust is BIG, and using filler words is an instant credibility killer. By the way, we're ALL guilty of this bad habit at some point (including me).
Bad Roofing Sales Habit #2: Answering Calls or Texts in an Appointment
Answering calls or responding to texts while you're with a customer is another bad habit in roofing sales.
And I see people do this ALL the time. They:
Hear their phone ding.
Put that dreadful finger up in someone's face.
Ask for a moment to deal with someone else who's on the phone.
It makes the homeowner feel like that salesperson thinks:
I am SO important. I have this phone call or text, and I have to answer it.
That tells someone else that they're not as important as who's on the phone.
It becomes a trust killer, and people hate it (in fact, I hate it when people do it to me!).
So, NEVER do that.
Instead, silence your phone before you walk in the house, and turn those notifications off.
Bad Roofing Sales Habit #3: Writing without Punctuation
The no-punctuation text message or email is the next bad habit that comes up a lot in roofing sales.
I've been seeing this more and more recently, and it almost looks like someone is under a drug-induced mania.
With this bad habit, think of those max-length, four-part Facebook messages that don't have a single period, exclamation point, question mark, or capitalized letter — ZERO punctuation.
I'm seeing salespeople correspond with their customers in the same way. Yet:
Basic punctuation is essential to clear communication.
It is so important that we communicate clearly with our customers.
Now, you do NOT need to be a wizard with words or have a master's degree in English or whatever to get past this bad habit.
You just need to learn how to communicate clearly in your messages.
And punctuation errors (with no capital letters) may work in super casual messages to friends, but it lacks professionalism. Plus, it's confusing, and it can make you look stupid.
Funny enough, many really intelligent people have this bad habit. They end up looking sort of dumb over written communications, but face to face over Zoom, they're really bright people.
So, use punctuation in your texts and emails.
Bad Roofing Sales Habit #4: Oversharing
Don't be the TMI — too much information — guy. I'm going to give Brian Tracy credit for this one. I think he called it "excuse-itis"? It means we have excuses for everything.
And crews are notorious for this, right?
If they're late, you'll hear things like:
Well, we were on the way to the landfill or the transfer station.
Then, we got a flat tire on the trailer. And then the battery was dead.
No matter what, there's an excuse for EVERYTHING. No one ever takes ownership.
Sometimes, these excuse-itis sales reps will give too much information out when they're in the home. For instance, they'll say something like:
Hey, listen, I'm really sorry. I had just the queasiest stomach this morning. I must have eaten something that REALLY didn't sit well with me.
I was up ALL night, and it was coming out of both ends!
Suddenly, the homeowner listening to all of this is thinking, Oh GOD, please stop!
You know the type, the over-sharers.
So, when you're with customers, it's OK to find that common ground, but you CAN cross the line when you over-connect or over-humanize yourself in a way that just makes people uncomfortable.
They're not your doctor, and they're not your best friend. So:
Find that common ground.
Learn where to draw that professional line.
Don't share too much information.
Bad Roofing Sales Habit #5: Fidgeting
Fidgeting may be the most common bad habit in roofing sales. And it can look like:
Darty eyes
Constantly moving hands
Twitching the shoulders, head, or eyes
Squirreling or shifting around, instead of standing still
All of this doesn't read well with homeowners from the standpoint of body language signals. When they see this, they think:
You don't know what you're talking about.
You are uncomfortable.
You can't be trusted.
To create confidence and show that you command authority, you need to slow down and use calm gestures and movements.
So, if you're naturally a fidgety person (I've dealt with a few), focus on calming down.
Also, I recommend you read Breath by James Nestor. It's a really powerful book that can help you get a bit more control over your body. After all, some of this stuff, like fidgeting, is just a sign of anxiety and nerves.
Recap: 5 Bad Habits in Roofing Sales & How to Break Them
Now, you know the 5 biggest and worst habits that I see people making in roofing sales.
These bad habits ARE ruining sales, destroying trust, and killing confidence by telling homeowners that you're not trustworthy and they shouldn't choose you.
Obviously, we do NOT want that. So, here are the 5 bad habits to break:
Using filler words
Answering calls or texts in an appointment
Writing without punctuation
Oversharing
Fidgeting
These are things that you CAN consciously become aware of and shift, so you can start closing more deals.
Get More Roofing Sales Strategies, Scripts, Tips & Videos
If you want more on any topic in roofing sales, you'll find it in my all-in-one sales training, sales strategy, and sales system, the Roofing Sales Success Formula & Complete Sales Strategy.
This exclusive program covers everything from knock to close, with packages for individual roofing sales reps and entire teams. Many roofing sales companies LOVE this program because it's a consistent process to train everybody on a relatable sales system that WORKS and that's a lightning-fast way to get results.
If you have questions, just call or text (303) 222-7133 for more info or a private demo.
You can also subscribe for the latest roofing sales training videos and/or get a copy of my Pitch Like a Pro roofing sales training video library. It includes every roofing sales video I've ever done, organized by category, along with a bunch of tips, tricks, and more. It's great for new people and seasoned veterans, and it's updated all the time to help you and your team smash your income goals and give every customer an amazing experience.
And don't forget to check out my Marketing Battle Pack for instant access to 70+ pieces of my proven, turnkey roofing sales and marketing materials. It's an entire suite, specially designed for sales teams, managers, and owners, providing:
Scripts
Scheduling
Direct Mail Letters
Door Hangers
Goal Projection Planners
A LOT more!
It's affordably priced and comes with a 100% money-back guarantee. There's also a playlist of instructional videos in there, explaining every single thing. So, you can watch the videos, and you'll know exactly what to do.
Thanks for joining me, and I look forward to sharing more with you in the next blog.