Welcome.
My name is Adam Bensman, The Roof Strategist.
Today, we're going to talk about assessment versus price.
Why Pivot Away from Price in Roofing Sales?
When most people get into the roofing sales business, if they've had any sales experience at all, it's usually on a retail side. So, they're used to having to convince someone to spend money to get a result.
Now, on the hail side, we're not actually asking anyone to spend any money. So, I don't get why people say, "Well, give me an estimate, and I can beat that price."
There should be NO dialogue of price whatsoever.
In fact, my entire value proposition — from engaging in dialogue about the claims process down to signing the contingency — uses the word assessment versus price.
So, instead of saying to homeowners, "I do it for this price and, if the insurance company says 'no,' it's no," I say this:
I work on assessment.
That dialogue shift away from price and to assessment can really help homeowners get more comfortable. Because when you talk about price, things get personal, and they get emotional.
For the same reason, I don't want my homeowners to deposit checks from the insurance company and then pay me because it's harder to get paid. So, I like to have them sign the check over. Again, we want to keep this impersonal.
The only amount they need to be thinking about is that deductible, no more no less. That's the language I use — no more and no less than the deductible.
If they have an objection, we negotiate from there.
FREE "Pitch" Like a Pro Roofing Sales Training
240+ Video Library for Storm and Retail
For Roofing Sales Reps & Owners With New Hires: All the training you need to be a "million dollar" closer!
Get Instant Access FREE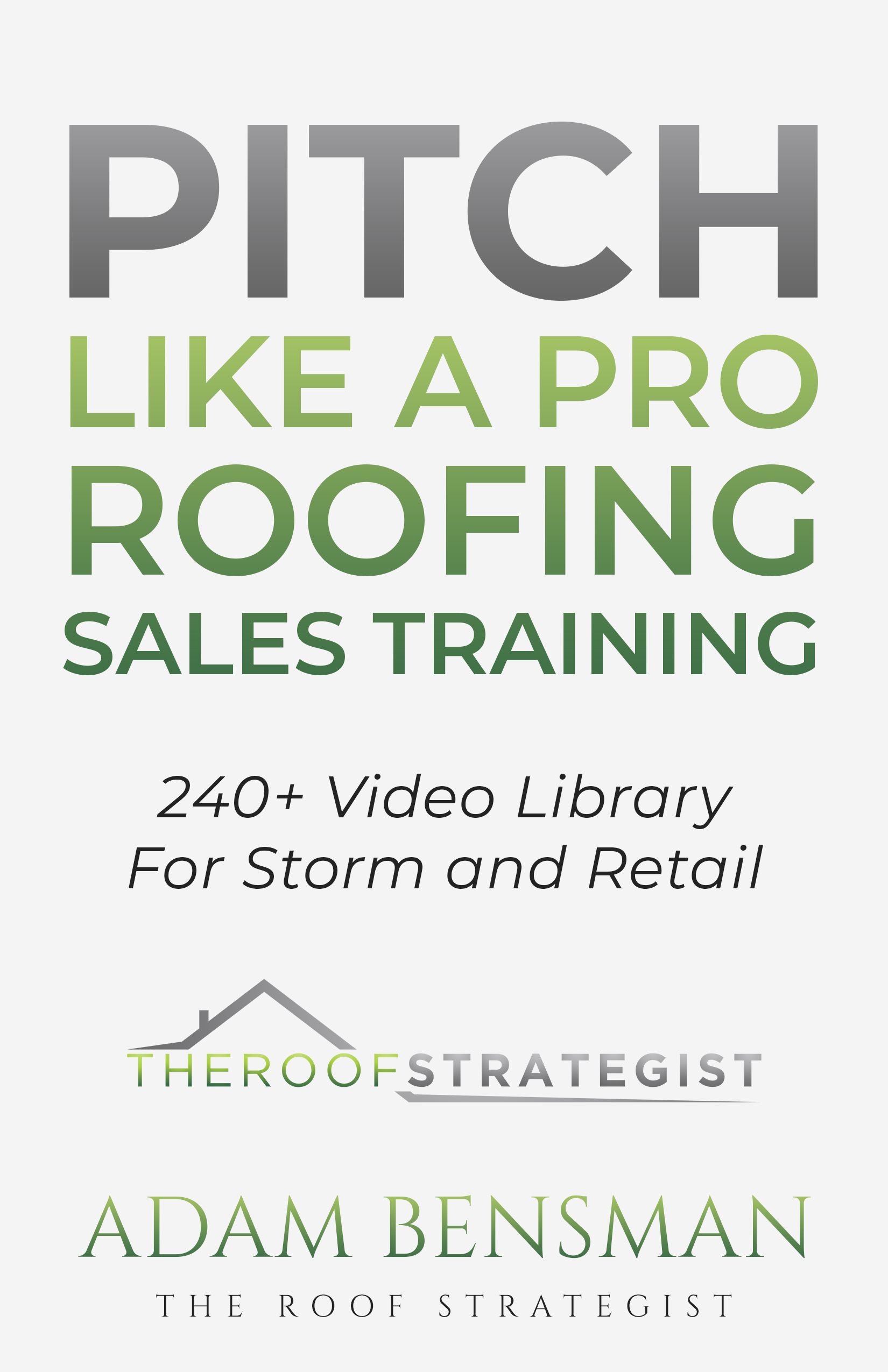 Roofing Sales Script: How to Explain 'Assessment' to Homeowners
Now, let's talk assessment versus price. Here's the roofing sales script I use to educate homeowners and explain why the assessment, not the price, is what really matters.
Mr. or Ms. Homeowner, here's how this works. So, your house has been damaged with hail. We can see damage on the garage doors, the fascia, and your roof's downspouts.
Now, most homeowners make the mistake of wanting to get a few estimates.
But they do NOT need estimates for their roof.
They need a proper assessment.
The reason is that the insurance company uses pricing software called Xactimate®. It's a third-party program that sets price based on zip code, and it resets each month.
So, my job, as an insurance restoration professional, is to properly assess your home.
I document what's damaged and what needs to be done to replace it. Then, I plug numbers or quantities into Xactimate®. Let's say, there's 20 feet of gutter, 50 square shingles, and about 46 feet of fascia that needs to be replaced. All I do is:
Enter those numbers into the software.
Submit that to the insurance company.
This starts to remove price from the conversation. And it helps homeowners understand the process and begin to see the real value of the assessment.
Roofing Sales Script: How to Explain the Price Trap
Now, we want to emphasize how fixating on price and estimates can backfire — and why it's better for them to focus on the assessment. Here's how we do that. We say:
The price and what the insurance company is willing to pay is set by a third party. It's not negotiable.
In fact, the truth is I never negotiate with an insurance company based on price. That's a fact. Because if you're negotiating with an insurance company based on covering ice and water, and there's a $1,500 price increase, you're really negotiating based on assessment — based what's there or what needs to be done.
So, I will properly assess your home.
And if you're selecting a contractor based on price, you're doing yourself a disservice. Because there's more than one way to write an estimate on a roof, and not all estimates cover the same work or materials. In fact, with these estimates, you have to ask some questions:
Are you reusing the drip edge?
Are you reusing the step flashing?
How many rows, if any, of ice and water shield are used?
Even just one row of ice and water shield can be cost more than $1,000 on a roof. That can be a big price difference across different estimates.
So, we want to make sure that the assessment is done properly.
And all you owe is your deductible, no more no less.
Sound good?
When we engage in this dialogue, we shift the conversation and:
We move away from an emotional buying experience, where the homeowner is thinking about the cash that's coming out of their pocket.
We focus on the assessment, so that a homeowner starts thinking, I need this guy who knows what he's doing to look at my house and simply document the damage.
That's it. We educate the homeowner and explain that:
The insurance company sets the price.
We work on the assessment.
We do NOT negotiate price with the insurance company.
We send them our assessment.
Recap: How to Shift from Price to Assessment & Earn More Roofing Sales
Next time you're out in the field working with a hail sale, remember this dialogue. If a homeowner starts talking about estimates or pricing, simply say:
We work on assessment not price.
That's going to shift the dialogue and make the homeowner a lot more comfortable doing business with you. They're not going to see you as someone who's there to take advantage of the situation. They'll realize that all you're doing is making sure that what's owed is paid and done. That's a very different way of saying:
We're going to try to get the most out of the insurance company because everything that's damaged should get paid for.
Homeowners agree with that. They think it's all about me trying to get as much as I can from the insurance company. But when I make it about assessment, it's about them, not me. Again, assessment versus price.
So, forget everything you know and used before:
Stop saying, "Well, we're just going to get everything covered for you and make sure the claim is as high as possible." NO. It's about the assessment.
Instead, say, "We're going to assess it properly."
Use that next time you're out in the field. I guarantee your closing rates will go up.
Want More Roofing Sales Strategies, Tips & Videos?
Subscribe for the latest roofing sales training videos and get a copy of my Pitch Like a Pro roofing sales training video library. It includes every video I've ever done, organized by category, along with a bunch of tips, tricks, and more. It's updated all the time to help you and your team smash your income goals and give every customer an amazing experience.
Also, check out my Marketing Battle Pack for instant access to 70+ pieces of my proven, turnkey roofing sales and marketing materials. It's an entire suite, specially designed for sales teams, managers, and owners, providing:
Scripts
Scheduling
Direct Mail Letters
Door Hangers
Goal Projection Planners
A LOT more!
It's affordably priced and comes with a 100% money-back guarantee. There's also a playlist of instructional videos in there, explaining every single thing. So, you can watch the videos, and you'll know exactly what to do.
Thanks for joining me, and I look forward to sharing more with you in the next blog.