The biggest closing myth of all time is that closing happens at the END of an appointment.
You present and then close, right? Naturally, the easiest way to close more deals is to focus on the end, right?
WRONG!
In my opinion, this is the greatest myth of sales, in general and especially in roofing sales because I believe 90% of the sale is won in the first 10 minutes of your appointment with that customer, whether it's:
An inbound lead for storm or retail
A self-generated lead
A lead from knocking on doors
Those first 10 minutes of a sale will make or break your close rate far more than what you do at the end. And if you don't believe me, stick around because I'm going to prove it to you right now.
First, I want to say welcome or welcome back. My name is Adam Bensman, The Roof Strategist, and I'm really excited to have you here. Everything I do here — and on my YouTube channel and in my podcast (on Apple and Spotify) — is designed to help you and your team smash your income goals and give every customer an amazing experience.
And I've had the opportunity to help thousands and thousands and thousands of sales reps overcome the same sales challenges that you're likely going through right now. So, if you are new, subscribe to my YouTube channel, so you don't miss a thing.
I'd also like to share a freebie with you, my Pitch Like a Pro roofing sales training video library. It includes more than 300 videos, every video I've ever done, organized by category for easy binging. You can get instant access now (by clicking on that link).
Now, let's get to this closing myth.
FREE "Pitch" Like a Pro Roofing Sales Training
240+ Video Library for Storm and Retail
For Roofing Sales Reps & Owners With New Hires: All the training you need to be a "million dollar" closer!
Get Instant Access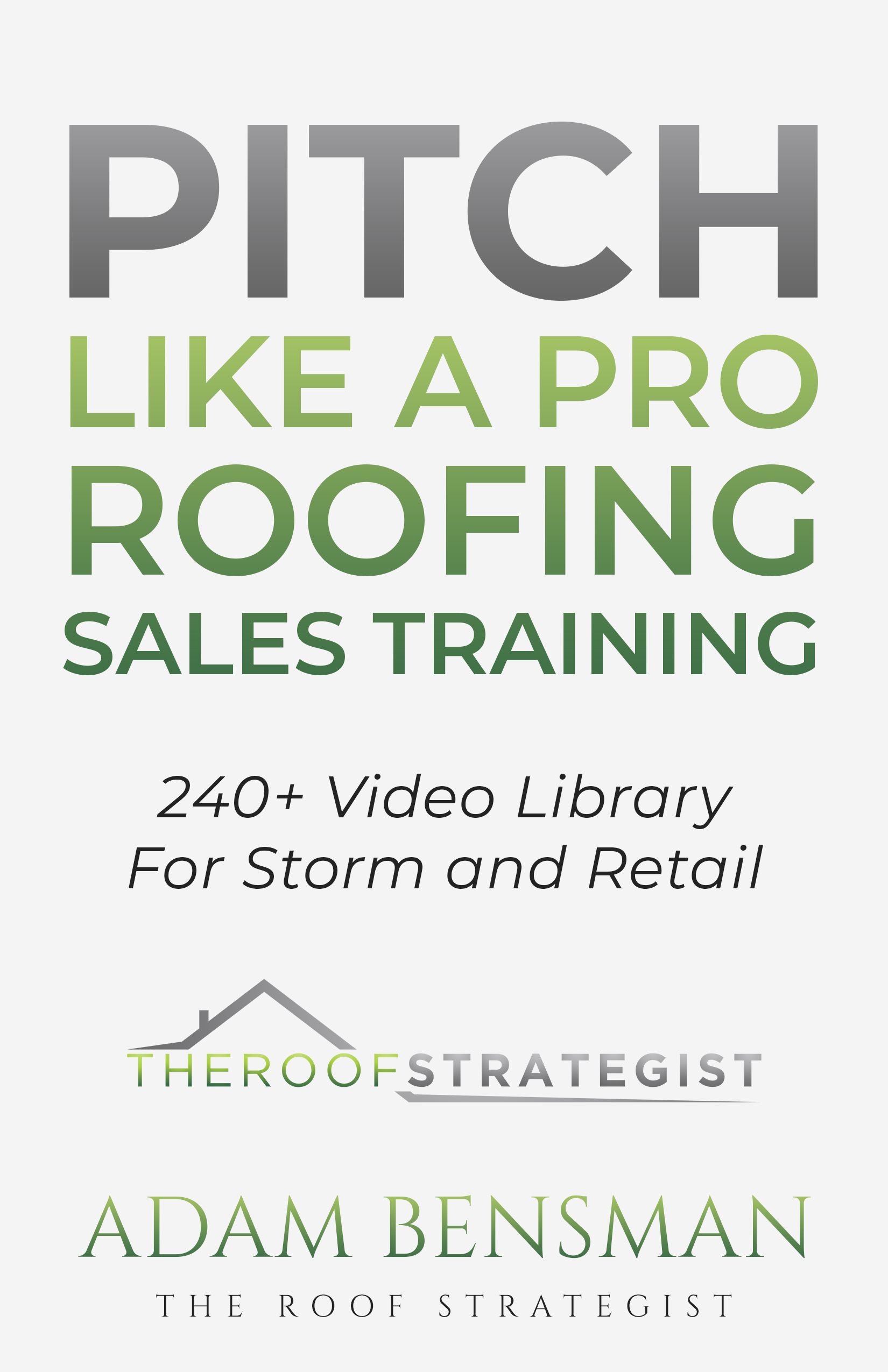 Why Roofing Sales Are Earned or Lost in the First 10 Minutes
So, I just made a pretty BIG claim, saying that about 90% of a sale is won or lost in the first 10 minutes of meeting a customer. And I told you I was going to prove it to you. So, here it is. Let's look at the case of Andrew.
Andrew is the owner of a roofing sales company. He has 20 years of sales experience, and he:
Bought my program to train his team
Has gone through the program two to three times
Is a member of my Pitch Pro Movement, where I work together alongside other mentors to provide ongoing coaching, support, and an amazing community for us to grow and perform at our highest level
In our call the other day, Andrew chimed in to share a victory, telling us that he just got his first 100% close rate week, bringing in $200,000 in residential retail sales in a week.
Can you believe that?
Now, I KNOW you're thinking a 100% close rate is CRAZY unrealistic. It's a lie, it's a gimmick, and it's unsustainable — right?
Well, I'm going to tell you that this is TRUE. And I agree that it's 100% unsustainable.
Now that we have that out of the way, the fact that no one's going to keep up a 100% close rate, the point is that it IS possible. And that naturally leads to the next question — How, why, what did he change?
So, I asked him, "Andrew, share with us, what did you change? How did you get a 100% close rate?"
He said that he's using the CAR PARK Formula that I teach in my program. He focused on everything leading up to the presentation.
So, here's how I think about it. We have the:
First half: This is everything leading up to the presentation.
Second half: This is the presentation. Again, at the end of that presentation, we have our close.
Now, I asked Andrew what he changed, and he says:
Here's the funny thing. I didn't change a thing in my presentation.
I changed everything leading up to the presentation.
That's how Andrew got a 100% close rate that week, and it's why I believe that 90% of the sale is won or lost at the very beginning.
How You Win or Lose the Sale at the Start: Another Example
Now, I have one more story to share, and it's really going to convince you that you earn or lose the sale right at the beginning.
I was hired by a law firm (under an NDA, so I can't name the firm — and I wasn't a big fan of lawyers). But when I took a little break from the roofing industry, I was still working as a direct sales consultant, and I was hired by this personal injury law firm to help them increase their over-the-phone case close rate.
People needing legal services would call, and I helped the firm close more deals. So, it's pretty high stakes. It costs a lot of money to make the phone ring, like $300 to $800, and every single lead is tracked. By the way, their close rate was about 76%.
So, I began listening to all of the recorded calls, and I noticed at the very end of the call the customer (or potential new client, as they call it in legal world) would say something like:
Hey, I'm interested, but what is this going to cost me?
Now, when I hear this, I think:
Doesn't everybody know that personal injury lawyers don't charge fees unless they win your case? They work on contingency! BUT most people do NOT know that. In fact, some people have never heard that before, and they're afraid of getting stuck with a huge bill if they call an attorney.
If everyone's asking at the end of the appointment, this question is on their mind during the entire appointment — their ears are probably closed too, until they get that answer. It's like if you get stuck on a problem in school. You raise your hand, ask the teach for help, and stop listening — because you're stuck on this point and nothing else sinks in.
I realized that this is exactly what's happening to those folks calling the law firm.
So, all I did was change one thing. We moved that big objection at the end right up to the beginning, opening the call with:
Hey, I just want you to know this is a 100% FREE consultation, and there are NO FEES unless we take your case and win.
Does that all make sense? Yes?
That one change, with just a couple other tiny tweaks, rocketed us up to a 90 to 100% close rate week over week — 90 to 100%! And those deals were ALL won at the very beginning of those calls.
How Does This Apply to Roofing Sales?
The number one problem in the roofing industry is that we have a one-track presentation. That means that we present generically to one situation.
But does one size fit all in roofing?
No, it does not because we have:
Storm claims: There are four stages with these claims, including no claim, partial payment, denial, and check in hand. And within those, the customer may not realize they have damage (no claim), they may be happy to see you (partial payment), or they may be angry because the insurance company denied their claim. Or they're sitting on a check and asking for an estimate.
Retail claims: There are four reasons people replace their roof on the retail side of things, and those are the roof's age, its lifespan, a leak or an active problem, or a cosmetic upgrade (like they want their roof to match their new remodel). There are also folks who plan ahead. They know they'll be replacing their roof in like five years, so they're just shopping around for estimates now.
The point is that we have storm and retail, and we know that:
Most every roofing sales contractor needs to be able to sell both and handle what comes in.
There are different scenarios.
So, will a one-track presentation speak to that customer? NO, it won't.
That's why, at the very beginning of the presentation, we need to assess it or figure out how to present to that customer by selling like a doctor. That's one way to think of it because you:
Diagnose
Prescribe
Give the solution
You can also think of it as selling like a detective because you're asking questions to identify where they are in the process.
So, by assessing our customers' needs, we can clearly understand:
The problem that they have
The cause of that problem
The impact or consequences of that problem
How to showcase our solution
After all, there are technically seven different scenarios if you count the different mindsets on storm and retail. And do those folks have the same problem? NO, they don't.
And what do people buy? They buy solutions to problems they have.
So, at the beginning, we need to assess or identify exactly what's going on with the customer, so we can:
Tell them about all the amazing things we can do for them
Pick and choose the key parts of our presentation that really matter, so we're selling to their needs and telling them what they need to hear
The bottom line is that the best way to increase your close rate is by properly assessing where that customer's at, so you can custom tailor your presentation to:
Fit their needs
Solve their problem
Make it feel like a totally customized solution made just for them
I teach this entire system in the Roofing Sales Success Formula. I'd be happy to demo it for you (just call or text (303) 222-7133 for a demo).
Next, after the assessment, we need to do the MOST important part, that's getting that homeowner to take ownership of their problem.
We don't want to tell them, "You've got a problem." Once we assess the situation and know what's going on, we need to:
Get them to own their problem.
Dive really deep again by either selling like a doctor or assessing the situation to really connect with the impact that problem's going to have on the home.
3 Dominoes to Knock Down Before Our Roofing Sales Presentation
The last thing that I'm going to share with you is this — before we present, we need to knock down three dominoes in order to get the sale. Those go in order and are as follows:
We need to develop an unshakable trust with the homeowner. This is rapport. Again, we need to connect on a human level. Of course, trust doesn't win us the business all the time.
There's the need. This customer must need a new roof, and they have to see that they need your services to get it. So, this is where that homeowner is going to say something like, "I need a new roof because I just saw the condition of my roof." And if you haven't checked it out yet, watch my video, STOP Saying "Your Roof is Damaged" — Do This Instead.
We have the money issue. In my presentation, I overcome the deductible or price objection before I even present.
So, we must knock down these three dominoes that in order, so we can get the sale right away before we even present.
Now, do you see how 90% of the sale is won or lost in the first 10 minutes?
Closing is a good thing. We need to do it, but the real closer are the great openers because you can:
Assess what's going on
Get that homeowner to own the problem that they're having
Overcome that money issue before you even present
By doing this, you can lift your closing rate substantially.
So, your key takeaway is to ask more questions, including:
Where are you in the process?
Why am I out here today?
How many estimates have you got so far?
When we do this, we can dive deeper into their exact problem to provide the perfect solution and win more sales.
Get More Roofing Sales Strategies, Scripts, Tips & Videos
If you want more on closing, overcoming objections, or any other topic in roofing sales, you'll find it in my all-in-one sales training, sales strategy, and sales system, the Roofing Sales Success Formula & Complete Sales Strategy.
This exclusive program covers everything from knock to close, with packages for individual roofing sales reps and entire teams. Many roofing sales companies LOVE this program because it's a consistent process to train everybody on a relatable sales system that WORKS and that's a lightning-fast way to get results.
If you have questions, just call or text (303) 222-7133 for more info or a private demo.
You can also subscribe for the latest roofing sales training videos and/or get a copy of my Pitch Like a Pro roofing sales training video library. It includes every roofing sales video I've ever done, organized by category, along with a bunch of tips, tricks, and more. It's great for new people and seasoned veterans, and it's updated all the time to help you and your team smash your income goals and give every customer an amazing experience.
And don't forget to check out my Marketing Battle Pack for instant access to 70+ pieces of my proven, turnkey roofing sales and marketing materials. It's an entire suite, specially designed for sales teams, managers, and owners, providing:
Scripts
Scheduling
Direct Mail Letters
Door Hangers
Goal Projection Planners
A LOT more!
It's affordably priced and comes with a 100% money-back guarantee. There's also a playlist of instructional videos in there, explaining every single thing. So, you can watch the videos, and you'll know exactly what to do.
Thanks for joining me, and I look forward to sharing more with you in the next blog.