Hey, Adam, here at The Roof Strategist. Today, I'm going to talk about owning your day with the success formula. I'm going to explain the formula that I created to really own your day, take control of your schedule, and make the most sales humanly possible.
When I started selling, I didn't quite understand anything about time management. At that point, I was just told to hustle. Listening to all the big names, which I won't mention, they'll tell you to do what to make more money. They say hustle, work harder.
That's BS, alright.
The way to make more sales is to own your day and create a structure that works, so you can make the MOST out of your time.
Why the 6-Figure Roofing Sales Schedule Is a Game-Changer
I want to tell you a quick story to set up the success formula. It will make sense once we dive in.
I took this job after a big hailstorm. I went out and scouted. It was an hour and a half away from home. It would have been monster projects, but I only landed one — and I went out and scouted for one day. I sold the job I wish I never did.
The commission was great. It was almost a $5,000 commission. The problem is I had one job that was an hour and a half away. So, I had a 3-hour round trip to:
Sign the contingency.
Go back to meet the adjuster.
Go there for the build day.
Then, I got woken up on a Saturday when the crew was there without a box of nails. I had to drive an hour and a half to go deliver that box of nails. So, that's the fourth 3-hour round trip. Finally, I had to go do a walkthrough and then go and collect the final payment. That's a total of six 3-hour round trips —18 hours dedicated to one job.
That doesn't even include the paperwork. That's just the behind-the-wheel driving time. That's half of a week for $5,000. It's not a lot of money when compared to what I could have earned if I had worked my job strategically around what I had sold.
So, don't hustle harder. You have to hustle smarter if you want to make more money.
When you focus on building your jobs in one neighborhood — saying to yourself, "Hey, I got this job. I'm going to bust my ass to get as many yard signs as I can in this neighborhood" — that's when you make money.
Example: We had a salesman, one of our best salesmen, who went out to an area that he and I found together. He knocked on these doors in a four-block perimeter in an edge-of-the-storm-type of area. He staked 40 to 60 yard signs of jobs sold. In six weeks, he drove 10 minutes from his house to work in the same area. And when he did get denied, he'd knock again and knock again. And every day he'd show up. His commission was about $2,000 on average for these sales, and by working the same area, he ended up earning $120,000 before the season started because he was working smart.
Now, let's go over some tips.
FREE "Pitch" Like a Pro Roofing Sales Training
240+ Video Library for Storm and Retail
For Roofing Sales Reps & Owners With New Hires: All the training you need to be a "million dollar" closer!
Get Instant Access FREE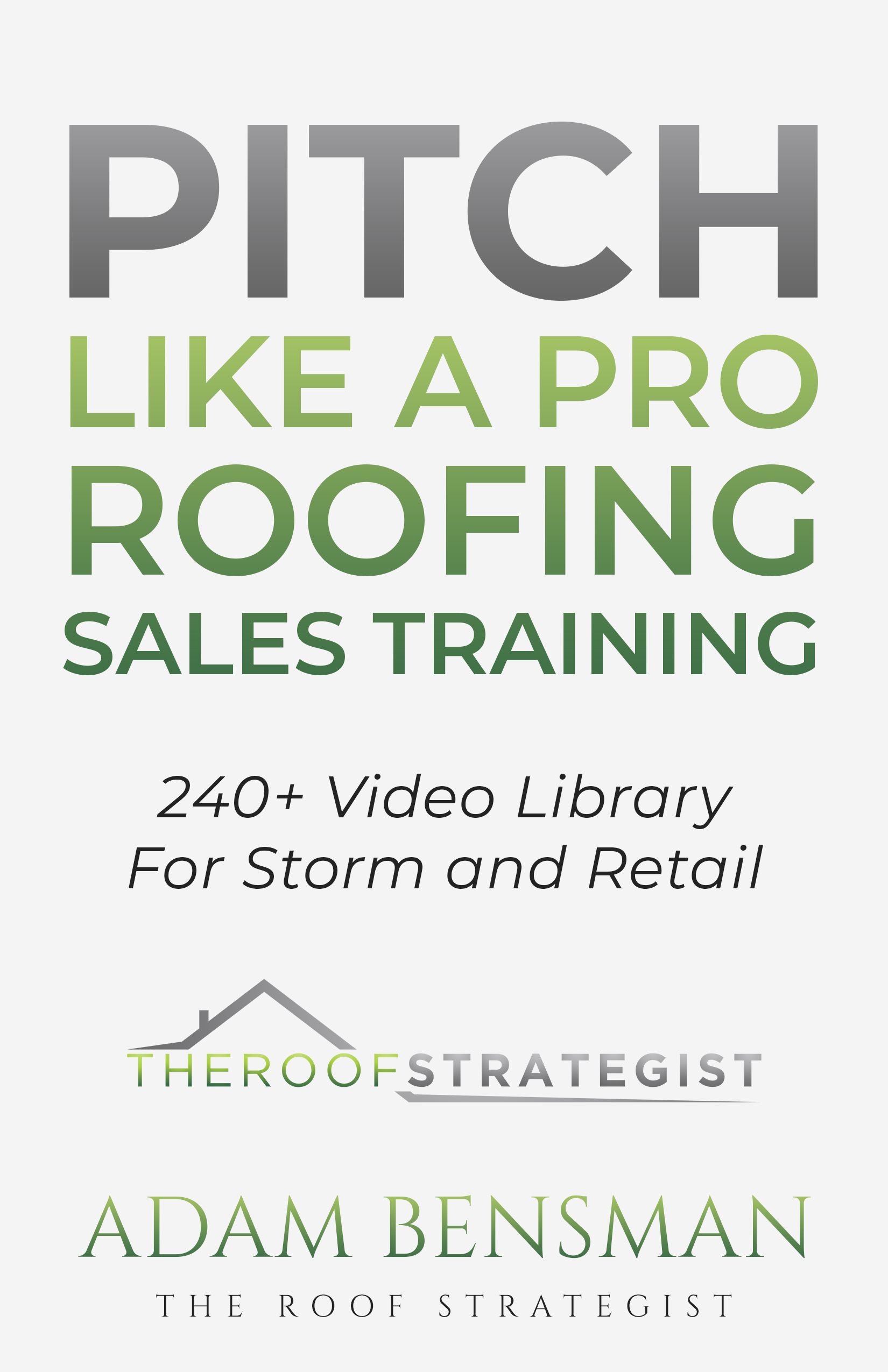 The 6-Figure Roofing Sales Success Formula: Own Your Schedule
You have to work smart. You need to associate high-value activities with high-earning potential times of the day. If I said to you, your life depends on it. Gun to the head, go make sales.
What are you going to do?
You're going to go knock on doors.
Now, I want you to think about this. When are you going to go knock on those doors? You're going to knock them in the evenings between 3 p.m. and 7 p.m. That's when kids are getting off school, and parents are getting home from work. It's 3 p.m. to 7 p.m. And, then, on the weekends.
So, when you own your schedule, and you say, "Hey, I can make money during these times. That's when I want to be out knocking on doors." That's when you have to do it.
So, focus on those high-value activities during the high-income times of the day.
Roofing Sales Success Formula: Rainy Days
When it's raining like this and I can't be out or it's not smart to be out knocking doors or handling production, what do I do? Rain days are dedicated to paperwork. Junky weather and rain days equal paperwork days.
If you can't be out, you say, "Hey, I need to make money. What do I need to do that doesn't quite equal making money, but I need to do it?" That's what you do on those rainy days.
Now, if I said to you, "Hey, Mike, you need to make those follow-ups and call all those leads you didn't convert. Get them done today."
That's a classic gun-to-the-head approach. That's the way you start thinking smarter. Think in terms of if my life depends on it. Think of ALL the decisions you make in that way.
Roofing Sales Success Formula: Follow-Ups
If I say, "Mike, go make those follow-ups." When do you do them? During the week. I'm going to try in the morning, or I'm going to try in the evening. Figure out what market you're serving and schedule those follow-ups in batches.
For all my follow-ups, I would sit down and write them out in the morning. And I would sit down and get them done when I couldn't be out selling. I'd maybe leave a voicemail, I'd send my emails in the morning, and then I'd make my calls in the evening.
That way, when I called later, I could say:
Hey, John, I shot you an email this morning. Just wanted to follow up to see if you had a chance to talk with your wife about the roof. I know you and I talked about the potential flashing in the chimney issue. Where are you at with this?
So, plan accordingly.
Roofing Sales Success Formula: Planning & Organization
Now, here's the last thing I want to do to set myself up for success. I want to start planning my day ahead of time. Most of the time, in fact, I would physically print out my planner the night before I started my day, so I could put it in my truck and write notes on it on the fly when I'm with homeowners (by the way, you can also use electronic or digital planners if you like those better).
Then, I would plan my day. And the next day, I could easily write notes about:
Leads
Who I needed to follow up with to get paid
The supplements I needed to submit, so nothing fell through the cracks
Job site follow-up details
Production info and where I needed to canvass for referrals
Emails for outreach to try to get even more referrals
And by the way, if you like this process, check out my Marketing Battle Pack, which has all my turnkey marketing materials. There's a whole section, with materials and videos, dedicated to owning your schedule and planning for success.
So, when I did that, I would absolutely dominate and own my day. Because if you think about all the time, 24 hours in the day, there are certain times of the day that are more profitable than others.
If you woke up at 2 a.m. and wanted to work, could you make sales? No. Could you send some follow-up emails? Probably not advisable because you don't want your homeowners to be emailed at 2 a.m.
What you could do is complete your supplements, your estimates, and your paperwork.
The other thing that I did is I organized my file box, so I could cycle my files from "open lead" to "closed deal in production" to "supplement" to "collect final payment." I would physically move my files through the box at each stage. That way, I knew exactly where everyone was at. A stupid, simple system to stay hyper-organized.
The Bottom Line to Roofing Sales Success: Work Smarter, Not Harder
If someone tells you to hustle harder, take it with a grain of salt. There's something very valuable about hustling harder and working and committing yourself. It's easy to get complacent in this job. You get your teeth kicked in, you know you have this freedom, and you can sit in your truck a little longer.
So, yes, it does take some hustle. I agree with that. But it does not take is working harder for the sake of working harder.
When you own your schedule, you will make more money.
What I realized with my sales is that, when I reached my sales potential and I was wicked busy, my income was here. What was a limiting factor? Was it my ability to make sales or was it my time? It was my time.
So, if I could free up an extra 5 to 10 hours a week, I could make more money. And as you start making more sales, time will become your most valuable asset. Covet the time and make more money. Own your day.
This, my friends, is the success formula.
Want More Roofing Sales Strategies, Tips & Videos?
Subscribe for the latest roofing sales training videos and get your copy of my Pitch Like a Pro roofing sales training video library. It includes every video I've ever done, organized by category, along with a bunch of tips, tricks, and more.
Also, check out my Marketing Battle Pack for instant access to more than 70 pieces of my proven, turnkey roofing sales and marketing materials. It's an entire suite, including scheduling, direct mail letters, door hangers, goal projection planners, and a whole lot more. It's affordably priced and comes with a 100% money-back guarantee. There's also a playlist of instructional videos in there, explaining every single thing. So, you can watch the videos, and you'll know exactly what to do.
Thanks for joining me, and I look forward to sharing more with you in the next blog.